Oven roasted artichokes are delicious, easy to prepare and with your favorite dip your guests will beg for more. A perfect starter for any dinner party!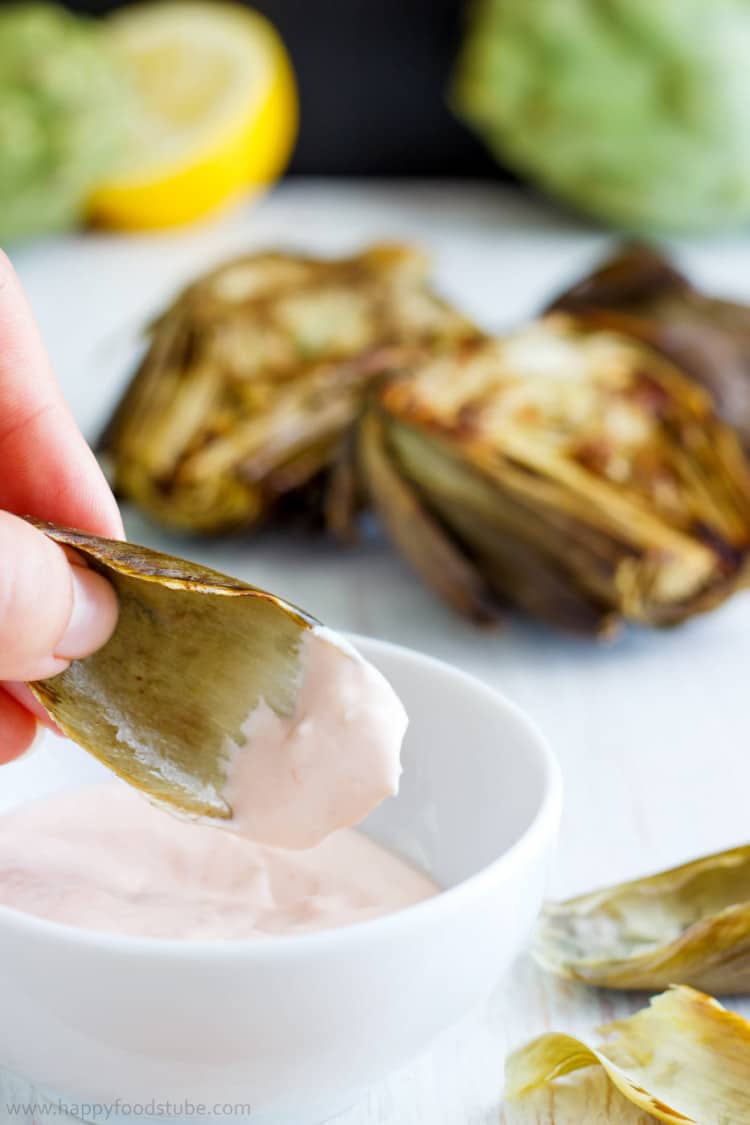 Here in Spain artichokes are now in season so I couldn't resist but buying some. Funny thing was I had no clue how to prepare them. I mean, I use the artichoke hearts in salads but I always buy in a shop the ones in cans. The fresh ones, on the other hand, are a very different story!
I've learnt that you eat only about 1/3 of each leaf (the part that is close to the heart) + the heart. You also have to remove the "choke" – tiny hairs that grow from the heart and are not edible at all! People also tend to cut off the tips of the leaves (they might be a bit sharp) but I don't as I think it's a waste of time.
I fell in love with this vegetable (well, actually it's a thistle) when I was told how to prepare them. I have to admit I was a bit apprehensive about it and was thinking to myself: well, what can be so amazing about a baked thistle, seasoned and drizzled with some oil and lemon juice. Well, I was wrong!!! These artichokes are simply a treat that has to be shared with you friends or loved ones! I have used my favorite dip to go with it but you can use any dip you love!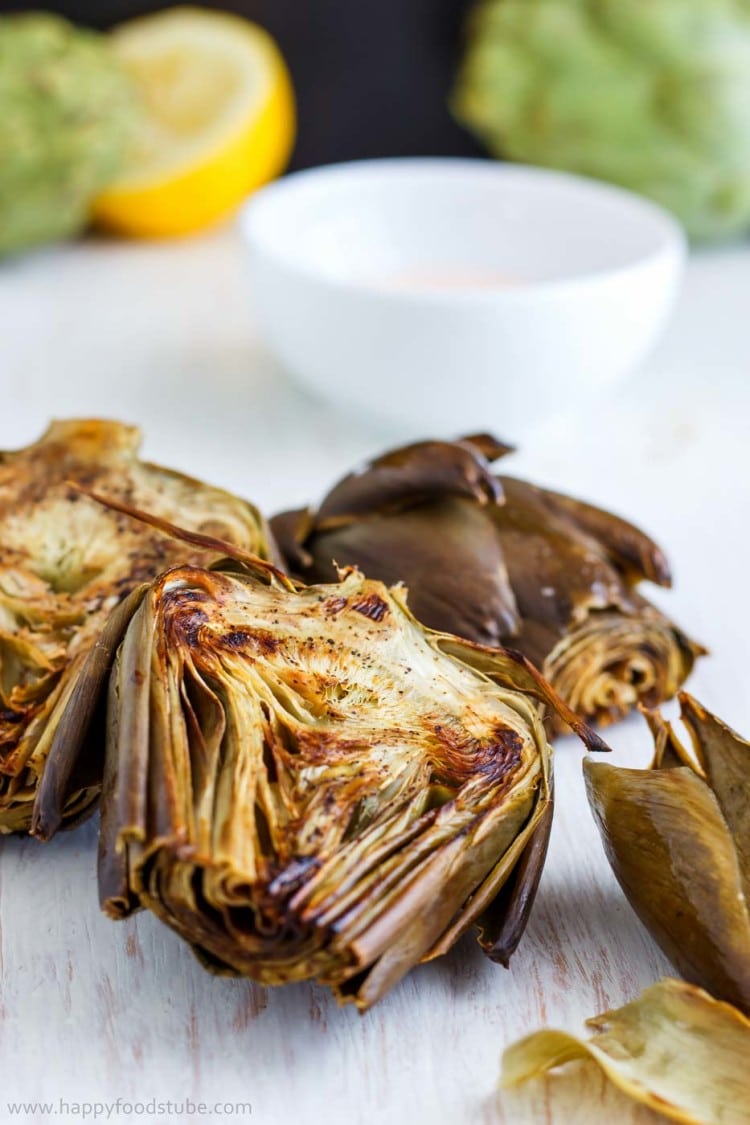 I didn't write down the amount of oil, salt, pepper and lemon juice as it depends on what you like. In general, I would season them well on both sides. Don't worry too much about it as you will only end up eating the hidden parts of leaves so it's a very small chance of over seasoning them. As for the lemon juice and olive oil – a generous squeeze/drizzle of both is what you are aiming for.
If you are looking for more easy appetizer recipes, check these out:
Want to see how to make Oven Roasted Artichokes? Watch the video!
Oven Roasted Artichokes with Homemade Garlic Dip
They are delicious, easy to prepare and with your favorite dip your guests will beg for more. A perfect starter for any dinner party.
Ingredients
Artichokes

(1/2 to 1 per person)

Salt

Lemons
For the dip:
2

teaspoons

Sour Cream

(or more)

1

tablespoon

Ketchup

2

cloves

Garlic

Salt

to taste

A squeeze of

Lemon Juice
Instructions
Wash the artichokes.

Cut the stem off, leaving about 0.4 inch/1 cm. Cut the top off and cut in half – lengthwise. Squeeze over some lemon juice. This will prevent the cut artichokes from turning brown while you are prepping the rest of them (You don't have to do it. They will come brown out the oven anyway).

Place the artichoke halves on a baking tray lined with baking paper. Now drizzle with olive oil, season with salt and pepper and squeeze some more lemon juice over (do this on both sides).

Turn all of them the cut side down and place in a preheated oven. Bake at 400°F/200°C for 30 minutes or until leaves come out easily when pulled. If you grab a leaf and it doesn't come out easily, bake them for a bit longer.
While the artichokes are in the oven, get the dip ready:
Mix the sour cream, ketchup, salt, crushed garlic and lemon juice together and you are done.
Note:
Don't worry about the color or some dried leaves – you can simply remove them afterwards. The best part is around the heart of artichoke which is inside, near the stem so make sure that is cooked thoroughly.

Serve warm as an appetizer or a snack!
Nutrition Facts
Oven Roasted Artichokes with Homemade Garlic Dip
Amount per Serving
% Daily Value*
* Percent Daily Values are based on a 2000 calorie diet.
** As an Amazon Associate I earn from qualifying purchases.
LEAVE A COMMENT
RELATED POST