Looking for weeknight dinner ideas, quick instant pot recipes or family-friendly meals that everyone loves? Which one of these Pressure cooker chicken recipes is your favorite?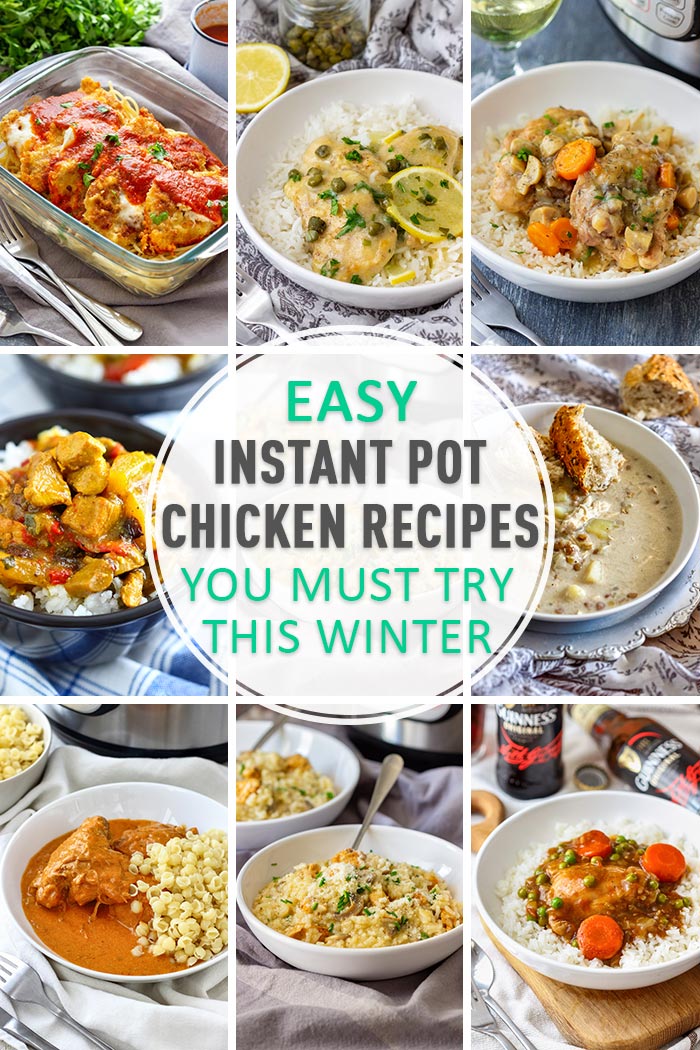 This collection of easy instant pot chicken recipes includes quick instant pot recipes, family-friendly meals, as well as easy weeknight dinner ideas that everyone loves. Which one of these pressure cooker chicken recipes
What instant pot chicken recipes will I find here?
Recipes for busy families, that require little preparation
Dump-and-go recipes
Recipes made easy (see our reader's favorite Instant Pot Risotto)
Pressure cooker soup ideas
Comfort food with rich and creamy sauces
Instant Pot Chicken Chasseur is a flavorful dish with quick preparation time. Chicken thighs are cooked with mushrooms in a plenty of rich, buttery white wine sauce until tender. Best served over rice or orzo.
Looking for easy dinner recipes to impress your guests? Try Instant Pot Chicken Risotto! It's a flavorful dinner recipe that never disappoints. It's one of the easy instant pot chicken recipes that you can't stop making! No lengthy stirring required, yet it tastes like the real deal!
Instant Pot Chicken Gnocchi Soup is one of my favorite instant pot recipes. This creamy soup is perfect on a chilly winter day or anytime you fell like a bowl of filling soup.
Instant Pot Chicken Parmesan is without a doubt one of the instant pot dinners that crowds love! Tender chicken breasts, Parmesan breadcrumb crust and juicy mozzarella topping.
It does take longer to prep than the rest of these instant pot chicken recipes, but it's nothing complicated. And more importantly your diners will lick their fingers!
Instant Pot Chicken Piccata – Tasty chicken breasts with lots of lemon butter sauce. Doesn't it sound like the perfect dinner to you? If you are looking for easy instant pot recipe to add your next week's menu, this is it!
If you are a fan of soups, you might like to give this Instant Pot Chicken Lentil Soup a go. Creamy entrée or starter, this soup is perfect for cold winter months. Plus, it's also nutritious and protein rich thanks to chicken, lentils and oats.
Instant Pot Chicken Paprikash – This comfort food is the perfect recipe for busy families. Pull-apart chicken thighs with plenty of creamy paprika sauce are quick to make and taste amazing!
Instant Pot Chicken Curry is one of the easy instant pot chicken recipes that can be made ahead and stored in the fridge for up to 3 days. It reheats well and in fact, it tastes better the following day!
Instant Pot Honey Mustard Chicken is chicken thighs cooked in honey mustard sauce have a 5 minute prep time which is always a plus when looking for quick weeknight dinner recipes.
RELATED POSTS