These are the top 10 instant pot recipes that our readers love the most! All of them have an easy preparation and include useful cooking tips to achieve the best results.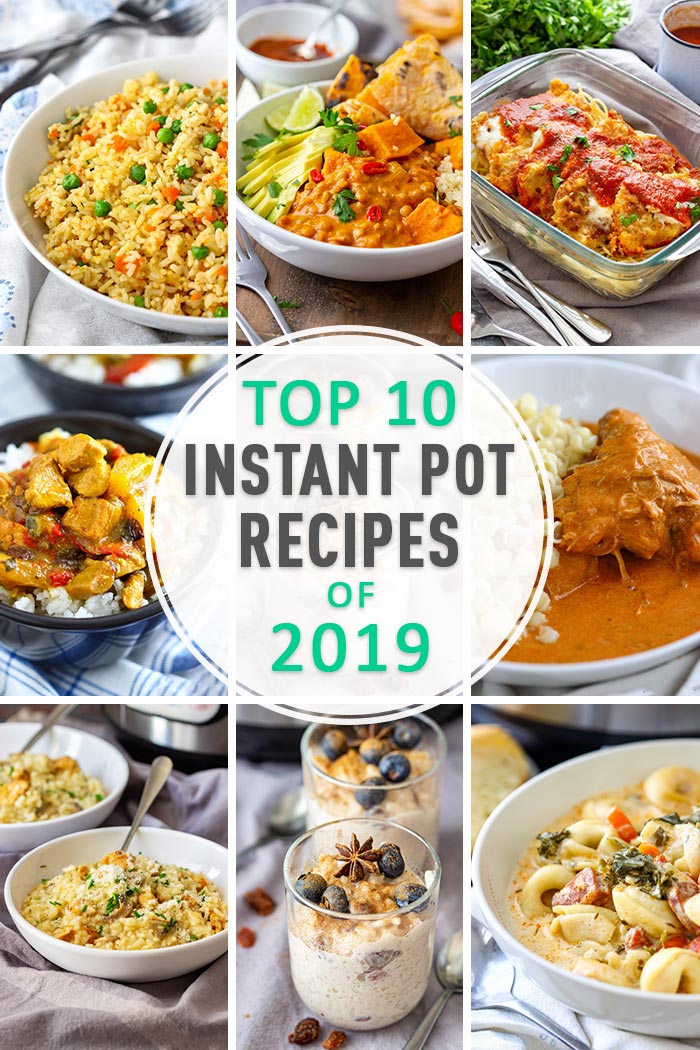 If you own and instant pot but have not used it yet, here is your chance. There is no need to be intimidated by this kitchen gadget at all! Believe it or not it makes your life easier.
So let's have a look at the top 10 instant pot recipes of 2019 that you all love so much:
1. Instant Pot Chicken Risotto is number one on the list of most popular instant pot recipes of 2019. And no wonder! No stirring is required to make it and it tastes amazing. If you are looking to impress your diners then this is a must try recipe.
2. Instant Pot Stuffed Bell Peppers are another favorite recipe among our readers. Easy to make and ready in no time!
3. Instant Pot Fried Rice is a tasty side dish that goes well with any kind of meat but is also delicious on its own.
4. Instant Pot Chicken Curry is not your traditional curry recipe, but it's packed with flavors. This recipe will easily feed up to 6 people and you can half or double the ingredients, if needed.
5. Instant Pot Chicken Piccata is the perfect weeknight dinner. Chicken is coated in Parmesan and cooked in a lemon butter sauce.
6. Instant Pot Chicken Paprikash with creamy sauce is my favorite chicken dinner to make. It's rich in flavor and crowds love it.
7. Instant Pot Creamy Tortellini Soup – Another easy recipe for a delicious and hearty soup. Perfect for chilly nights and weeknight dinners because it only takes 35 minutes to make (pressurizing + depressurizing included)!
8. Instant Pot Sweet Potato Lentil Curry is a meat-free curry.
9. Instant Pot Rice Pudding is one of the easiest Instant pot desserts to make and so quick. Perfect for a weeknight treat!
10. Instant Pot Chicken Parmesan is the only one of all these instant pot recipes that takes quite some time to prep. But guys, it's absolutely worth it! The flavors, the juiciness of the chicken altogether with mozzarella and tomato sauce .…
What are the advantages of using pressure cooker?
First, let's start with the facts:
Pressure cooker needs time to build pressure inside the pot before it can actually start cooking. For some meals it is also safer to wait until the pot drops its pressure naturally.
This is an extra time you have to count on, and this time is not usually stated in recipes (if you check my recipe cards, you will always find a sentence or two about this in the notes section).
Many people get put off by this, but it's important to remember that in order to cook something in the oven you need to pre-heat it (For example: My oven takes literally 20 minutes to preheat unlike the instant pot that takes usually about 10 minutes to come to pressure).
With instant pot, you also save energy but more importantly there is no "babysitting" of the pot needed. Once you set up everything, you can just disappear, and the pot will let you know when your meal is ready. It even keeps your food warm for hours.
Also, pressure cookers were originally developed mainly for speeding up the cooking process of meals that usually take hours to cook (i.e. pulled pork) because even with the extra time it is still quicker to make and the meats don't dry out.
I absolutely love cooking with instant pot and in summer, I use it more often than the stove top. Why? Because it does not heat up my kitchen like the oven/stove top do.
I hope these top 10 instant pot recipes of 2019 have inspired you to use your pot. If you do try some of these recipes, please let us know in the comment section. We would love to hear from you!