This is a collection of rice recipes from side, to entrée, main or dessert. Perfect for busy families or anyone looking for easy instant pot recipes that are ready in no time!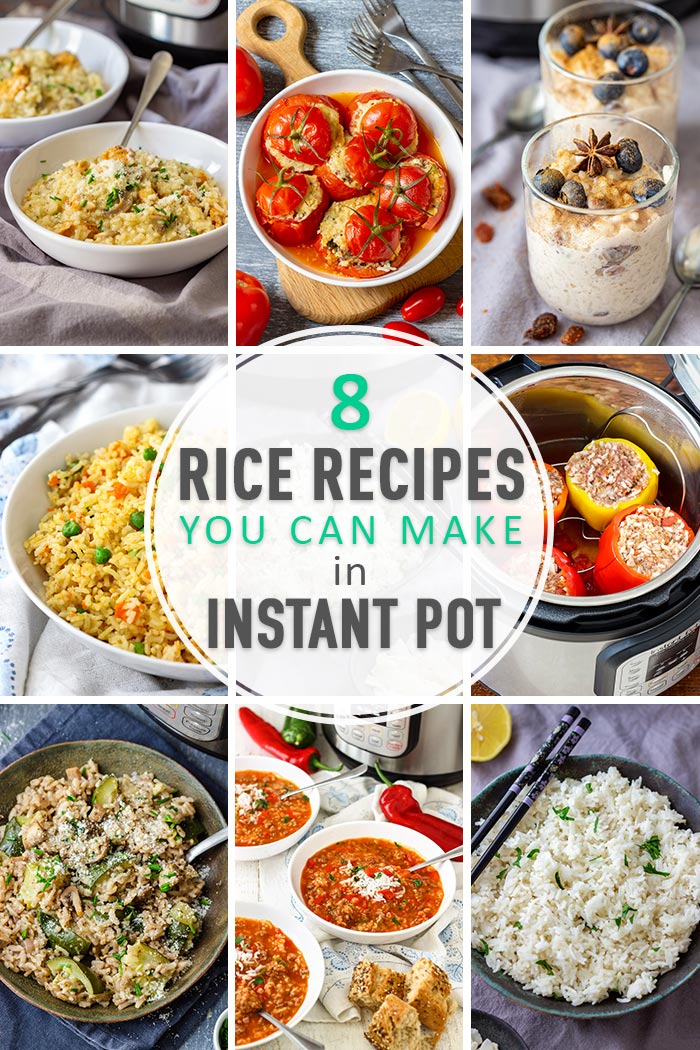 Cooking in pressure cooker not only reduces the active cooking time but also allows you to leave the kitchen without having to check or stir constantly. It also keeps your food warm which is also a great plus.
If you have little time to cook but still want to make homemade meals for your family that taste amazing, try some of these rice recipes that were specially developed for instant pot:
Instant Pot Chicken Risotto is a must-try instant pot rice recipe. And let me tell you this: Once you've tried there is no going back to the classic stove top version! No stirring required!
Instant Pot Stuffed Bell Peppers are one of the most popular rice dishes on my blog. No oven is needed to make this tasty dinner and it only takes minutes to cook the peppers under pressure.
If you don't feel like stuffing the peppers, you might like making Instant Pot Stuffed Pepper Soup instead.
And what about Instant Pot Stuffed Tomatoes? This delicious entrée/main can be prepped ahead, if needed. They only take 2 minutes under pressure!
A perfect way to end up dinner is definitely with a serving (or two) of Instant Pot Rice Pudding. Quick prep and quick cooking time (5 minutes under pressure) means that you can enjoy this rice dessert any day of the week.
Instant Pot Zucchini Mushroom Risotto is a meat-free risotto. You can serve it as a main, side or entrée. Again, hassle-free and no-stir recipe that is perfect for weeknight dinner!
Instant Pot Fried Rice is a popular side dish with a ton of flavor. It can also be a perfect meat-free dinner.
Another side, that is definitely worth giving a go is Instant Pot Coconut Rice. An easy-peasy recipe that goes well with curry dishes, chicken, fish .…
Note:
Pressure cooker needs to come to pressure before it actually starts cooking. This takes time and it may vary depending on what meal you are going to cook in it (Most of the meals I cooked in my 6-quart/6-liter instant pot took about 10 minutes).
This time is not included in the overall cooking time as it is the same as pre-heating the oven before you can actually bake something in it.
However, I test all my recipes several times and try to state in each one of them the approximate time, so you can take this into consideration when planning your meals.