These easy Thanksgiving leftovers recipes creatively use the Thanksgiving leftovers. Transform your turkey, cranberry sauce, mashed potatoes into delicious dishes!
Don't throw your leftovers away! Use them up in a creative way instead!
All these Thanksgiving leftovers recipes are easy to make and most of them are ready on your table in 35-minutes or less!
One of my favorite ways of using leftover mashed potatoes is to make Mashed Potato Flatbread. This is an easy recipe that anyone can make as long as your mash is not too runny, that is.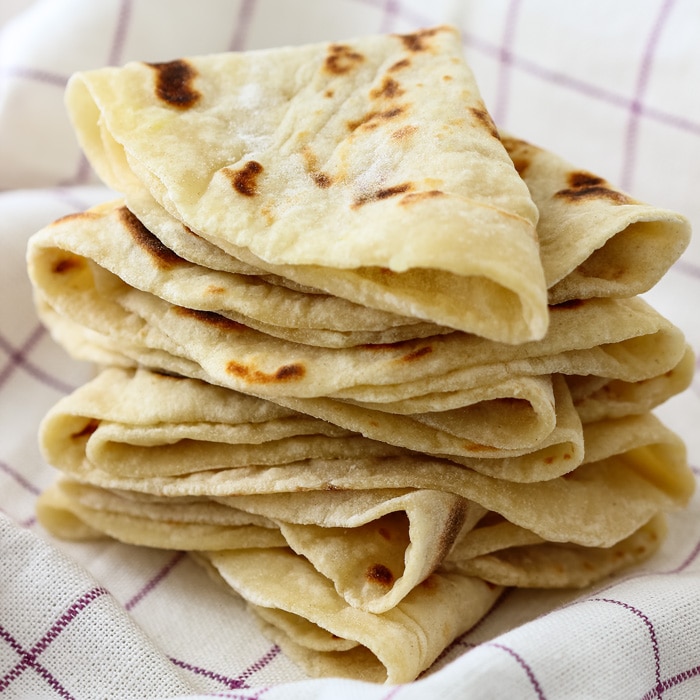 Mashed Potato Flatbread
Having leftover mashed potatoes? Turn them into this easy mashed potato flatbread! It's a yeast-free & oil-free side dish that everyone loves!
Check out this recipe
Turkey Cranberry Panini is a simple recipe for a simple and more importantly quick lunch. Cut up your leftover meat, sauté some onions, mix them with cranberry sauce and assemble the sandwich altogether with cheese.
All you have to do at this stage is let the panini machine do its work! What I love about this recipe is the fact that the lunch is on my table within minutes and with a minimal effort.
Turkey Cranberry Panini
This is an easy recipe for turkey cranberry panini. Use the leftovers from your Thanksgiving dinner to create this easy and quick grilled turkey sandwich packed with flavors!
Check out this recipe
When I am thinking about the best Thanksgiving leftovers recipes, I cannot forget about Jalapeno Mashed Potato Croquettes. What can be better than deep fried balls of mash with a jalapeno surprise in the middle?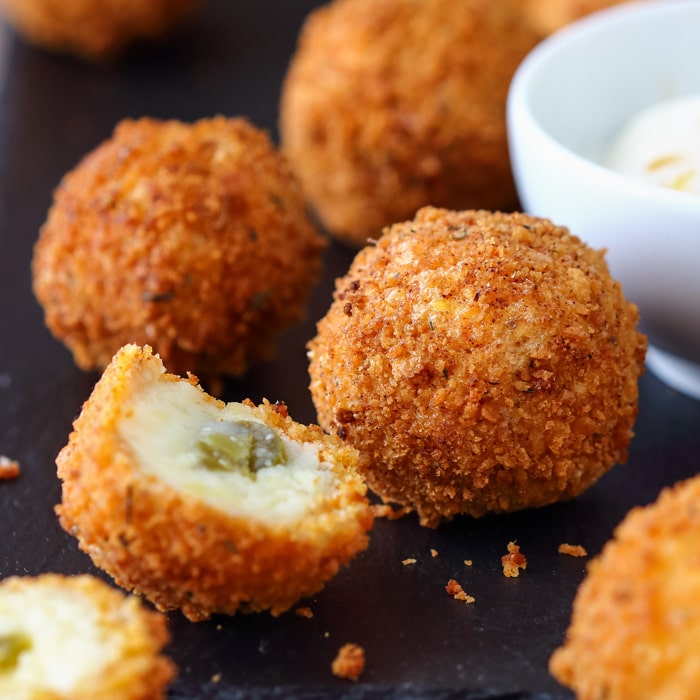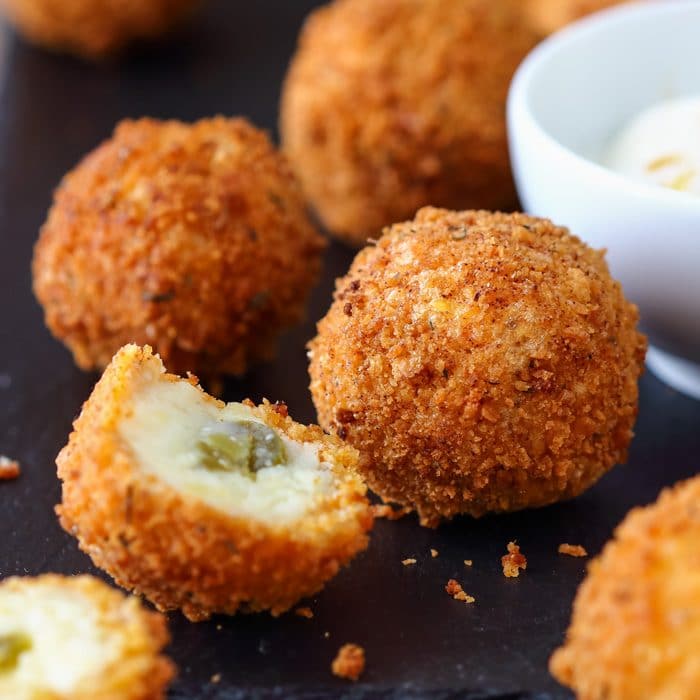 Jalapeno Mashed Potato Croquettes
These jalapeño mashed potato croquettes are the perfect use for leftover mashed potatoes. Just add some cheese, jalapeños, deep fry them and enjoy!
Check out this recipe
Now if you are one of those families that prefer mashed sweet potatoes plain rather than sweetened with some extra sugar, marshmallows or maple syrup, then all you have to do is add a little flour, egg and turn them into Sweet Potato Gnocchi. These soft pillows are also ready in no time and there in only a little effort needed.
The kneading only takes seconds (because let's be honest here: the more you knead, the harder they get and we don't want that) and you don't need any special tools. Just grab a knife and you are good to go!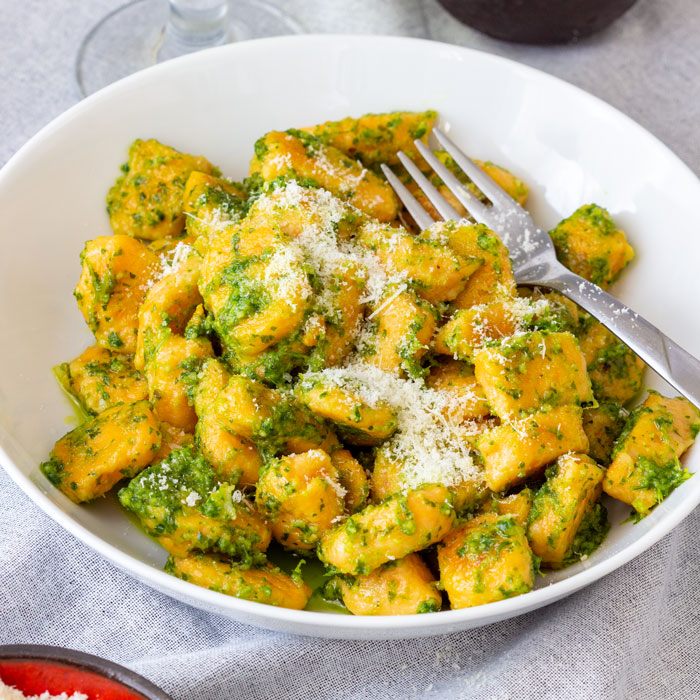 Sweet Potato Gnocchi
This is an easy sweet potato gnocchi recipe. It's perfect for a quick weeknight dinner! Soft gnocchi pillows served with green pesto and Parmesan are hard to resist!
Check out this recipe
Sweet Potato Pancakes is a breakfast recipe that takes some time but the final result is so worth it. Again, this recipe calls for unsweetened mashed sweet potatoes. They are sweet enough so there is no need for the extra sweetness. However, nothing can stop you from topping them with all sorts of sweet toppings.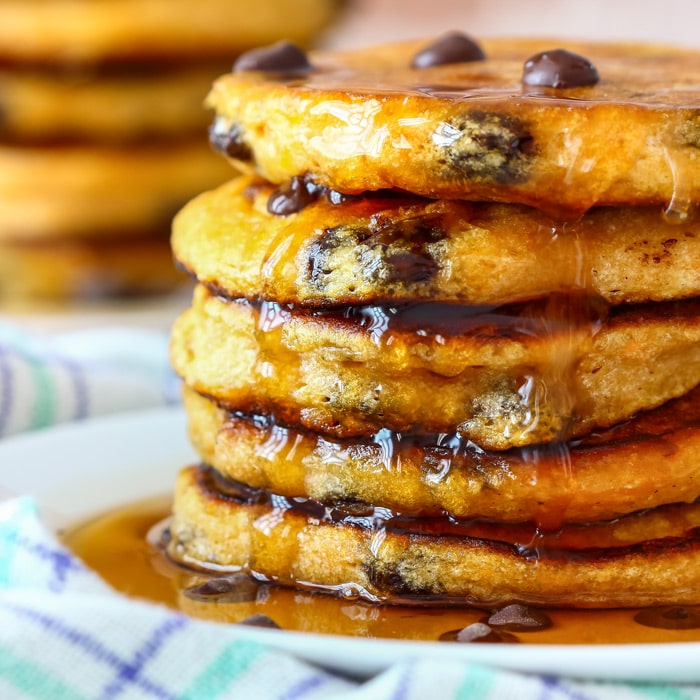 Chocolate Chip Sweet Potato Pancakes
Chocolate chip sweet potato pancakes are one of the weekend breakfast recipes you will immediately fall in love with! Light, fluffy and filled with chocolate!
Check out this recipe
If you are looking for Thanksgiving leftovers recipes using Brussels sprouts, then I highly recommend this Roasted Brussels Sprouts Salad with Prosciutto.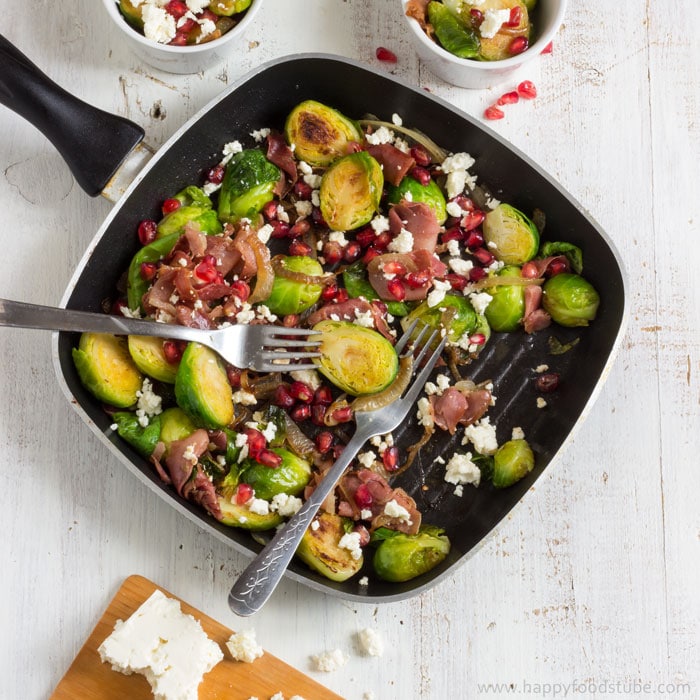 Roasted Brussels Sprouts Salad with Prosciutto
This roasted Brussels sprouts salad with prosciutto, pomegranate and Feta cheese makes a great side dish on your Holiday table!
Check out this recipe
Cranberry Sauce can be used in so many ways. If you still have family members staying at your place, why not make this Cranberry Bacon Cheese Ball. It's easy and yummy!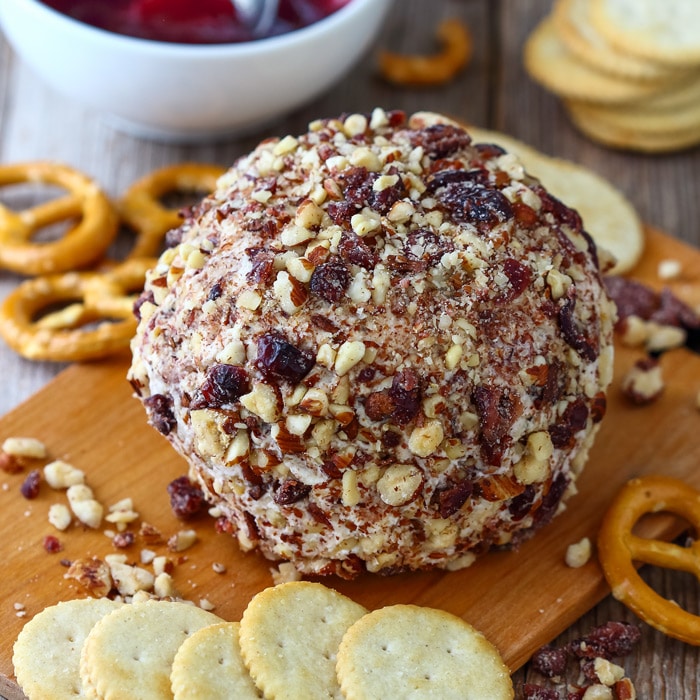 Loaded Cranberry Bacon Cheese Ball
This Loaded Cranberry Bacon Cheese Ball will be a hit at your next party! Sweet, salty, crunchy and creamy this easy appetizer goes well with all sorts of dippers.
Check out this recipe
Leftover Turkey Pasta is ready in 15 minutes from start to finish which makes this a great recipe for lunch or dinner. Use any turkey meat leftovers and enjoy this quick meal.
Leftover Turkey Pasta
This is a quick recipe that uses leftover turkey meat. Red pesto, parmesan and chili flakes make this leftover turkey pasta a tasty lunch or dinner!
Check out this recipe
Turkey Noodle Soup is an easy way to use not only meat but also bones from your turkey, in case you want to make your own stock, that is. (I love making Instant Pot Turkey Stock but if you think it's too much of a hassle, go ahead and use store-bought version (any flavor will work well) instead. The soup will still taste delicious.
Leftover Turkey Noodle Soup
Make this Leftover Turkey Noodle Soup with homemade turkey stock to achieve best flavors! A bowl of this soup will fill your tummy and warm you up from inside. Simple, tasty and easy to make.
Check out this recipe