Parsley pesto is a cheaper alternative to traditional green pesto. This tasty condiment is easy to make and takes only 5 minutes and 5 ingredients!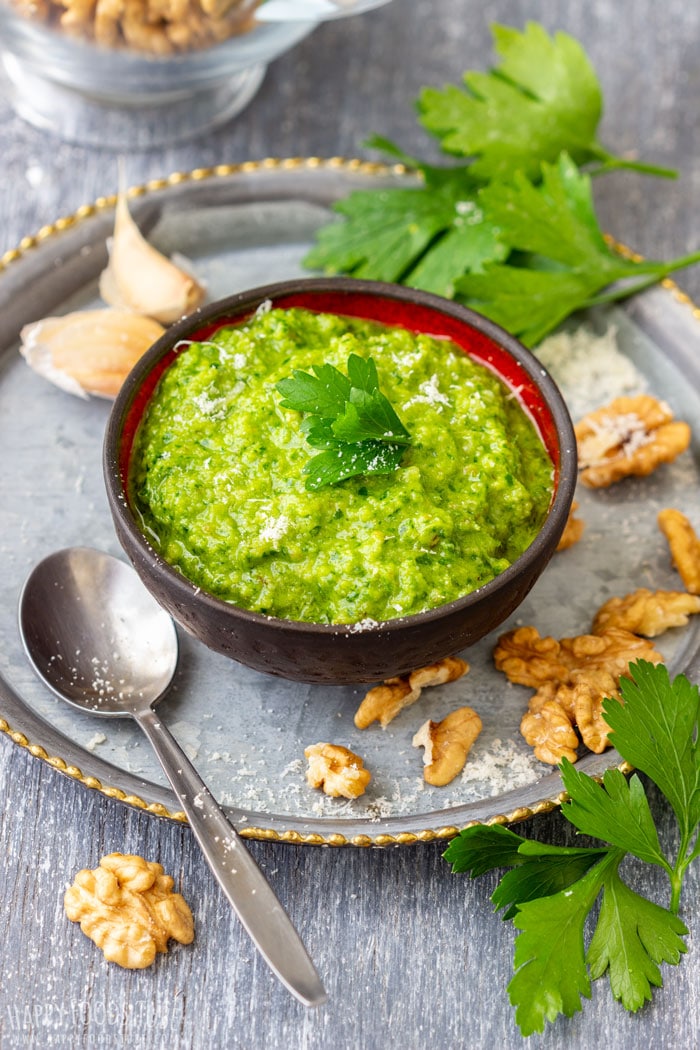 Homemade pesto is one of my favorite condiments. It uses fresh ingredients and is so versatile. You can use it for pasta, pizza, canapes, spread it onto your sandwich or meat
We all know the classic green pesto but there are so many other options you can make.
One of my favorite variations on this classic Italian condiment must be Arugula Pesto and Red Pepper Pesto.
If you have way too much fresh parsley in the garden, making homemade parsley pesto is a great way to use it up. You can also freeze parsley for later use. It's a convenient way to preserve it and don't waste it.
By the way, I also like using a generous amount when making Instant Pot Chicken Stock.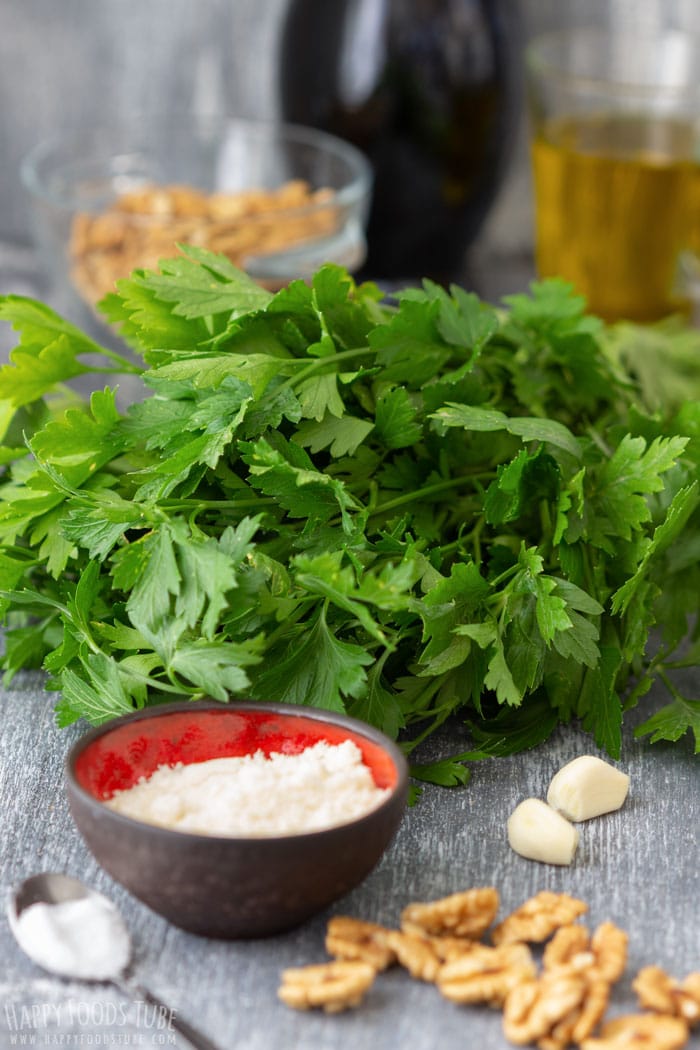 How to make parsley pesto with walnuts – step by step
The whole process only takes a few minutes.
First, rinse the parsley leaves. I usually buy a bunch of leaves that are sometimes dirtier than usual. That is why I recommend taking time when washing them. You don't want to end up with pieces of soil in your food.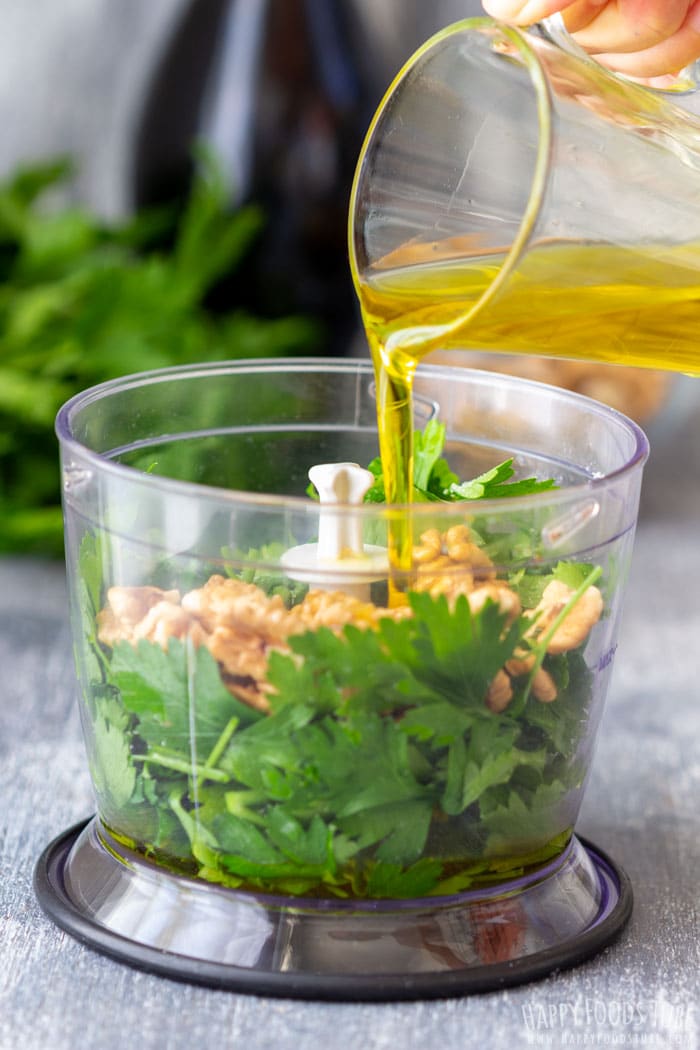 You can either use leaves only or a mix of leaves and stems. I tend to cut off the ends (about ⅓ of the stems) and roughly chop the rest. Then I add it to my food processor.
The parsley is processed with olive oil and walnuts until smooth-ish. This takes somewhere between 30 seconds up to 1 minute, depending on how powerful your food processor is.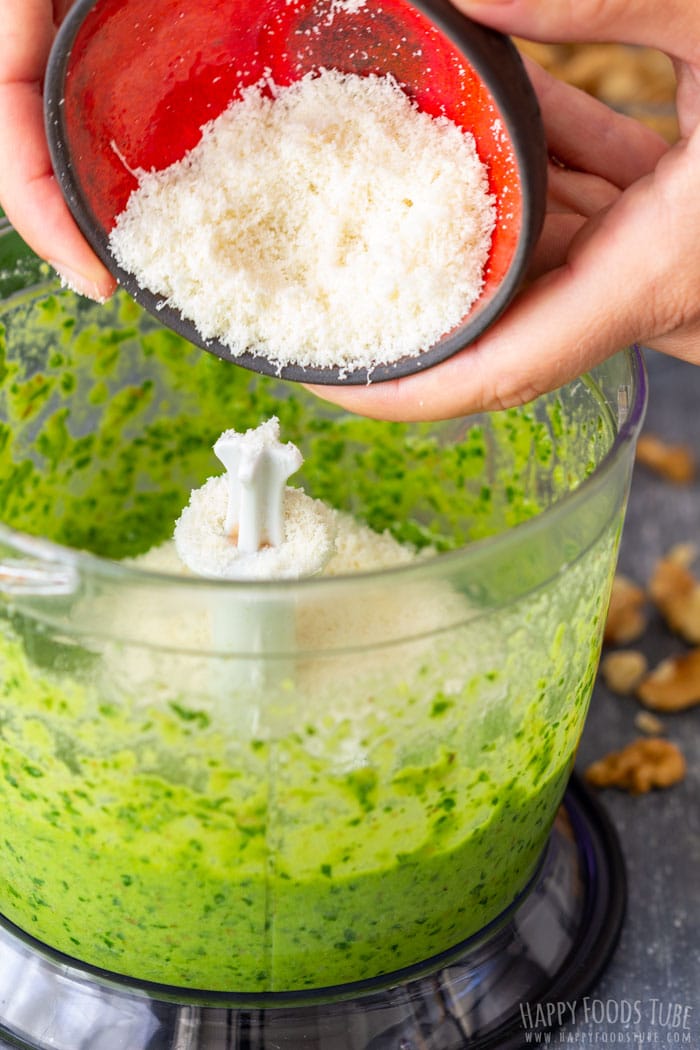 At the end stir in Parmesan cheese and crushed garlic cloves. Use a garlic press. That way you will not taste large pieces of garlic in the pesto.
Taste it and season with salt only when you feel like it is needed!
Can I substitute any of the ingredients?
You can substitute some but to achieve the same taste I recommend using all of them. And because there is only a few ingredients, go for the good-quality stuff. You will see the difference.
Also if you substitute parsley with fresh basil and walnuts with toasted pine nuts, you will end up with Basil Pesto which is a completely different type of pesto.
Can you freeze parsley pesto?
Yes, you can. It's handy when you have a lot of parsley on hand. I prefer making less and storing it in the fridge in a glass jar (up to 7 days). For freezer: use a sealable plastic bag or an air-tight container (up to 3 months).
Useful tips for making parsley pesto
The recipe states salt as an optional ingredient. This is due to the fact that Parmesan is quite salty so I suggest you taste the pesto first and only then (if you feel like the salt is needed) you add some.
The ingredient amounts can be adjusted to your taste (increased or decreased).
This parsley pesto recipe can be easily doubled or halved.
Taste one or two walnuts before adding them to the food processor to avoid using nuts that have turned rancid. Using them would spoil the pesto.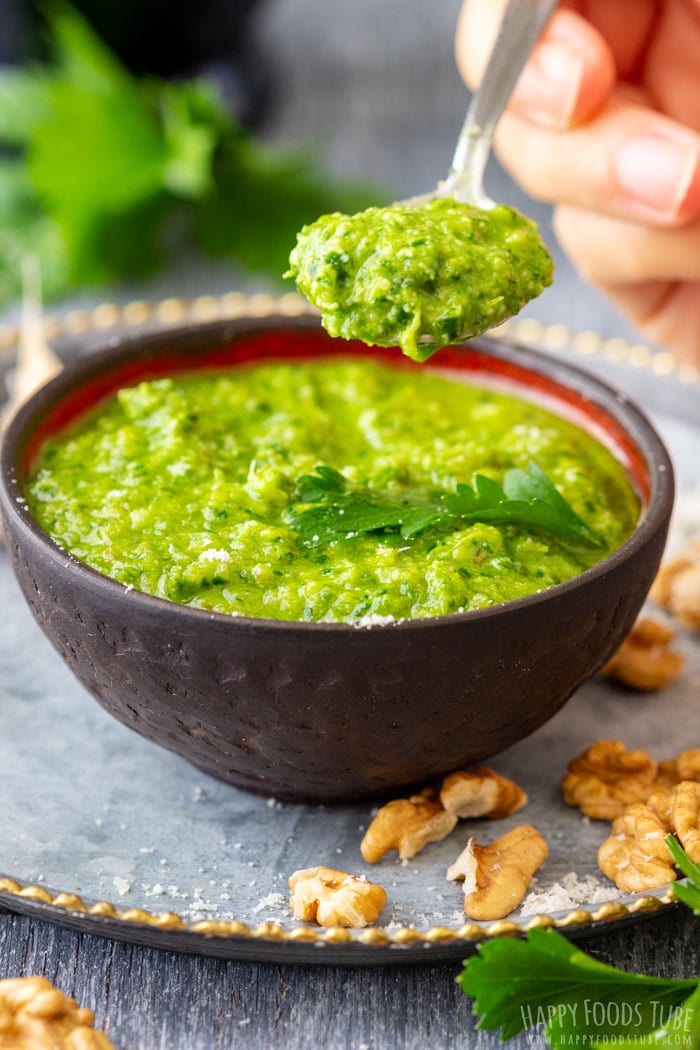 Parsley Pesto
Parsley pesto is a cheaper alternative to traditional green pesto. This tasty condiment is easy to make and takes only 5 minutes and 5 ingredients!
Servings:
1
Cup (about 6.5 ounces/200 ml)
Ingredients
2

cups

Fresh Parsley

, lightly packed

½

cup

Walnuts

, shelled (50g)

⅔

cup

extra virgin olive oil

(130ml)

½

cup

Parmesan Cheese

, finely grated (50g)

2

Garlic Cloves

A pinch of

Salt

, optional
Instructions
Rinse the parsley leaves under running water. Cut off the hard stems that have no leaves. Roughly chop the leaves and transfer them into a food processor.

Add walnuts and olive oil. Process until well combined.

Stir in Parmesan and pressed garlic. Taste it. Add salt, if needed.

Use with pasta, pizza, rice, soup, ….
Notes
Use fresh Italian flat-leaf parsley.
Extra virgin olive oil can be substituted with virgin olive oil or common olive oil.
Make sure not to use walnuts that have turned rancid. To avoid this, taste one or two before you start.
The amount of garlic can be reduced to 1 clove or omitted completely.
Use salt only if needed.
Storage: Store in a sealed glass jar/air-tight container in the fridge (up to 7 days) or a Ziploc bag/air-tight container in the freezer (up to 3 months).
Nutrition Facts
Parsley Pesto
Amount per Serving
% Daily Value*
* Percent Daily Values are based on a 2000 calorie diet.
** As an Amazon Associate I earn from qualifying purchases.
LEAVE A COMMENT
RELATED POSTS