This lemon panna cotta with fig butter is a perfect "make ahead" dessert! Its creamy citrus layer melts in your mouth while the fig layer adds some extra flavor and a different texture!
It's another easy and tasty no bake dessert that is perfect for any family or friends gathering! So why not make it ahead and enjoy it while watching the Olympics?
It's a dessert that can be enjoyed on its own or with various additions in a form of sauces, mousses, butters or jams. If you like to experiment with flavors then find your own combination!
The options are limitless here! I was after a citrusy flavor simply because I like the taste in desserts. Then I wasn't sure what to top it with! And there I was at the market and saw all those figs and I knew right there that those figs were the thing!
The missing ingredient for my top layer! And this was how my lemon panna cotta with fig butter was born!
I simply cooked them with butter (because everything is better with butter, right?), and once soften I tossed them in a food processor and processed until I got nice smooth texture.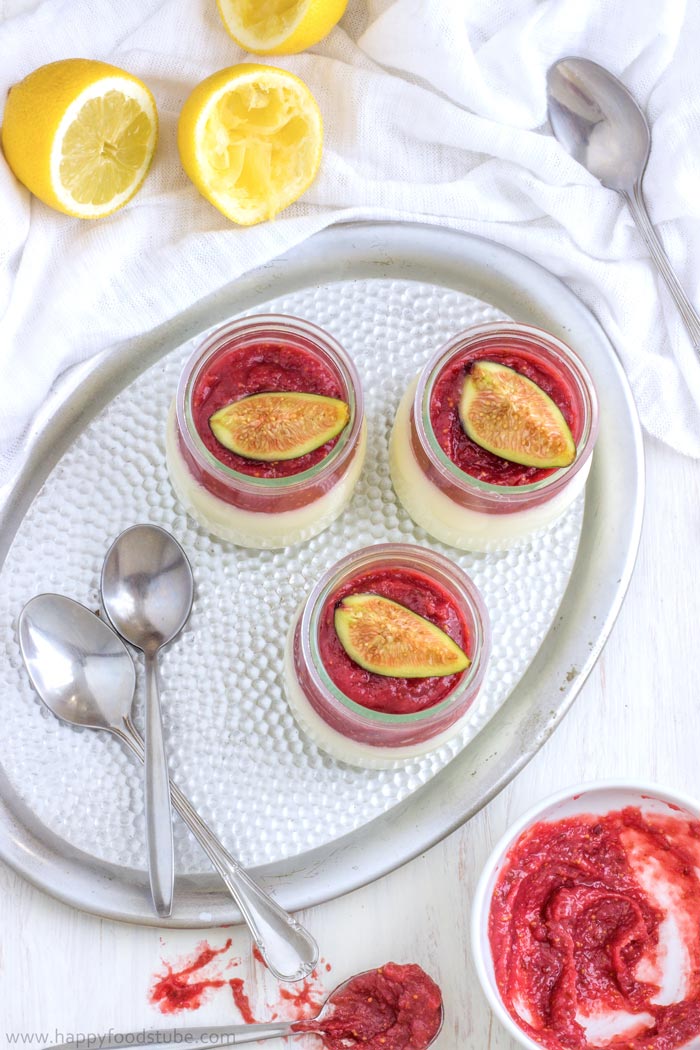 By the way, I feel like I have eaten like tons of lemon panna cotta over the past week. I made it literally 6 times to get it right. To make the panna cotta is not difficult at all but lemon panna cotta was quite a challenge to make.
Now I made it like 3 times with cream and milk. No matter when I added the lemon juice I ended up with a curdled liquid – sometimes less, sometimes more curdled.
I omitted the milk – just to try it out and it worked! I got nice smooth texture with a hint of lemon which I was after. Now adding the lemon juice, the texture will change a bit and you will see it right away.
Your cream will thicken but keep stirring and it will get thinner again. And most importantly it will not curdle!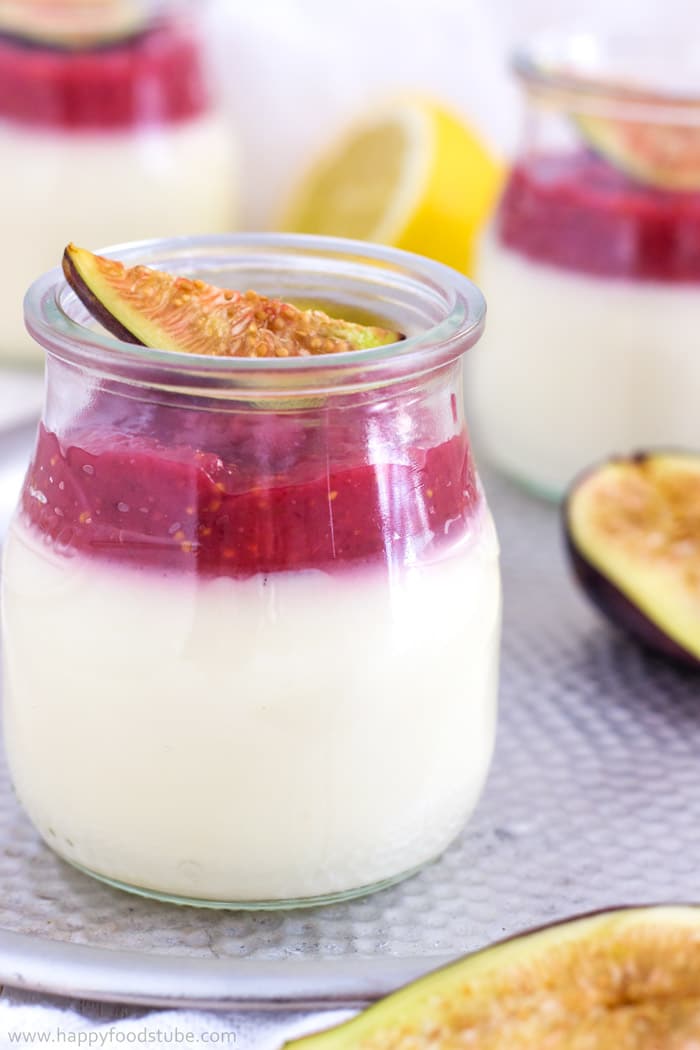 One last thing to remember when making this lemon panna cotta with fig butter: Garnish with figs right before serving to achieve the freshest look possible!
Wishing all the countries good luck in the Olympics! Have a wonderful time watching your favorite athletes whether it's on telly or in real! I hope one day I will get to see it too! The atmosphere must be unreal!
Want to see how to make lemon panna cotta? Watch the video!
Lemon Panna Cotta with Fig Butter
This lemon panna cotta with fig butter is a perfect "make ahead" dessert! Its creamy citrusy layer melts in your mouth while the fig layer adds some extra flavor and a different texture.
Servings:
4
(100ml/3.4fl oz)
Ingredients
300

ml

Heavy Cream (35%)

(10fl oz)

40

g

Caster Sugar

(1.4oz)

Juice from 3 small

Lemons

(about 60ml/2fl oz)

300

g

Figs

(10.5oz)

20

g

Unsalted Butter

(0.7oz)

2

tsp

Honey

(optional)

3

g

Powder Gelatine

(0.11oz)
Instructions
Sprinkle the gelatin over 1½ tablespoon of cold water and set aside.

Pour cream in a sauce pan, add sugar and mix over medium heat until the sugar has dissolved. Bring to a simmer (don't boil) and take off of the stove. Let it cool down a bit.

Juice lemons and strain the juice through a sieve to get rid of seeds and flesh, if any.

When the cream has cooled down a bit, add in the gelatin (it should look like a jelly) and stir until it has dissolved.

Now pour in ⅔ of freshly squeezed lemon juice while constantly stirring the cream. At this point the cream will thicken but continue stirring until smooth.

Pour into 4 small cups and refrigerate 4+ hours (for best results overnight).

Meanwhile prepare the fig butter: Wash the figs (place 1 aside for decoration), cut them into quarters and transfer to a frying pan/sauce pan. Throw in butter and simmer until the figs have soften. Taste it. If you are happy with its taste you are done. If it's too sweet for you add the rest of your lemon juice and stir. Taste it and add more lemon juice or honey (if not sweet enough).

Turn off the heat and let it cool down for 5 minutes before pureeing in a food processor until smooth. At this point you will have thicker butter. Transfer it into a small bowl, cover with cling film and keep in the fridge until needed.

Once the panna cotta has set, spoon the fig butter over (3-4 teaspoons in each cup/glass/jar) and decorate with a quarter of fresh fig and you are ready to serve!
Nutrition Facts
Lemon Panna Cotta with Fig Butter
Amount per Serving
% Daily Value*
* Percent Daily Values are based on a 2000 calorie diet.
** As an Amazon Associate I earn from qualifying purchases.
LEAVE A COMMENT
RELATED POSTS