This simple Mediterranean antipasti platter recipe is not really a recipe. It's more like an inspiration for those who don't want to cook when it's hot!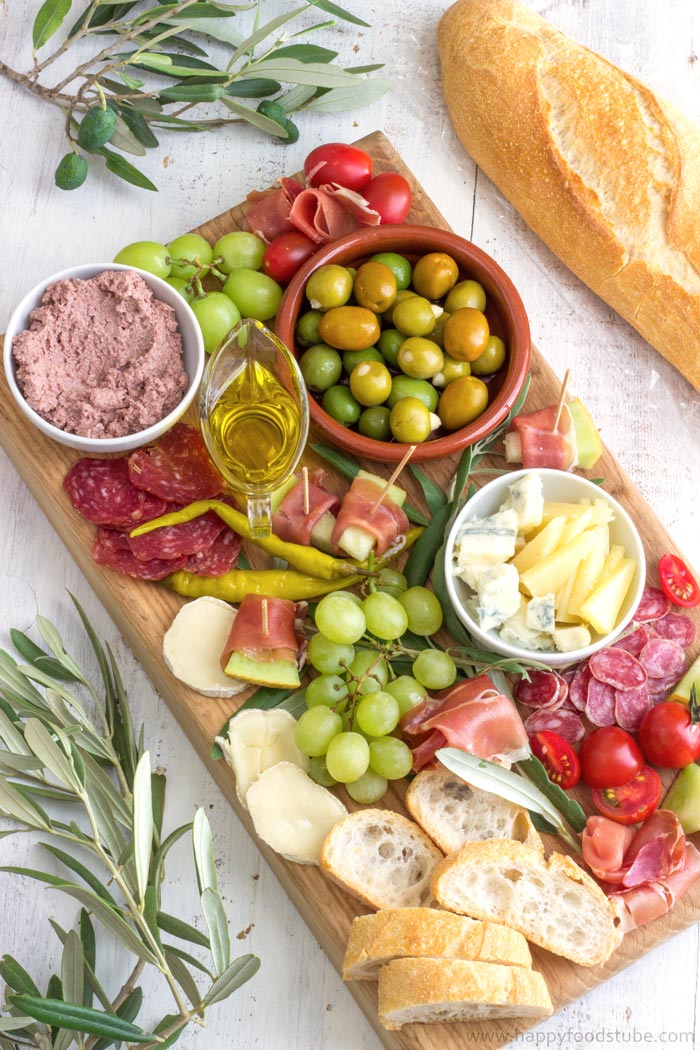 It's also for those who prefer simple dinner! And for those who love hosting parties and need something fast yet yummy! And guess what? It's a perfect way to share your meal with friends while watching the Olympics 2016! Don't you think so?
We love this antipasti platter! We love it a lot! And we prepare it a lot!
What we like about this simple platter is that it's:
Fast – You can get it ready within minutes. If you are really slow at cutting then count with some extra time?
Versatile – You choose what ingredients you prefer/like.
Simple – No cooking required so everyone can do it!
Fresh – I am not fan of boiled vegetables! I like fresh ones and this is a great way to get enjoy your 5 a day!
Appetizer/Snack/Easy dinner – A perfect appetizer before your main meal, a perfect snack any time of the day or a perfect light dinner to share with your friends!
I started making antipasti platters shortly after moving to Spain. It was when we discovered olive sellers at one of the nearby markets. They sell various types of olives, different colors and sizes. Some of them are marinated in lemon marinade, some of them are filled with garlic, others with almonds… some are spicy, some are not. No matter what type you choose you are in for a treat!
I think we fell in love with them right there the first time we tasted them. We came back home with full bags. Bags full of olives! It was pretty easy to figure out what is the best way to enjoy these olives! Simple antipasti platters!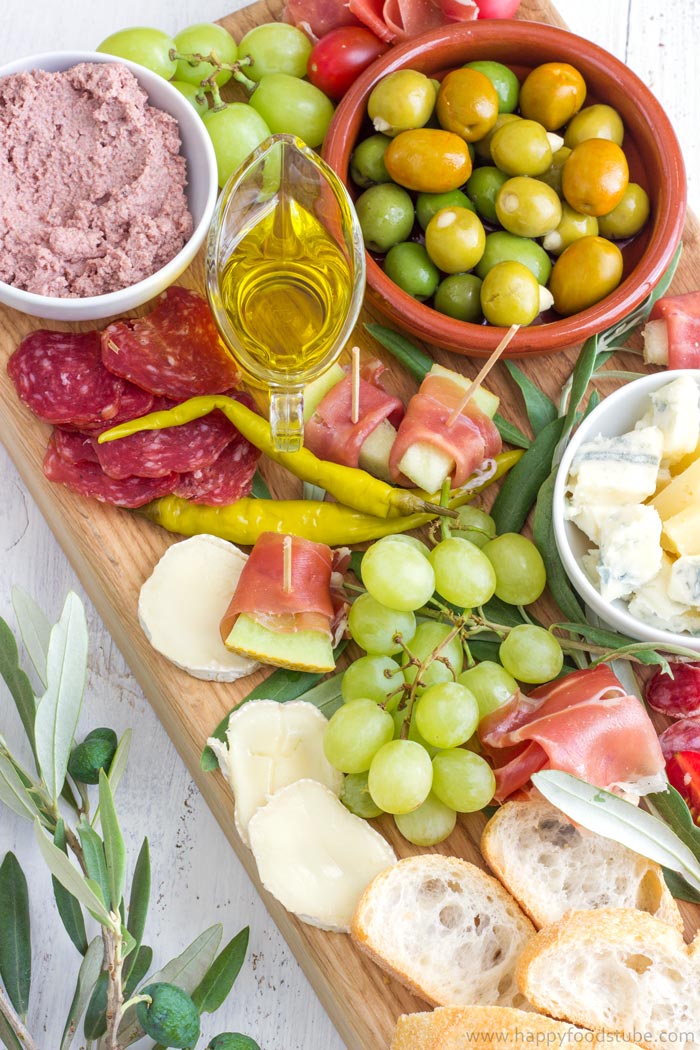 So let's talk a bit more about this amazing snack/appetizer/light dinner!
The main ingredients are olives and extra virgin olive oil. Then you can't forget bread! We buy Spanish bread that is similar in size and shape to French baguettes but has a different texture and taste. In my opinion this is the best bread for dipping in oil. Oh, yes, don't forget this! You have to dip your bread in olive oil! It's the best thing ever!
Other must have items are tomatoes, cheese of your choice (if you are a cheese lover then the more the better) + other fruit and vegetables of your choice. We usually go for radishes, peppers, onions, grapes or melons (i.e. honeydew, cantaloupe, ha'ogen, …).
When it comes to cold meats there are no boundaries here whatsoever. We usually go for Spanish Fuet (dry cured sausage), prosciutto and pate. If you can't get your hands on fuet, try Italian air cured sausages or other air dried meats. Bresaola (air-dried salted beef) is also delicious.
If you have party coming up, make this platter! You will please the crowd and I bet there won't be any leftovers left! And if there are any leftovers, send it over to my place I will finish them in no time!
I also like to make this antipasti platter when we do barbecue. This way we have something to nibble on while we are waiting for the burgers, fish or sausages to be cooked.
Believe me, this simple Mediterranean antipasti platter has it all! It's fast &simple! There is no cooking required, it's party/BBQ/summer "friendly" and most of all DELICIOUS!
Simple Mediterranean Antipasti Platter
This Simple Mediterranean Antipasti Platter recipe is not really a recipe. It's more like an inspiration for those who don't want to cook when it's hot.
Ingredients
Pate

Olives

Fuet

or any air dried sausage

Prosciutto di Parma

/ Salami / Bresaola

Cheese of your choice

(Gorgonzola, Goat Cheese, Manchego Cheese)

Cherry Tomatoes

Grapes

Bread

– Spanish Pan de Agua or French baguettesh Pan de Agua or French baguette

Guindilla Peppers

, Pickled/Marinated

Melon

(honeydew/cantaloupe/ha'ogen)

Toothpicks

(optional)
Instructions
First get a large plate/plates/tray/cheese board.

Cut the sausages, tomatoes, bread and cheese. Wash and cut melon into bite size pieces. Wrap some prosciutto ham around some of the melon pieces and secure with a toothpick.

Pour extra virgin olive oil in a small bowl. Transfer pate in another smaller bowl.

Arrange everything on the plates/board/tray and serve!
Notes
The size of your platter will depend on the amount of ingredients you use! The above picture feeds 2 (quite hungry) persons!
** As an Amazon Associate I earn from qualifying purchases.
LEAVE A COMMENT
RELATED POSTS