This is an easy recipe for homemade fig jam using fresh figs. It's low in sugar and doesn't contain added pectin. Enjoy with cheese, savory appetizers or spread over brioche or challah.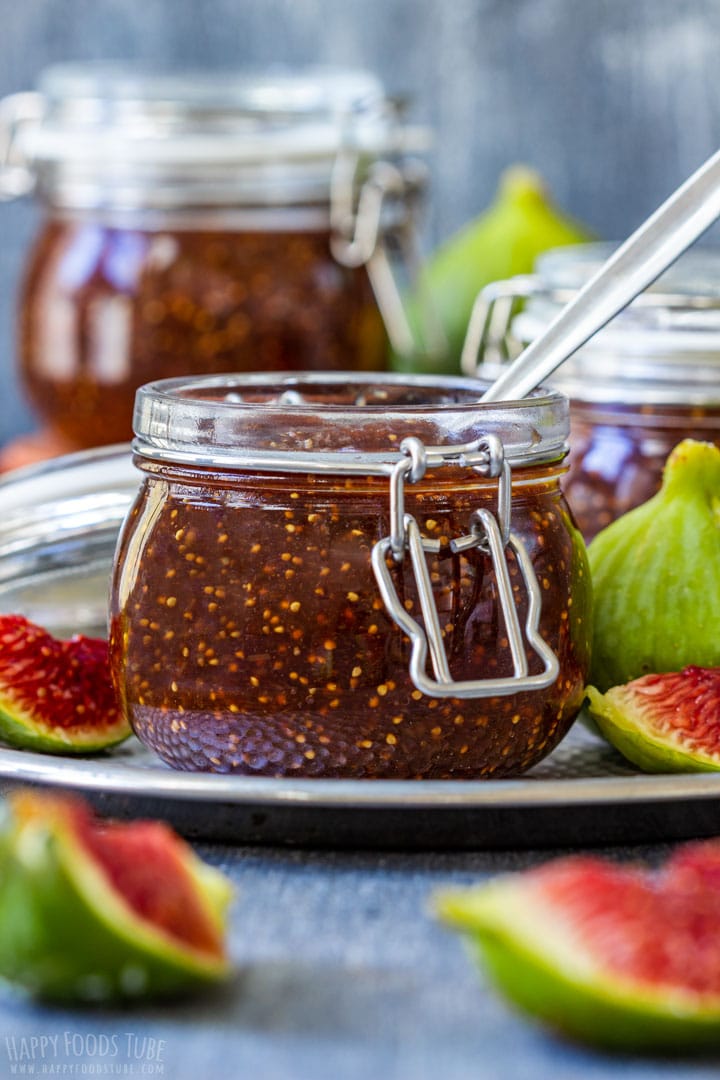 In this post, you will find useful tips, FAQ's and a recipe card with detailed instructions on how to make fig jam with fresh figs.
What to do with figs?
If you have a ton of figs on hand but no idea what to do with this delicious fruit apart from eating it from fresh, I have a few ideas for you:
The easiest way to use up figs is to make a fig jam which if you can following the canning guidelines should last for ages in your pantry. You could also give it to your friends as a Christmas gift.
Or make fig preserves! They are basically like a jam, but made with chunks of fruits.
Fig tart is another delicious fig recipe and you can pretty much experiment with crust and filling (or use your favorites) and top the tart with fresh figs and some chopped nuts. I love using puff pastry as it only takes about 12 minutes to bake it which makes a great and quick dessert.
Perhaps you are planning a party or family gathering, so why not turn them into delicious fig appetizers? Prosciuto fig crostini is my favorite!
What cheese goes with fig jam?
Goat cheese
Camembert
Brie (try baked brie with fig jam)
Manchego
If you are not sure, you could just prepare a simple antipasti platter or cheese board and serve fig jam in a small bowl alongside the rest of the ingredients. That way your guests can try it and add as much/little as they like.
Do you peel figs before cooking?
There is no need to do it especially for this fig jam recipe. Doing so you would lose a lot of the good stuff that is in their skins.
Also, the skins will thicken the jam and your yield will be greater.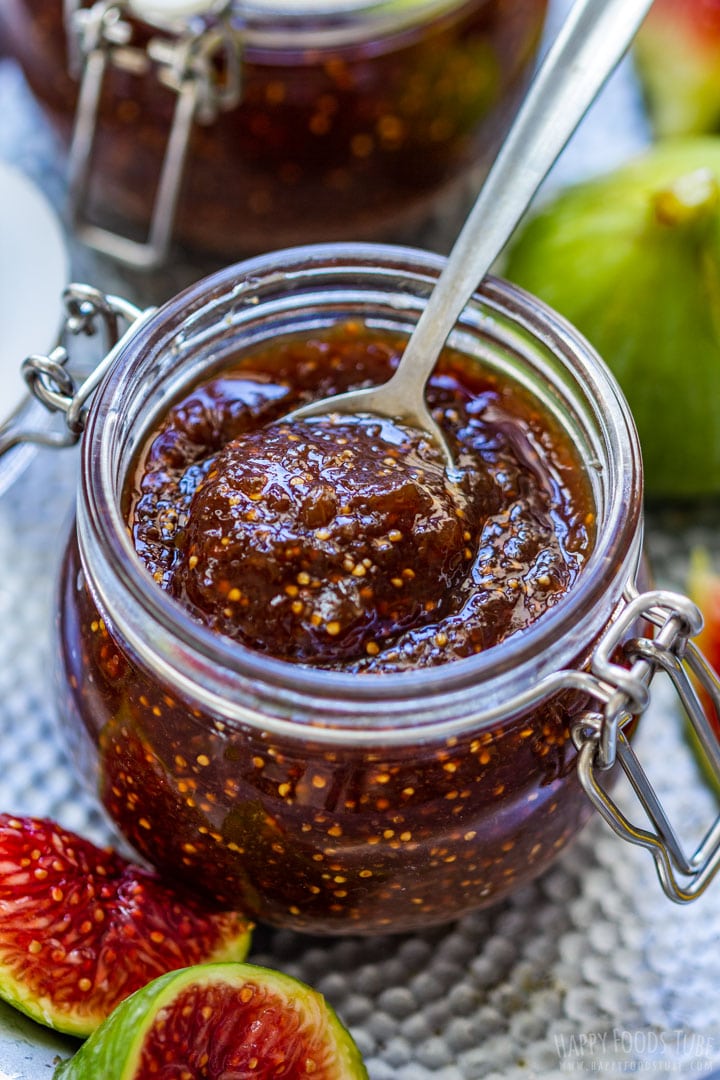 Useful tips
Don't panic if your jam needs more time on the stove. Just cook until you like the consistency. Just note that it will thicken once cooled down.
An easy way to see whether your jam is runny or not is by pouring some onto a chilled saucer and letting it set for a while. A thick jam will not spread much.
Don't forget to sterilize your jars and lids! I water-bath them for 10-15 minutes in boiling water.
This recipe can be easily doubled.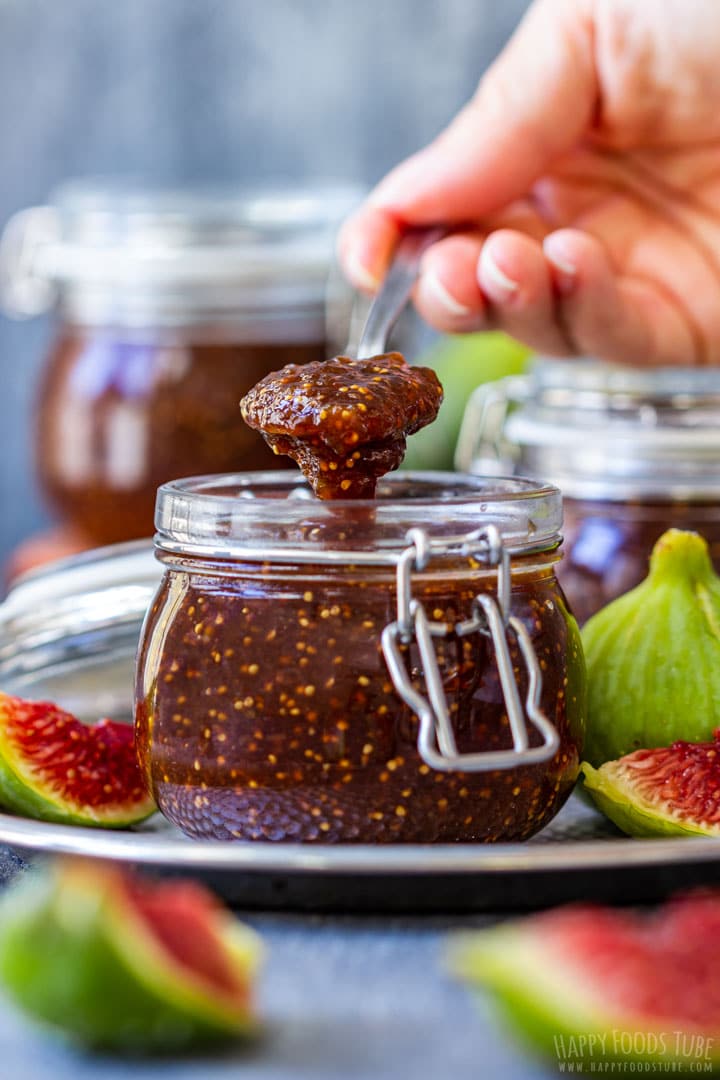 More homemade jam recipes you might like:
A few notes:
Fig jam is popular in the Mediterranean. Any time I think of this deliciousness, I think of our trip to Greece and all the foods we tried and edible souvenirs we brought home with us. Like this jam.
But, you don't have to travel to enjoy a good food. You can make it yourself, so why not try!
Enjoy!
Fig Jam
This is an easy recipe for homemade fig jam using fresh figs. It's low in sugar and doesn't contain added pectin.
Servings:
3
Jars (4-ounce jars/130-milliliters)
Ingredients
2

pounds

Fresh Figs

(900 grams), see note 1

½

pound

brown Sugar

(225 grams), see note 2

1

medium

Lemon

, juice only, see note 3

¼

cup

Water
Instructions
Put a saucer in the freezer so you can check the consistency of the jam later on.

Wash the figs well under running water. Cut the stems off and cut each fig in half. Transfer to a food processor and puree.

Pour the mixture into a large-bottomed pot. Add sugar, lemon and water. Stir. Cook on high for about 10 minutes, stirring constantly.

Reduce the heat to low and simmer for at least 30 minutes, stirring from time to time (at the beginning you might need to stir more frequently than towards the end – you want to avoid the jam "spitting").

If you are not sure that the thickness of the jam is to your liking, take the saucer out from the freezer and spoon some jam on. Cool a bit or place back in the freezer for 1-2 minutes. Check with your finger or spoon to see if thick enough. If not runny and you like it, turn off the heat otherwise continue cooking.
For fridge: Pour jam into sterilized jars and seal with a lid. Cool completely before storing it in the fridge.
For pantry: Pour jam into sterilized jars and seal with a lid. Can in water bath for 15 minutes, take out and let cool completely before storing in the pantry.
Notes
Any variety – the riper the better.
Either brown or white sugar will work. ½ pound is about 1 heaped cup.
You should get about 6-7 tablespoons of lemon juice out of your lemon.
Please take the cooking time as a guide only. You can cook it longer for a thicker jam or shorter for a thinner jam, if you like. Remember, it will thicken more once cooled completely.
Always sterilize your jars and lids before using them. When pouring hot jam into glasses, use warm glasses to avoid possible breaking due to temperature difference.
Nutrition Facts
Fig Jam
Amount per Serving
% Daily Value*
* Percent Daily Values are based on a 2000 calorie diet.
** As an Amazon Associate I earn from qualifying purchases.
LEAVE A COMMENT