Calling all ice cream lovers! This No Churn Chocolate Cherry Ice Cream can be in your freezer within minutes! You will love it! Your kids will love it!
It's fast, no churn and no mixing in the freezer to break the ice crystals! All it takes is whipping the cream and adding the rest of the ingredients to it! Freeze and enjoy!
This creamy no churn chocolate cherry ice cream with pieces of chocolate & cherries is a perfect summer treat!
Guys, let me tell you something! Last year I bought an ice cream maker. You can't imagine how excited I was about it! I saw myself making all kinds of ice creams! Yes, I was excited … until the moment I read the user's manual. Who would have thought that making ice cream in an ice cream machine is a complicated thing?
A lot of don'ts were in this manual and after a while I was already exhausted reading it. Then there is this freezing the bowl for 24 hours in a freezer bag, refrigerating the ice cream mix for 4 hours before actually pouring it into the ice cream bowl, plus quite a few other important steps that need to be followed.
I don't know guys. I thought you buy the machine, make ice cream mix, pour it into the machine, and after a while voila – your ice cream is ready. Well, I guess I should have done my research first!
So as you might have already guessed that moment was the beginning of an end of my ice cream making career! Don't get me wrong I made quite a lot of ice cream last summer but without the ice cream maker!!! I put it back in the box.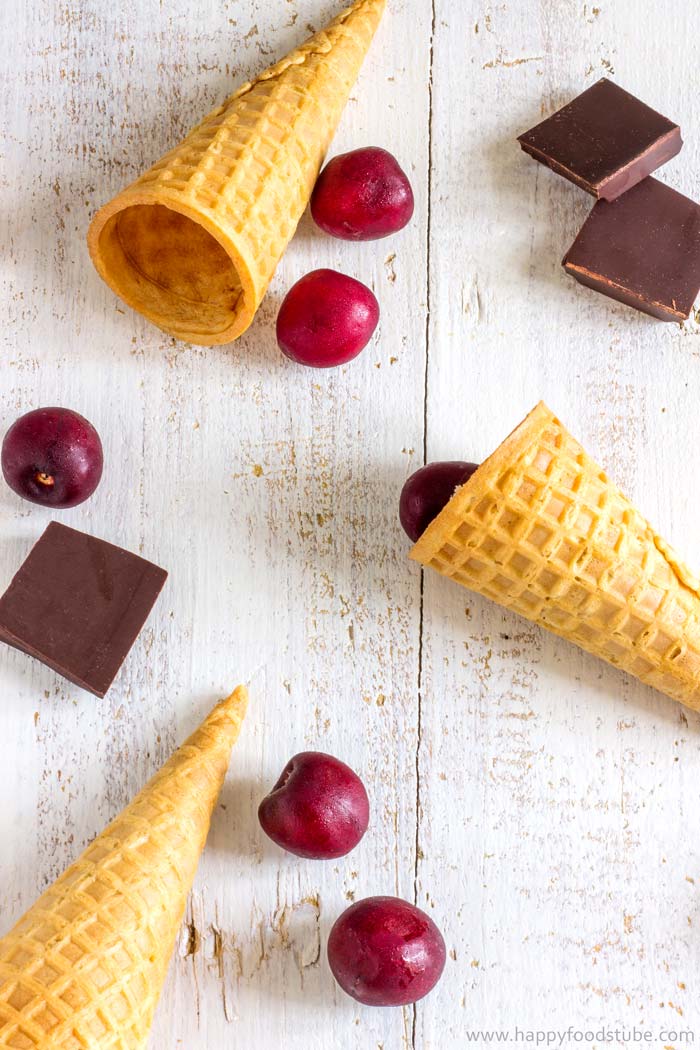 You must think I am weird but I guess I am just lazy to go to all that trouble when I can make ice cream such as this delicious no churn chocolate cherry ice cream without the machine.
Now this doesn't mean I am against ice cream machines. Not at all! I hope that not all of them are over complicated, maybe some of them even save you time (like I though mine would) and will produce a perfect ice cream. I hope they do! And if you have such machine, let me know! Because I wanna know!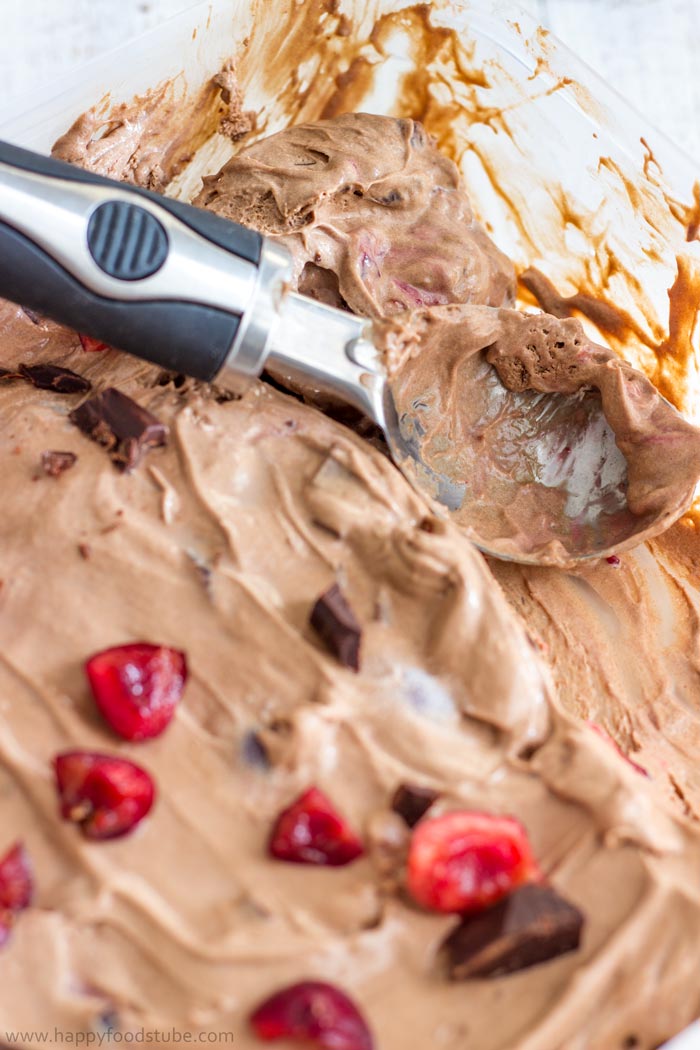 I want to know because I am curious! Mine's been sitting there for over a year now and I feel like I have to give it a go just to try it out finally (I know, I know…. don't judge me for not using the ice cream machine I had always wanted)! It's been on my TO DO list!
My other problem with this machine is they say I need a freezer bag for the bowl so I can put it in the freezer. Well I couldn't find freezer bags large enough for the bowl in supermarkets. Do you think I could use a simple plastic bag? Yes? No? I have no idea!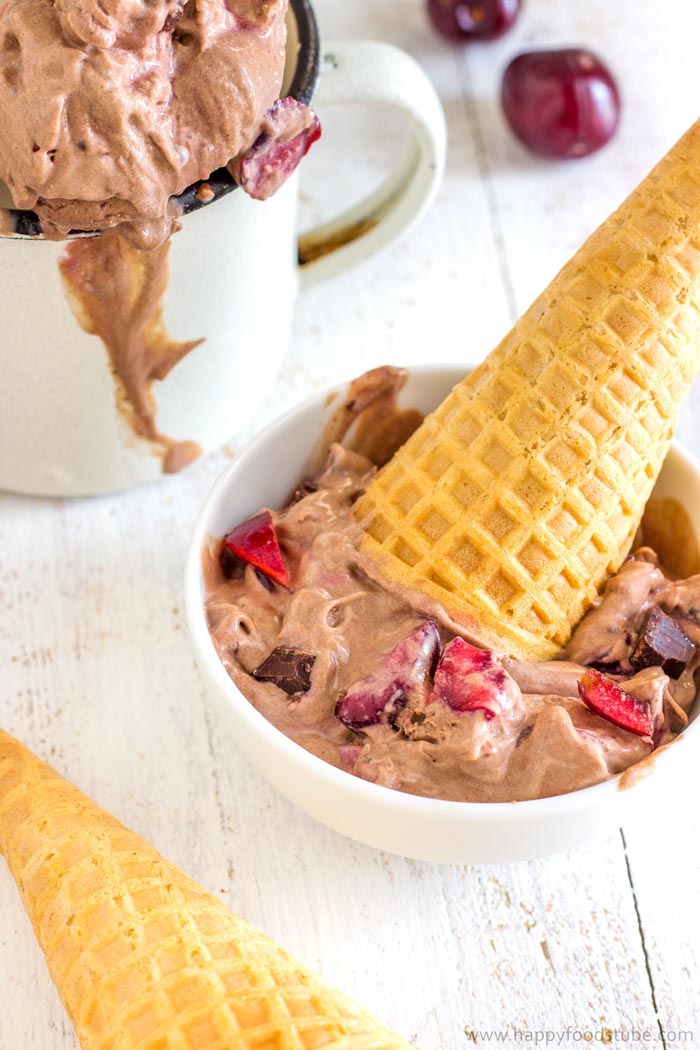 Do any of you have an ice cream maker? Do you use it often? Are you happy with it? Let me know if you get a chance because I am again in an ice cream making mood and I really want to use my machine! Do you have any recipes that you love and always make or you like to try new ones?
So because I haven't used my ice cream maker yet, here is a very easy recipe for my no churn chocolate cherry ice cream!
Also check out these homemade ice cream recipes!
Want to see how to make Chocolate Ice Cream with Cherries? Watch the video!
No Churn Chocolate Cherry Ice Cream
Calling all ice cream lovers! This No Churn Chocolate Cherry Ice Cream can be in your freezer within minutes. You will love it! Your kids will love it.
Ingredients
280

ml

Double Cream

(9.5fl oz)

150

ml

Sweetened Condensed Milk

(5fl oz)

50

g

dark chocolate

(1.8oz)

20

g

Cocoa Powder

(0.7oz)

150

g

Cherries

(5oz)
Instructions
Wash and pit cherries. Cut them into small pieces. Roughly chop the chocolate.

Mix cocoa powder with condensed milk in a bowl until well combined. To achieve no lump cocoa/condensed milk mixture, sift the cocoa powder beforehand.

Take the double cream out from the fridge and pour in a bowl. Using an electric mixer, whip the cream.

Now pour cocoa/condensed milk mixture in the bowl. Combine well. Throw in chocolate and cherry pieces and give it a stir.

Pour into a container, cover with a lid and place in your freezer for at least 3 hours.

Let it thaw for about 10-15 minutes before serving.
Notes
Keep double cream in the fridge prior to whipping!
Nutrition Facts
No Churn Chocolate Cherry Ice Cream
Amount per Serving
% Daily Value*
* Percent Daily Values are based on a 2000 calorie diet.
** As an Amazon Associate I earn from qualifying purchases.
LEAVE A COMMENT
RELATED POSTS