Fresh mint & pistachio ice cream, anyone? It's simple to make, light and yummy. This recipe is for those who prefer ice cream maker doing all the "hard work" for them!
And guess what? This is officially my last ice cream post this summer! Yes! I promise! The thing is I can't help it. I feel like summer would last longer if I just kept on making ice cream! Anyone else out there with similar feelings?

Anyways, if you like mint and pistachios you will enjoy it! Pistachios are one of my favorite nuts. Their bright green color always amazes me! And so does their taste! And mint? Oh, this herb is perfect in drinks, cocktails, teas, salads … and ice creams!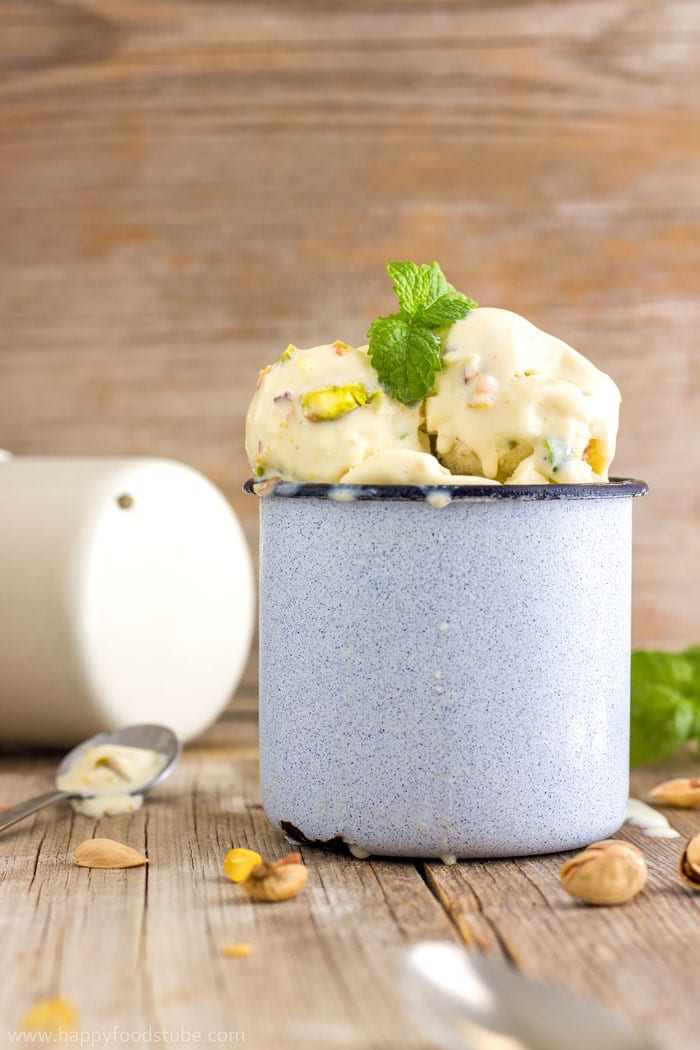 Now this easy ice cream recipe uses fresh mint and pistachios. The pistachios are finely chopped and added to the ice cream mix right before churning. The mint is added to milk and slowly simmered to release its flavor. If you are after a way stronger mint flavor, then add more mint.
This fresh mint & pistachio ice cream was officially the first one ever we made in the ice cream maker we bought last year!!! Imagine! Finally at the end of summer! Shame on us! I am glad we have finally tried the machine and we definitely will be making some more. But don't worry I won't be posting any ice cream recipes any time soon!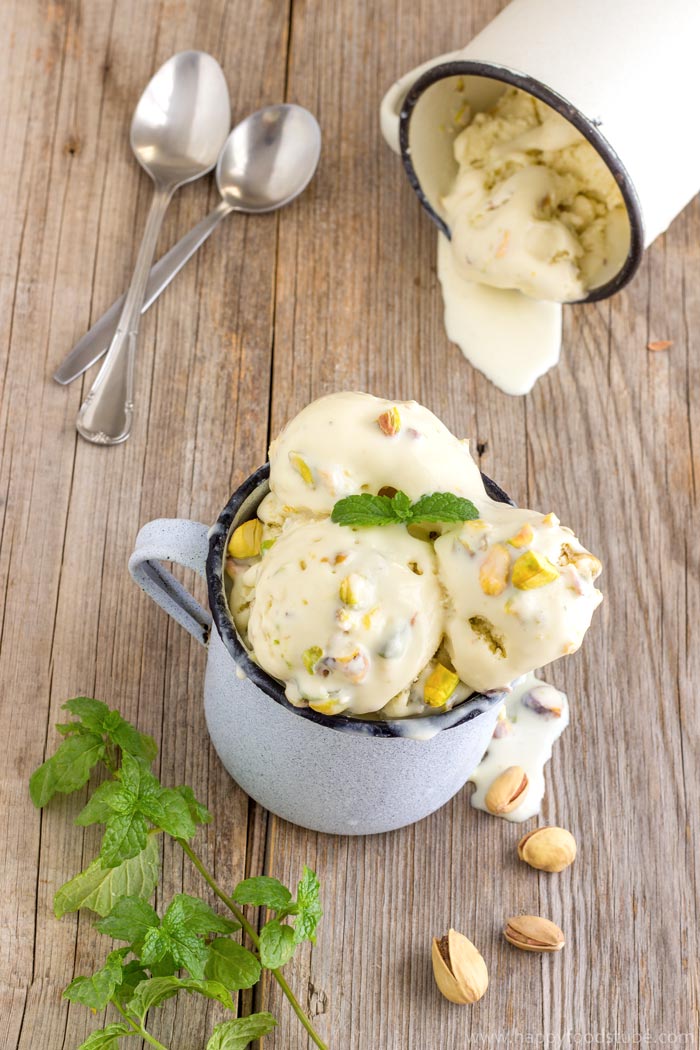 So yeah, this ice cream recipe is it for this summer! I hope you all still have nice weather wherever you live and are able to enjoy these few summer days that we have left!
Related Posts:
No Churn Chocolate Cherry Ice Cream
Retro Russian Ice Cream – Plombir
Strawberry and Banana Frozen Yogurt
Yields 4 portions
Fresh Mint & Pistachio Ice Cream
20 minPrep Time
20 minTotal Time
Ingredients
5g (0.18 oz) Fresh Mint
115g (1/3 cup) Pistachios
350ml (11.83 fl oz) Milk
250ml (8.45 fl oz) Whipping Cream
75g (2.65 oz) Sugar
3 Egg Yolks
Instructions
In a saucepan bring milk and fresh mint to a simmer. Remove from heat.
Using a blender, blend the mint to get stronger flavor. Discard any leaves and stalks that have not been blended properly.
Beat the egg yolks and sugar in a bowl. Pour the eggs in the minty milk while stirring constantly.
Cook on low heat until the mixture thickens. Turn off the heat and let it cool down before placing it in the fridge for a couple of hours.
Whip the cream until thick and fold into the mixture.
At last throw in chopped pistachios and mix.
To make the ice cream, simply follow your ice cream machine instructions.
Serve with some more pistachios, if desired!

Happy ice cream making with Happy Foods Tube!
6.8
https://www.happyfoodstube.com/fresh-mint-pistachio-ice-cream/
Browse more Homemade Dessert Recipes or visit our
channel to see the videos.
This post may contain affiliate links. For more information on my Affiliate Policy, please click
here
.