This zucchini soup recipe is perfect for beginner cooks or anyone looking for easy soup recipes. Only 7 ingredients including salt and pepper is is all you need to make this easy soup with zucchini!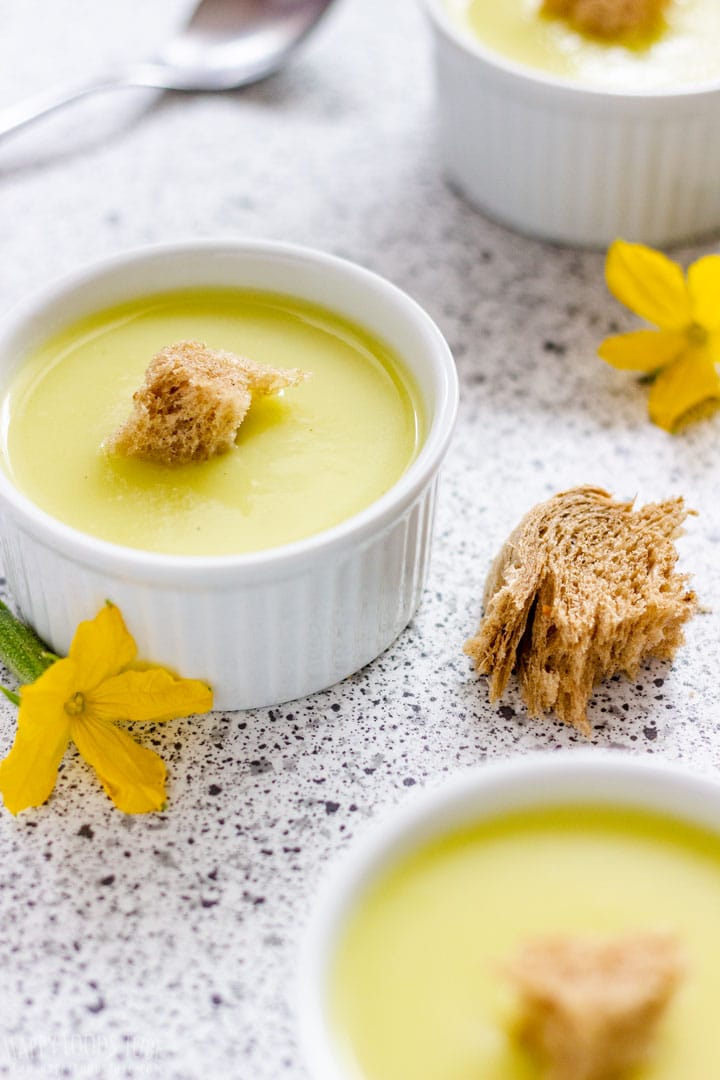 It's made with veggies only, no half and half nor cream or butter are used which means it is also naturally vegan, gluten-free and dairy-free.
This zucchini soup is an easy meal ready on your table in less than 30 minutes.
It's perfect for a meal-prep. This zucchini soup can be refrigerated in an airtight container for up to 4 days. It also freezes well. In summer, you can enjoy it chilled as well, if you like!
Add this zucchini soup recipe to your menu if you are looking for ways to use zucchini or like eating healthy!
Or perhaps you are simply looking for easy soup recipes that don't require a ton of ingredients and are also good for you. This is definitely one of them as it is low in calories but rich in nutrients.
How to make zucchini soup without cream
Onion is sauteed in a pot with some olive oil. While that is cooking, get the rest of the vegetables ready – cut zucchini and potatoes into small pieces and add them to the pot once the onion is translucent.
Pour over stock, season with salt and pepper and bring to a boil. Then, simmer on low until the vegetables are soft. Puree it until smooth and serve!
Possible variations:
Low sodium vegetable stock can be substituted with regular stock or chicken/turkey stock (if you are not vegan or vegetarian). If you don't have any of these on hand, you can use water instead. Just note that the taste will be slightly lighter, so you might need to add more seasoning.
I always use olive oil in cooking as it is the healthiest option. If you don't have it or don't want to buy it, you can use vegetable or sunflower oil instead. Real butter is also a tasty substitution.
Potato can be omitted. If you do so, add more zucchini!
For an extra flavor, add minced garlic to the onion and stir until it releases its aroma.
Things to remember:
Because this soup contains only a few ingredients, make sure you use them as fresh as possible. For example, an old zucchini can turn bitter which will make your soup bitter as well and you won't enjoy it (learn how to tell if zucchini is bad).
To puree this creamy zucchini soup, you will need either immersion blender or a soup liquidizers/speed blender (like Vitamix or similar). When using the latter, make sure to cool down the soup before pureeing, especially when the pitcher is not made of glass.
If you are wondering how to cut zucchini for soup (or potatoes), here is something to remember: The smaller the potato and zucchini pieces, the quicker the cooking time! So, it does not really matter here what way you cut it as it will be pureed at a late stage.
This zucchini potato soup serves 4 people as an entree – with 1 cup and a bit of soup per person. This is a healthy portion size that should be served with a main to provide a filling meal.
Serving suggestions:
This simple soup with zucchini and potato can be served on its own or with dinner rolls or other type of bread (Focaccia would work well with this zucchini soup and so would Homemade Breadsticks).
You can also drizzle some olive oil on top, crack some black pepper over and serve it with croutons.
If you would like to pair it with a main, you might like to try Broccoli Curry or if you are a meat eater, then why not try Cabbage and Sausage Foil Packets?
More quick soup recipes made from scratch that you can try at home:
Zucchini Soup
This zucchini soup recipe is perfect for beginner cooks or anyone looking for easy soup recipes.
Servings:
4
Healthy Portions, See Note 5
Ingredients
1

tablespoon

olive oil

, see note 1

1

Small

Onion

, see note 2

1.5

pounds

Zucchini

, see note 3

½

pound

Potatoes

(1 large)

2

cups

Stock

, see note 4

½

teaspoon

Salt

(or to taste)

black pepper

, a pinch
Instructions
Heat the oil in a medium pot (3-quart/3-liters is perfect) and add minced onion. Saute for about 3 minutes.

Meanwhile: Peel zucchini and chop it into chunks. Add it to the onion and stir. Dice the potatoes and add them to the pot.

Pour in 2 cups of water, add salt and pepper and stir. Cover with a lid and bring to a boil. Reduce the heat and simmer for 15 minutes or until the potatoes are soft.

When ready, puree the soup and taste. Add more seasoning, if needed.

Enjoy with bread, croutons or anything you like!
Notes
I usually use extra virgin olive oil in cooking. However, you can use regular olive oil or sunflower oil/vegetable oil or butter.
You can use either white or yellow onion. 1 small onion yields about 2/3 of a cup when finely minced.
For a stronger zucchini soup, you can add more zucchini, if you like (you might need to add more liquid though).
You can also use chicken/turkey stock (if you are not vegan or vegetarian) instead of vegetable broth. Water can also be used. Remember, that when using water, you will need more seasoning. When using stock (especially the regular one that is not low in sodium) you will need less salt so perhaps it's better to season it at the very end.
This soup is perfect for a meal-prep. It keeps well in the fridge for 4 days.
This recipe yields 4 healthy portions (about 1 cup of soup per person) or 2 very generous portions. I don't recommend having this instead of a main meal as it is low in calories and it won't keep you full for long.
This recipe can be easily doubled/tripled.
For more tips, tricks, recipe ideas, serving suggestions or if in doubt, please read the full post above this recipe card that contains a detailed explanation.
Nutrition Facts
Zucchini Soup
Amount per Serving
% Daily Value*
* Percent Daily Values are based on a 2000 calorie diet.
** As an Amazon Associate I earn from qualifying purchases.
LEAVE A COMMENT
RELATED POSTS