This refreshing orange cold brew recipe combines zesty citrus with smooth coffee. A tangy twist on your favorite chilled coffee!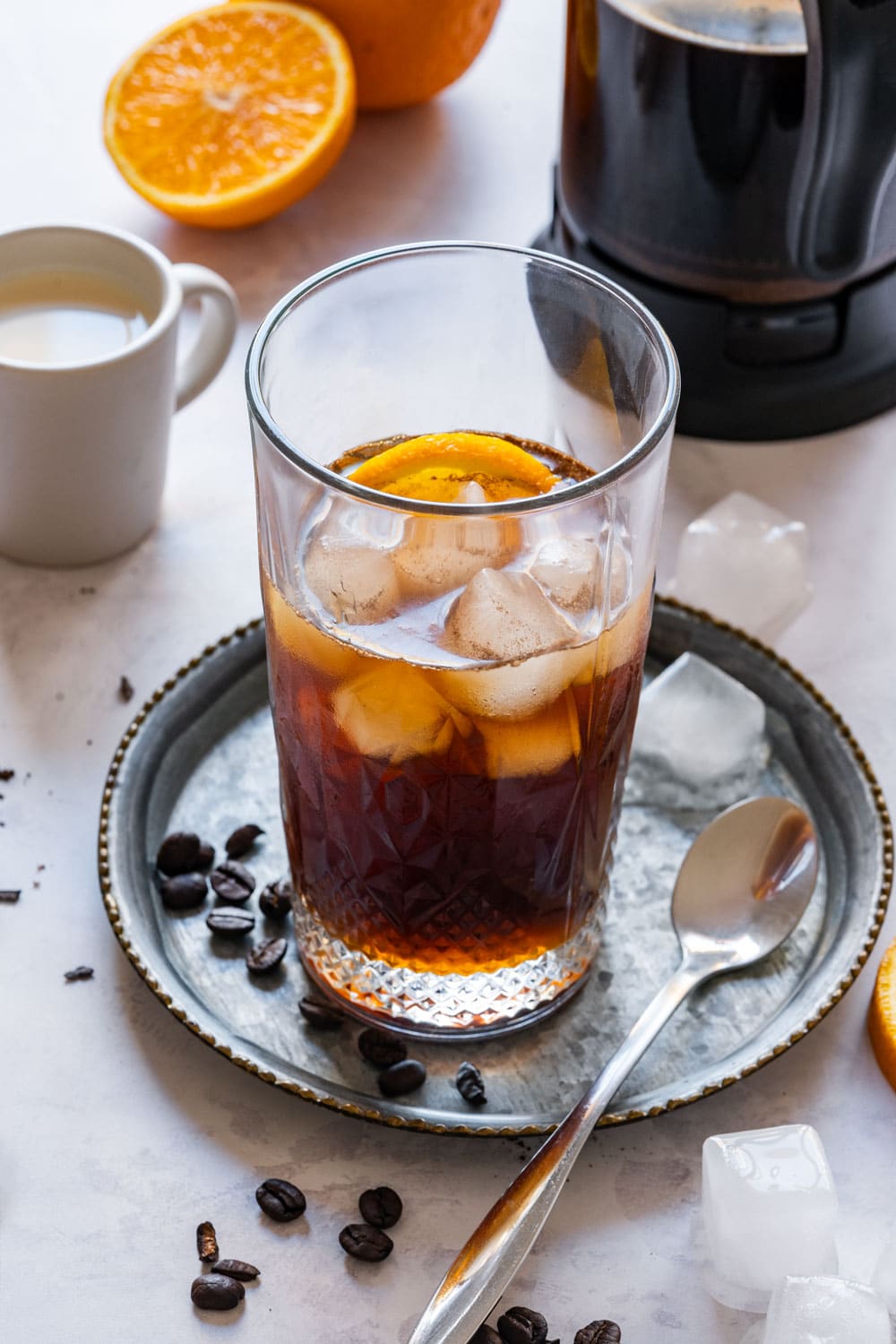 Prep this citrus-infused drink ahead and enjoy whenever you need a caffeine fix. Plus, it is easy to make and can last over a week in the fridge when stored properly!
Orange coffee is best enjoyed chilled – the perfect drink during hot summer months.
There are plenty of options how you can enjoy it, all mentioned below in the "Useful Tips" section.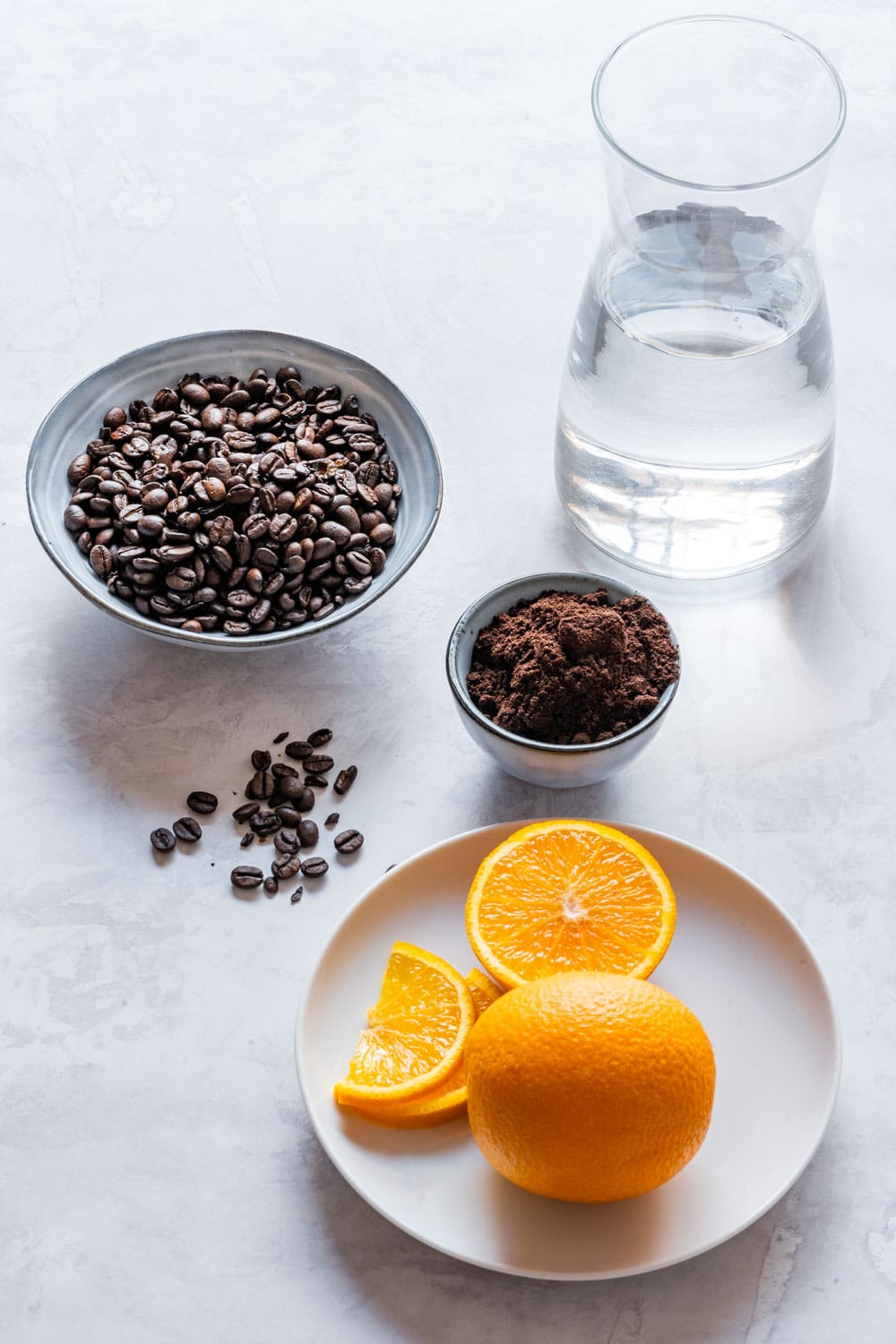 What is cold brew coffee?
It is a method of preparing coffee by steeping ground coffee beans in cold water over a period of several hours. This type of coffee is usually less acidic but stronger.
Note: It is not the same as iced coffee.
How much coffee for cold brew?
The often-used coffee beans to water ratio is 1:4. This is in case you like to grind your coffee yourself. This ratio also yields a very strong coffee concentrate.
If you don't have a grinder but still want to try this, follow this ratio: Steep 2 tablespoons ground coffee (use measuring spoon for best results) to 1 cup of water (15 grams to 250 milliliters).
To get an extra strong concentrate, you will need to use 1 cup of ground coffee (about 14 measuring tablespoons) to 4 cups (1-quart/1-liter) of water.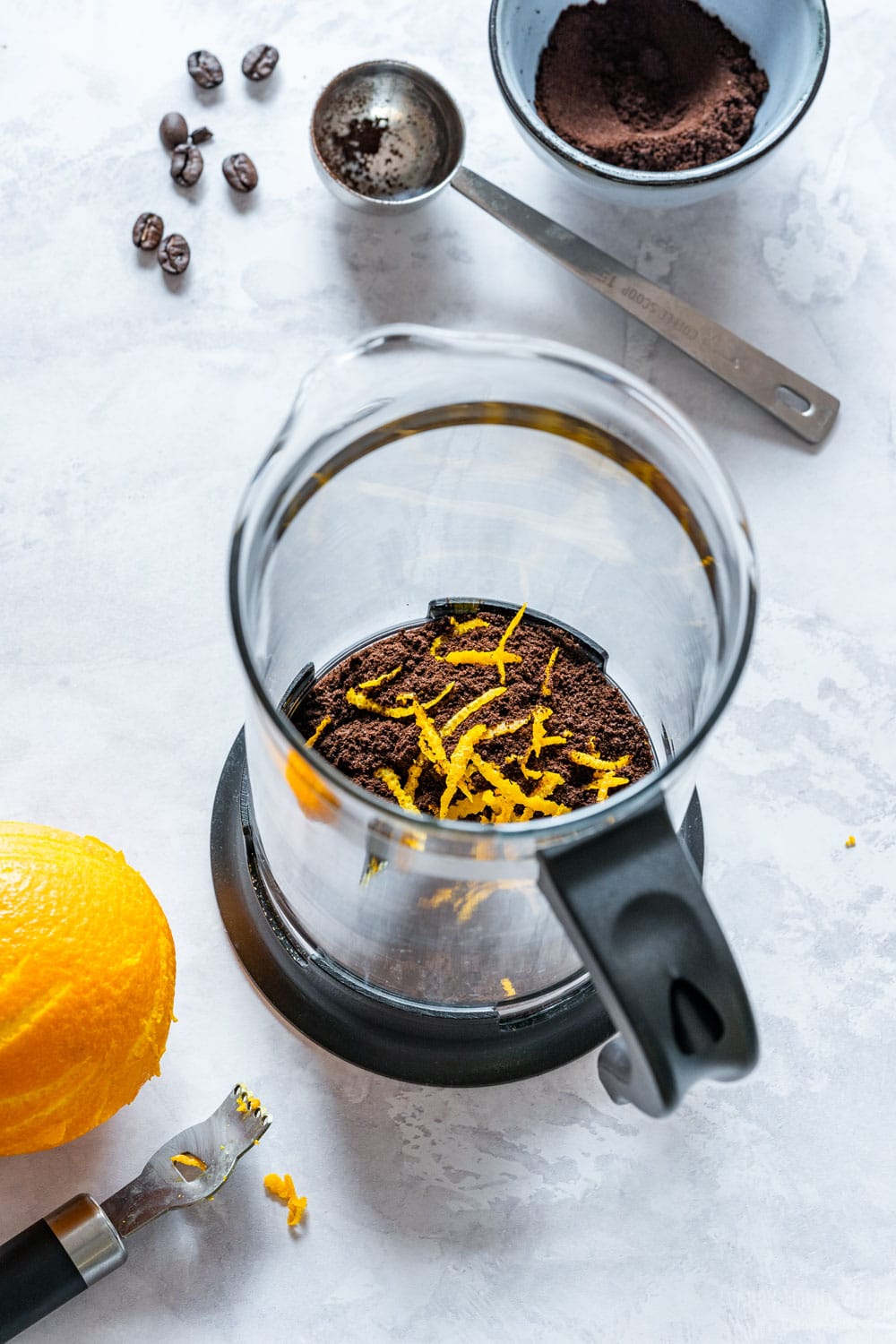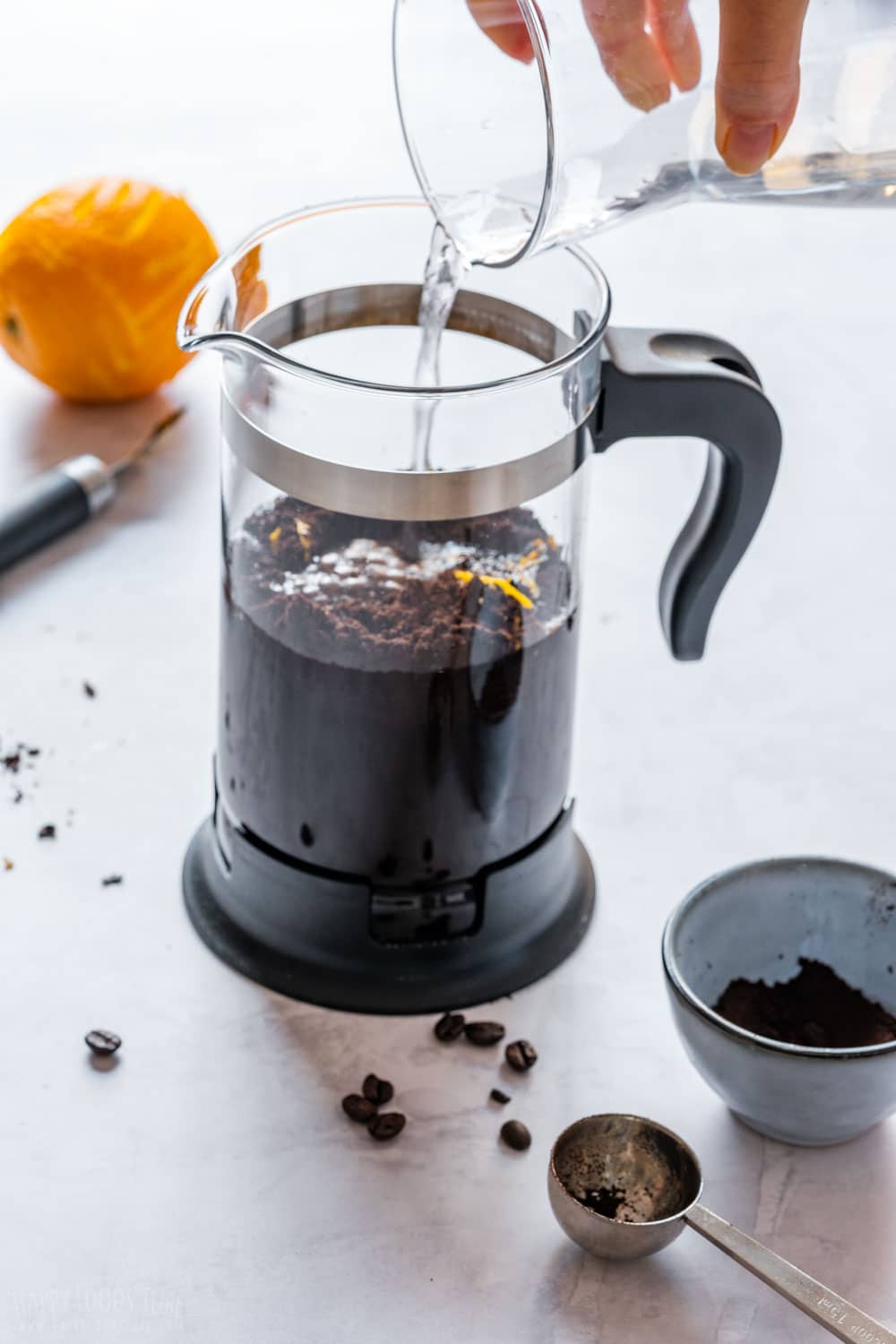 How to make cold brew coffee at home
Tools needed
A large glass jug, pitcher or mason jar or any other glass container with a lid.
Long spoon/spatula – Anything for stirring.
A fine mesh strainer – Or, a coffee filter (even better) or a cheesecloth. You can also use French Press, if you have one!
Zest peeler – A fine grater will work just as well.
Ingredients
Orange – mostly orange zest, plus some slices for serving (optional).
Cold Water.
Coffee – you can ground it yourself or buy already ground.
The prep
It only takes a few minutes to prepare the mixture for brewing. In a jug you mix the 3 main ingredients, cover it and let it steep at room temperature for at least 16 hours or in the fridge for 24 hours.
When ready, strain the liquid through a coffee filter (or use other previously mentioned option) and you are done! All you need to do is enjoy it the way you like. I used French press.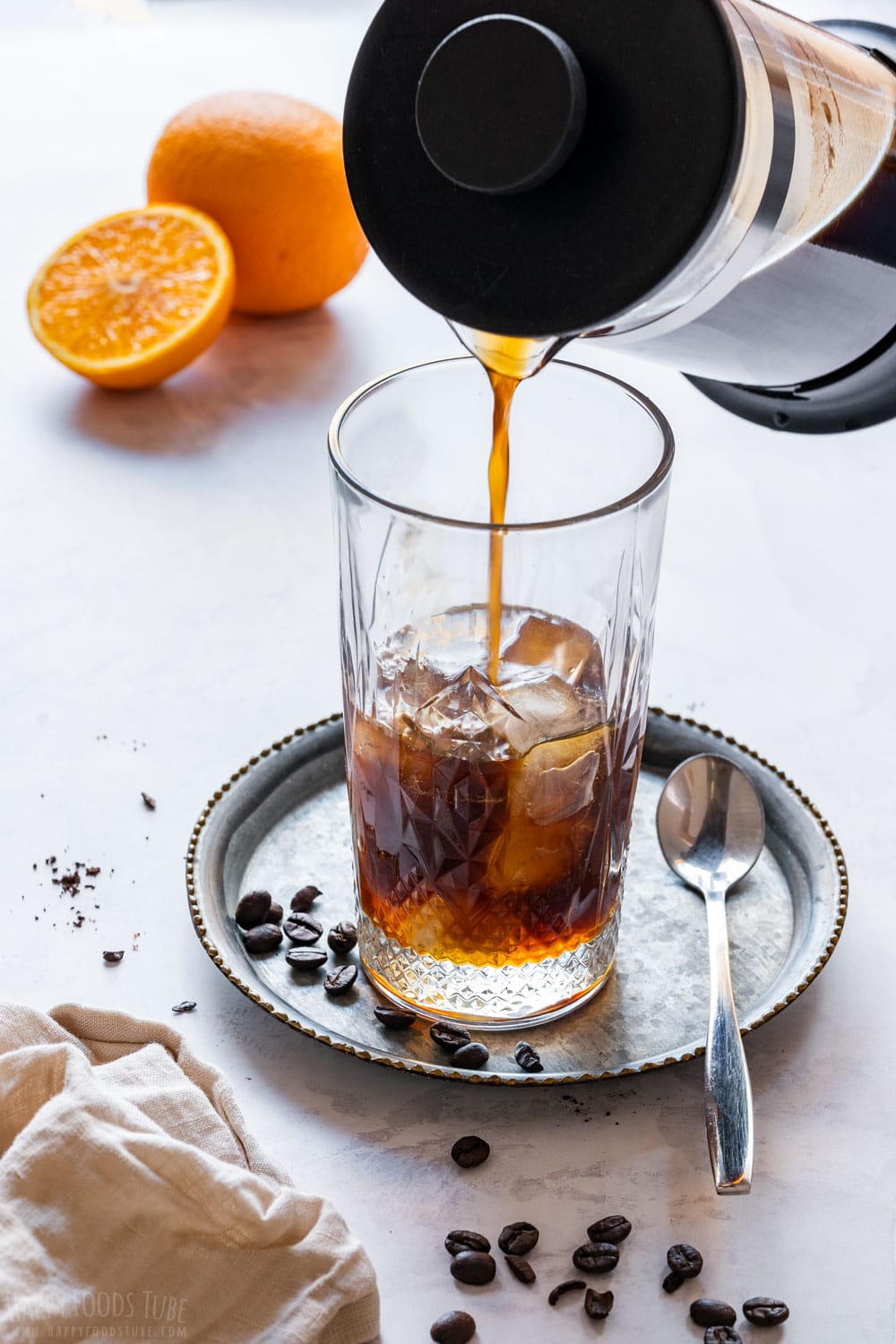 Useful Tips:
When planning on making a large batch and enjoying your cold brew throughout the week, make sure to keep the concentrate in the fridge!
Dilute it to your liking either with water and/or milk, or creamer.
For best results, I highly recommend using filtered or bottled water.
Drink as is or add a sweetener of your choice. There are plenty of options: Regular sugar, brown or dark muscovado sugar for a more robust flavor, maple or agave syrup, honey just to name a few.
Honey does not melt easily in cold beverages, so you need to stir well!
Use organic oranges if you can.
The longer you steep, the stronger the brew.
Don't like orange-flavored anything? No problem! Simply omit it.
Frequently asked questions:
Can I drink it warm?
Yes, you can dilute it with hot water if you like. However, cold brew is best enjoyed chilled or turned into iced coffee!
If you are looking for more summer coffee recipes that are quick and served over ice or chilled, here are a few ideas for you:
Orange Cold Brew Coffee
This refreshing orange cold brew recipe combines zesty citrus with smooth coffee. A tangy twist on your favorite chilled coffee!
Servings:
2
cups of cold brew, see note 3
Ingredients
6

tablespoons

ground coffee

(45 grams), see note 1

3

cups

cold water

(625 milliliters), see note 2

2

oranges

(zest)
Optional:
ice

sweetener

of your choice

orange slice

for serving
Instructions
In a French press (or 1-quart/1-liter mason jar or glass jug) combine coffee, water and orange zest. Stir well.

Cover and let it brew for at least 16 hours at room temperature or 24 hours in the fridge.

Strain the coffee by pushing down the press or using coffee filters or a fine mesh strainer and keep it in the fridge covered.
Notes
This recipe does not use instant coffee (a.k.a. coffee granules)! Coarsely ground coffee is best but regular ground coffee will work just fine.
Use good quality water. If your tap water does not taste good, use bottled water for best results.
This concentrate can be diluted with more water, ice or milk, creamer,…
Milk, oat-ly, almond milk or any other alternative are good to use as long as you like them!
Two tablespoons of ground coffee to 1 cup of water. For a stronger extract use 1 cup ground coffee (80 grams) to 4 cups (1 liter) water.
Nutrition Facts
Orange Cold Brew Coffee
Amount per Serving
% Daily Value*
* Percent Daily Values are based on a 2000 calorie diet.
** As an Amazon Associate I earn from qualifying purchases.
LEAVE A COMMENT