This 1-minute instant iced coffee is the best way to enjoy a cup of coffee in summer! If you haven't tried it yet here is your chance!
Guys! I feel like my brain stopped working at some point today. I have been writing and re-writing this post but it's somehow going slow.
I don't know if it's because the high summer temperatures are making my brain work slower (actually not work at all in this case) or it is the fact that I am still recovering from visit to my dentist. Well it's already been a few hours since then to be honest. She fixed my broken tooth but said right away that this wouldn't last forever and if it breaks again I will need a crown! Hopefully it will last for a good while as I don't feel like going back any time soon.
Would you believe that my mouth is still numb!?! I can't eat and can barely drink! I am soo starving right now! I haven't eaten in almost six hours! You see I can't be without food for a very long time. So here I am waiting until the anesthetics stop working coz eating when half of your mouth is numb is no fun, I tell you this!
Thankfully I have a nice cup of this 1 minute instant iced coffee right next to me that distracts me a bit from feeling sorry for myself!
Truth be told, I don't drink coffee a lot. I never did drink it on daily basis. I liked to enjoy it when chatting with friends in a nice quiet coffee place. However, in Spain we started drinking it more often. I love the smell of freshly brewed coffee that fills your kitchen instantly!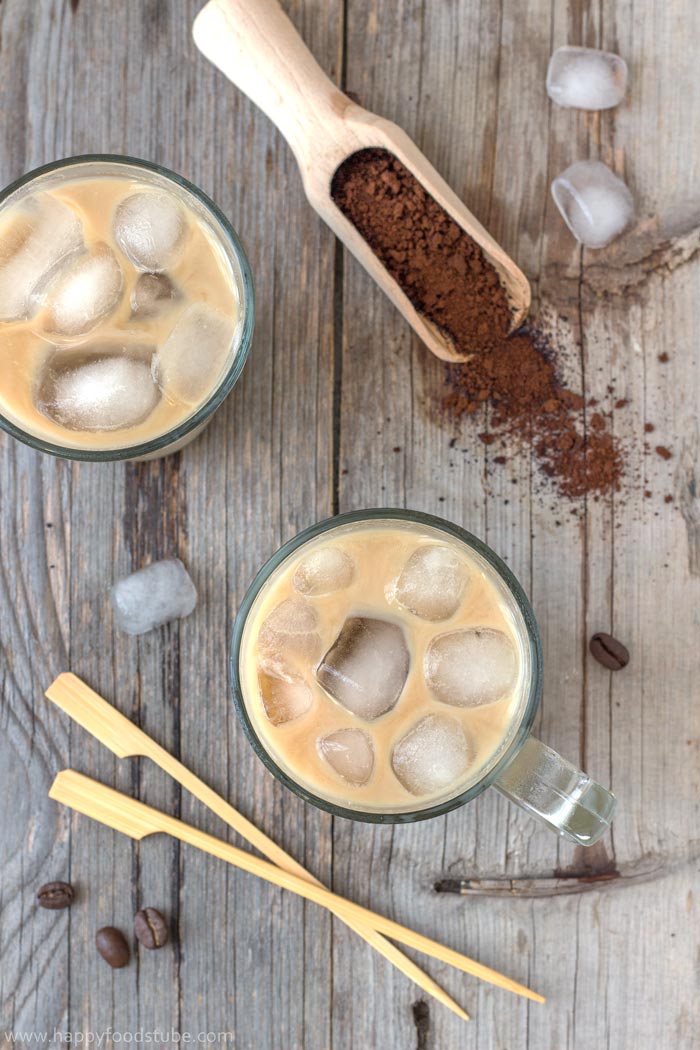 But guess what? It soon became obvious that my stomach doesn't agree with warm coffee at all! So I had to stop drinking it!
Iced coffee on the other hand is another story! I can drink it without any problems whatsoever! Isn't that great? At the beginning I wasn't sure about drinking it. First, it's cold and then what about my stomach? So I did some research ….
Guys, so it's like this. Apparently cold-brew coffee is much healthier than hot-brew one. The acid levels are much lower which means that cold-brew coffee is more alkaline. This is good for your digestive system!
Now this one minute coffee is made with instant coffee instead of ground coffee beans so it's not a cold-brew as such (When you want to make the cold-brew coffee you will need to leave steep ground coffee beans in cold water for about 12 hours). But! It agrees with my stomach so I take it the same thing applies to the quick instant version!
This 1 minute iced coffee is the simplest of all iced coffees that are out there! There are no fancy ingredients in it, it's just a simple combination of instant coffee with sugar, milk and water but tastes just right. If you are considering drinking iced coffee, start with this 1 minute instant iced coffee!
Check out my other coffee flavored recipes:
Want to see how to make 1-Minute Instant Iced Coffee? Watch the video!
1-Minute Instant Iced Coffee
This 1 minute instant iced coffee is the best way to enjoy a cup of coffee in summer. If you haven't tried it yet here is your chance.
Ingredients
1

cup

Milk

(250ml)

½

cup

Water

(125ml)

1

cup

Ice Cubes

+ some extra for serving, if desired

2-3

tsp

Instant Coffee

2-3

tsp

Brown Sugar
Instructions
Throw all ingredients in a blender or a hand blender beaker and blend until smooth and a foam forms (if you are after thicker foam, blend it longer).

Put some ice cubes in glasses before pouring the coffee in.

Serve right away!
Nutrition Facts
1-Minute Instant Iced Coffee
Amount Per Serving
Calories 60
Calories from Fat 9
% Daily Value*
Fat 1g2%
Cholesterol 6mg2%
Sodium 31mg1%
Potassium 133mg4%
Carbohydrates 8g3%
Protein 2g4%
Vitamin A 100IU2%
Calcium 69mg7%
* Percent Daily Values are based on a 2000 calorie diet.
** Happy Foods Tube is a participant in the Amazon Services LLC Associates Program, an affiliate advertising program designed to provide a means for sites to earn advertising fees by advertising and links to Amazon.com.
LEAVE A COMMENT
RELATED POSTS