Iced caramel latte takes no more than a minute to make and you don't need any special skills to make it. It's the perfect coffee drink for summer!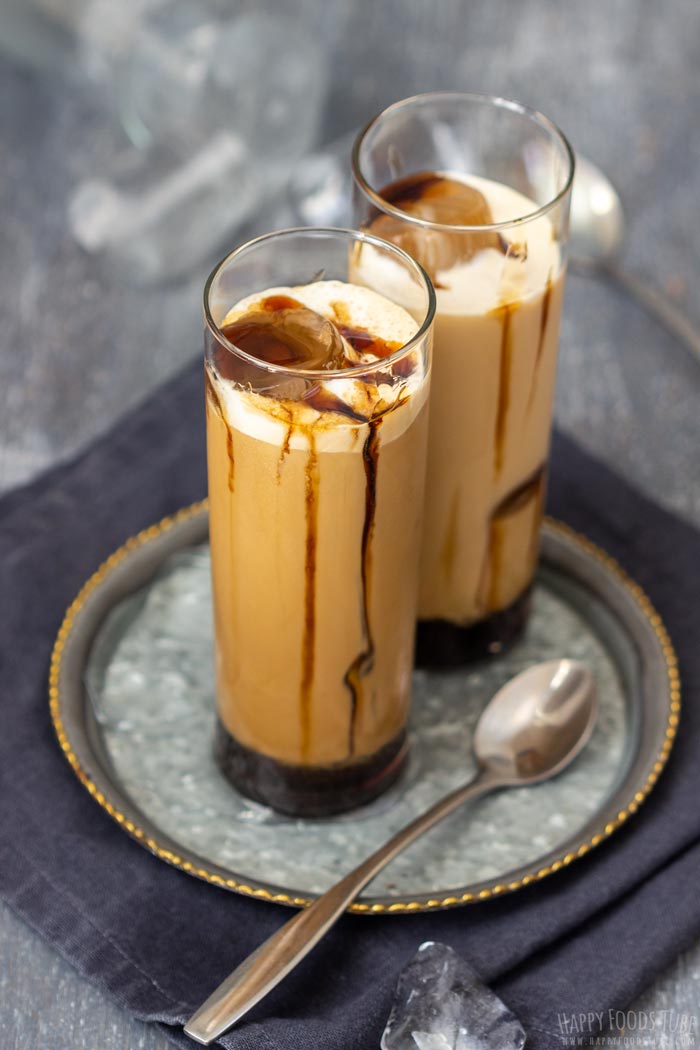 Espresso, milk, vanilla extract and water are combined together and flavored with caramel syrup. The amount of caramel syrup you add to your iced caramel latte is entirely up to you. Vanilla can be omitted completely if you don't have it on hand.
No need for any special gadgets! All you need is a jar. To make the latte extra frothy, you can use an immersion blender or an electric frother if you have one.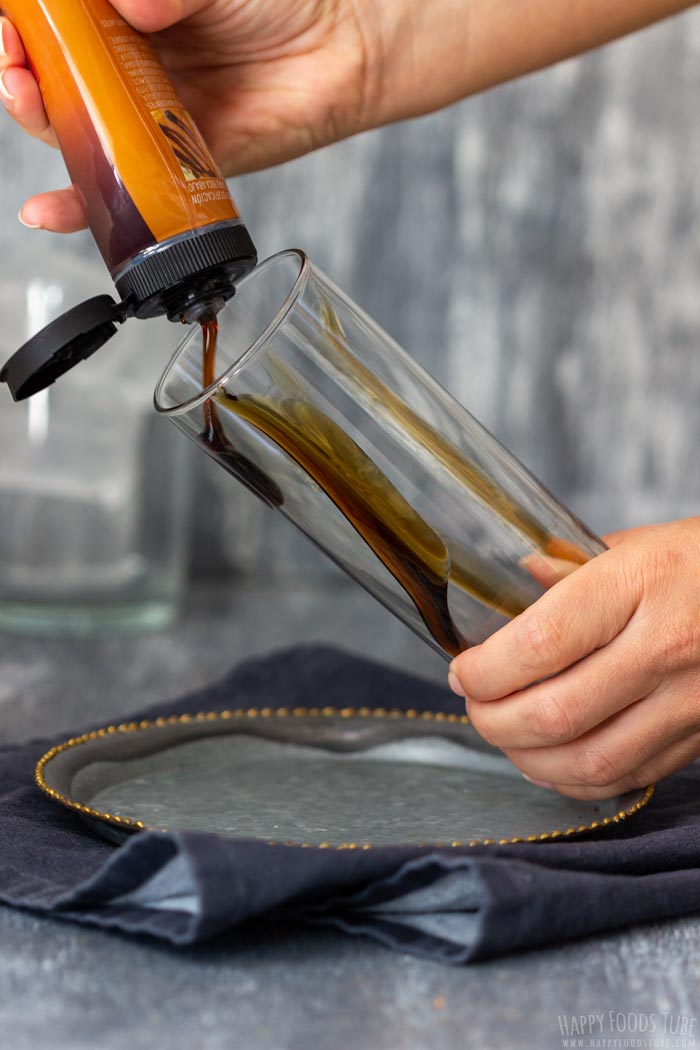 How to make iced caramel latte
Pour water, milk, instant espresso coffee, vanilla essence and about 2 tablespoons of caramel sauce into a jar. Close it with a lid and shake well.
Put a couple of ice cubes into a tall tumbler glass (or any glass you have on hand). Line the glass with the rest of the syrup and pour the latte in.
Serve immediately.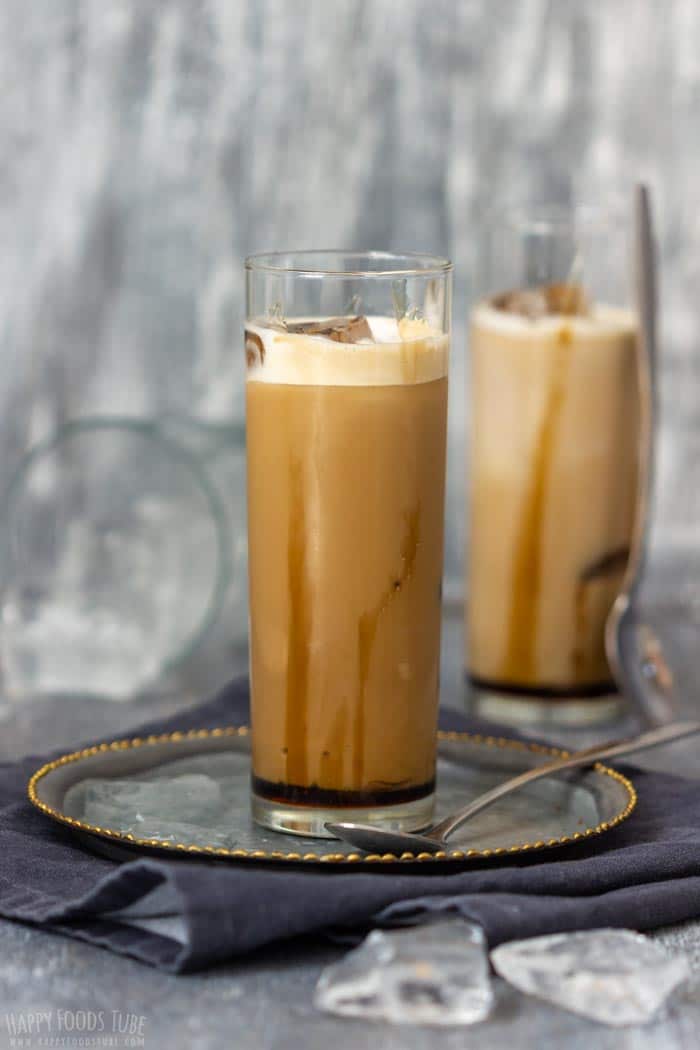 This is an easy and quick iced caramel latte recipe that everyone loves. If you are looking for more similar coffee recipes, I recommend you try these ones:
Both are made with instant coffee which means that the prep takes literally minutes!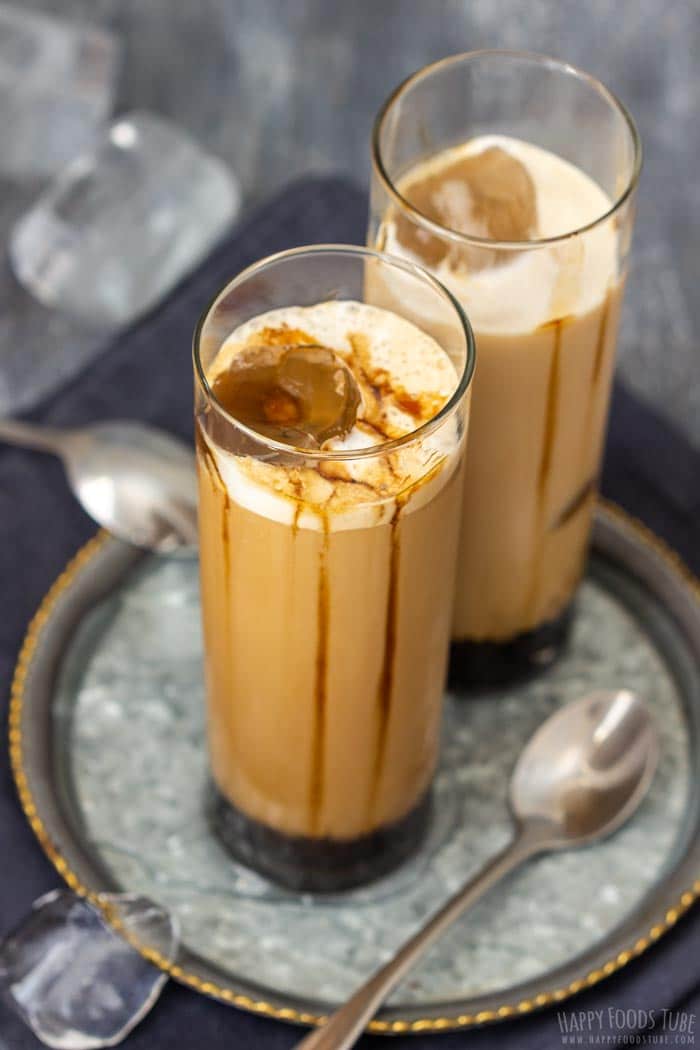 Tips for making iced caramel latte
Ice – I don't recommend using crushed ice or small ice cubes as they tend to melt fast, especially in summer. I always use large ice cubes because they are specifically made to chill drinks. They melt slower which means you can enjoy a glass of this iced caramel latte without worrying about ending up with a watery, flavorless drink.
Coffee – latte is normally made with strong espresso coffee. Now I found espresso instant coffee that we love so that is what I used to make iced caramel latte. You can also make the classic espresso ahead of time, let it cool and use it later. Or use any coffee you like, just make it stronger than usual.
Serving iced caramel latte in tall tumblers, lined with caramel sauce makes this drink look really fancy but you can serve it in any glass or mug you have on hand.
Optional toppings:
Whipped cream
An extra drizzle of caramel sauce/syrup
Chocolate shavings
Guys, if you like cold refreshing drinks that are not coffee, I have some teas for you:
Want to see how to make an Iced Caramel Latte? Watch the video!
Iced Caramel Latte
Iced caramel latte takes no more than a minute to make and you don't need any special skills to make it. It's the perfect coffee drink for summer!
Ingredients
½

cup

milk

(125 ml)

½

cup

cold water

(125 ml), see note 1

2-3

tablespoons

caramel syrup

, see note 2

2

teaspoons

espresso instant coffee

, see note 3

¼

teaspoon

vanilla extract

, optional

2-3

ice cubes

(large)
Instructions
Pour the milk, water and 2 tablespoons of caramel syrup into a jar. Add instant coffee and vanilla extract. Seal with a lid and shake well until the coffee is dissolved or just stir with a spoon.

Pour into a tall glass lined with the leftover caramel sauce and filled with ice cubes.
Notes
Use bottled or filtered water for best results. If your tap water is of good quality, go ahead and use it.
Caramel sauce/syrup – either homemade or store-bought can be used.
You can use any instant coffee you like. You can also brew espresso, let it cool down and use it whenever you feel like making this iced caramel latte.
You will get 1 portion out of this recipe when served in a tall (10-ounce/300 ml) glass over 2-3 large ice cubes.
Use large ice cubes and not crushed ice. Crushed ice would dilute the latte very quickly and you would end up with a very watery drink.
Nutrition Facts
Iced Caramel Latte
Amount per Serving
% Daily Value*
* Percent Daily Values are based on a 2000 calorie diet.
** As an Amazon Associate I earn from qualifying purchases.
LEAVE A COMMENT
RELATED POSTS