Oven roasted cauliflower is one of the side dish recipes that once you try, you will fall in love with. This cauliflower side dish is naturally vegan and suitable for gluten-free and low-carb diets.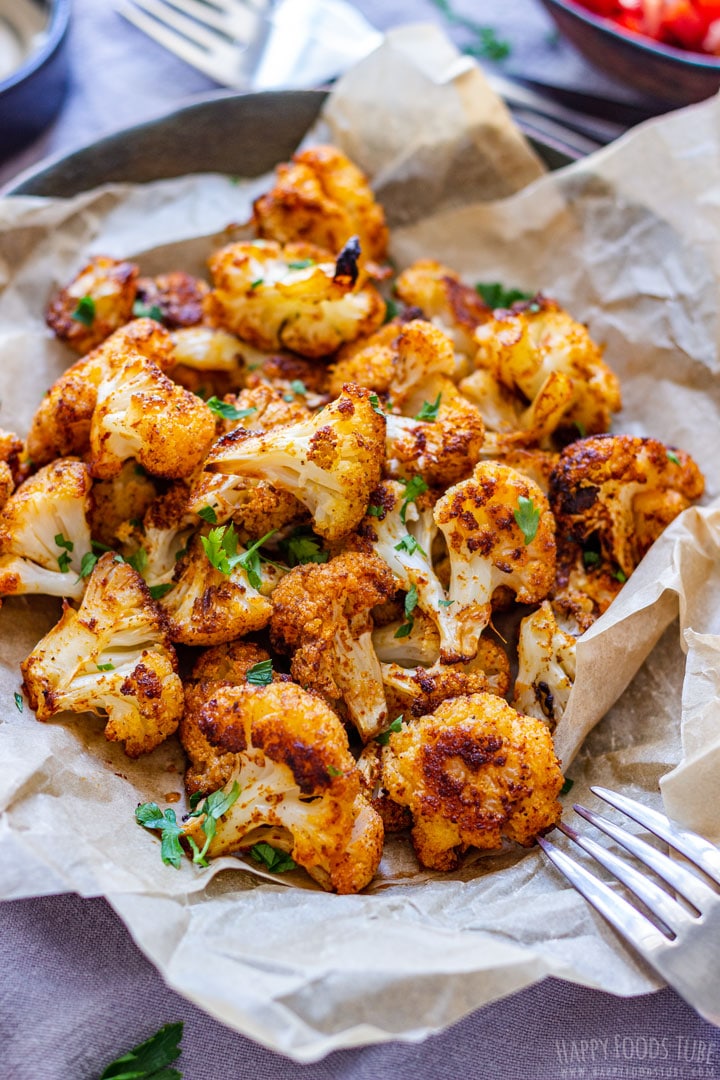 This is an easy roasted cauliflower recipe with a quick prep time. It's one of those recipes that anyone can do, and you will rarely have any leftovers. But if you do, you can use transform them into a tasty Pasta Sauce with roasted vegetables.
How to season cauliflower?
Roasted cauliflower tastes delicious with a simple seasoning. I like using a combination of salt, pepper and paprika. These three basic spices will give this side dish a ton of flavor and altogether with a drizzle of olive oil, you will be in for a treat.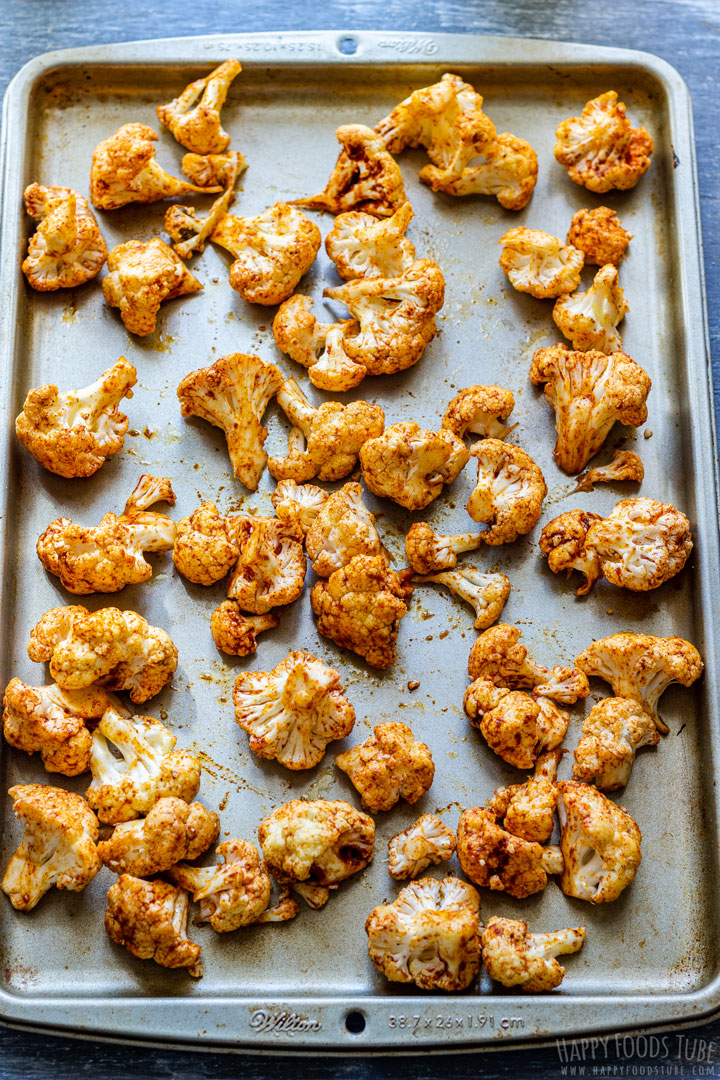 How to make roasted cauliflower in the oven?
Because the prep is quick, your first step should be pre-heating your oven. That way, you won't have to wait long to throw the prepped cauliflower in.
Next, divide the cauliflower into florets. Transfer them into a large bowl and drizzle olive oil over. Add salt, pepper and paprika and toss everything around.
Make sure to toss the cauliflower well. You don't want to end up with some pieces over-seasoned while others are under-seasoned.
Spread the florets onto a baking tray and bake in a preheated oven. It will take about 30 minutes, but it's always good to keep an eye on them.
Also, it's important to give them a mix once or twice during roasting.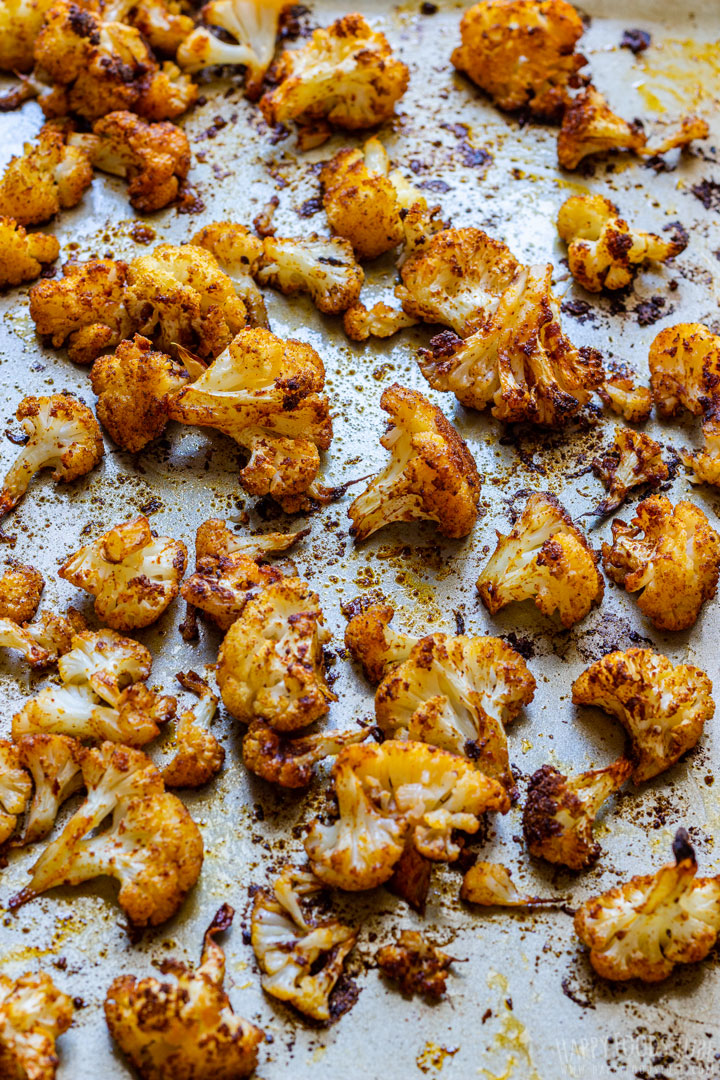 How many calories in roasted cauliflower?
A portion (a quarter of this recipe) of roasted cauliflower contains about 124 calories.
What to serve with roasted cauliflower?
It really depends on you, but this roasted cauliflower can be enjoyed with roast beef, fish, pork chops, chicken, …
You can also serve it as appetizer or with a dip of your choice (I would go with Garlic Dip).
And, if you are looking for more Side Dish Recipes, why not try Red Cabbage Coleslaw or Parmesan Roasted Potatoes or Instant Pot Broccoli are all delicious options. The last two would pair extremely well with roasted cauliflower.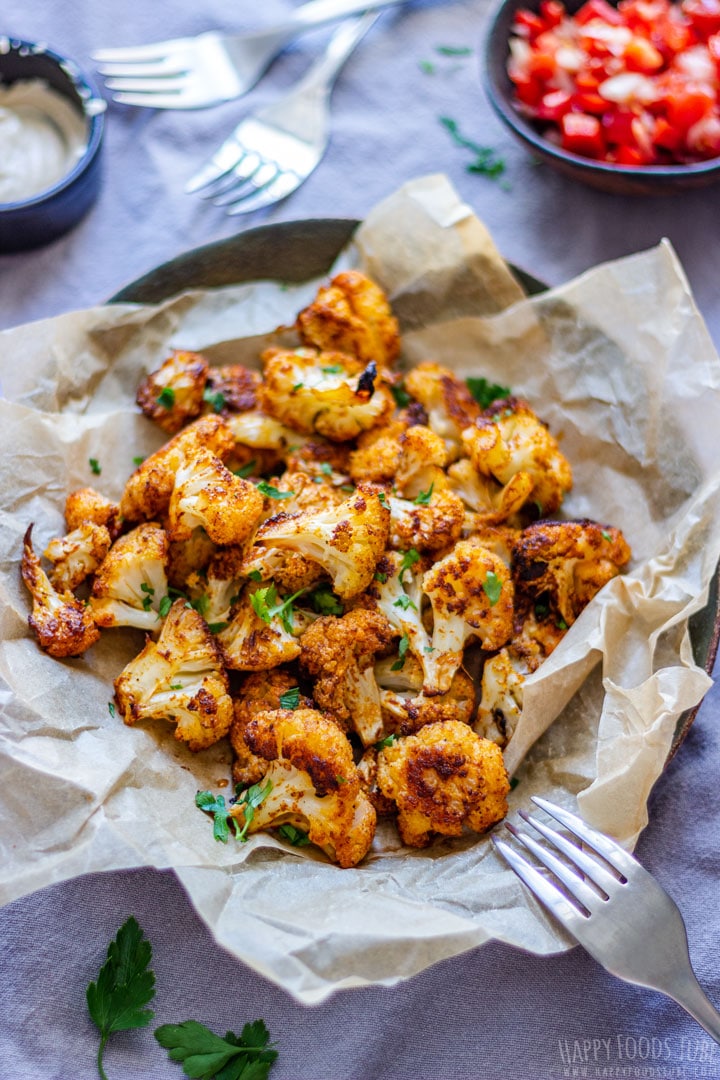 Tips for making oven roasted cauliflower
You can easily double/triple,etc this recipe.
Instead of regular paprika, you can use smoked paprika. Cayenne pepper could also be used, if you like spicy foods. Just don't add too much.
This is a simple oven baked cauliflower recipe that contains only a few ingredients, so it's important to use the best ones. I don't recommend substituting olive oil, but it is possible.
I used a 10×15-inch (25×38-centimeters) baking sheet to roast the cauliflower in. It was the perfect size. Try avoiding using a tray/sheet where the florets are packed way to close to each other.
If you are interested in more cauliflower recipes, here are some recipe ideas for you:
Oven Roasted Cauliflower
Oven roasted cauliflower is one of the side dish recipes that once you try, you will fall in love with.
Instructions
Preheat oven to 400° Fahrenheit (200° Celsius).

Divide cauliflower into bite-size florets. Place them in a large bowl and drizzle with olive oil. Sprinkle with salt, pepper and paprika. Toss well – until all the florets are well coating in the mixture.

Transfer the cauliflower florets onto a baking sheet and bake for about 30 minutes or until lightly browned and tender when pierced with a fork (or do a taste test). Make sure to toss them around once or twice during the cooking.

Enjoy!
Notes
Use as much/as little salt and pepper as you like. You can taste one or 2 florets during the roasting process and add more seasoning, if needed.
You can reduce the quantity of paprika to 1 teaspoon, if you like but I don't recommend going over 1.5 teaspoons.
Cooking time can vary. This will depend on your oven, on the size of your cauliflower florets as well on your taste – you can check after 30 minutes to see if you like it. If not, leave it it longer.
More tips, other side dish recipe ideas and FAQ's can be found in the post above this recipe card.
Nutrition Facts
Oven Roasted Cauliflower
Amount per Serving
% Daily Value*
* Percent Daily Values are based on a 2000 calorie diet.
** As an Amazon Associate I earn from qualifying purchases.
LEAVE A COMMENT