Mint and Pineapple Infused Water helps your body get rid of toxins and keeps your body hydrated throughout the day! This easy drink is also perfect for outdoor entertaining.
Guys, if you haven't tried adding some pineapple chunks to your water, then here is your chance. This lightly pineapple infused water is easy to make so everyone can do it!
Who or what is infused water for?
Infused water is a great choice for people who don't like the taste of still water or anyone who likes flavored waters.
If you add your favorite fruits and herbs to the water and let it infuse for several hours (best overnight) you will be rewarded with a tasty lightly flavored drink like Orange Basil Infused Water or Kiwi Infused Water with Mint.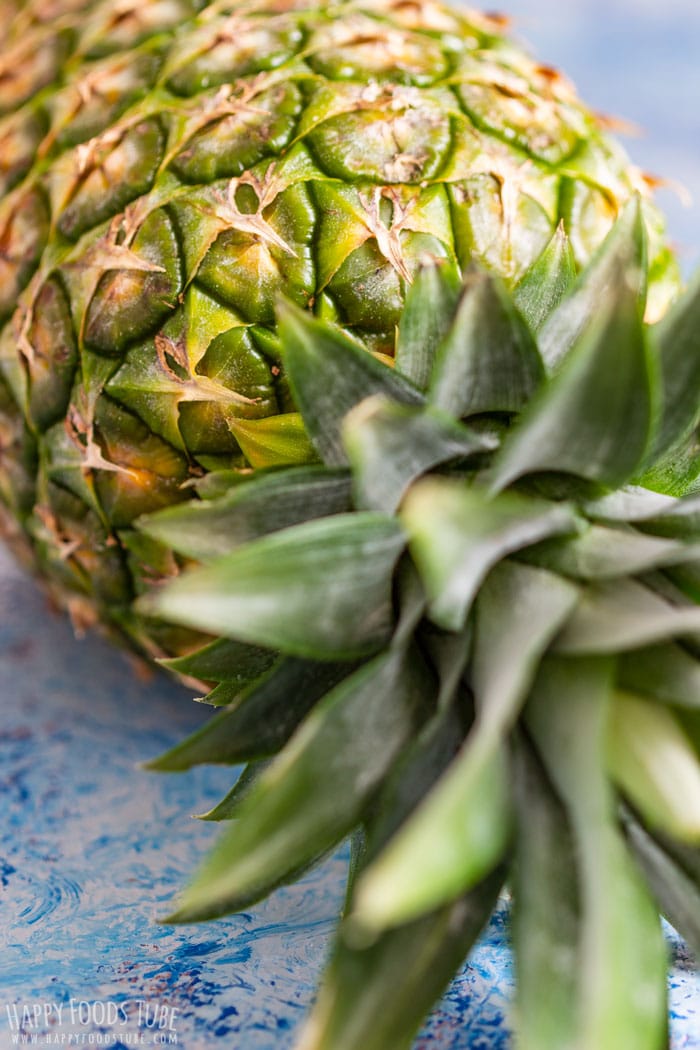 Why is infused water good for you?
These waters help cleanse your body from toxins (e.g.: Lemon Ginger Infused Water), keep you hydrated and most of all they contain only fresh ingredients and no preservatives which makes them extra healthy.
Pineapple infused water benefits
Are you still wondering why to drink pineapple water? Well, it has anti-inflammatory as well as cleansing properties. This means that it helps your body get rid of toxins. It also helps maintain healthy bones and teeth. And it's a great drink for those who are on a diet as it's low in calories and helps maintain electrolytes in balance.
The added mint helps digestion and helps you deal with headaches.
How to make pineapple infused water
Simply cut the pineapple flesh into chunks and place them altogether with some fresh mint sprigs into a jug. If you don't have a jug, use large jars instead.
Now pour water in and cover with plastic wrap or with a lid. Place it in the fridge overnight. The following day just take it out and enjoy!
If you add some lemon slices you can also serve it at a picnic or barbecue.
How long does fruit infused water last?
This depends on the type of fruit you use. Berries, like strawberries or raspberries go off faster than kiwi or oranges. Now this would also depend on how ripe each fruit is so it really is individual.
Also if you don't store the water in the fridge and you keep the fruits in, there is a higher chance it will go off quicker. Especially, during hot summer days.
The best option is to infuse it for no longer than overnight and strain the fruits afterwards.
Now that being said, refrigerated infused water can last up to 3 days but for best results always drink it as soon as possible.
I highly recommend consuming pineapple infused water within a day for its health benefits. Just so you know: the mint can last up to 3 days in water. As for the pineapple, it will depend how ripe it is. In general, very ripe pineapple chunks will last less than the ones that are not that ripe.
P.S. I have more flavored water ideas for you on my blog in Drinks section.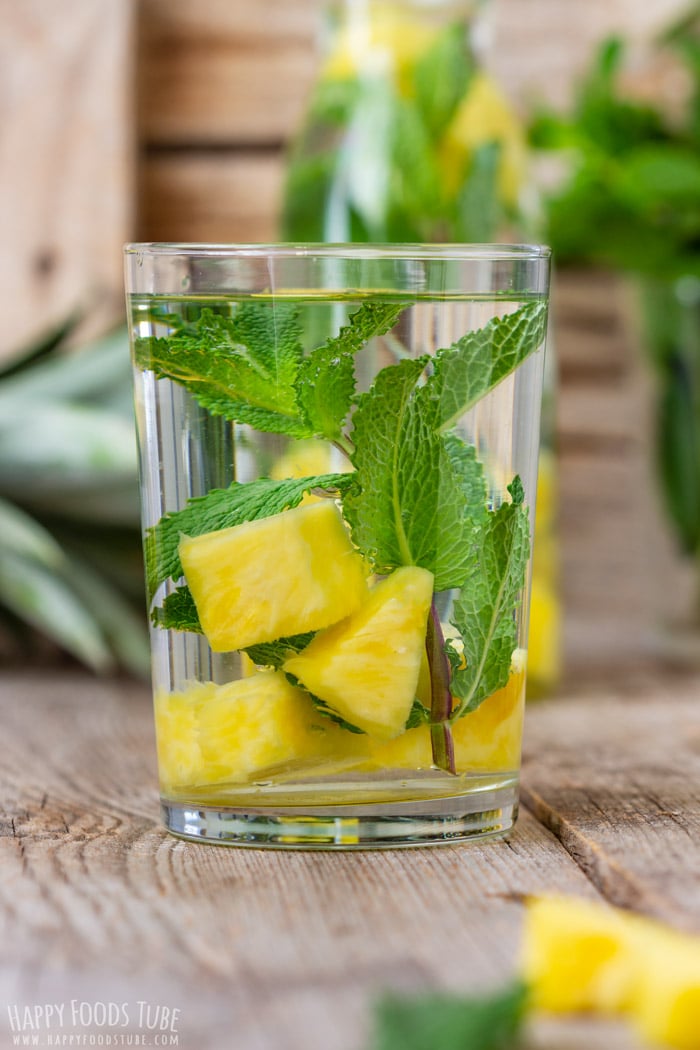 Pineapple Infused Water
Mint and Pineapple Infused Water helps your body get rid of toxins and keeps your body hydrated throughout the day! This easy drink is also perfect for outdoor entertaining.
Ingredients
1

Pineapple

(3.5 pounds/1.6 kg)

4

cups

Water

(1 liter)

2-4

Sprigs

Mint
Instructions
Cut the pineapple in half and trim the thick skin. Dice the juicy flesh and throw it in a large jar, jug or a bottle with wide opening.

Add a few mint sprigs and pour in water.

Cover with plastic wrap or lid and place in the fridge. Let it infuse overnight.

The following day, strain the water and keep refrigerated.
Notes
This recipe does not include time needed for infusing.
It's always good to taste the pineapple before infusing. Gone off fruit would only spoil your water.
After you have infused the water, remove but don't throw the pineapple pieces away. They are still OK to eat and contain a lot of fiber which helps you feel full longer. You can also leave the pineapple and mint in the water if you are planning on drinking it throughout the day.
Mint can be omitted.
Add some lemon slices and serve at a picnic or barbecue!
I highly recommend drinking the water as fresh as possible – to get the most health benefits as well as the freshest taste.
Store in the fridge.
Nutrition Facts
Pineapple Infused Water
Amount per Serving
% Daily Value*
* Percent Daily Values are based on a 2000 calorie diet.
** As an Amazon Associate I earn from qualifying purchases.
LEAVE A COMMENT
RELATED POSTS