Quench your thirst with this lemon lime cucumber water! It's healthy, sugar-fee and tastes better than pure water. Also perfect for detox & weight loss!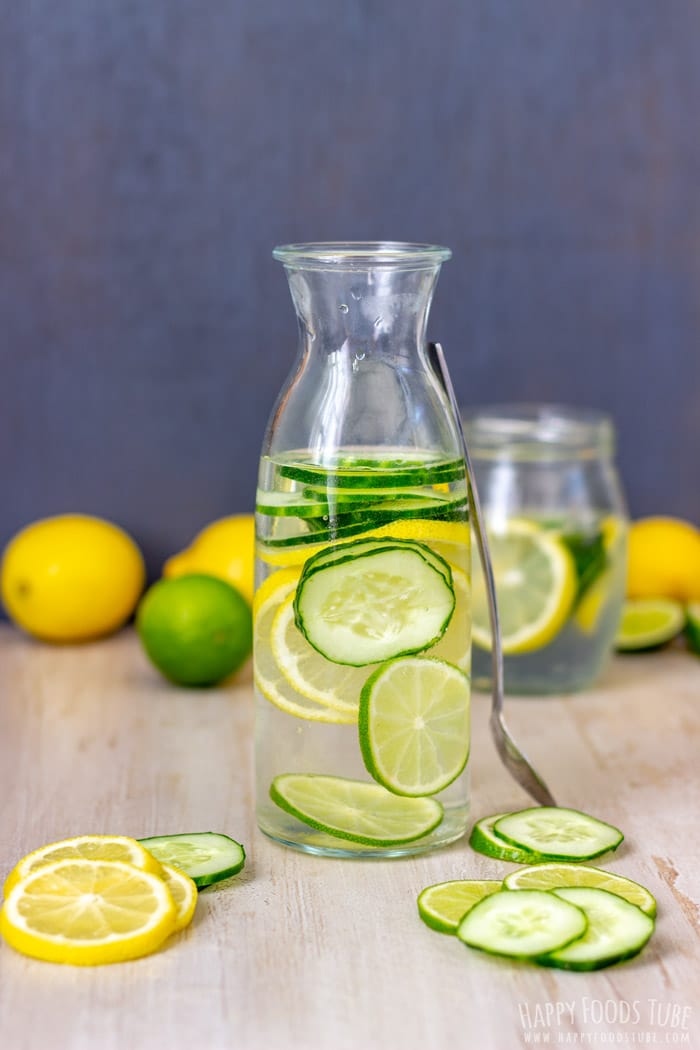 This lemon lime cucumber water is also perfect for summer and outdoor entertaining. If you are planning a barbecue, picnic or just a nice meal in the garden, try making this infused water!
It refreshes you and it's also good for you.
Why are infused waters good for you?
They have no sugar added, no artificial colorings, flavorings or preservatives.
They are great for detox – if you are looking for a good body cleanse drink, choose lemon cucumber water or Lemon Ginger Water.
Weight loss – if you want to lose some weight, try drinking infused water instead of sweet soda drinks. The waters are significantly lower in calories than soda waters!
They keep you hydrated.
More infused water recipes: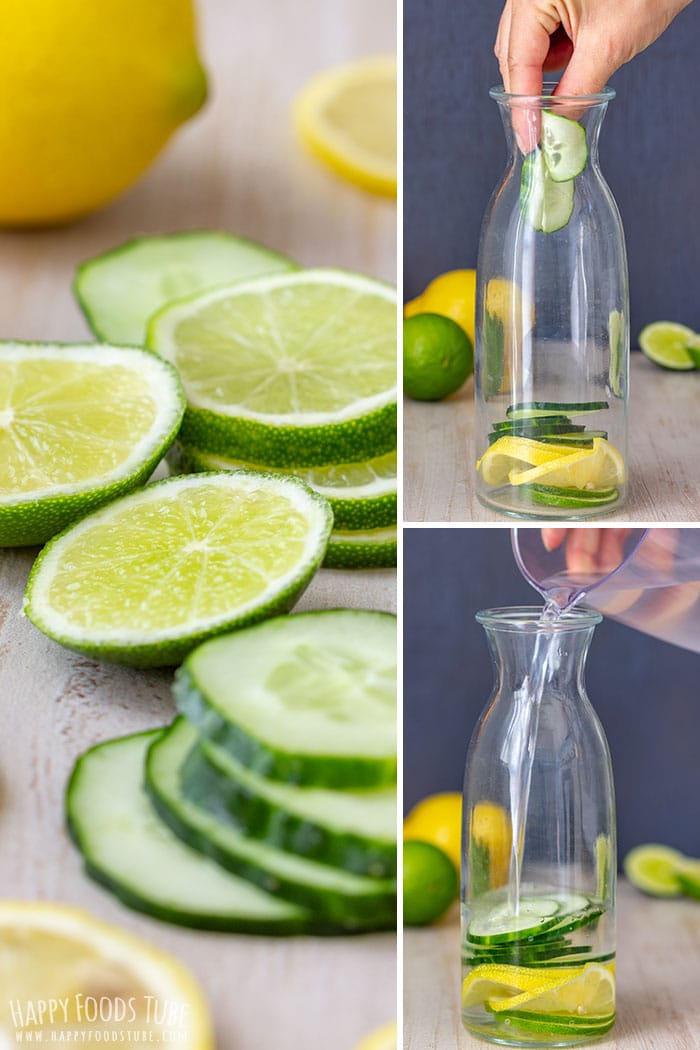 How to make lemon lime cucumber water
First get a jar or a glass or a glass bottle that is large enough for the amount of water you want to pour in. Then just add sliced lemon, lime and cucumber, cover it and place in the fridge.
How long do I need to infuse lemon lime cucumber water?
The infusing time might vary, depending on how infused you like your water. Also, the fresher the ingredients the stronger the infusion.
I like this water because it doesn't need to be in the fridge overnight. After 2 hours you should be able to taste a little of the ingredients but I prefer leaving it in the fridge for about 4 hours.
Now just so you know, every time your lemon lime cucumber water as well as any other infused water might taste differently. I feel that homegrown cucumbers gave my water a stronger cucumber taste than the shop-bought ones. Sometimes the citrus has a stronger flavor, other time it is milder.
All these little things will affect the taste of your water in a way.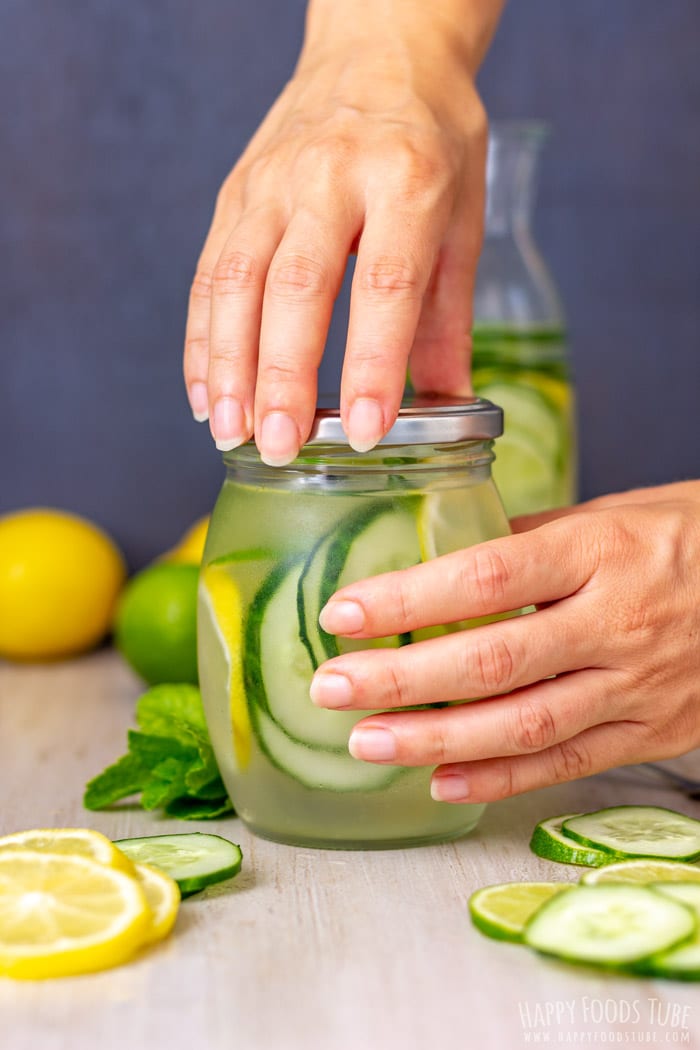 Useful tips
There are some things you should remember when making lemon lime cucumber water:
First the quality of water will affect the overall taste. I always use bottled water but feel free to use what you like. Some of you might have a good quality tap water so if you are comfortable with drinking it on daily basis, then it will be good enough to make this cucumber water.
Next thing I make sure to wash all the ingredients thoroughly, to remove any dirt or wax or anything that can be on the skin of lemon, lime or cucumber.
Now also taste the cucumber before adding it to the water. Some skins might be bitter so if you feel like yours is, just remove it. It would make your water bitter and we don't want this.
When it comes to lemon and lime I noticed that the peel can make the water bitter but this happened when I left it infuse overnight. So if you want to infuse your water with lemon and lime slices overnight, I recommend removing the peel as well.
I like infusing in jars or bottles that I can close with a lid. However, if you cover your glass, jug …. with a plastic foil, this will work also well.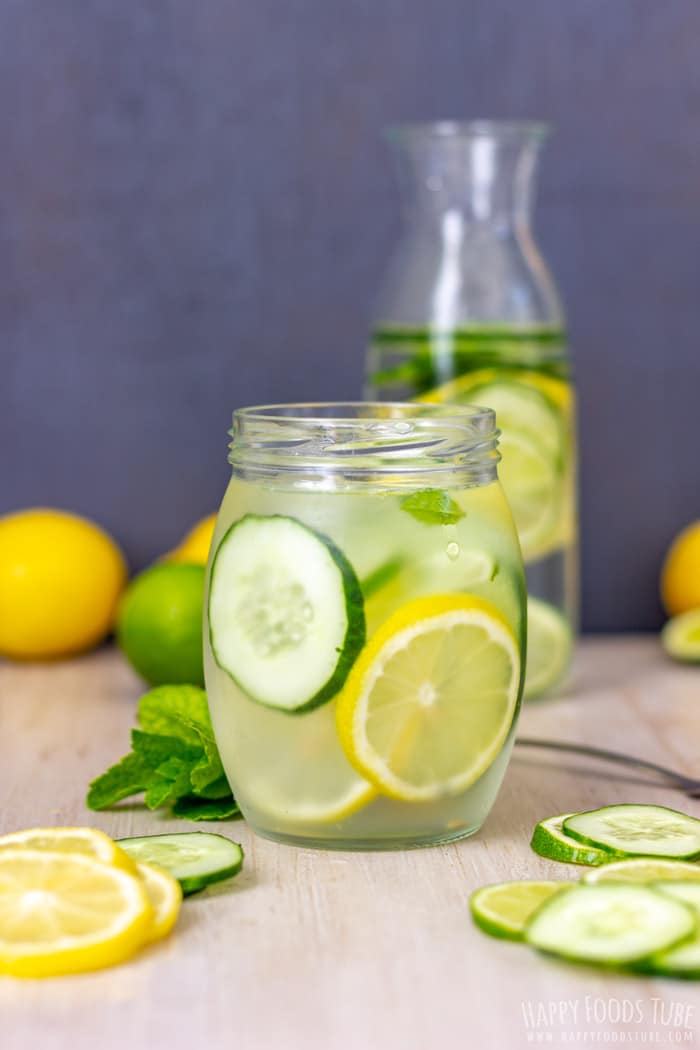 Lemon Lime Cucumber Water
Quench your thirst with this lemon lime cucumber water! It's healthy, sugar-fee and tastes better than pure water. Also perfect for detox and weight loss!
Ingredients
12

slices

Lemon

(about 1½ small to medium lemons)

2

Limes

(12 slices)

16

slices

Cucumber

4

cups

Water
Instructions
Place sliced lemon, limes and cucumber in a jar/bottle/jug and pour the water over. Cover with a lid or plastic wrap.

Let the water infuse in the fridge for about 2-4 hours before serving.
Notes
The ingredients amounts can be increased or decreased to your liking.
Taste the cucumber first and if the skin is bitter, remove it. If not, there is no need to peel it.
Water – use bottled or filtered water. Or if you have a good quality tap water – feel free to use that one.
It takes about 2-4 hours to infuse this water. If you decide to infuse it overnight I recommend cutting off the lemon and lime skins as they might turn your water bitter when infusing over a long period of time.
This recipe can be easily doubled.
Refilling is possible – it can be refilled 2 or 3 times (if you feel like the last refill didn't taste fresh, it's time to dump the slices and cut fresh lime, lemon and cucumber).
I used 1 cucumber for this water (6 inch/15 cm long).
Nutrition Facts
Lemon Lime Cucumber Water
Amount per Serving
% Daily Value*
* Percent Daily Values are based on a 2000 calorie diet.
** As an Amazon Associate I earn from qualifying purchases.
LEAVE A COMMENT
RELATED POSTS