Start your day with body cleansing lemon ginger water! A simple yet powerful detox will help you get rid of toxins and boost your immune system!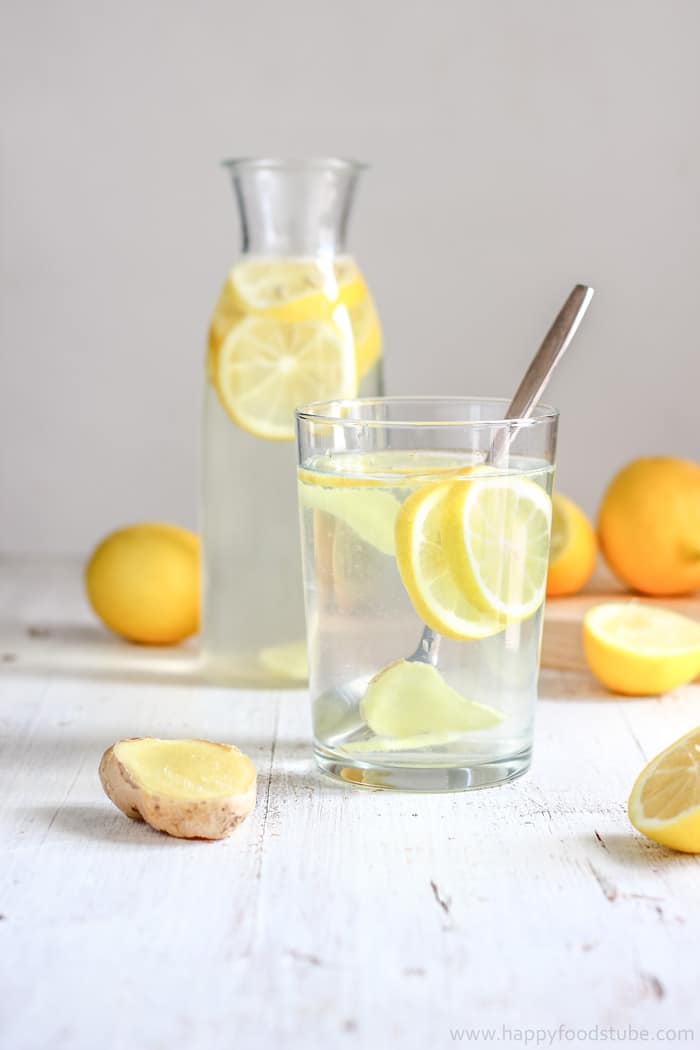 A glass of warm or lukewarm lemon water in the morning will do wonders for your body! Especially now after the holidays when all of us (or most of us) didn't really care what we ate because why would we, right? It's hard to resist all those delicious meals, snacks and treats when you are surrounded by them! Isn't it?
And I personally think that Christmas and New Year's Eve are good enough reasons for having the extra treats or seconds of your favorite dishes! What about you?
By the way, I still can't believe it is already 2020! A New Year!
New Year = new resolutions and many of our resolutions are related to food. Losing weight, eating healthier or cleaning our bodies are one of the resolutions we are after.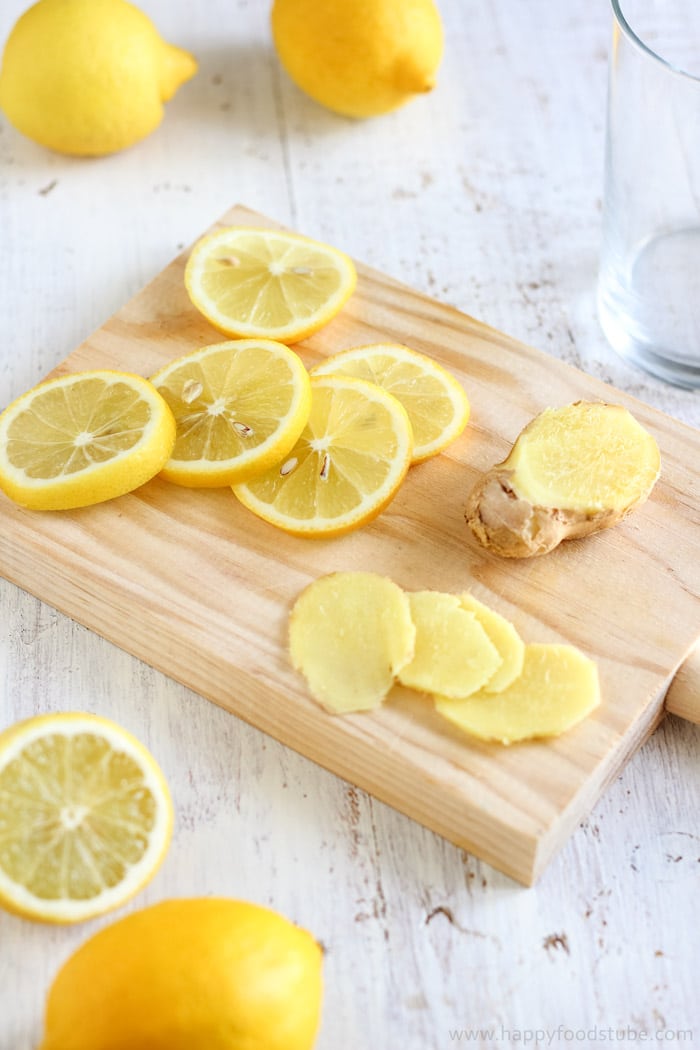 I believe that having a balanced diet is the key to staying healthy. This does not mean we can't eat what we like but the key is to eat everything in moderation while keeping processed foods to a minimum (or not eating at all, if possible).
So my first post of this year is related to body cleansing – or alkalizing to be perfectly correct.
Did you know?
Like our skin has a certain pH level so does our body. And for the body to be healthy we need to maintain a healthy pH level by alkalizing it. If we don't, toxins build in our bodies and this can lead to various health problems.
Certain foods such as lemons are good for alkalizing our bodies.
So let's cleanse ourselves with lemons and strengthen the immune system with ginger!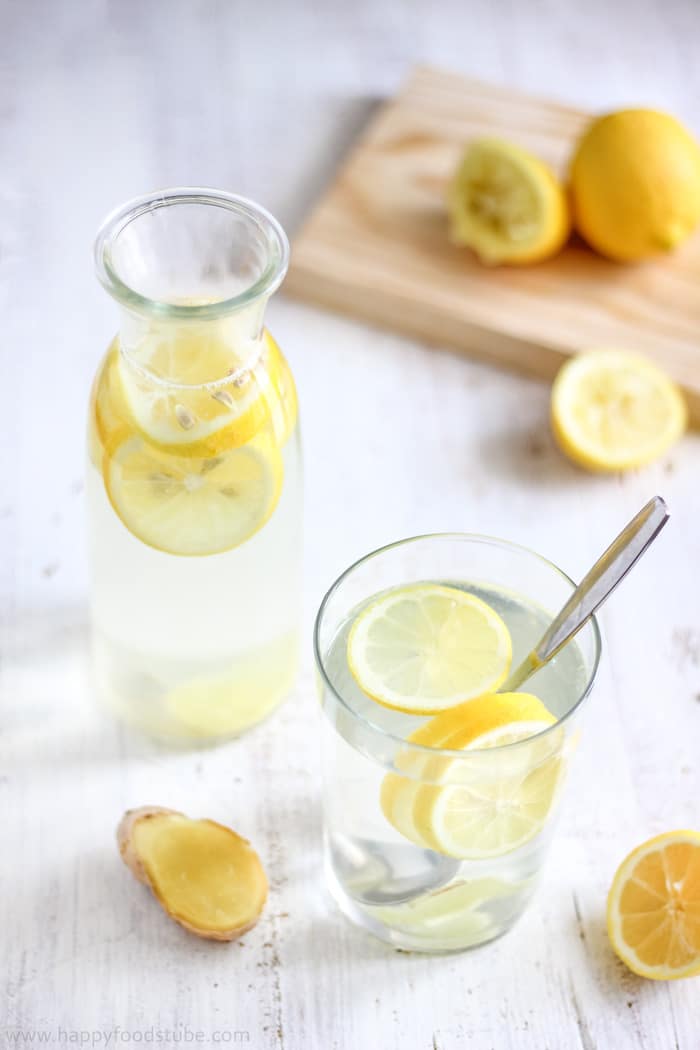 How to alkalize our bodies with lemon ginger water:
This lemon detox drink takes only a few minutes to prepare and you can enjoy it throughout the day. I prefer filling a glass jug or a few jars with water the night before & placing it in the fridge. This way the ginger has time to infuse the water so we get the most out of it.
Now, don't panic if you find the ginger flavor too strong to your liking. Simply add more water or reduce the ginger amount the next time making it. However, sometimes I put more ginger but can barely taste it so it can depend on the root as well.
As for the lemon, add it right before drinking. This way you will get the most out of its health properties. Now how much you squeeze in your water also depends on your taste. In general, I use ½ a lemon for a glass of water.
However, last time the lemons were so sour that half a lemon was way too much so I reduced the amount to a wedge (¼ of a lemon). If you feel like this is not enough for you, simply increase the amount. You can't go wrong here. The important thing is to taste the lemon in water.
What is great about this body cleaning lemon ginger water recipe?
Ready in less than 5 minutes
Best prepared the night before which saves you time in the morning
Fill your water bottle and bring it to work (don't forget the lemon juice)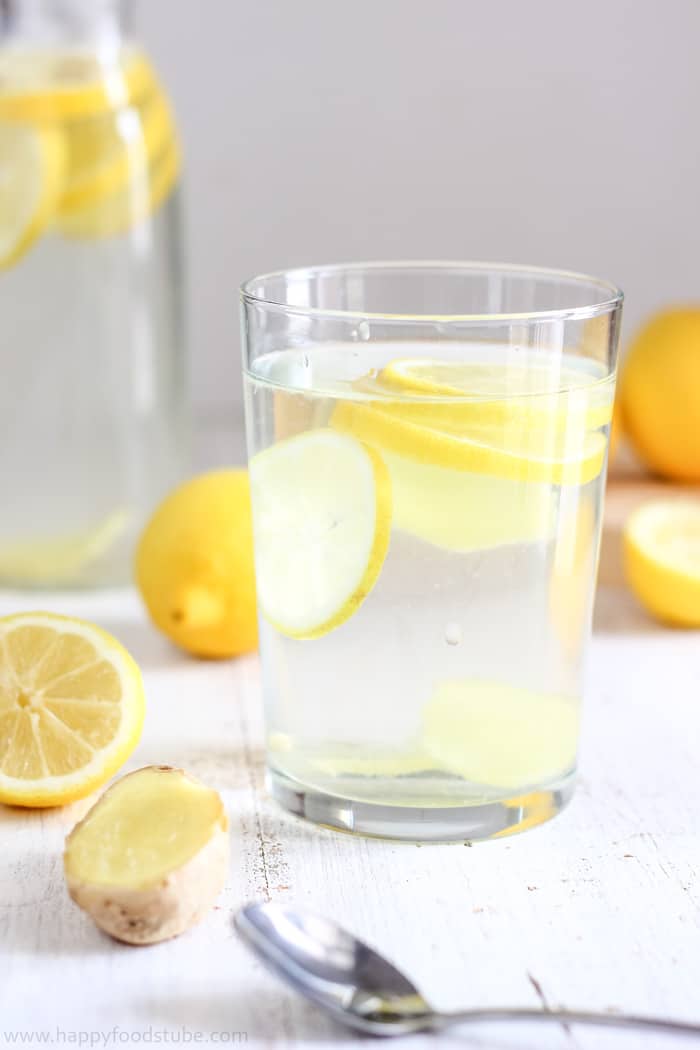 Lemon Ginger Water Benefits
Helps you stay healthy
Removes toxins from your body
Boosts your immune system
Good to know before making lemon and ginger detox drink:
Best to drink a glass of lukewarm (or warm) lemon ginger water before your breakfast
Squeeze in the lemon juice just before drinking
Omit ginger if you don't like it
Other healthy drink ideas to help you stay healthy:
If you are looking for other healthy drink alternatives, have a look at these recipes!
Body Cleansing Lemon Ginger Water
Start your day with body cleansing lemon ginger water. A simple yet powerful detox will help you get rid of toxins and boost your immune system!
Servings:
4
Cups (250ml each)
Ingredients
4

cups

Water

(1 quart/1 liter, filtered or bottled)

1-1.4

ounce

Ginger Root

(30-40 grams)

1

Lemon

(Medium-Large)
Instructions
Wash, peel and slice ginger. Throw it in a jug filled with water and place in the fridge overnight.

The following morning, pour into a glass and heat up until lukewarm. Squeeze in a wedge of a lemon and drink before your breakfast.

Drink throughout the day cold (or lukewarm if preferred). Always squeeze lemon in right before drinking to get the most health benefits out of it.
Nutrition Facts
Body Cleansing Lemon Ginger Water
Amount per Serving
% Daily Value*
* Percent Daily Values are based on a 2000 calorie diet.
** As an Amazon Associate I earn from qualifying purchases.
LEAVE A COMMENT
RELATED POSTS