This is an easy risotto Milanese recipe – it's a simple yet flavorful meal. Cooked the traditional stirring method, with chicken stock and saffron to get nice yellow color.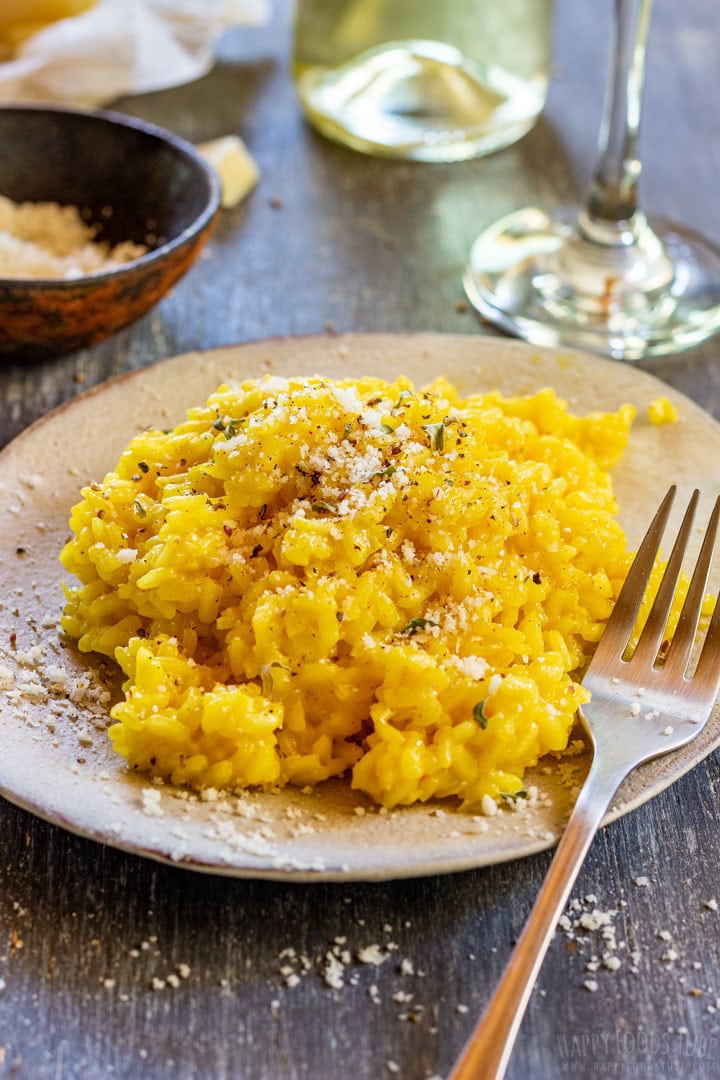 What is risotto alla Milanese?
It is a typical Italian rice dish cooked in a broth (vegetable, chicken, etc.) to a creamy consistency. It is pretty simple to make and tastes divine!
It does require a good bit of stirring though. Stirring any risotto is important. If you don't do it, it will stick to the pot as well as the rice might not cook evenly.
If you like risotto, but want to avoid the stirring part, try our instant pot chicken risotto (one of the readers' favorite recipes from our blog) or zucchini and mushroom risotto!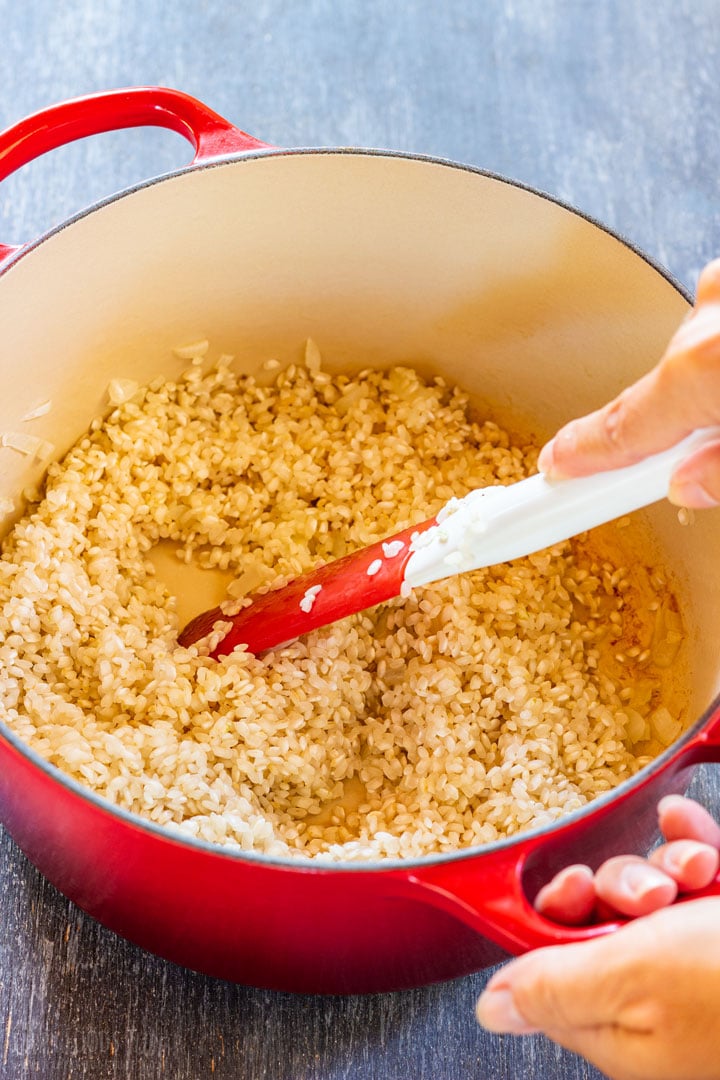 What makes risotto Milanese yellow?
The ingredient that turns this Italian risotto yellow is saffron. You can find it either in a powder form or as a whole. They are typically sold in small packages as they can be quite pricey, but you only need a little to color your food.
Risotto ingredients:
Pantry: olive oil, onion, rice, stock
Fridge: parmesan, butter
Spices & seasoning: black pepper, salt, saffron
Other: white wine
How do you make risotto more flavorful?
This is a simple saffron risotto recipe for this classic Italian dish and when made right it has a ton of flavor.
However, if for some reason you feel it is missing something you can add more:
Parmesan – either stir some more in the risotto or serve on side
Butter – just use more than the recipe calls for. Please note that it will bring the risotto together and it will become stickier.
Salt
Pepper – a freshly cracked pepper over this risotto is the easiest way to add more flavor.
Herbs – I sometimes sprinkle some dried herbs over (just a tiny bit) – my favorite is marjoram. It does also act as a simple garnish.
Cooking the risotto for longer (and adding more stock) should also enhance its flavor.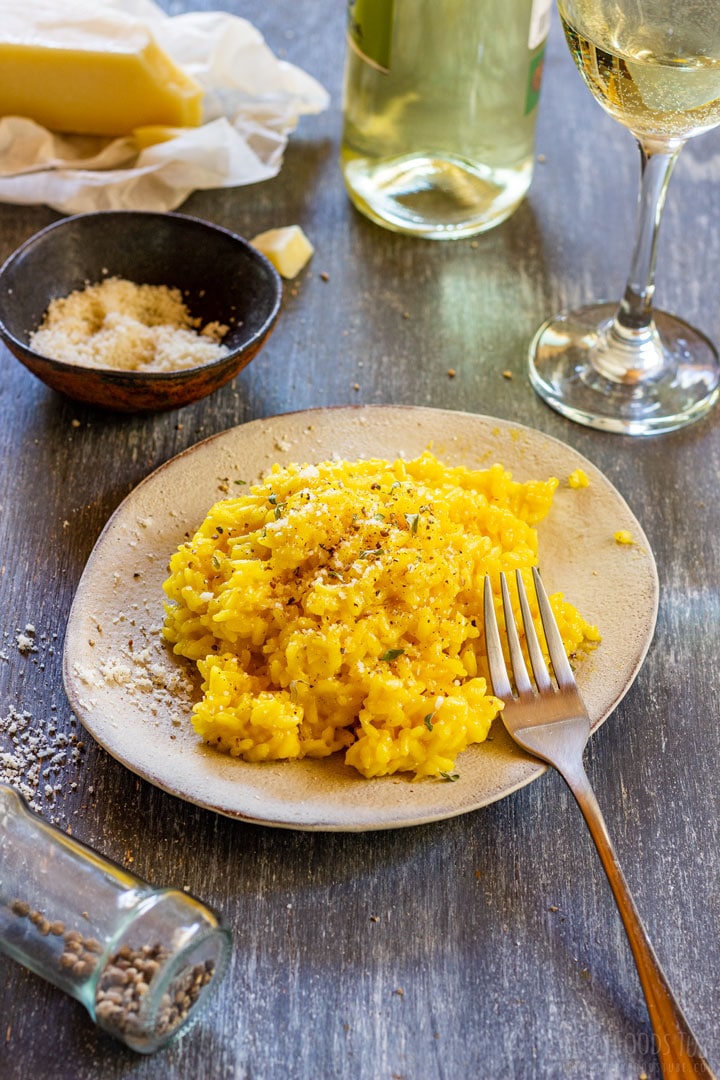 How many calories in risotto?
A serving contains 697 calories when served as a main. As a side dish, it would feed up to 8 people with 348 calories per portion.
What type of rice to use for risotto?
Arborio is the best rice for risotto. This Italian rice is excellent for risotto, but if you don't have risotto rice, any short-grain or medium-grain type would be a great substitute (even paella rice will work).
What to serve with risotto?
You can serve it as is – as the main course or pair it with garlic bread and white wine. As a side, it goes well with grilled or pan-fried prawns/shrimp, braised beef, or steak. 
Consistency
Italian risotto is usually quite wet. If you like it this way, simply add more stock and don't let it evaporate completely at the very end to get the creamy texture.
Tips for making the best risotto alla Milanese
Make sure to use olive oil – either extra virgin or regular cooking one. It does make a difference.
When you saute onions, they turn sweeter and softer, hence tastier. For this reason, do not take any shortcuts by reducing time. They should be soft and translucent before you add rice in.
I recommend having on hand more than 4 cups of stock. That way you can add more if you feel the rice is still hard or you prefer a creamier risotto.
More Italian recipes you might like:
Minestrone Soup – a delicious Italian soup that is perfect for winter.
Calzone Pizza – nothing better than a hot pocket filled with your favorite pizza toppings.
Stromboli – this savory "Swiss roll" is everyone's favorite!
Risotto Milanese
This is an easy risotto Milanese recipe – it's a simple yet flavorful meal. Cooked the traditional stirring method, with chicken stock and saffron to get nice yellow color.
Ingredients
3

tablespoons

extra virgin olive oil

, see note 1

1

medium

onion

, minced, see note 2

2

cups

risotto rice

(400 grams), see note 3

1

cup

white wine

(250 milliliters), see note 4

½

teaspoon

salt

or to taste

4

cups

chicken stock

(1 liter), see note 5

saffron

, see note 6

2

tablespoons

unsalted butter

, see note 7

½

cup

parmesan

, grated, shredded or powder (45 grams)

black pepper

, freshly cracked (optional but recommended)
Instructions
In a wide-bottomed pot (I used a 4.25-quart/4-liter Dutch oven), heat olive oil. Add onion and sauté for 5 minutes or until translucent, stirring occasionally.

Add rice and toast it for 1-2 minutes, stirring from time to time.

Reduce the heat to medium, pour white wine in the pot and give everything a good stir. Let the wine evaporate.

When done, season with salt. Now add the stock (about a cup at a time), stir frequently so the rice doesn't stick to the bottom. Once the stock has been absorbed into the rice, add more stock and repeat until you have used up all the stock, about 20 minutes or until the rice is cooked to your liking. (If you use up all the stock, but still not happy with the doneness of your risotto, add more stock and continue cooking).

Halfway through the process add saffron to the rice and stir to get nice yellow color (Start with a small amount of saffron, if you prefer a darker shade of yellow, add some more). You should only need a pinch, if using a powder.

When ready, turn the heat off. Add butter and grated Parmesan and mix well.

Serve right away with freshly cracked black pepper and parmesan on side.
Notes
Extra virgin olive oil can be substituted with regular olive oil.
One medium onion yields one cup minced onion.
Arborio is a perfect choice. However, if you can't find it you can substitute it with any short-grain or medium-grain rice. Paella rice will also work.
I used dry wine. You can use any kind you like or have on hand.
The beef broth will also work. To make it vegetarian, use vegetable broth. If you prefer this risotto Milanese creamier, you might need to add more stock.
You will only need a little amount. Either powder or whole saffron will work well. Add as little as you like – the more you add the darker shade of yellow you get.
Salted butter can be used as well, but make sure to decrease the amount of salt you use.
If in doubt or looking for more tips and suggestions, please read the post above this recipe card.
Nutrition Facts
Risotto Milanese
Amount per Serving
% Daily Value*
* Percent Daily Values are based on a 2000 calorie diet.
** As an Amazon Associate I earn from qualifying purchases.
LEAVE A COMMENT