This easy calzone pizza recipe made with homemade pizza dough can be filled with anything you like! It's a mess-free way to enjoy your pizza on the go, so why not take it to a picnic?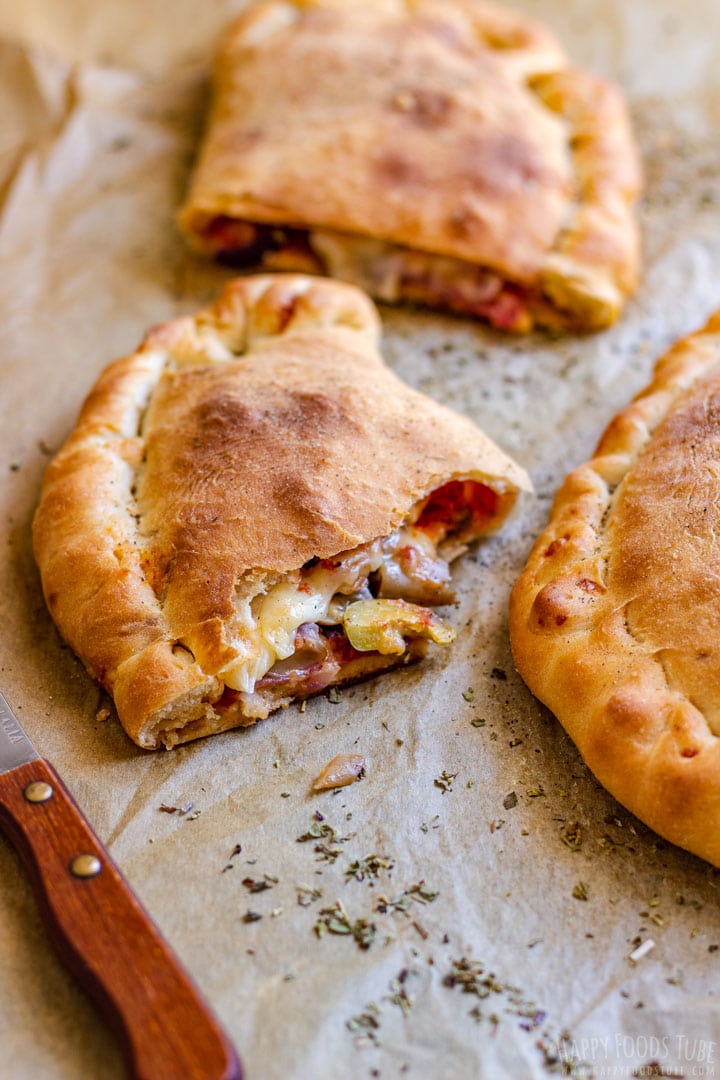 What is a calzone?
Calzones are crescent-shaped turnovers, usually stuffed with fresh ingredients. It's essentially a pizza pocket.
Italian calzone is similar to Spanish Empanada (which is smaller in size and stuffed with paste-like fillings).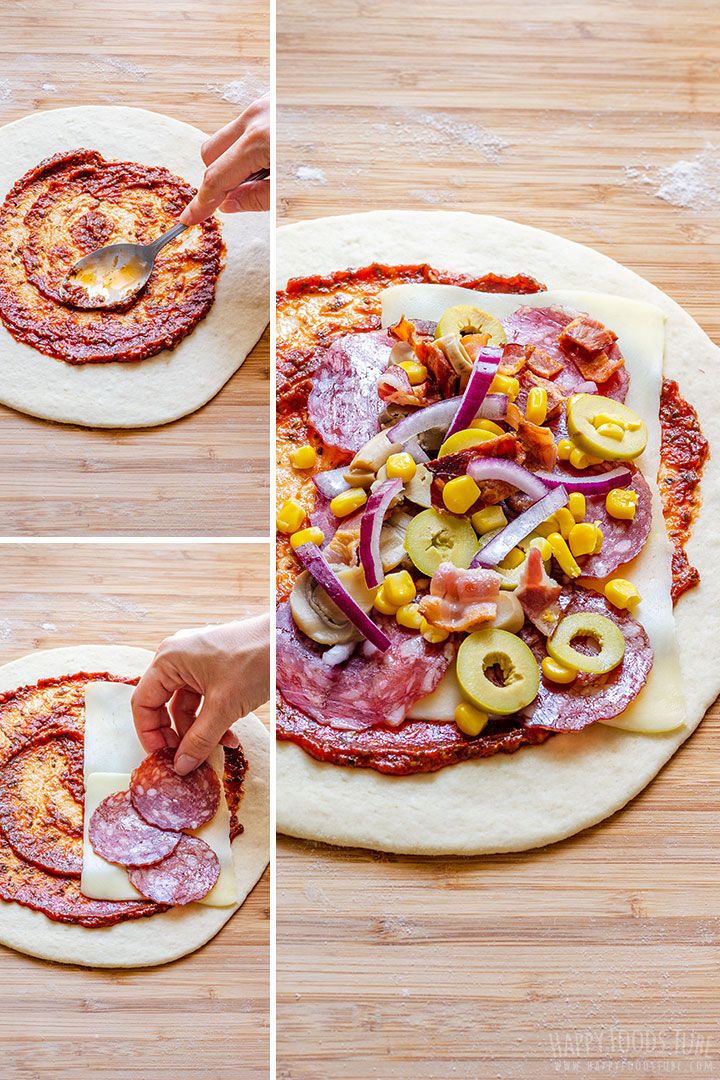 Ideas for calzone fillings:
There is no recipe for the best calzone pizza filling as we all like different things. So as with pizzas, you can customize calzones to your preference. Here are some ideas for you:
Salami
Ham
Leftover chicken
Peperoni
Cheese – mozzarella, parmesan, cheddar, gouda, ricotta (typical for traditional Italian calzone)
Olives
Vegetables – onion, tomatoes, spinach, peppers, …
Cooked bacon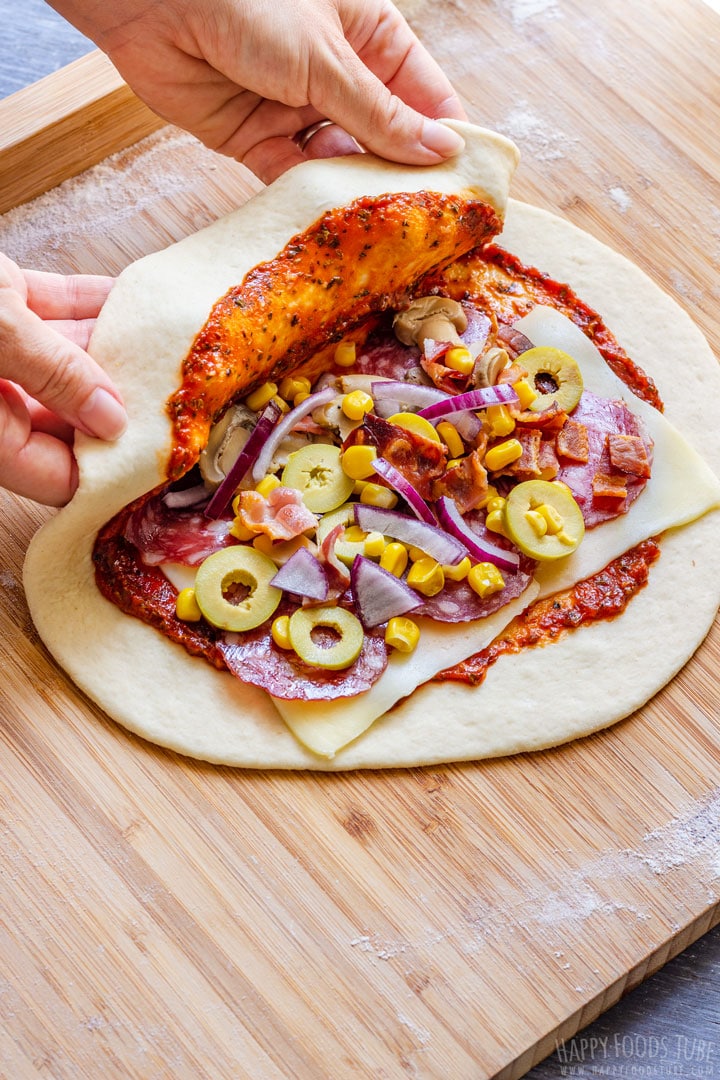 How to make a calzone with pizza dough
Roll out the dough thin. Spread tomato sauce over, making sure to leave at least 1 inch around the edges free from the sauce. Then, top one half of the dough with anything you like – I used cheese, salami, sweetcorn, canned mushrooms and onion.
Fold the other half over the filling and press down to seal the edges. Then, to double seal them (this will ensure the filling won't leak out), start folding the dough towards the middle and pressing it down again. For easy understanding, check the video!
Bake it in a preheated oven for about 15 minutes or until the top turns nice brown.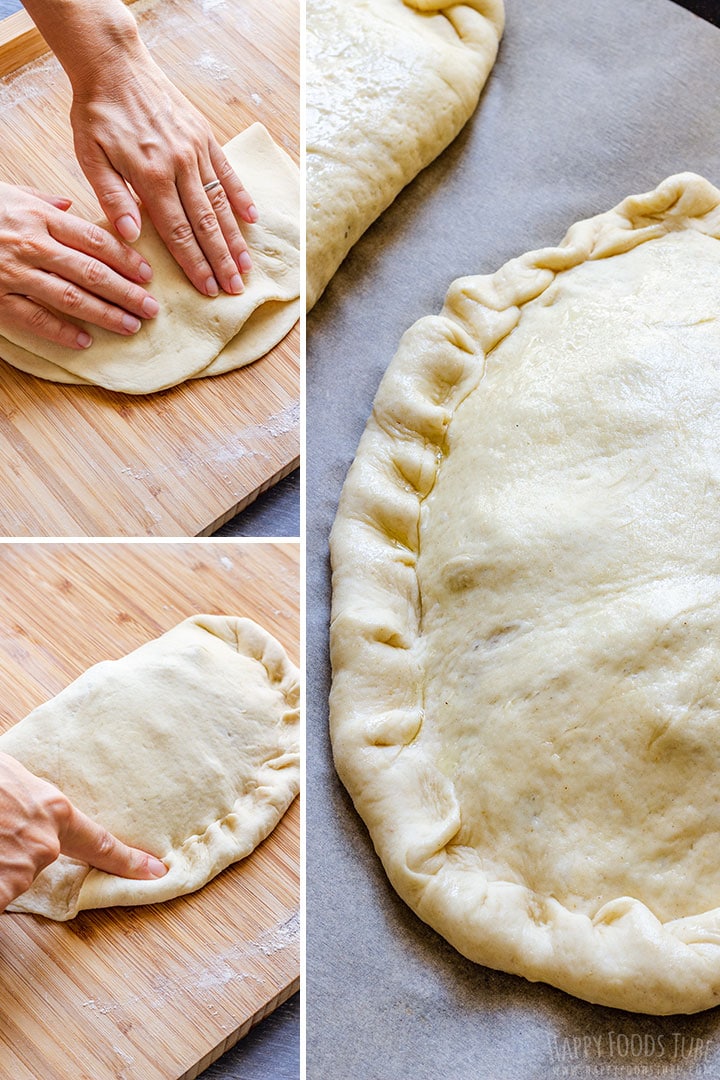 Tomato sauce for calzone pizza
I am using my Homemade Pizza Sauce that only takes 3 minutes to make and there is no cooking required whatsoever!
If you don't want to try mine, feel free to use any pizza sauce you like – either store-bought or made from scratch!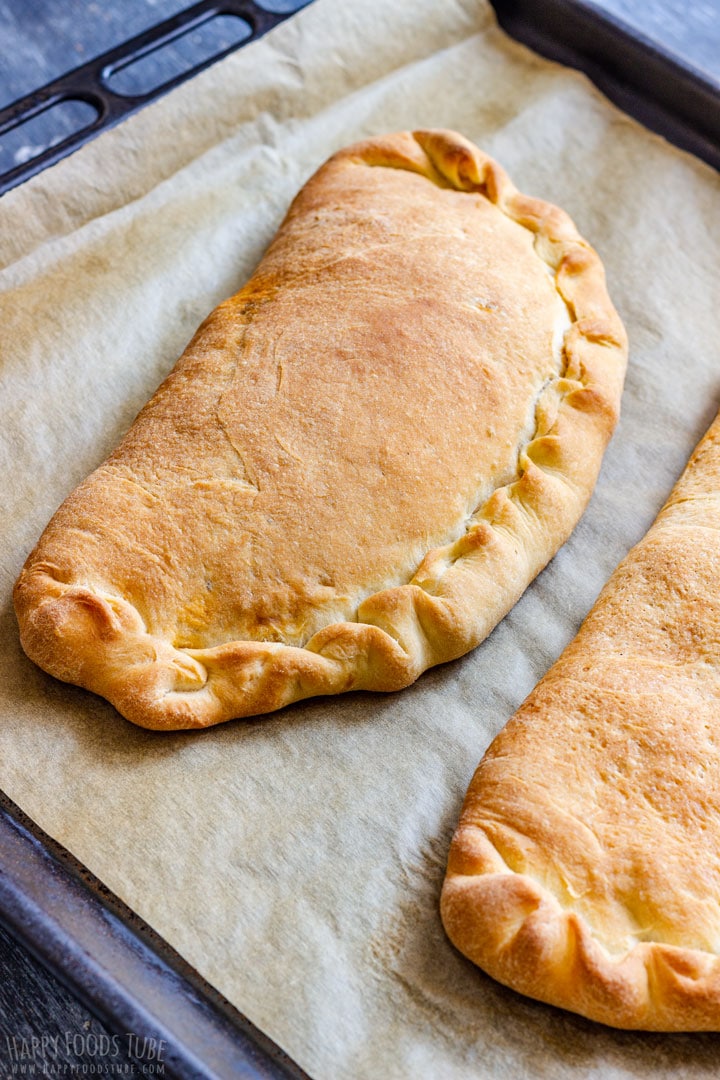 Calzone dough recipe
Calzone is made with pizza dough. I have a recipe for Homemade Pizza Dough that I've been using for years. You can knead it by hand or in a hand mixer – either will work. You can also use a store-bought pizza dough.
After proofing, it will turn into a nice stretchy dough. A full batch will yield 6 medium or 4 large calzones or 4 large pizzas (have you tried Tuna Pizza yet? It's perfect when you want to use up pantry ingredients!).
Tips for making calzone pizza from scratch
If you want to make only a few calzones, instead of halving the recipe, simply make a full batch, let it proof and divide into individual portions (balls). Use only as many as you like and freeze the rest for later! First on a tray leaving space between them, then throw the frozen balls into a Ziploc bag. When ready to use it, thaw it in the fridge (wrapped in plastic wrap) and bring to room temperature before rolling it out (note it will take longer to roll).
They can also be stored in the fridge for up to 3 days (each piece of dough separately in a ziploc bag as they will continue to grow).
You should not need a lot of flour for dusting. In fact, when the calzone dough sticks to the surface, it is easier to roll it out. If sticking to a rolling pin, dust the surface of the dough with flour.
Brushing calzone with olive oil before baking is completely optional!
The classic calzone pockets are also filled with eggs, but I have not tried making these yet. If you tried yourself, please do let us know!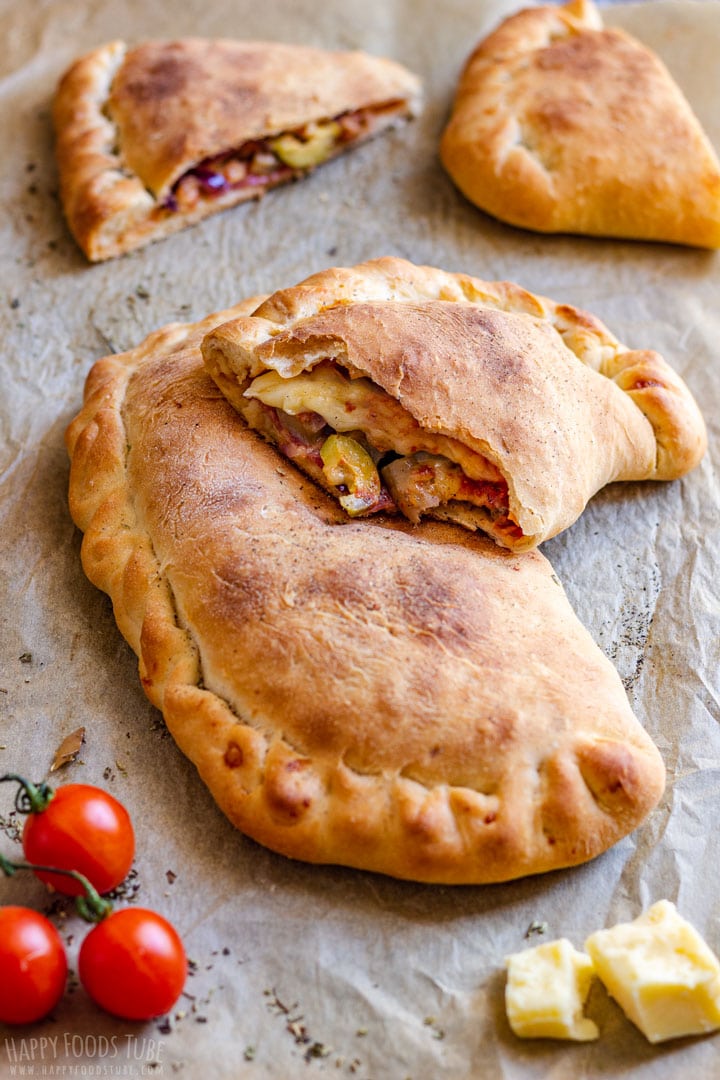 If you are looking for more easy dinner ideas, you might like some of these dinner recipes:
Want to see how to make Calzone Pizza? Watch the video!
Calzone Pizza
This easy calzone pizza recipe made with homemade pizza dough can be filled with anything you like!
Servings:
4
Large Calzones (See note 1)
Ingredients
Homemade Pizza Dough

, see note 1

Flour for Dusting
Calzone Fillings (See note 2):
Pizza Sauce

, see note 3

Cheese

, shredded or sliced, anything you like

Salami

Onion

Olives

Canned Mushrooms
Instructions
Divide your pizza dough into as many pieces as you like (the more pieces, the smaller the calzones. See note 1 & 4). Roll each piece into a ball and each ball into a thin crust, preferably round-shaped. Sprinkle some flour on the dough for easier rolling, if needed (you should not need much).

Spread some pizza sauce over, making sure to leave edges free from the sauce.

Then, top one side of the pizza dough with cheese, salami, onion, or anything you like. Close the pocket and with your finger press down around the edges to seal them.

To double-seal them, take the dough with your hand, and fold it towards the filled part, press down (check video for better understanding).

Transfer it carefully onto a baking tray lined with baking parchment. Brush with olive oil (optional) and repeat the whole process until you have as many calzone pizzas as you like.

Bake at 400° Fahrenheit/200° Celsius for 15 minutes or until the top and bottom turn brown.

Enjoy!
Notes
My recipe for homemade pizza dough will be enough for 4 large calzone pizzas or 6 medium ones. Any leftover dough can be divided into balls and kept in the fridge or freezer for later use (either for pizzas or calzones). You will find more detailed information in the pizza dough post. Store-bought pizza dough can also be used.
Use anything you like – see more ideas in the post above this recipe card.
Count with 1-2 tablespoons of sauce per calzone. You can use any pizza sauce you like. Our homemade pizza sauce only takes 3 minutes to make so why not try it?
One large calzone will feed two people.
To save some calories, feel free to omit brushing the calzone pizza with olive oil.
The prep can be divided into 2 days: prepare the fillings and dough the night before and roll, fill and bake right before serving.
Nutrition Facts
Calzone Pizza
Serving Size
1 large calzone dough with sauce
Amount per Serving
% Daily Value*
* Percent Daily Values are based on a 2000 calorie diet.
** As an Amazon Associate I earn from qualifying purchases.
LEAVE A COMMENT
Other recipes you might like: