Slow cooker mulled wine poached pears is a 2-in-1 recipe! You won't only make a delicious dessert but also a popular winter drink. Plus, your kitchen will smell amazing!
Make sure to use the poaching liquid that after cooking will turn into mulled wine.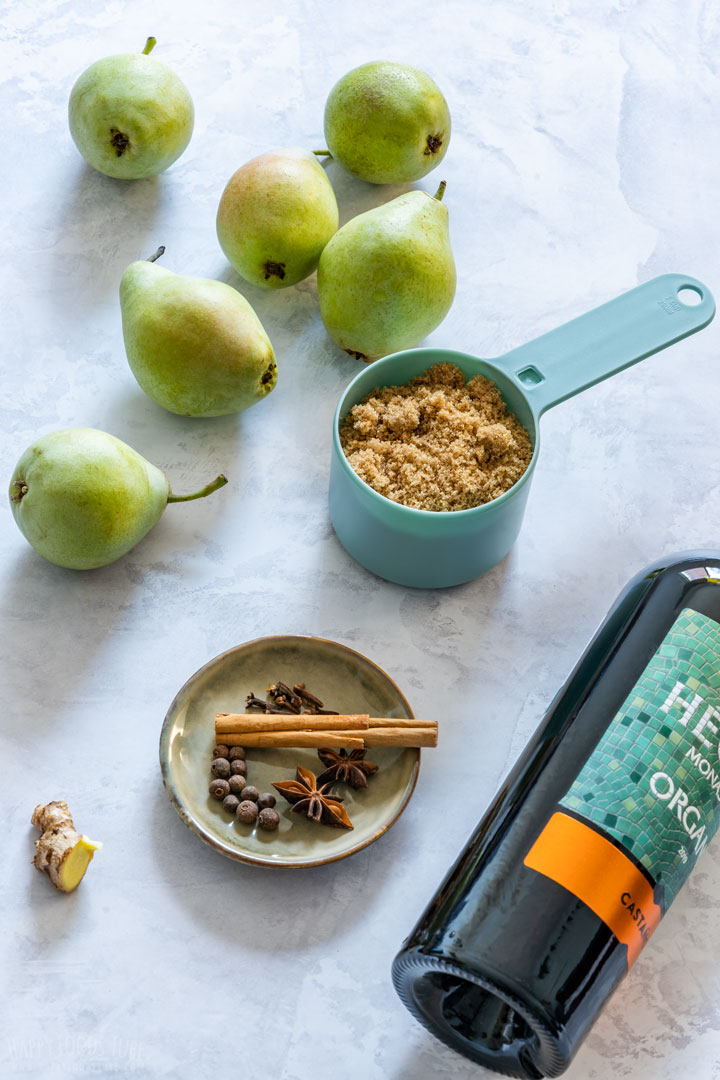 How to make poached pears in mulled wine
Ingredients:
Pears
Red wine
Brown sugar
Cinnamon stick
Star anise
Cloves
All-spice berries
Fresh ginger
Tools and kitchen gadgets needed:
Slow cooker
Knife & chopping board
Bottle-opener (might not be needed)
Drainer
Vegetable peeler (or knife)
The whole process is very easy once you have prepped the pears by peeling them, cutting them in halves, and removing the seeds. They are cooked in the crockpot with the rest of the ingredients until soft to eat and infused with mulled wine.
What you should know when poaching pears
During the poaching, the pears will absorb some of the wine and sugar. The amount of sugar they absorb will depend on how sweet they are.
The sweeter the pears, the less sugar liquid they absorb which means the liquid (in this case mulled wine) will turn sweeter and vice versa (the sour the pears, the more of the sweeter liquid they absorb leaving the mulled wine less sweet than if you used extremely ripe pears.
Serving ideas:
Vanilla ice cream
Reduced poached liquid
Chocolate sauce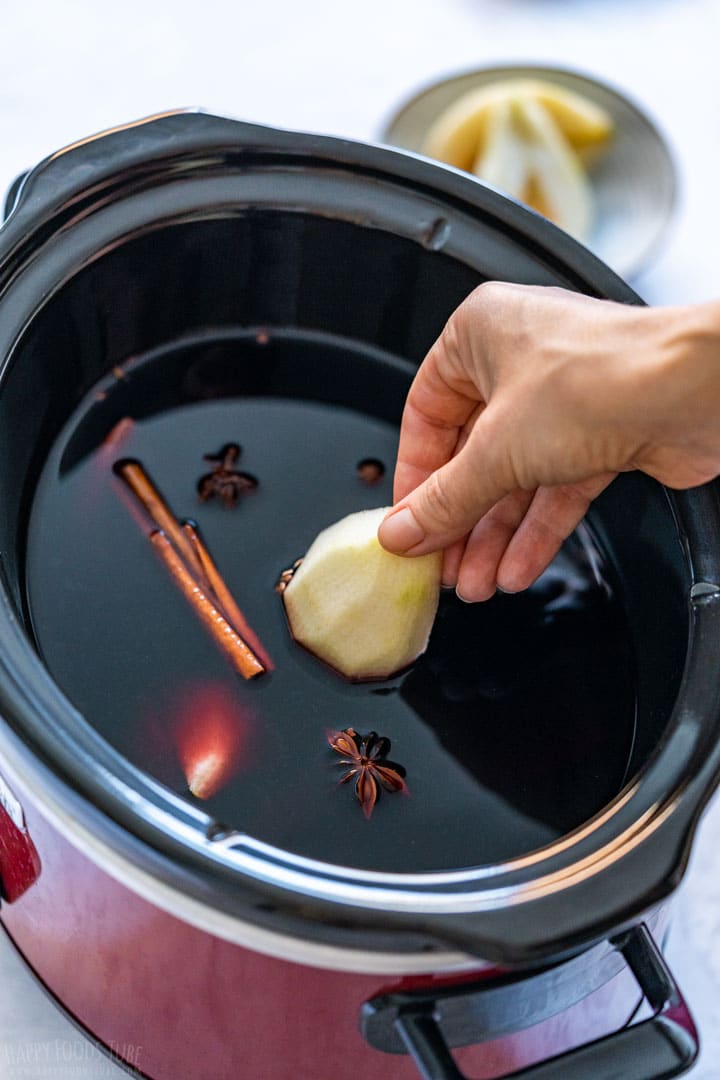 Frequently asked questions:
What pears to use for poaching?
Any kind will work but the final result can be different – both in texture and cooking time. Avoid using over-ripe fruits as these will turn very mushy quickly.
To see if they are too soft to use, simply press the flesh (like when you do with avocados). If it leaves a dent in too easily, it is better to enjoy them raw. Also, if it takes a lot of effort to cut a pear in half and remove the seeds, it may be too hard to use. You can use them, but they will need a longer cooking time.
Here are examples of some of the varieties you can use: Bosc, Conference, D'Anjou, Comice, Concorde.
How long does it take to cook them in a slow cooker?
This will depend on how hard the pears are. It can take somewhere between 2 to 4, even 5 hours when extremely hard (on low setting).
How long do poached pears last?
They will be fine stored in the fridge for up to 3-4 days. They can be kept in the liquid (make sure to remove all the spices) or without, both ways covered in a plastic wrap or with an airtight lid.
Useful tips
You can poach whole pears or halves. I prefer the halves as they are ready faster. For whole, you will need to leave them in your crock pot for longer.
Mulled wine will keep well in your fridge for 3-5 days when stored in a jug sealed with a lid. If you don't have one, use your Thermos instead!
We also have a recipe for mulled wine without alcohol if you are looking for something your kids could enjoy as well!
This recipe is easily customizable, and you can adjust the quantities of each ingredient to your liking. Make sure you don't over-do it with the spices as everything might turn bitter.
More pear recipes you might like:
Slow Cooker Poached Pears in Mulled Wine
Slow cooker mulled wine poached pears is a 2-in-1 recipe! You won't only make a delicious dessert but also popular winter drink. Plus, your kitchen will smell amazing!
Ingredients
5-6

cups

red wine

, see note 1

1

cup

soft brown sugar

, see note 2

6

pears

, see note 3 & 4

2

whole star anise

5

cloves

4

all-spice berries

fresh ginger

, about 4 thin slices
Instructions
Turn on the slow cooker on low. Add wine and sugar. Stir well to help the sugar dissolve.

Peel and core the pears. Remove any hard parts but you can leave the stems on if you like. Place the pears in your slow cooker and add the rest of the ingredients: cinnamon, star anise, cloves, all-spice berries and ginger. Stir.

Cover with a lid and cook on low for 2-3 hours or until the pears are to your liking.

When ready, take out the pears and serve them warm (or cold if preferred) with ice cream or chocolate sauce.

Strain the spices and enjoy mulled wine right away or let it cool and store in a jug, covered until ready to serve (it will keep for up to 3-4 days when stored properly).
Notes
You will need about 2 bottles. Use any wine you like but I personally prefer the sweeter kind. Merlot is a good option if you are not sure which one – it is somewhere in the middle between dry and sweet.
You can use regular granulated white sugar instead of brown sugar.
Avoid using overripe pears that are very soft to touch. Fruits that are too hard to peel and core are a sign that they will more likely need way longer in a slow cooker. Some of the pears you can use: Bosc, Conference, Comice, Concorde…
Cooking time can vary depending on how ripe your fruit is, how cooked you like the pears to be as well as their variety. Extremely hard pears might take up to 4-5 hours!
The post above this recipe card has plenty of tips and information on the poaching process so please do read it if you are in doubt.
You can serve as many halves per person as you like but 1 or 2 should be plenty.
This recipe is easily customizable and you can change the quantities of the ingredients. Keep in mind that you don't want to overdo it with spices. If you do, the pears could turn bitter.
Mulled wine will taste even better the following day. You can reheat it in a slow cooker or on the stovetop.
Nutrition Facts
Slow Cooker Poached Pears in Mulled Wine
Amount per Serving
% Daily Value*
* Percent Daily Values are based on a 2000 calorie diet.
** As an Amazon Associate I earn from qualifying purchases.
LEAVE A COMMENT