Making slow cooker duck breast is easier than you think! With simple ingredients and quick prep, you get a delicious dinner without any fuss. Plus, you can prepare your side in your crock pot at the same time!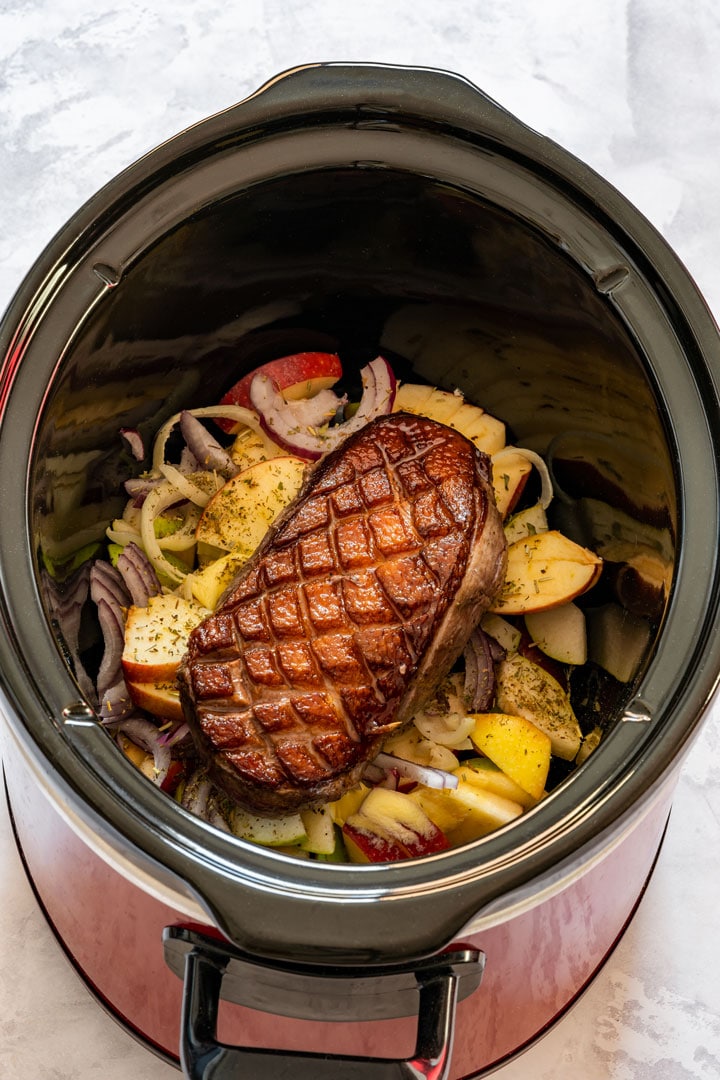 Duck is a tasty substitution to turkey and makes a nice Christmas meal as well. This meat is protein and iron rich so why not add it to your menu!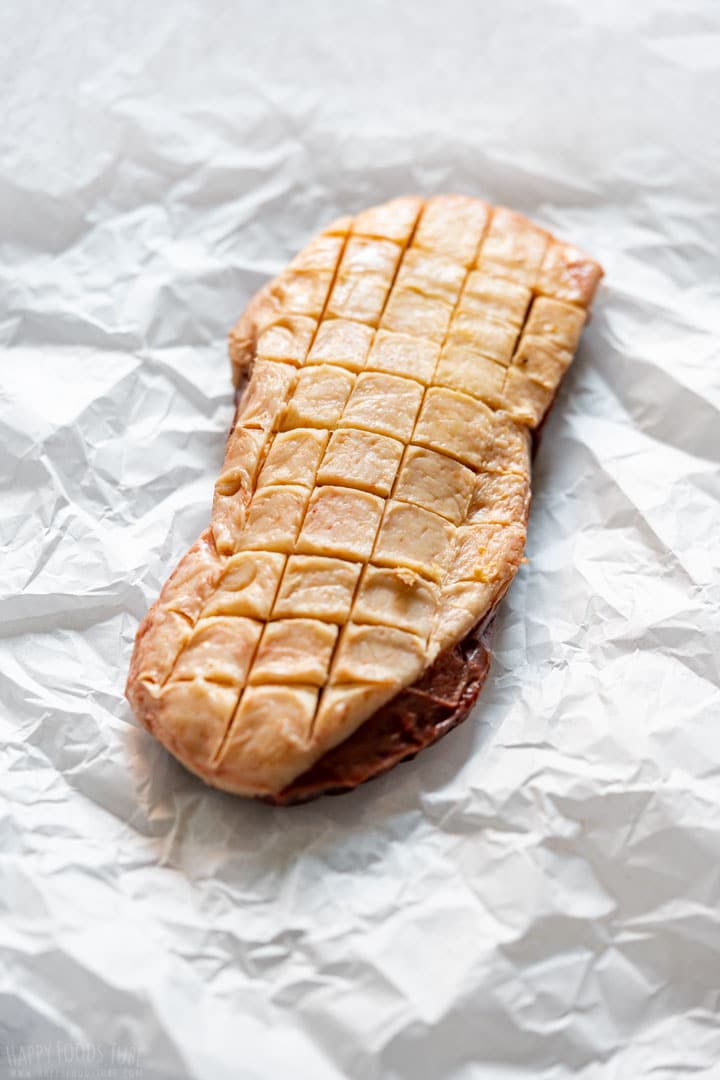 Ingredients:
Duck breasts
Salt
Black pepper
Dried herbs – I like using Herbs of Provence
Kitchen tools and utensils needed:
Slow cooker – I used one that holds 3.5-quart (3.5-liter) of liquid. It was plenty for 2 duck breasts.
Large skillet/frying pan – to render the fat
Kitchen tongs – for turning the meat
Knife and chopping board – for scoring the fat
Measuring spoons – optional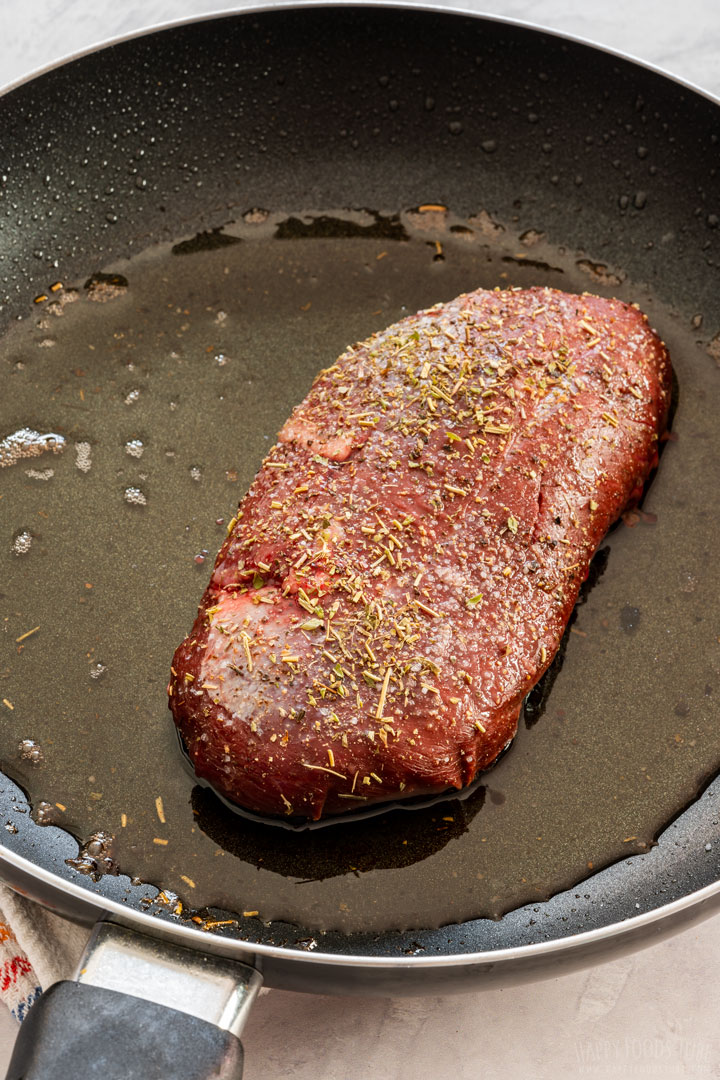 How to cook duck breast in a slow cooker?
First, you need to render the fat so scoring it with a knife helps to faster release it. Season it well. Also, I like to brown the meat so the juices stay inside.
Next, simply turn your crock pot on high and add the meat in, fat-side down. Cover with a lid and let it slow cook until ready (or to your liking).
It is so easy!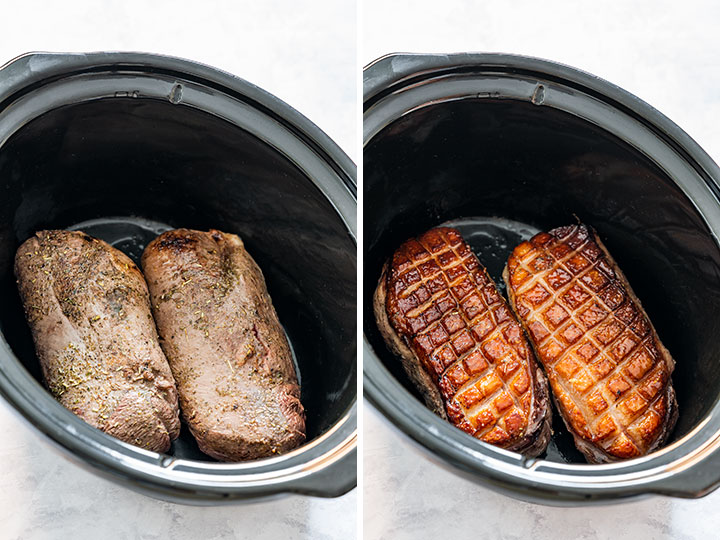 What to serve with duck?
Braised Red Cabbage – a tasty side that goes so well with this kind of meat.
Czech Bread Dumplings – I have discovered these recently and we are obsessed with them! I have been mastering the recipe and once I get it right, I will be posting it up.
Stuffing – believe it or not, stuffing is not only for Thanksgiving and Christmas. I love serving my homemade stove-top stuffing with this main.
Apples and Onions – this side dish is so good with duck.
Dietary information:
What ingredients does this recipe contain?
Meat: Yes
Gluten: No
Eggs: No
Nuts: No
Dairy: No
Refined sugar: No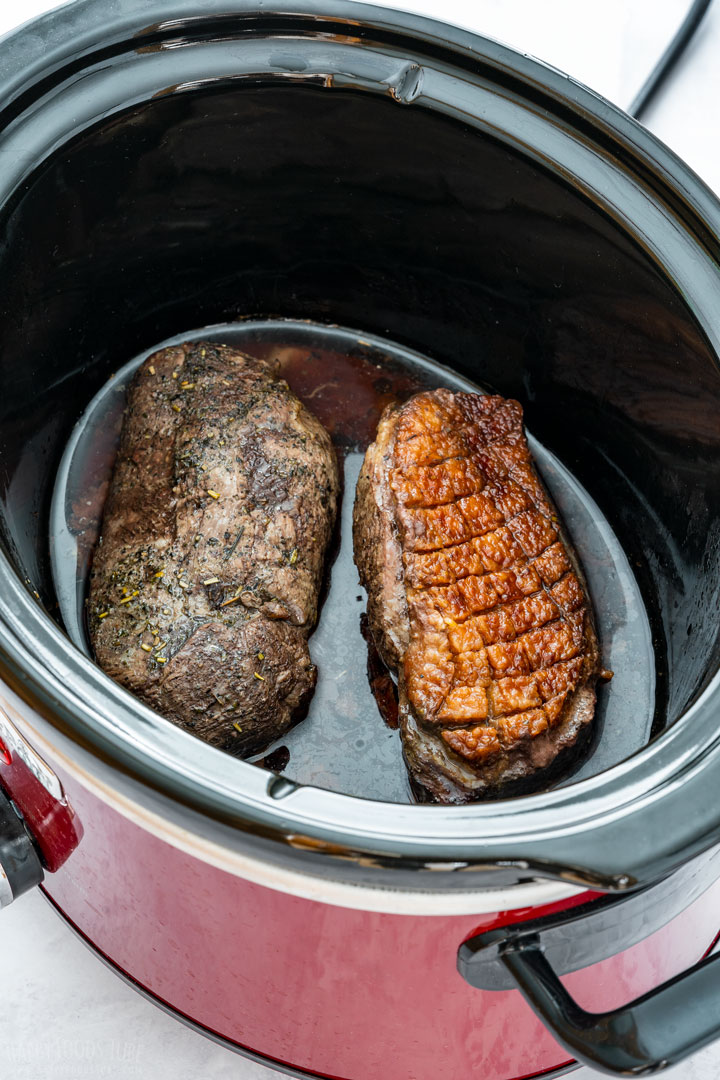 Tips for making crock pot duck breast
Apples and onions can be added to your crock pot altogether with the seared and rendered duck meat. This way, you can enjoy at the same time the main as well as the side.
Cooking a whole duck can be challenging and you might not end up with much of a meat in the end. That is why I prefer buying large duck breasts instead is a better option. If you can, choose those that weight somewhere between 13.5 to 14 ounces (380 to 400 grams). 2 should feed 4 people!
You can prepare them to your liking. Cook longer for more tender meat or use a thermometer to achieve the desired temperature (for medium-raw you will need less time). Always remember that crock pots vary from brand to brand and so will the cooking time.
There is no need to spray the inside of your slow cooker as the meat will still release plenty of fat during the cooking process.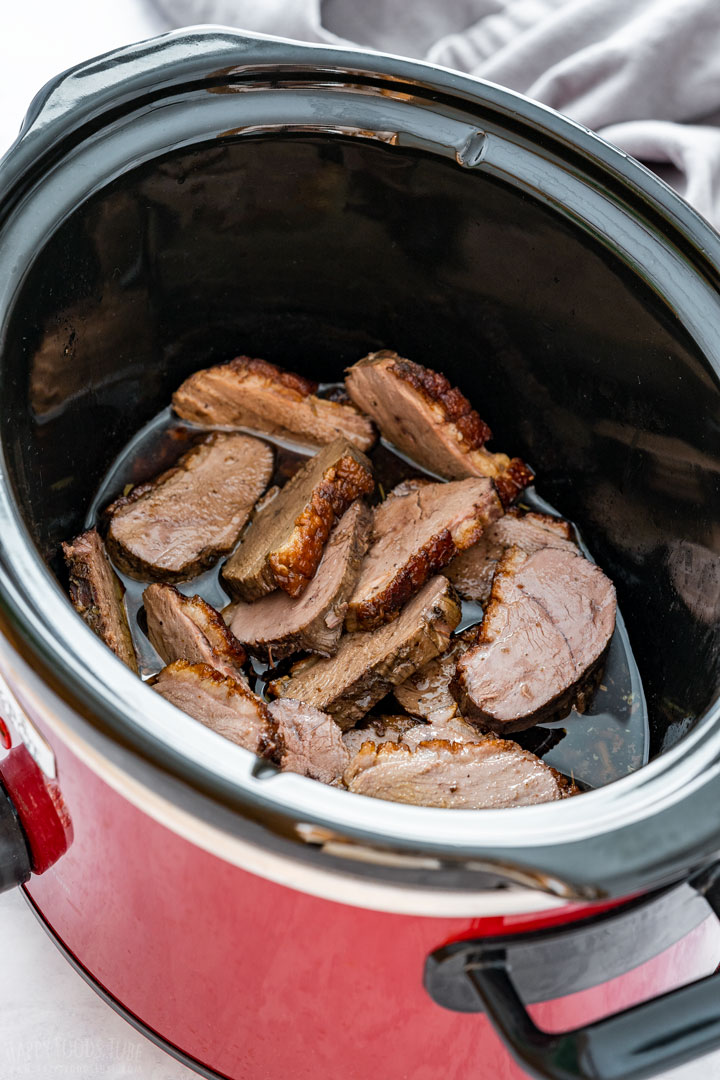 Other tasty main dishes you might like to give a go: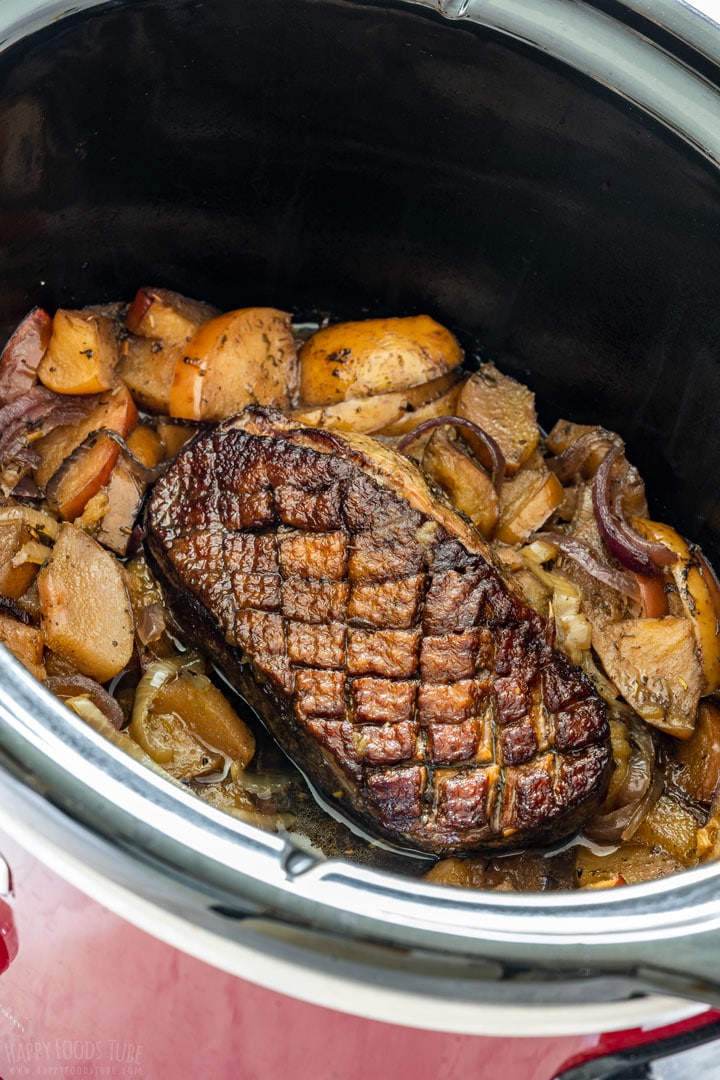 Slow Cooker Duck Breast
Making slow cooker duck breast is easier than you think! With simple ingredients and quick prep, you get a delicious dinner without any fuss.
Ingredients
2

duck breasts

, large, skin on, see note 1

salt

, to taste, see note 2

black pepper

, to taste

herbs of provence

, see note 3
Instructions
Score the skin of each duck breast with a knife creating diamond-like pattern.

Turn the breasts over and season generously with salt, pepper and herbs.

Preheat large skillet/frying pan and place the duck in, skin-side down. Cook until it has released a good amount of fat and the skin is nice golden brown.

Transfer the meat, skin-side down into your slow cooker and cook on high for 1.5 hours or until to your liking (see note 4).

Serve with a side of your choice or use some of my favorite sides (see note 5).

Enjoy!
Notes
Use duck breasts that weigh around 13.5-14 ounces (380-400 grams). Larger ones will need longer cooking time, small ones shorter time.
You want to be quite generous with the seasoning. Use about a ¼ teaspoon of salt per 1 duck piece.
About ¼ teaspoon per breast should be perfect.
If not sure the meat is done, use a kitchen thermometer. It should read at least 160-170 Fahrenheit/71-77 Celsius).
I recommend adding pears, apples and onion to the slow cooker as well for a simple yet delicious side dish! Season them, add a splash of red wine (optional) and about a tablespoon of butter and cook with the duck meat. It's so good! Or, check some more sides for this meal in my post.
Nutrition Facts
Slow Cooker Duck Breast
Amount per Serving
% Daily Value*
* Percent Daily Values are based on a 2000 calorie diet.
** As an Amazon Associate I earn from qualifying purchases.
LEAVE A COMMENT