Easy spinach kale smoothie that is rich in flavor and nutrients. It's not only the perfect healthy addition to your diet but it also keeps you full between the meals.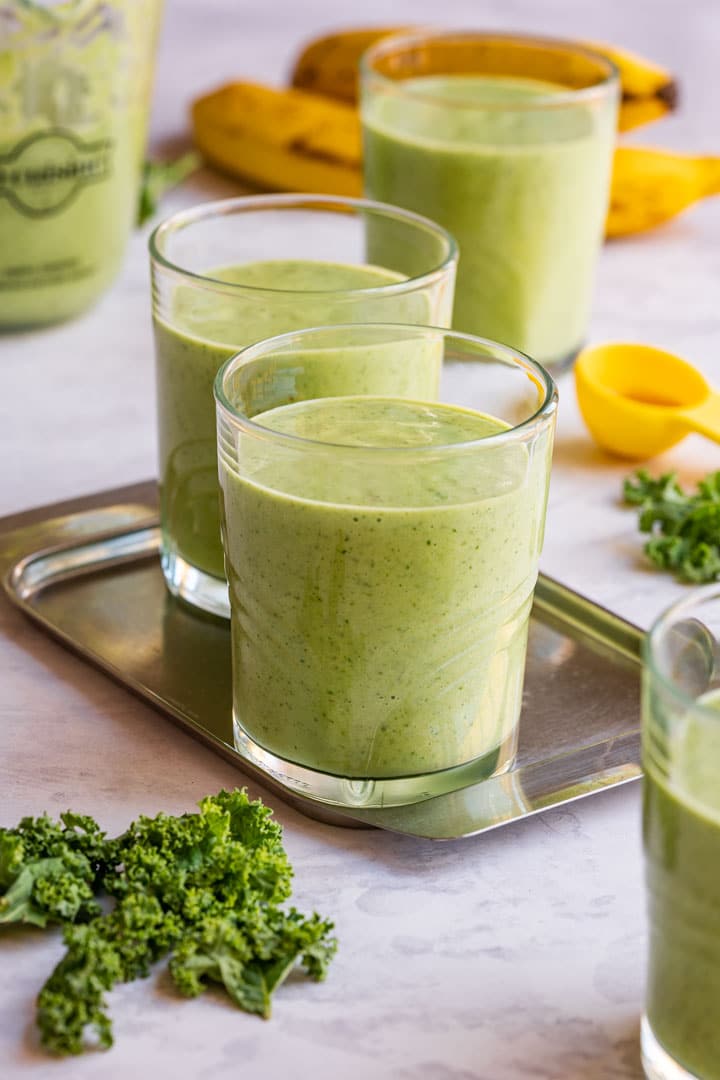 There are a lot of ingredients in this breakfast smoothie, but those are what it makes nutrient-rich.
Now that being said, you can reduce these if you like (i.e. use honey only or dates to sweeten it or omit kale if you don't have it on hand).
By following this spinach kale smoothie recipe, you will get a tasty and refreshing drink that is a perfect addition to your breakfast, and lunch or can be enjoyed as a snack throughout the day.
I like adding milk and yogurt to smoothies as these 2 ingredients make this healthy drink more filling and smoother, creamier.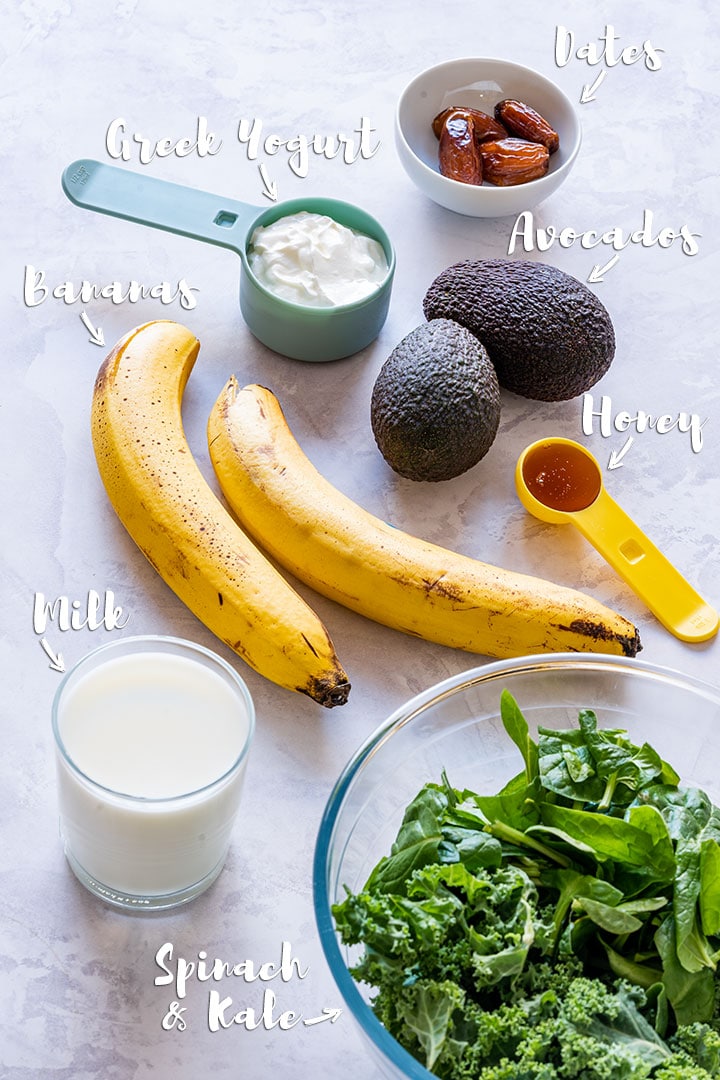 Frequently asked questions:
Can I use raw kale in smoothies?
Yes, you can. The fresher the better though. I also like to remove any hard stems.
What is the serving size?
This recipe yields about 1.5-quart (1.5-liter). How much you will drink in one go is entirely up to you. The recipe card counts 1 cup (8-ounce/250-milliliters) as a serving size. Take this as a guide only.
If you would like to have it instead of breakfast, I highly recommend at least 2 cups per person. In case you are planning on having something more for breakfast, then 1 cup might be plenty.
In case you don't want to make such a large portion, feel free to cut the recipe in half!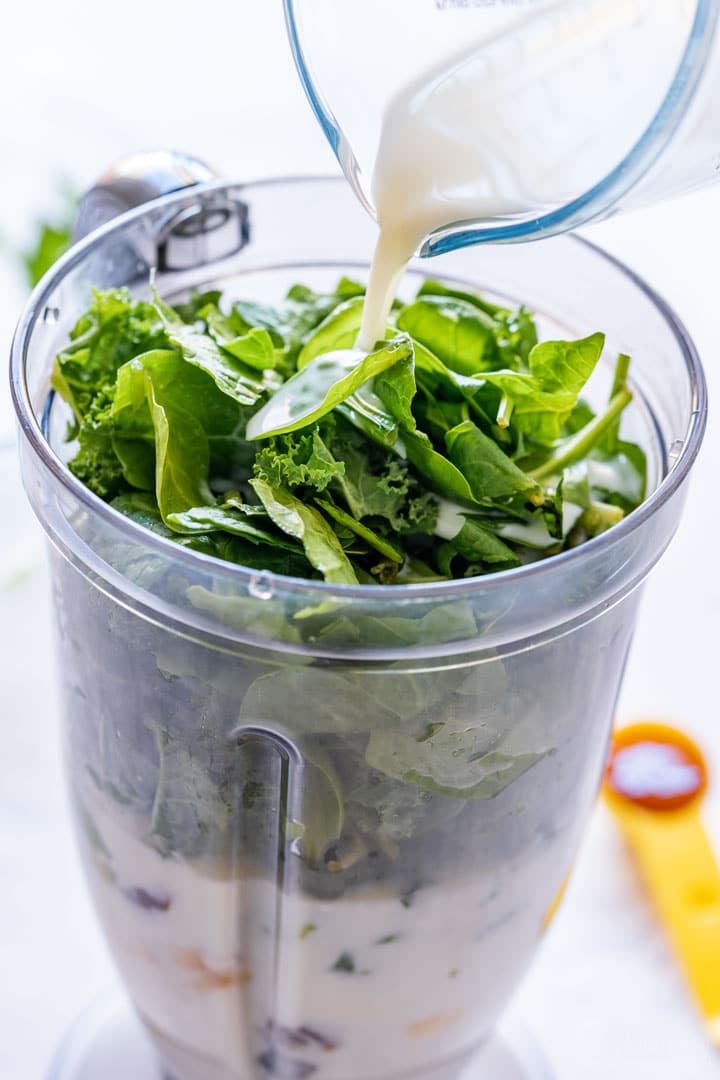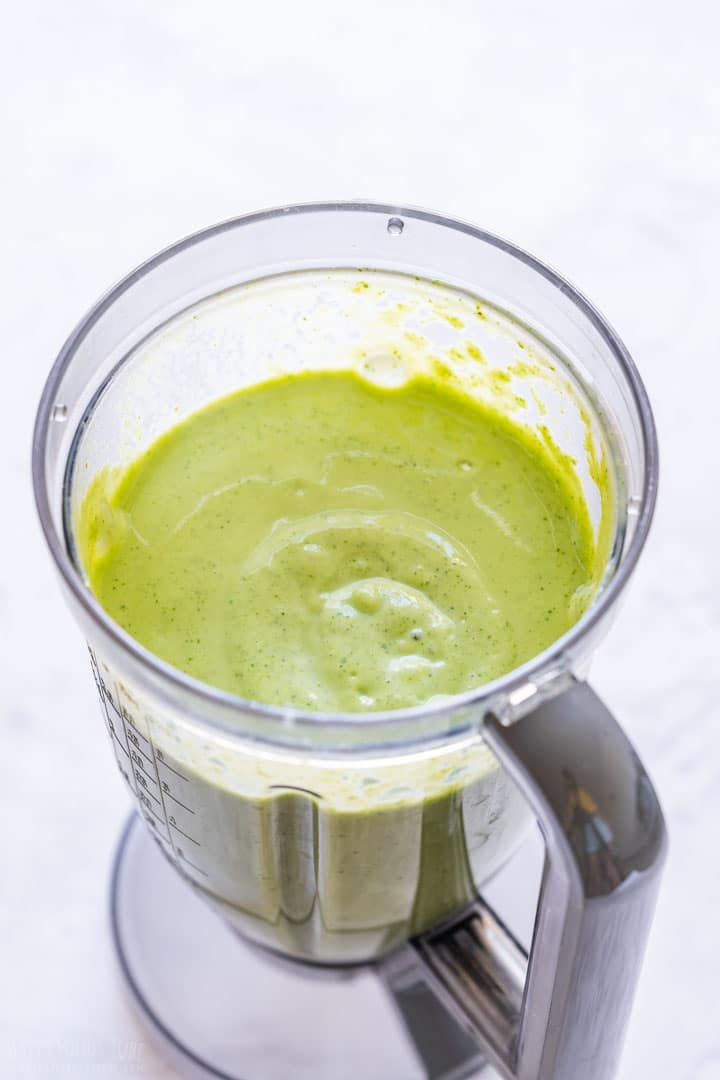 How long can I keep it refrigerated?
This smoothie keeps well in the fridge so make it ahead, pour it into a bottle or glass jar and seal it with a lid. Enjoy thorough out the day or consume within 2 days.
Note 1: Oxidation is a process that occurs when cut fruits come to contact with air. This turns them brown-ish (think avocados, bananas, apples,…).
This will more likely happen with your smoothie as well. All you have to do is mix it/shake it before drinking and you are good to go.
Note 2: If you keep it refrigerated for longer than recommended, it can spoil so make sure to smell it first and check the look of it. A lot of bubbles on its surface or possible mold growing (when a dirty bottle/jar or lid is used) are the most visible issues.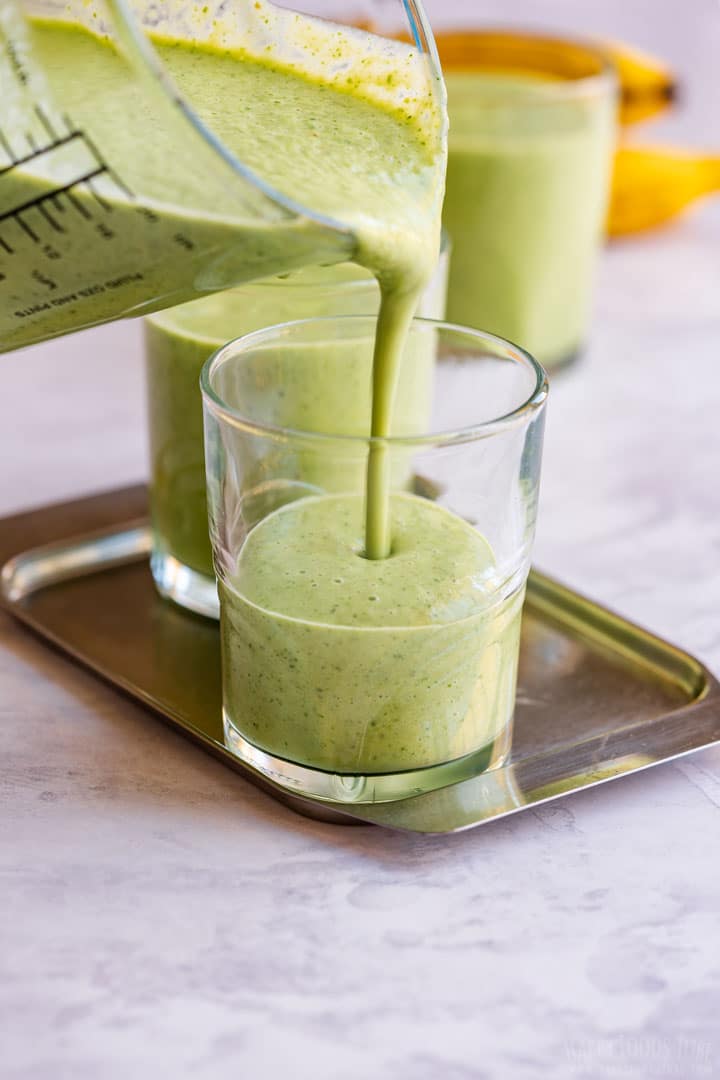 Useful tips:
I did not add any ice or frozen produce. If you prefer to drink smoothies well-chilled, simply make it ahead and refrigerate until ready to drink. 
You can also use frozen produce (like bananas or avocados) if you want to drink it right away without chilling it in the fridge.
If you like experimenting with flavors, then feel free to change the quantities of any of the ingredients.
More green smoothie recipes: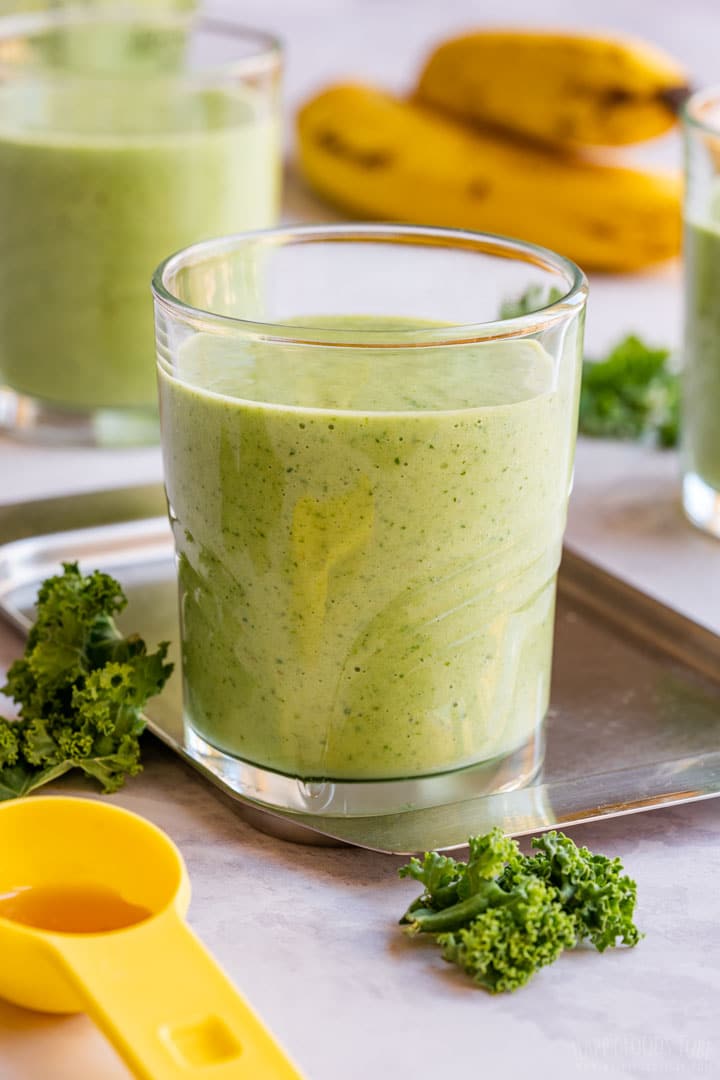 Spinach Kale Smoothie
Easy spinach kale smoothie that is rich in flavor and nutrients. It's not only the perfect healthy addition to your diet but it also keeps you full between the meals.
Servings:
6
(1.5-quart/1.5-liter)
Ingredients
½

cup

Greek yogurt

(125 milliliters), see note 1

2

avocados

(medium), see note 2

2

bananas

(medium-large)

2.5

cups

milk

(500 milliliters), see note 3

2

handfuls of

fresh spinach

1

handful of

fresh kale

, hard stems removed

4

dates

, stones removed, see note 4

1

tablespoon

honey

, see note 5
Instructions
Place all the ingredients in a blender and blend on high until smooth.

Serve right away or make ahead and store in the fridge, preferably in a glass bottle. Consume within 2 days.
Notes
Greek yogurt can be substituted with an unsweetened plain/natural yogurt.
Make sure to use ripe avocados.
Milk – I used low-fat milk, but you can use any kind you want or have on hand.
Start with 2 cups and if too thick to your liking, add an extra ½ cup of milk (this will also depend on the size of bananas and avocados).
I used Deglet Noor dates. If you use Medjool dates, you will not need to put 4 in as they are way larger and richer than the Deglet Noor ones. I recommend using 1 or 2 (or to taste).
You will get around 6 cups (1.5-liter) of smoothie.
You can use any sweetener of your choice (i.e.: agave syrup, maple syrup). Its quantity will depend on your preference. You might not even need to add any if your bananas and dates are sweet enough so you can wait after you have blended the mixture, taste it and add sweetener only when needed.
Nutrition Facts
Spinach Kale Smoothie
Amount per Serving
% Daily Value*
* Percent Daily Values are based on a 2000 calorie diet.
** As an Amazon Associate I earn from qualifying purchases.
LEAVE A COMMENT