This is a simple toasted oatmeal recipe with apples and cranberries. It's easy, quick and completely customizable! Toppings and possible ingredient substitutes are included in the post.
To make this toasted oatmeal recipe you only need one skillet/frying pan. There is no need to be toasting oats in one pan and finishing the cooking process in another pan.
Everything is done in 1 pan/skillet which makes it also a great breakfast idea for camping!
This recipe is also naturally vegan, dairy-free and refined-sugar-free. Toasted oats add a hint of nutty flavor to this simple breakfast and together with the rest of the ingredients form a healthy and nutritious meal.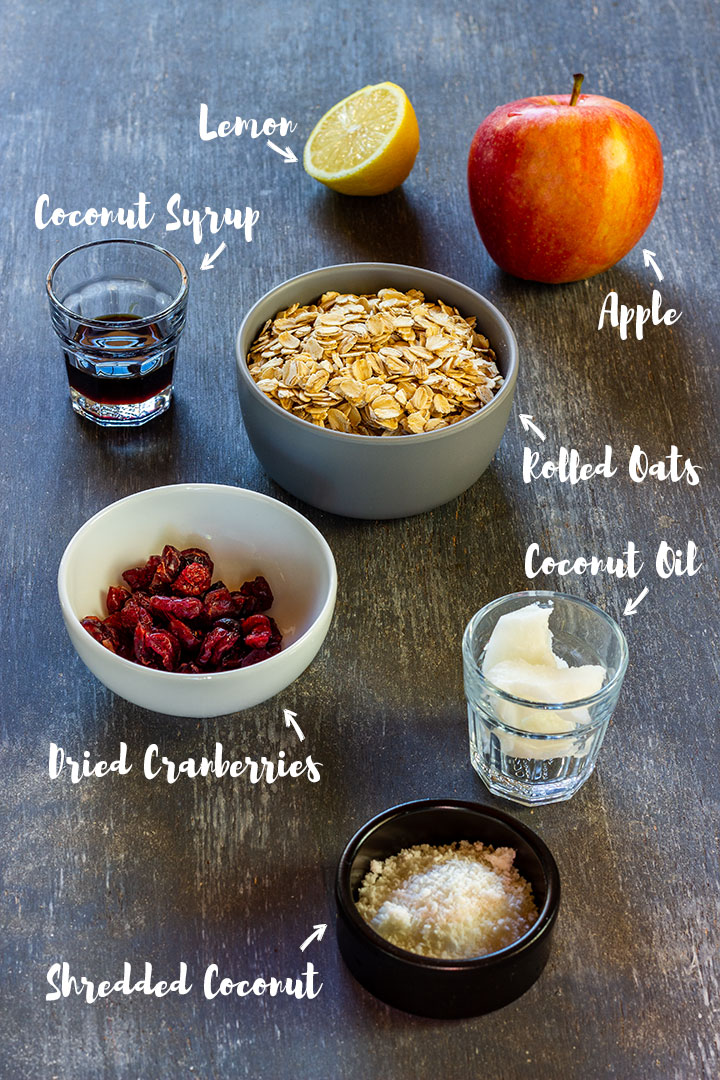 How to make toasted oatmeal
All you have to do is grab your skillet, toast your oats with some coconut oil, add the rest of the ingredients and liquid of your choice. Cooking will take about 9 minutes but might be longer if preferred.
This toasted oatmeal is not your classic oatmeal recipe. It will be chewier and drier and more looking like granola (but this can be easily customized by adding more liquid in during cooking).
It's for those who don't like the texture of classic oatmeal but would still like to try adding oats to their breakfast.
Add-ons and possible substitutions
Add chocolate chips in right before serving, if you like.
Raisins or sultanas are perfect substitutes for dried cranberries.
Instead of apple, use pear.
Pack this toasted oatmeal with some more goodies like dried figs, dates, or nuts.
Coconut syrup is our favorite sweetener but feel free to use what you like or have on hand (agave syrup, honey, maple syrup…).
To achieve a richer taste, use milk (of your choice – coconut, almond, regular, …) instead of water.
For a protein-rich breakfast, serve this toasted oatmeal with Greek yogurt (if not vegan). Whipped coconut cream is a great dairy-free alternative.
Fresh berries
Butter can be easily substituted for coconut oil if you are on a regular diet.
I always use a large frying pan/skillet to make this toasted oatmeal but a wide-bottomed pot will also work just fine.
Other breakfast recipes with oats you might like:
This is an old post that has been updated with new photos and useful information to help anyone who is making it for the first time and in doubt.
The inspiration to create this toasted oatmeal recipe came from my sister who has been making this breakfast for years and was the first to show me how she makes it. It has been my favorite way to eat oatmeal since.
Toasted Oatmeal
This is a simple toasted oatmeal recipe with apples and cranberries. It's easy, quick and completely customizable! Toppings and possible ingredient substitutes are included in the post.
Servings:
2
servings, see note 6
Ingredients
1

cup

rolled oats

, see note 1

2

tablespoons

coconut oil

1

apple

, see note 2

2

tablespoons

dried cranberries

, see note 3

2

tablespoons

shredded coconut

, unsweetened

ground cinnamon

, to taste (optional)

lemon juice

, a splash (or to taste)

1

cup

water

, see note 4

1

tablespoon

coconut syrup

, or to taste, see note 5
Instructions
In a skillet/frying pan, combine coconut oil with oats. Toast for about 5 minutes, stirring occasionally.

Meanwhile: Half and core the apple. Cut into small pieces and set aside. When the oats are toasted, add the apples to the pan altogether with cranberries, shredded coconut a dash of cinnamon, a squeeze of lemon juice and water. Stir well and simmer until the apples have softened and oats absorbed the water, stirring from time to time.

Finally, add coconut syrup and mix well.

Enjoy!
Notes
Quick oats will also work. They might need less water though.
Use any apple you like.
Dried cranberries can be substituted with raisins/sultanas.
Instead of water, other liquids can be used – coconut or almond milk, regular milk (if not vegan or lactose intolerant).
Coconut syrup can be substituted with honey, agave syrup, maple syrup…
When served with whipped coconut cream or Greek yogurt, this will feed at least 3 people.
Cooking time may vary slightly. This will depend on your preference mainly.
Nutrition Facts
Toasted Oatmeal
Amount per Serving
% Daily Value*
* Percent Daily Values are based on a 2000 calorie diet.
** As an Amazon Associate I earn from qualifying purchases.
LEAVE A COMMENT
RELATED POSTS