Tasty avocado spread recipe with a twist. This healthy spread is garlic and onion-free. It's packed with healthy fats and nutrients and can be enjoyed in any way you like.
This post includes serving suggestions and more detailed tips on how to make the best avocado spread.
It's also naturally gluten-free and vegan.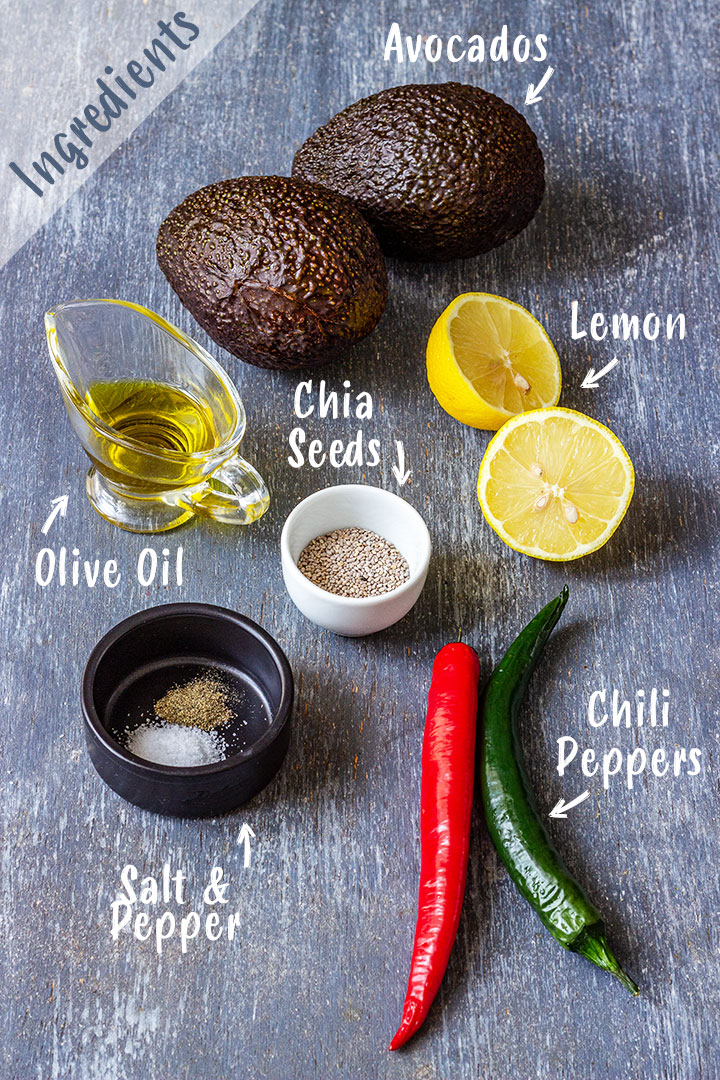 How to make avocado spread from scratch
Get a bowl that is large enough to hold the avocado flesh. I used a soup bowl, but it was quite full, so next time I would something larger. It does make the mixing easier.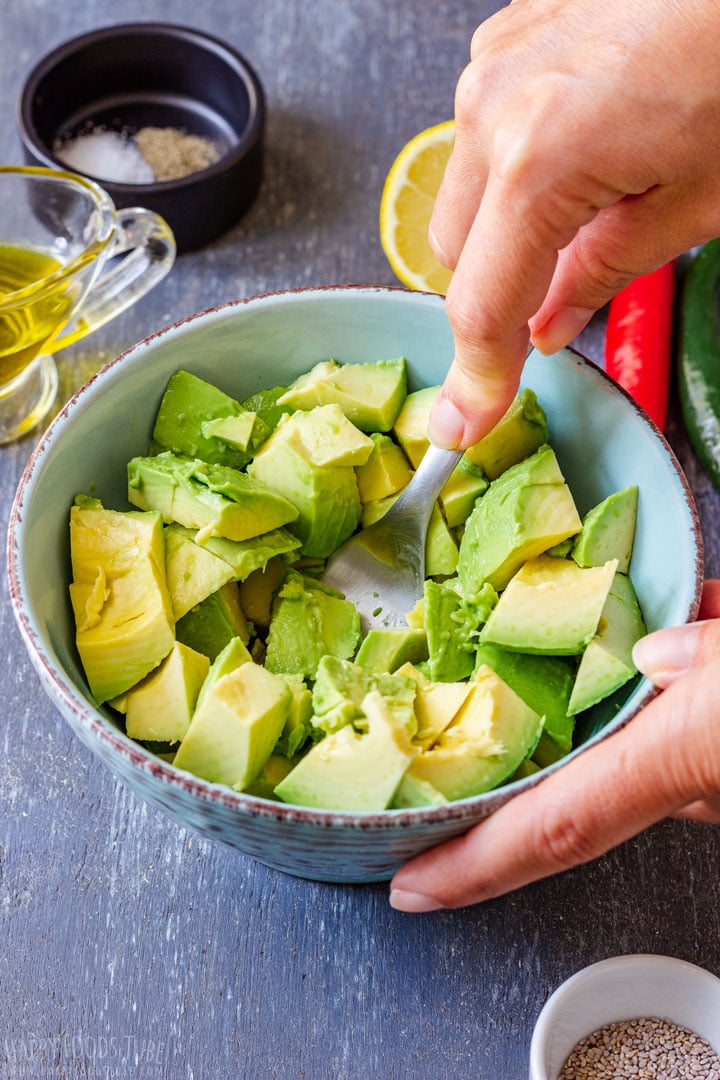 To the flesh, add salt, pepper, olive oil, chia seeds and lemon juice. Give everything a good mix and taste. Top with (or stir in) finely chopped chili peppers and serve!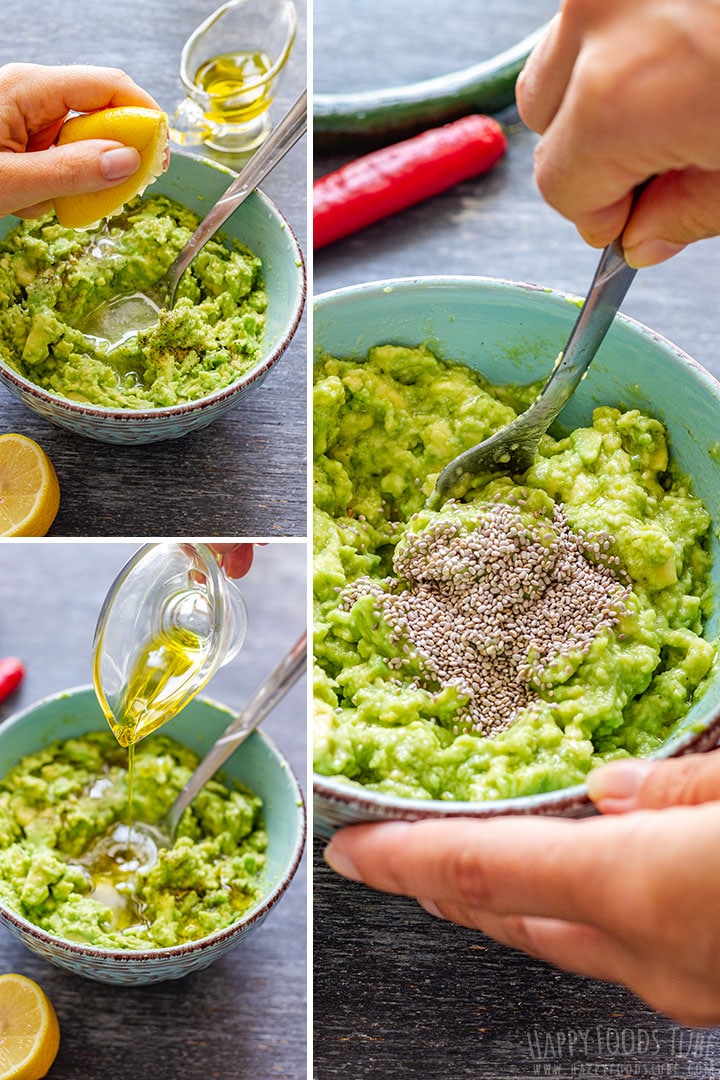 Serving suggestions:
On a toast or rice cakes, crackers or freshly baked sourdough bread
You can turn it into an avocado dip and enjoy it with tortilla chips or crackers.
Add hard-boiled, poached or sunny-side up eggs, roasted tomatoes, fresh radish, cucumbers, arugula and make open avocado sandwiches.
Throw it into a food processor and turn it into a healthy avocado butter or use it on bagels with smoked salmon (instead of Philadelphia cheese).
Tips for making the best avocado spread
Use ripe avocados. You will see how easy they are to mash. If you can squash the flesh with hardly any effort, they are perfect!
Feel free to use less/more seasoning, if you prefer. Everyone's taste is different, so make sure to give it a try first and then add a bit of salt, pepper or lemon juice, if you feel that it's needed.
I am using mild chili peppers, but you can use any chili peppers that are available at your local store, preferably those that you have already used before, so you know how much to use. You can omit them if you are not a fan of spicy foods, but they do give a nice kick to this easy avocado spread, so I highly recommend trying it. At first, start with using a little piece and see if you like it.
Chia seeds are completely optional and can be substituted with flaxseeds or other seeds if you like. You can also just sprinkle them on top of the spread.
Instead of chia seeds, sprinkle some everything bagel seasoning over or stir it into the avocado mixture before adding salt, taste and adjust the seasoning to your liking!
Make sure to use good-quality olive oil. I always use extra virgin oil because it is cold-pressed and has the most health benefits.
How to store avocado spread?
This quick breakfast spread is best enjoyed right away, but it can be kept in the fridge for up to 2 days if stored properly. I suggest keeping any leftovers in a jar, air-tight container or a bowl covered with plastic wrap.
Why did my avocado spread turn brown?
Browning is caused by oxidation and it's a normal process that occurs to many fruits when they are cut open and are exposed to oxygen.
Lemon juice helps keep the fruits (or this spread made with avocado) slow down the browning process, but it might not stop it completely. So, please, don't panic, if you find your avocado spread a bit discolored. Give it a good mix before you spread it over your toast and enjoy!
More healthy avocado recipes for you to try:
Avocado Spread
Tasty avocado spread recipe with a twist. This healthy spread is garlic and onion-free. It's packed with healthy fats and nutrients and can be enjoyed any way you like.
Ingredients
2

Medium

Ripe Avocados

¼

teaspoon

Salt

black pepper

, a generous pinch

½

Lemon

, juice only, see note 1

2

tablespoons

extra virgin olive oil

, see note 2

1

tablespoon

Chia Seeds

, see note 3

Chili Peppers

, to taste, see note 4
Instructions
Half the avocados and remove pits. Take out the flesh and transfer it into a bowl. Mash it until smooth (or to you liking). Add salt, pepper, lemon juice, olive oil, chia seeds and stir well.

Taste it and season, if needed. Finely chop chili and either stir it into the spread or just sprinkle some over.
Notes
I used ½ of a small lemon, which was about 1.5–2 tablespoons of juice. You might need more/less, depending on your taste.
Use either extra virgin olive oil or classic olive oil. I don't recommend substituting it with vegetable or sunflower oil.
Chia seeds can be substituted with flaxseeds or omitted if you like.
Fresh chili is optional but I highly recommend using it. It give this avocado dip a nice spicy kick!
Store in the fridge in a bowl covered with plastic wrap or in an air-tight container up to 2 days.
Nutrition Facts
Avocado Spread
Amount per Serving
% Daily Value*
* Percent Daily Values are based on a 2000 calorie diet.
** As an Amazon Associate I earn from qualifying purchases.
LEAVE A COMMENT
RELATED POSTS