Easy blueberry cobbler recipe, made from scratch. With its super quick preparation, it is the perfect dessert for weeknights! The recipe is customizable to anyone's liking.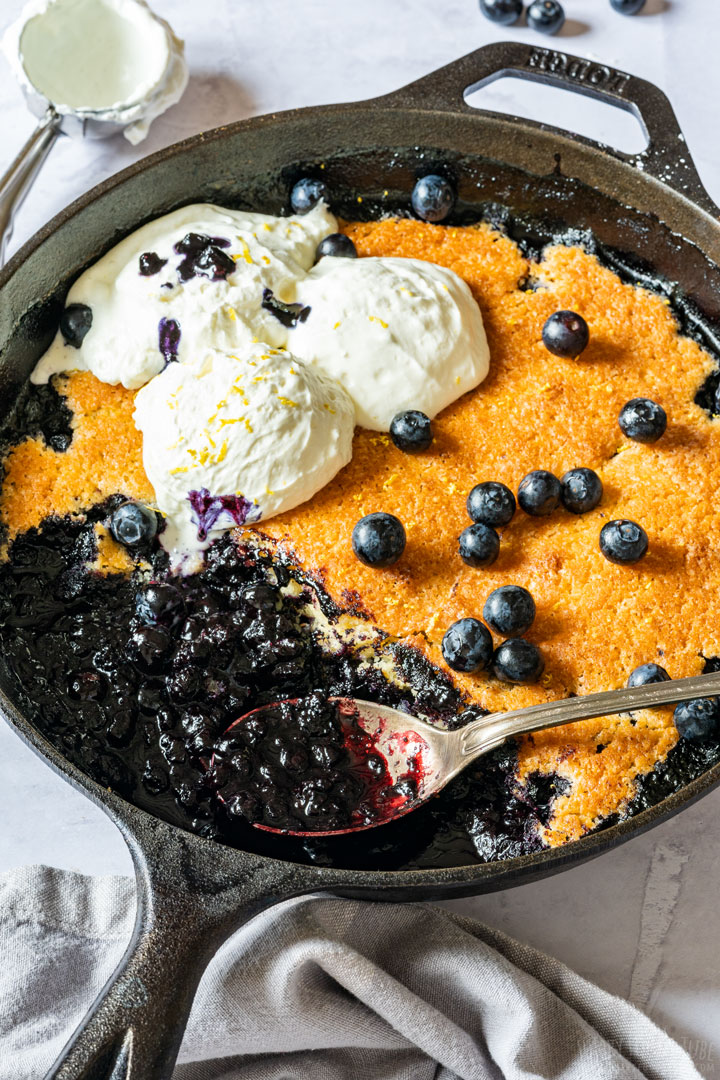 The preparation takes less than 10 minutes which makes it also a great baking project for kids.
Special Diet Information
What does this recipe contain?
Eggs: YES (topping)
Dairy: YES
Nuts: NO
Gluten: YES
Refined sugar: YES
How to make blueberry cobbler?
This recipe has a quick prep so in order to speed up the whole process, turn your oven first. Preheat it to 350 Fahrenheit (180 Celsius).
Next, prepare the topping: In a mixing bowl, beat softened butter with sugar, then add egg, vanilla extract and baking powder mixed with flour. Mix until combined.
Fill a 10-inch cast-iron skillet with frozen blueberries and add cornstarch. Mix well with your fingers so that the blueberries are coated evenly. Drizzle over 2 tablespoons of honey and spoon the batter over.
How long to bake blueberry cobbler?
Note that cooking time will vary, depending on the type of baking dish you use and your oven (its size, performance) and also whether you use frozen, partially thawed or fresh berries.
Count with about 30 (for fresh) to 40 minutes (for frozen blueberries) but keep an eye on it. If you see that the topping on your berry cobbler is set and nicely golden brown on top, and berries are bubbling away, it's a sign this simple berry dessert is ready.
Possible substitutions/variations
Other fruits of your choice or a combination of berries – blackberries, rhubarb (mix with sugar to increase the level of sweetness), peach (the classic),…
White/brown sugar – any kind will work and the amount you use depends on your preference. This recipe was specially developed to keep the levels of sweetener as low as possible, especially in the filling. However, keep in mind that the sweetness of berries or other fruits will vary.
Add cinnamon and lemon juice or zest to blueberries for extra flavor!
Use more berries if you have more on hand.
Omit or reduce cornstarch if you prefer having more juices.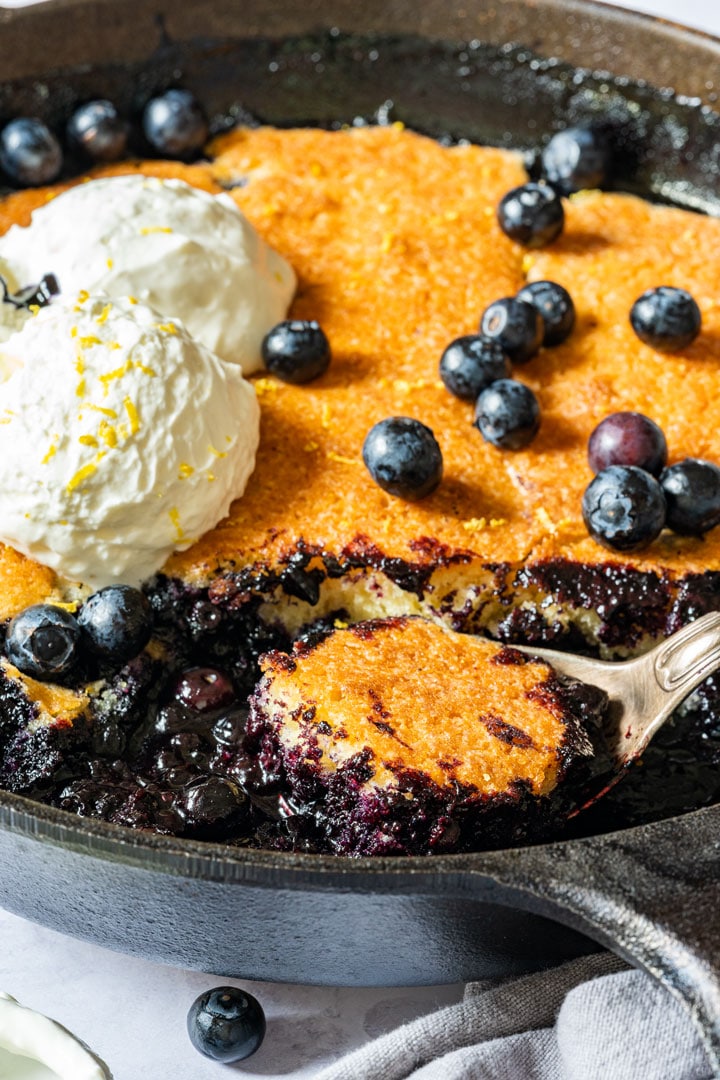 Optional topping and garnish ideas
Vanilla ice cream – The combination of cold and warm is delightful
Whipped cream – A simple add-on, but completely optional
Fresh mint – a few leaves as a garnish
Lemon zest – a sprinkle of freshly grated zest for an extra flavor as well as a hint of color
Cobbler has a similar preparation to a crisp. In both cases, the main star is the fruit and because you can use various types, both desserts can be enjoyed all year round, depending on what you have on hand.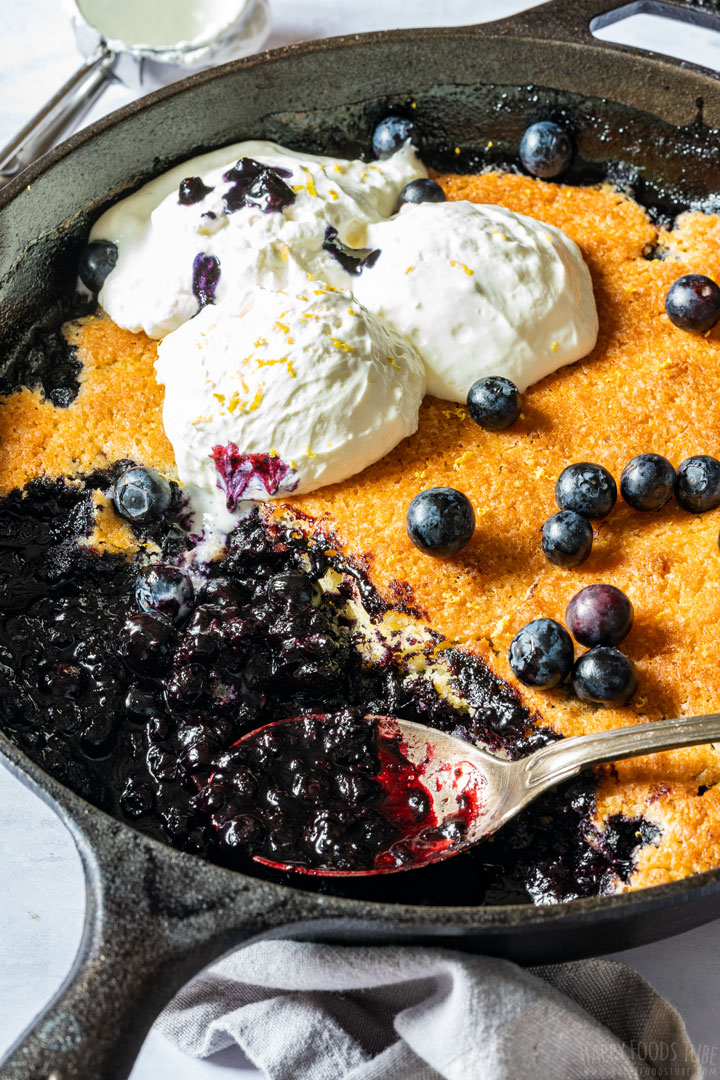 Blueberry cobbler frequently asked questions:
Should I use fresh or frozen blueberries?
Either can be used. I prefer frozen (there is no need to thaw them).

Note: Frozen blueberries will release more juices than fresh ones. For that reason, it is good to add cornstarch to help thicken some of the liquid. 1-1.5 tablespoons should be plenty as you don't want to dry them out too much.
Is this blueberry cobbles sweet?
This is a relatively low-sugar blueberry cobbler. The filling is sweetened with a little honey only as there is no reason to add a lot of sugar to blueberries. The reason is simple: The topping is sweet enough to balance it off if your berries are rather sour.

Also, when served with a scoop of vanilla ice cream which is a sugar-packed add-on.
Do I need to use a cast-iron skillet?
No. This cast-iron blueberry cobbler can be made in any other oven-proof dish, either a round or rectangular.

With the round, use one that is no larger than a 10-inch (25-centimeter). With rectangular, a 9×13-inch (22×33-centimeter) pan will work, but the berry layer will probably be thinner.
How to store this blueberry dessert?
Transfer any leftovers in an airtight container or simply cover the baking dish with plastic wrap. Keep in the fridge for up to 2-3 days.

Or, freeze in a freezer-friendly container and thaw when ready to enjoy.
More blueberry recipes you might like to try:
Blueberry Cobbler
Easy blueberry cobbler recipe, made from scratch. With its super quick preparation, it is the perfect dessert for weeknights!
Ingredients
For topping:
1

stick

unsalted butter

, softened (110 grams)

½

cup

sugar

, see note 1 (100 grams)

1

egg

, large

1

teaspoon

vanilla extract

1

cup

all-purpose flour

½

teaspoon

baking powder
For filling:
4

cups

frozen blueberries

, see note 2

1.5

tablespoons

cornstarch

, see note 3

2

tablespoons

honey

, see note 4
Instructions
Preheat oven to 350 Fahrenheit (180 Celsius).

In a mixing bowl, beat together softened butter and sugar. Add egg and vanilla extract, and flour combined with baking powder. Mix until you get a smooth batter. Set aside. If too soft, put it in the fridge for 10 minutes.

Fill a 10-inch cast iron skillet with frozen berries. Add cornstarch and mix the berries around until they are all evenly coated with cornstarch. Drizzle with honey (don't mix). Spoon the topping over (no need to cover all the berries).

Bake at 350 Fahrenheit (180 Celsius) for 40 minutes or until the filling bubbles away and the topping is nice golden brown.

Serve as is, with ice cream or anything you like.
Notes
You can use either brown or white sugar.
Fresh blueberries will also work. The cooking time will be probably about 10 minutes shorter. You will need slightly over 1-pound (450-grams) of berries.
For fresh berries, either reduce or omit completely the cornstarch.
If your berries are rather sour, you can increase the sweetener. Also instead of honey, regular sugar or brown sugar can be used.
Cooking time may vary. This will depend on your oven, the oven dish you use as well as how frozen the berries are.
Instead of a 10-inch cast iron skillet, use any 10-inch round dish or a square or rectangular 10×13-inch dish. There is plenty of topping for the 10×13-inch dish, but the berry layer will be flatter.
Storage: Transfer to an airtight container and keep in the fridge for 3-4 days. Or, freeze in a freezer-friendly container. Thaw before serving.
More tips, optional add-ons as well as answers to FAQs are in the post above this recipe card.
Nutrition Facts
Blueberry Cobbler
Amount per Serving
% Daily Value*
* Percent Daily Values are based on a 2000 calorie diet.
** As an Amazon Associate I earn from qualifying purchases.
LEAVE A COMMENT