Spanish chorizo potato salad is an upgraded version of the popular Spanish meal Judias verdes con chorizo. This flavorful side dish is mayonnaise-free and takes less than 30 minutes to make!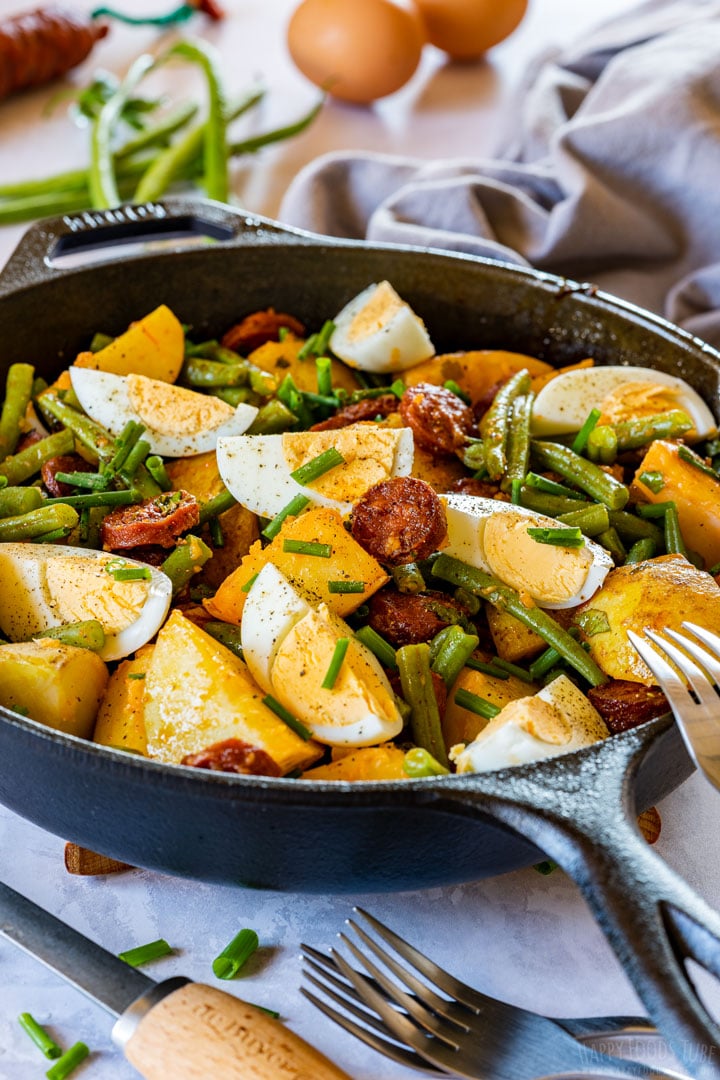 The prep can be divided into 2 days if needed. Simply cook the potatoes, eggs, and green beans in advance and finish the potato salad off the next day.
This potato salad with chorizo is an excellent choice for outdoor entertaining or family gatherings. While you can enjoy it cold, it is best eaten while warm.
Pan-fried chorizo and potato go so well together. The fat that the Spanish sausage releases during frying flavors the potato salad when all the ingredients are combined together.
This is my version of the recipe for green beans with chorizo. Most of the Spanish recipes mainly contain green beans and sausage. To this, some add eggs while others add potatoes.
I took it a step further and added a few more things to make it more flavorful and I hope you will enjoy it as much as we do!
Expert tips for making this Spanish potato salad
Any eggs will work in this recipe – large, medium, or small ones. I like cooking them with vegetables but you can cook them separately. Making them in an instant pot is the easiest way to cook them, but if you have a preferred way of boiling eggs on a stovetop, feel free to use it.
For best results use fresh green beans!
I always use potatoes that I have on hand. However, some potato types hold their shape better than others.
Spanish chorizo should not be substituted. It does elevate this potato salad to a whole new level! Either sweet (dulce) or spicy (picante) will work. Also, sliced chorizo from the deli counter works amazingly in this recipe.
Spring onion may be added to the pan, mixed in the chorizo potato salad or sprinkled over at the very end.
Dietary and food allergy information:
Contains meat (sausage) and eggs
Dairy-free
Nut-free
Naturally gluten-free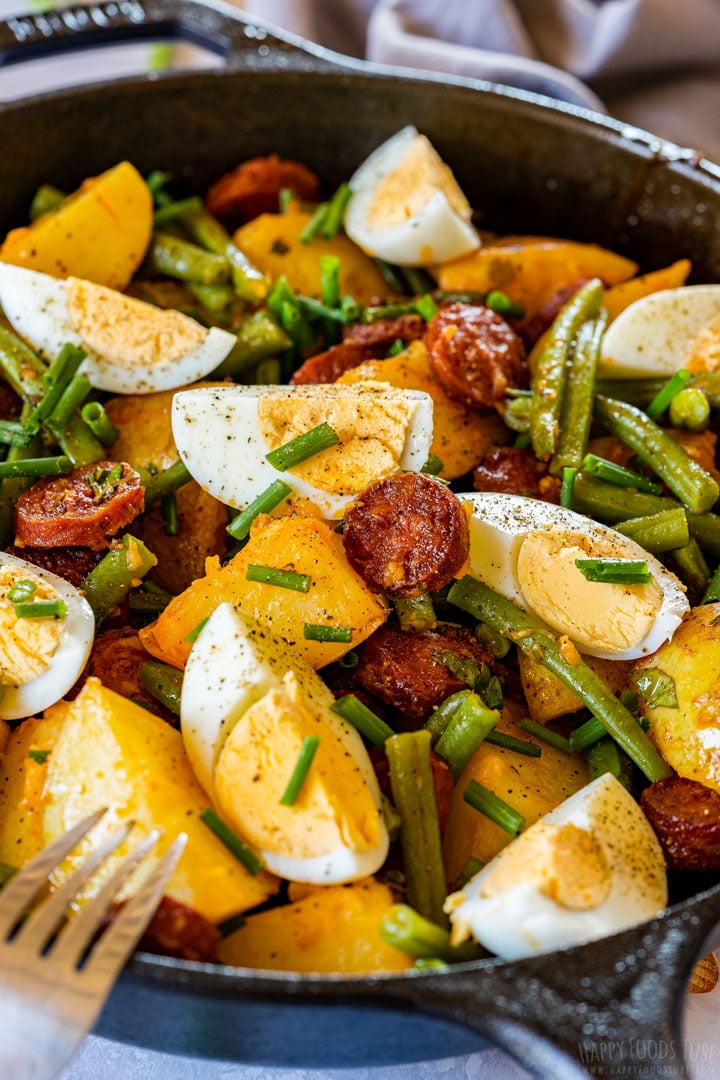 Frequently asked questions:
How to store leftovers?
Transfer any leftovers into a food container, close with a lid and keep in the fridge for up to 3 days.
I don't have some of the ingredients. What substitutes can I use?
Use chives instead of spring onion, red wine vinegar instead of balsamic vinegar, and romano (flat) beans as a substitute for green beans.
More Spanish recipes for you to try:
Want to see how to make Spanish chorizo potato salad? Watch the video!
Spanish Chorizo Potato Salad
Spanish chorizo potato salad is an upgraded version of popular Spanish meal Judias verdes con chorizo. This flavorful side dish is mayonnaise-free and takes less than 30 minutes to make!
Ingredients
1

pound

potatoes

(450 grams)

3

eggs

(large), see note 1

7

ounces

green beans

, ends trimmed & cut in halves (210 grams)

1

teaspoon

salt

1

teaspoon

olive oil

6

ounces

spanish chorizo sausage

(180 grams)

2

cloves

garlic

, see note 2

flat-leaf parsley

, to taste, see note 3

4

tablespoons

balsamic vinegar

, see note 4

2

spring onions

or chives, to taste, see note 5
Instructions
Thoroughly wash potatoes under running water. Leave the skin on and cut into bite-size chunks. Add them to a pot together with salt and eggs. Pour water in so that everything is submerged. Cover with a lid and bring to a boil. Reduce heat to medium. Add green beans and cook for 8 minutes.

Meanwhile: Fry the chorizo slices in a skillet/frying pan with a little oil, for about 2-3 minutes, stirring from time to time. Add minced garlic and chopped parsley. Stir until the garlic releases its aroma. Pour in balsamic vinegar and let it cook for a minute or two. Turn off the heat.

After 8 minutes, take the eggs out. Check the potatoes and beans. If ready, turn off the heat (It's better when the potatoes are slightly under-cooked. They hold their shape better). Drain the water and peel the eggs.

In a large mixing bowl, combine together cooked potatoes, beans, chorizo mixture (including the juices) and chives. Toss well. At last, add quartered eggs.
Notes
Small or medium eggs will work just fine. Perhaps use 1 extra when using small eggs.
If you have small garlic cloves, add 1 or 2 extra.
I used about ¼ cup of finely chopped parsley.
Balsamic vinegar can be substituted with red wine vinegar.
Either spring onion or chives can be used. Chives are best mixed into the salad at the very end. Spring onion can be either added to the pan altogether with garlic or at the end just mixed in.
Nutrition Facts
Spanish Chorizo Potato Salad
Amount per Serving
% Daily Value*
* Percent Daily Values are based on a 2000 calorie diet.
** As an Amazon Associate I earn from qualifying purchases.
LEAVE A COMMENT
You may also like: