Blueberry rhubarb crisp recipe without flour is a delicious and healthy alternative. It has an easy preparation, so it's also perfect for beginner bakers. It's also a great baking project for kids!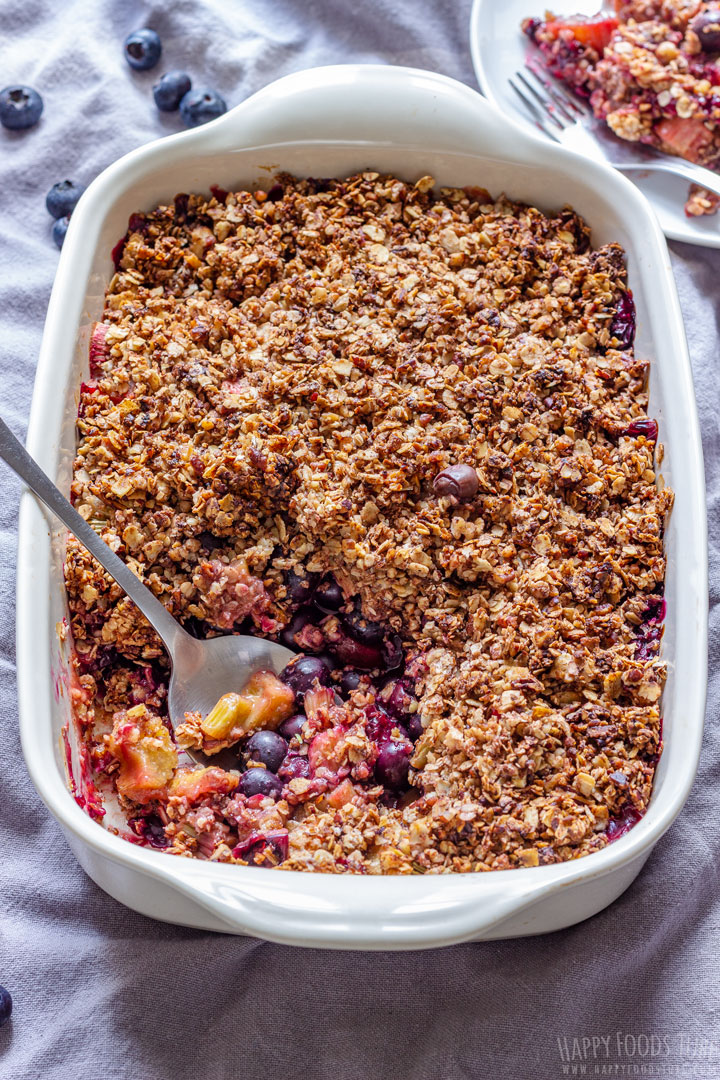 Why make blueberry rhubarb crisp
Refined sugar free – only honey is used as a sweetener.
Vegan – there is no butter used in this recipe.
Dairy-free dessert – no butter is used in this rhubarb blueberry crisp recipe.
Healthy – perfect for anyone looking for healthy dessert recipes.
Customizable – you can add less rhubarb/more blueberries, make more topping, use different spices, …
This post contains useful tips and process photos.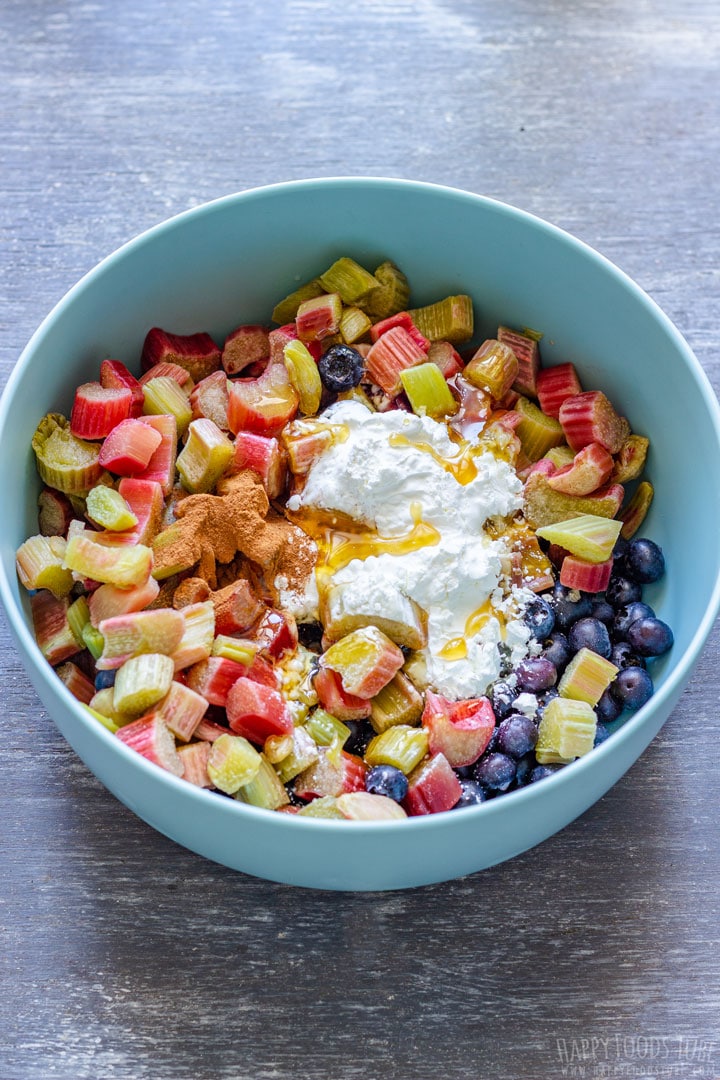 How to make rhubarb crisp with blueberries
In a large bowl, combine together rhubarb, blueberries, honey, cinnamon, cornstarch and a pinch of ground cloves.
Pour this into an oven-proof dish. Top with a mixture of pecans, oats, honey, cocoa and coconut oil.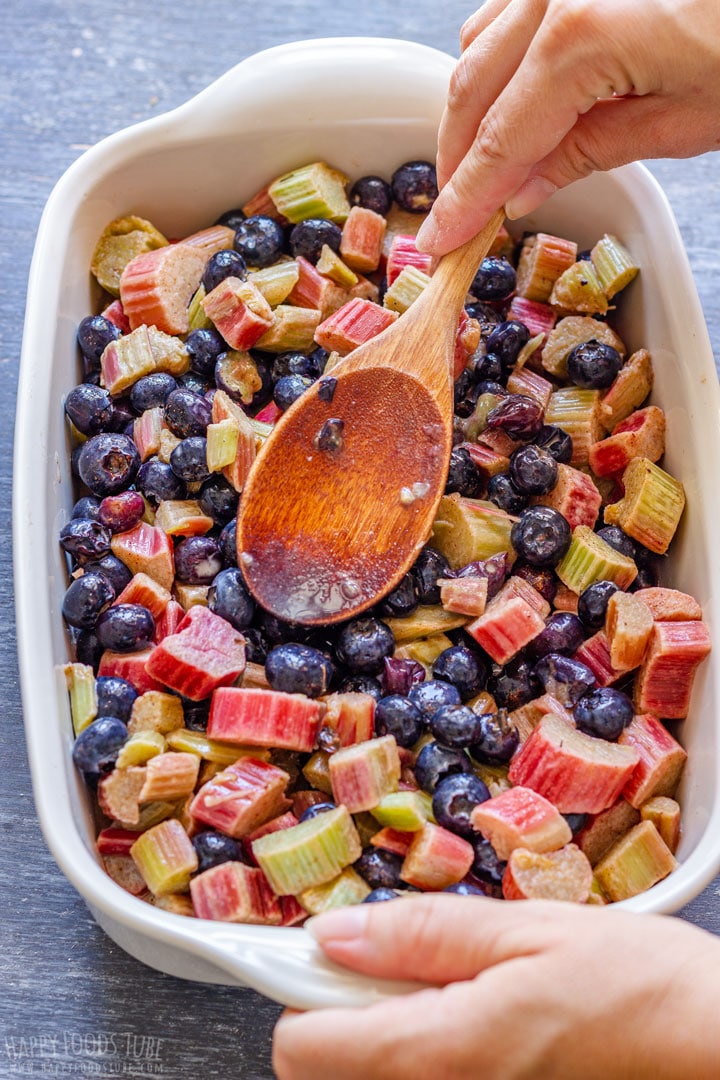 The baking time for this blueberry rhubarb crisp can vary slightly, so keep an eye on it when making it for the first time.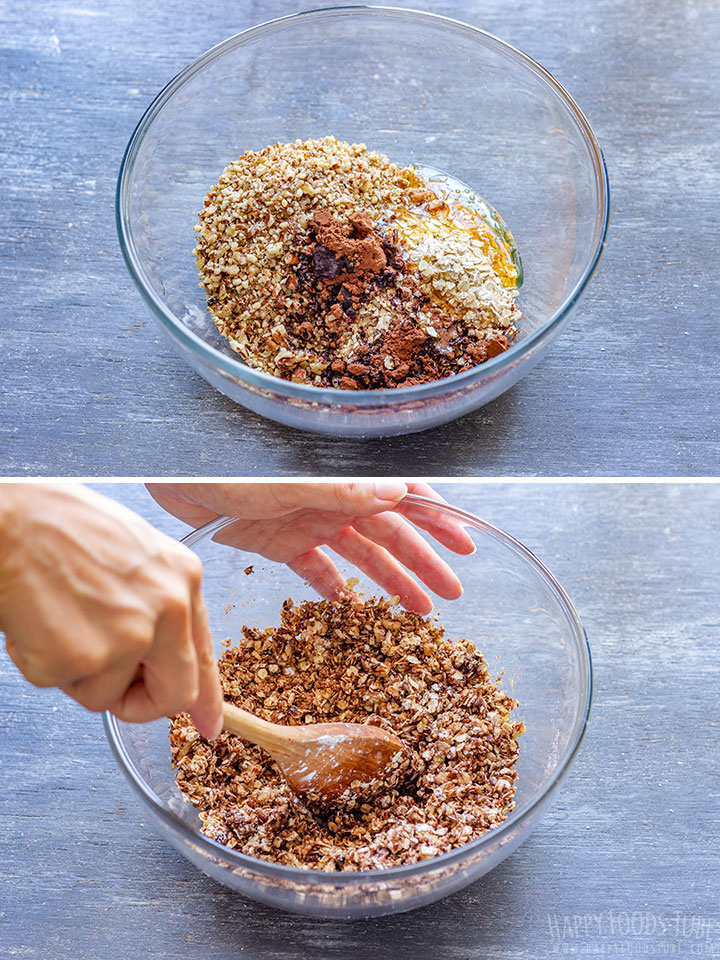 How to use frozen rhubarb?
Once thawed, you can use it as a filling in pies, you can make homemade ice cream or jam with it.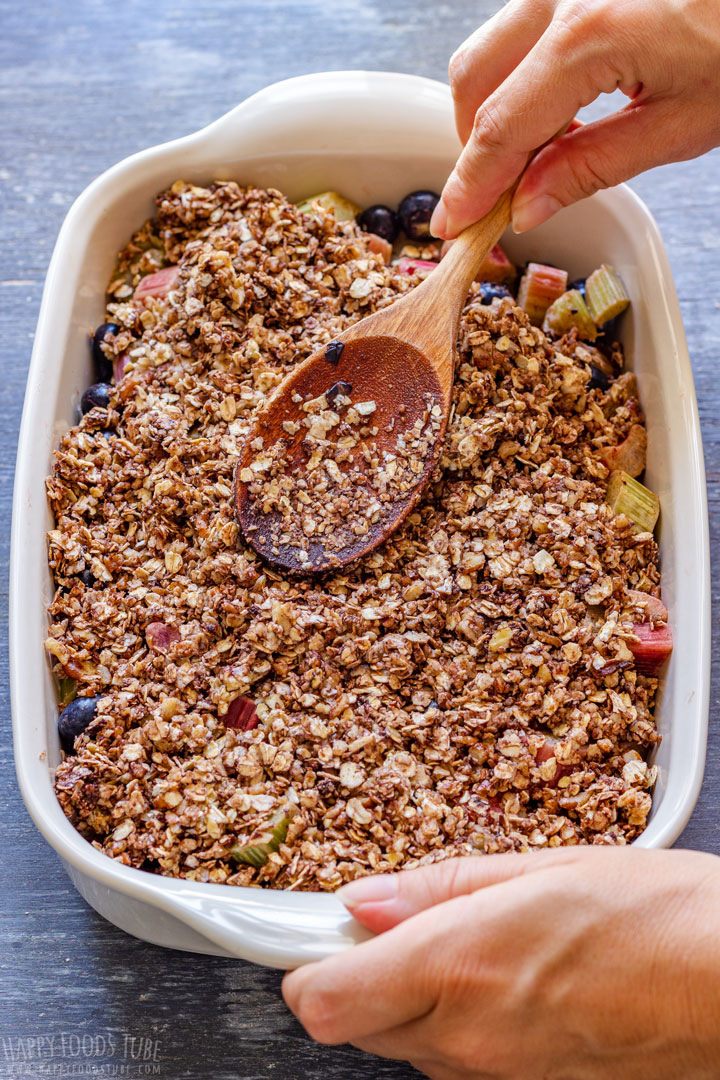 Tips for making the best blueberry rhubarb crisp
I used ½ cup of honey in the filling. This gave me the perfect sweetness, but it was not extra sweet. If you like it sweeter, add more honey. Also, if your blueberries are not very sweet, nor is the rhubarb, you might need to add more sweetener.
Cornstarch is used to thicken the mixture. I find that ¼ cup is enough, but this again depends on everyone's preference. If you like this rhubarb crumble extra thick, use about ⅓ cup (I would not use more than that though).
Topping is made with oats, honey, coconut oil, crushed pecans and cocoa powder. You can experiment here and add more nuts (or different type), omit cocoa, use more oil… Just note that the topping is enough for a 9×7-inch (24×19-centimeter) dish. If you use a larger one, you might need to make more to cover the whole surface.
Blueberries can be substituted with chopped strawberries.
Optional add-ons/toppings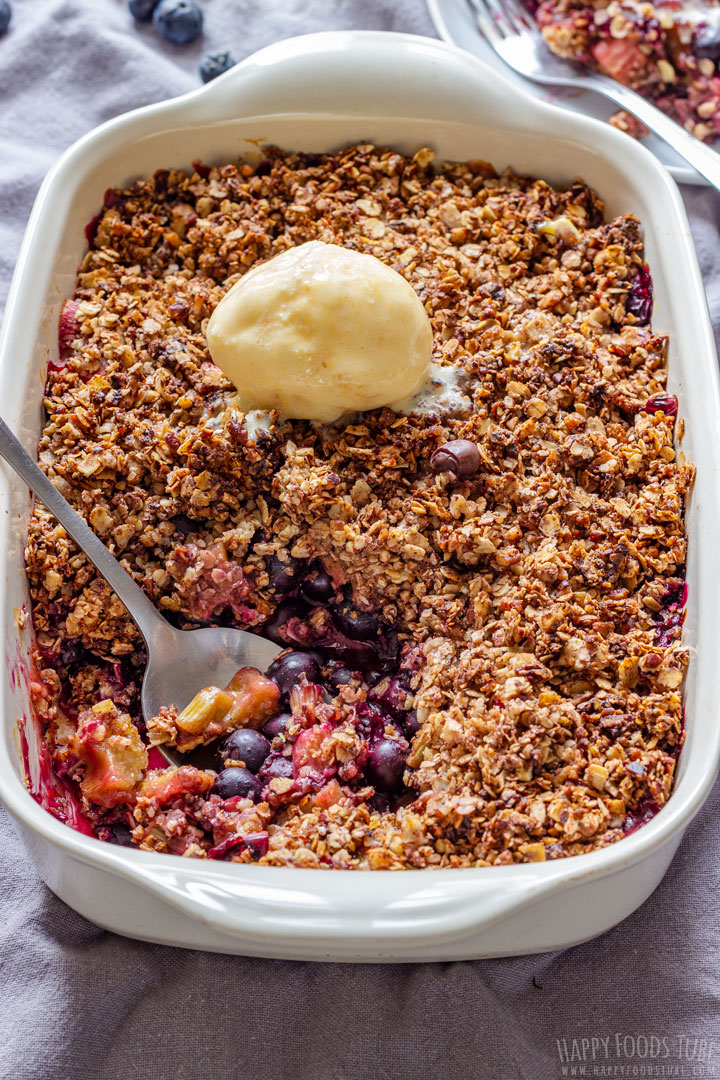 If you are looking for more healthy dessert recipes here are some ideas for you:
Peanut Butter Brownies are very addictive and everyone loves them. They are refined-sugar free, flourless and also vegan.
My other favorite treats are Chocolate Covered Dates. Stuffed with peanut butter and best enjoyed from frozen these are a delicious snack! They are also suitable for vegans and gluten-free!
When cherries are in season, you could try making Avocado Chocolate Mousse.
In summer, I like making Mango Yogurt Popsicles. You can make a large batch and take a pop whenever you feel like it.
Those who like blueberry desserts and don't mind that they are not super healthy, might like to try some of these:
Blueberry Rhubarb Crisp
Blueberry rhubarb crisp recipe without flour is a delicious and healthy alternative. It has an easy preparation, so it's also perfect for beginner bakers. It's also a great baking project for kids!
Instructions
Preheat oven to 350° Fahrenheit (180° Celsius).

Meanwhile: In a mixing bowl, combine rhubarb with blueberries, honey, cinnamon, cloves and cornstarch. Mix or toss until you see that all the fruits are evenly coated. Pour this into a 9×7 oven-proof dish and set aside.

In another bowl, mix together oats, chopped pecans, cocoa, honey and coconut until well combined. Cover the fruits with this mixture.

Bake in a preheated oven at 350° Fahrenheit (180° Celsius) for 40 minutes or until the rhubarb is tender.

Enjoy warm!
Notes
You can use fresh or frozen (thawed) rhubarb.
I try to avoid over-sweetening desserts. Because the fruits can have a different level of sweetness you might need different quantity of honey. I'd say that ½ a cup is a minimum, but more can be added, if you like. Also, you can drizzle some over the crisp when serving.
You can use less cornstarch for a more liquid-y crisp, or slightly more for a thicker. Note that this also may vary. See more tips in the post above this recipe card.
This is enough topping for the dish I used (9×7 inch/24×19 centimeters). If you use a larger dish, you will need more topping as you will have a larger surface to cover.
Cooking time may vary. This will depend on your oven and on the rhubarb. To make sure it's cooked through, stick a skewer or knife into a few rhubarb pieces. If it is going in easily, it's ready. You can also just take a piece out and taste it.
Nutrition Facts
Blueberry Rhubarb Crisp
Amount per Serving
% Daily Value*
* Percent Daily Values are based on a 2000 calorie diet.
** As an Amazon Associate I earn from qualifying purchases.
LEAVE A COMMENT