This is a recipe for Lemon Blueberry Poke Cake from scratch. Moist and soft sponge, blueberry sauce and creamy ricotta frosting with a hint of lemon!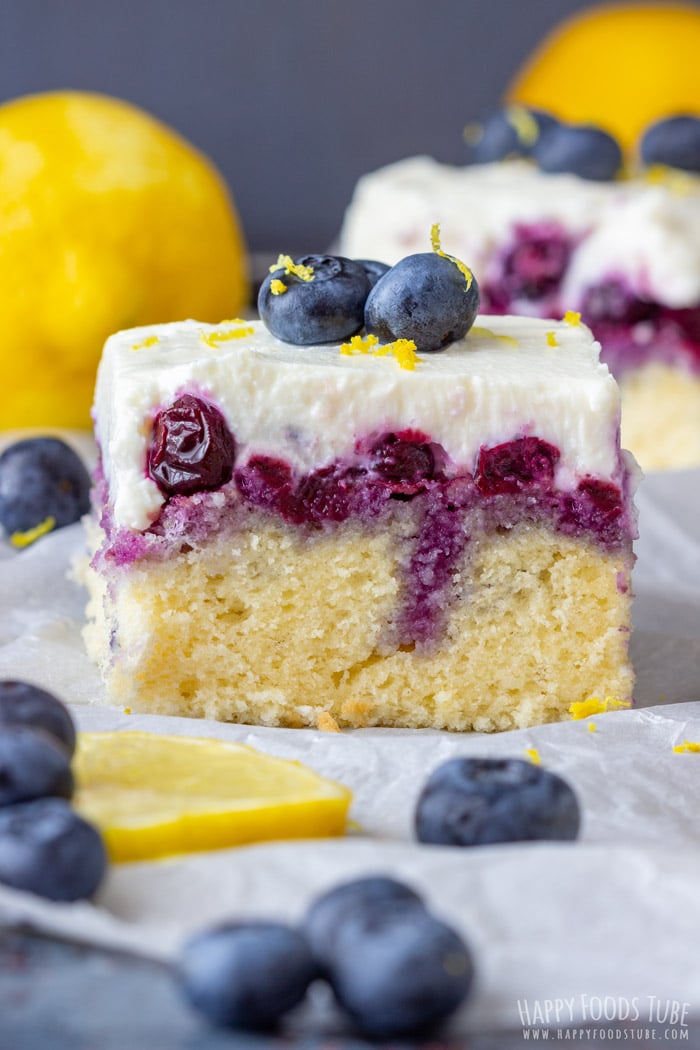 Guys, if you are looking for things to bake from scratch, you must try this lemon blueberry poke cake. I guarantee you it will be a hit at your next family gathering.
And you know what else would be a hit? Raspberry Hand Pies or Lemon Tart. They are also made from scratch!

If you want to "cheat" a bit, I recommend making White Chocolate Waffle Cake with Blueberries. This one uses shop-bought waffles as a base – crust which is handy when you are in a hurry. Or this tasty No Bake Blueberry Cheesecake is made from scratch and without any gelatin.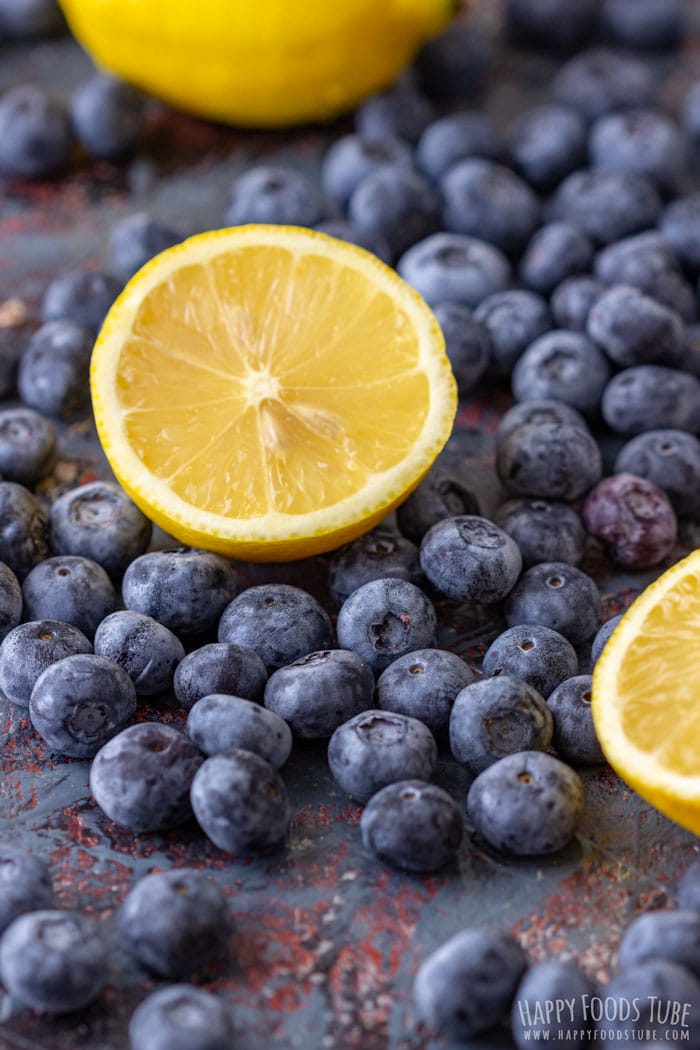 What I love about this lemon blueberry poke cake recipe
Soft and moist cake sponge – follow this recipe step by step to achieve moist and soft cake.
Cream cheese-style frosting without using cream cheese – Use a combination of creamy mascarpone and ricotta instead.
Crowds' favorite – this poke cake always disappears fast from the table!
Easy poke cake recipe – even though it's baked from scratch, it's pretty quick and more importantly easy to make.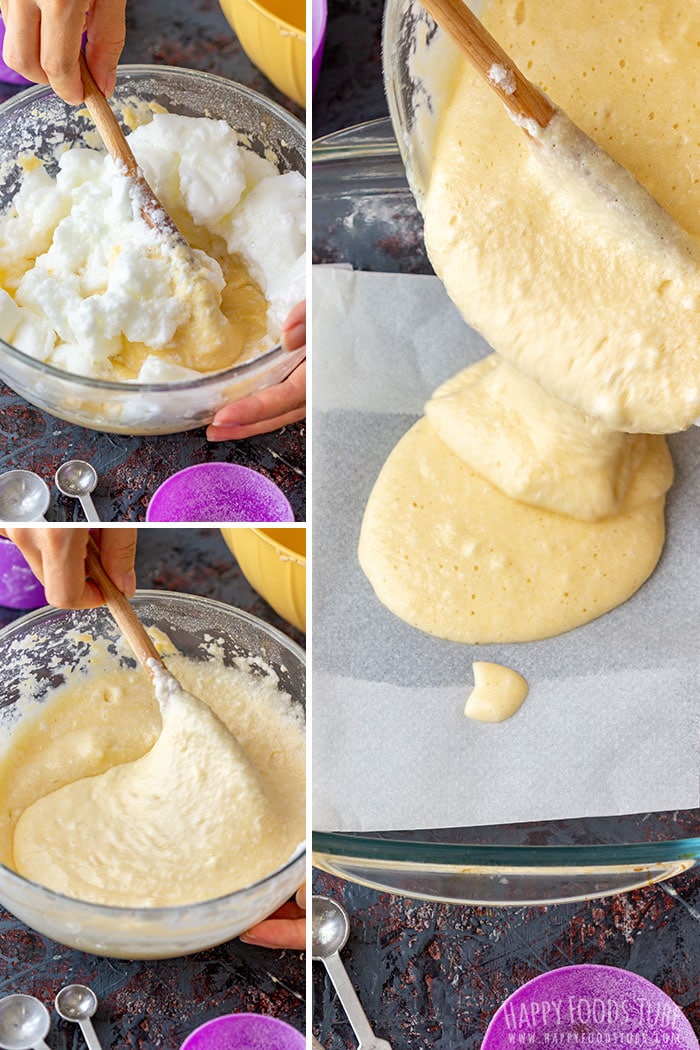 How to make lemon blueberry poke cake
The easiest way to make this cake is to divide the whole process into 3 stages:
Making the sponge base
Making the blueberry sauce
Making the ricotta layer (a.k.a. frosting)
The whole prep takes about 30 minutes and baking about 15 minutes. However, when you do step 2 & 3 while the cake is in the oven, you will save a good 10-15 minutes.
This means that you will reduce your overall prep time quite significantly. Isn't it great?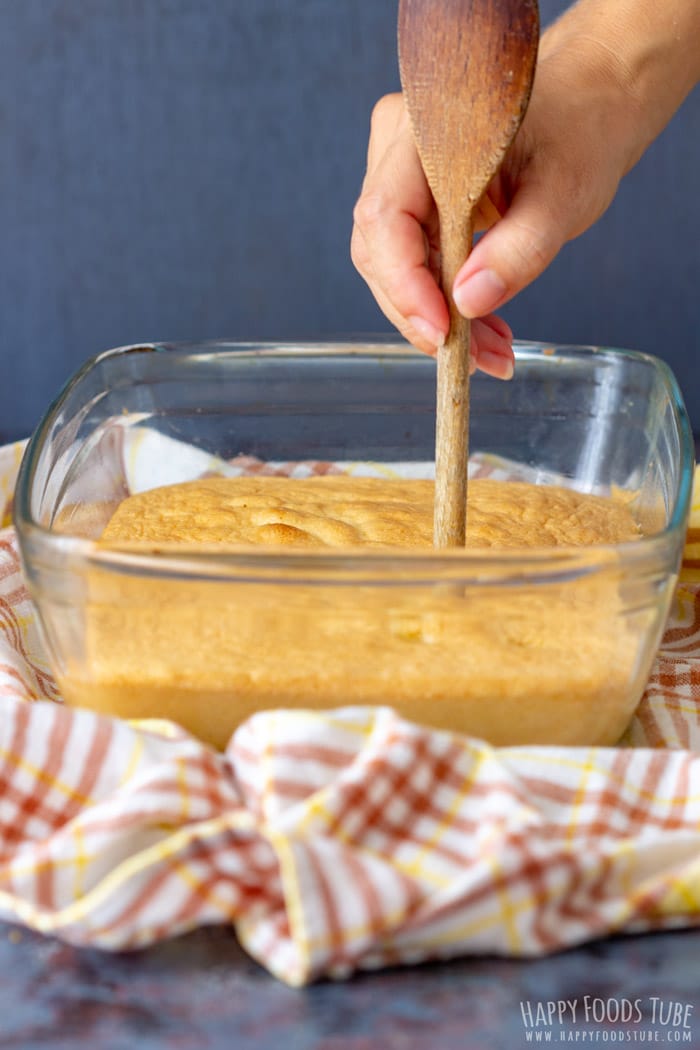 Now the sponge for this lemon blueberry poke cake is made quite differently to what you might be used to. It is important to follow the recipe instructions step by step to achieve the perfect texture.
The blueberry sauce as well as the frosting only takes minutes to make. For the sauce you combine all the ingredients in a sauce pan and simmer for about 5 minutes. For the frosting all you have to do is literally dump all the ingredients in a bowl and give it a mix with an electric mixer.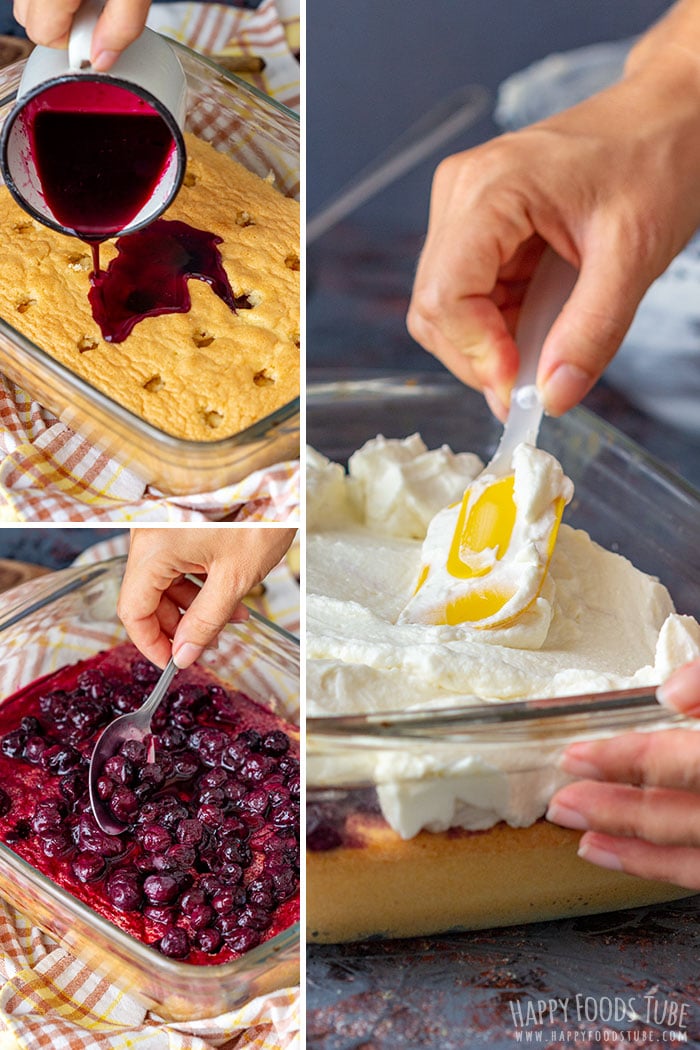 Tips for making lemon blueberry poke cake
Make sure your cake pan/oven-proof dish is at least 3 inches (7cm) deep.
If you feel that the blueberry sauce does not have enough liquid, add more water to the sauce pan while it's simmering. The sauce can also be thickened with cornstarch.
I like topping this poke cake with fresh blueberries and grated lemon zest but this is completely optional.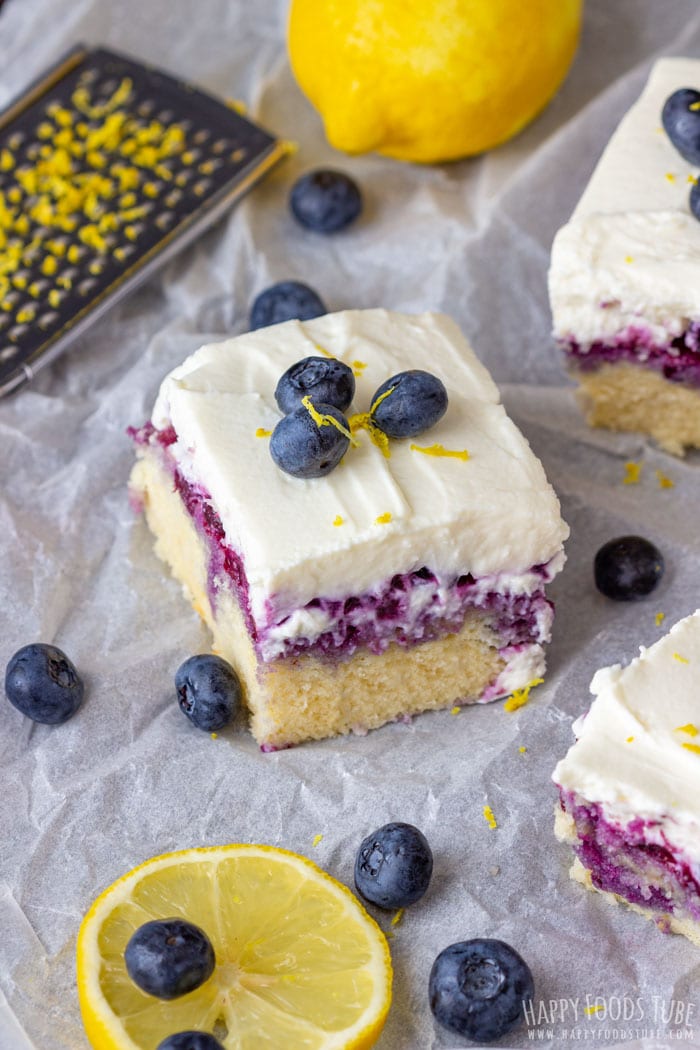 Guys, I have a good variety of Easy Homemade Dessert Recipes on the blog. Some of them are no-bake, some are healthy, some are unique but all of them are easy to make.
If you find your favorite one, let me know in the comments section!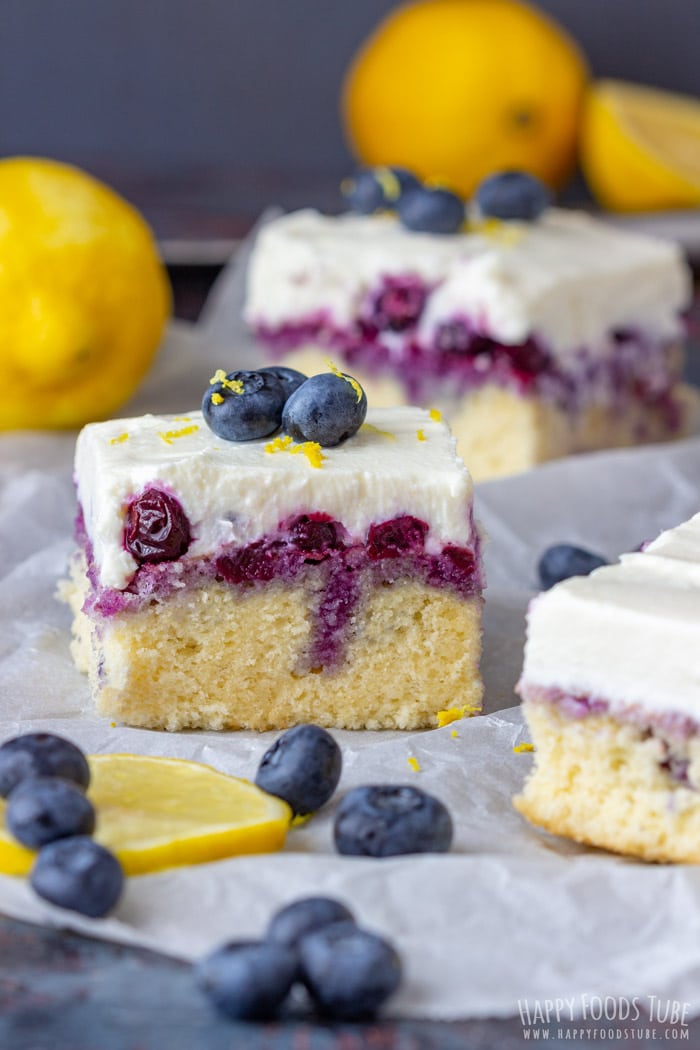 Lemon Blueberry Poke Cake from Scratch
This is a recipe for Lemon Blueberry Poke Cake from scratch. Moist and soft sponge, blueberry sauce and creamy ricotta frosting with a hint of lemon!
Ingredients
For the blueberry sauce:
2

cups

Frozen Blueberries

(300g)

¾

cup

Granulated Sugar

(150g)

½

Lemon

, juice only

¼

cup

Water
Optional:
1

cup

Fresh Blueberries

(125g)

Lemon Zest
Instructions
The cake:
Beat the egg whites until soft peaks form and set aside. In another bowl, whisk the egg yolks with sugar until pale and creamy. Sift in the flour mixed with baking powder. Mix. Add oil and water and mix with the electric mixer until smooth.

Fold in the egg whites and pour the batter in a rectangular baking dish (9 inch x 7 inch/24 cm x 18 cm). Bake at 375°F/180°C for 15 minutes or until an inserted skewer comes out clean. Let it cool down before piercing holes in it using the back of a wooden spoon.
The blueberry sauce:
While the cake is in the oven, heat up the blueberries, sugar, water and lemon juice in a sauce pan. Simmer over low heat for about 5-7 minutes. Turn off and set aside.
The ricotta layer:
In a bowl, combine ricotta, mascarpone, freshly squeezed lemon juice and sugar. Mix with an electric mixer until well combined.
Assembling the cake:
Pour the cooled-down blueberries and their juice over the cake sponge (that you have previously pierced with a wooden spatula). You might not need all the juice so you can start with the juice first and use a spoon to spread it around evenly. Then you can add the blueberries. Next spread the ricotta layer over and chill in the fridge until ready to serve.
Optional:
Cut into slices and serve with a generous amount of blueberries and/or grated lemon zest.
Notes
I used dry ingredient measuring cups to measure both the dry and wet ingredients.
Sunflower oil can be substituted with vegetable oil.
All-purpose flour (US) = Plain flour (UK).
Powdered sugar (US) = Icing sugar (UK).
Fresh lemon juice is added to both the blueberry and ricotta layers. The lemon flavor is very mild. To achieve a stronger lemon-y taste, you can pour a few tablespoons of lemon juice over the cake base as well.
Either frozen or fresh blueberries can be used to make the blueberry sauce.
Nutrition Facts
Lemon Blueberry Poke Cake from Scratch
Amount Per Serving
Calories 448
Calories from Fat 198
% Daily Value*
Fat 22g34%
Cholesterol 92mg31%
Sodium 58mg3%
Carbohydrates 55g18%
Protein 8g16%
Vitamin A 570IU11%
Vitamin C 11.1mg13%
Calcium 139mg14%
Iron 1.3mg7%
* Percent Daily Values are based on a 2000 calorie diet.
** Happy Foods Tube is a participant in the Amazon Services LLC Associates Program, an affiliate advertising program designed to provide a means for sites to earn advertising fees by advertising and links to Amazon.com.
LEAVE A COMMENT
RELATED POSTS