Egg lovers! Have you tried breakfast cloud eggs? Imagine fluffy whites, runny yolks and texture light as clouds. That's what eggs on a cloud are all about!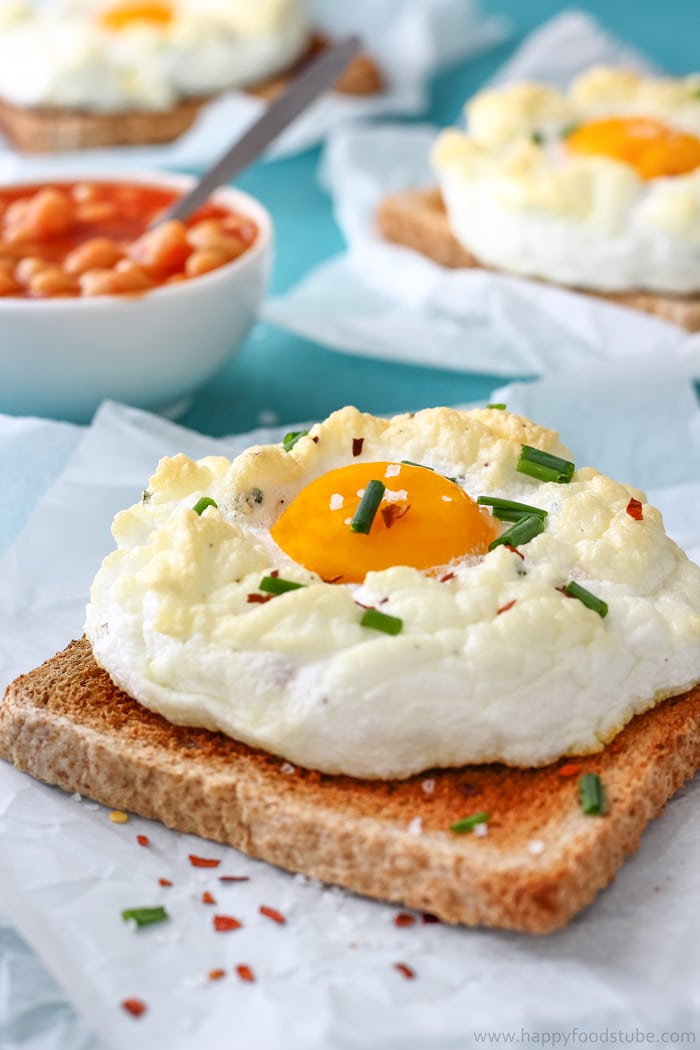 Guys, these cloud eggs! They really have the most perfect yolks, the fluffiest whites and great texture. Check out the eggs in cloud video to see for yourselves how easy it is to make them. And have I mentioned that it only takes 8 minutes to bake them? 8 minutes! Isn't it great?
What I really like about this easy breakfast egg recipe is the fact that I get runny yolks all the time. I so often mess up when cooking the eggs sunny side up. You know how it goes: waiting for the whites to set, meanwhile they stick to your pan, and yolks are getting too hard. OK. Maybe it's just me and I don't know how to cook them to perfection, but this cloud egg recipe sorts out my problem.
By the way, if you love cooked breakfast I highly recommend trying Breakfast Pizza or Breakfast Boat!
And what about Dutch Baby Pancakes? Guys, I am addicted to this oven baked pancake! Sooo buttery and tasty!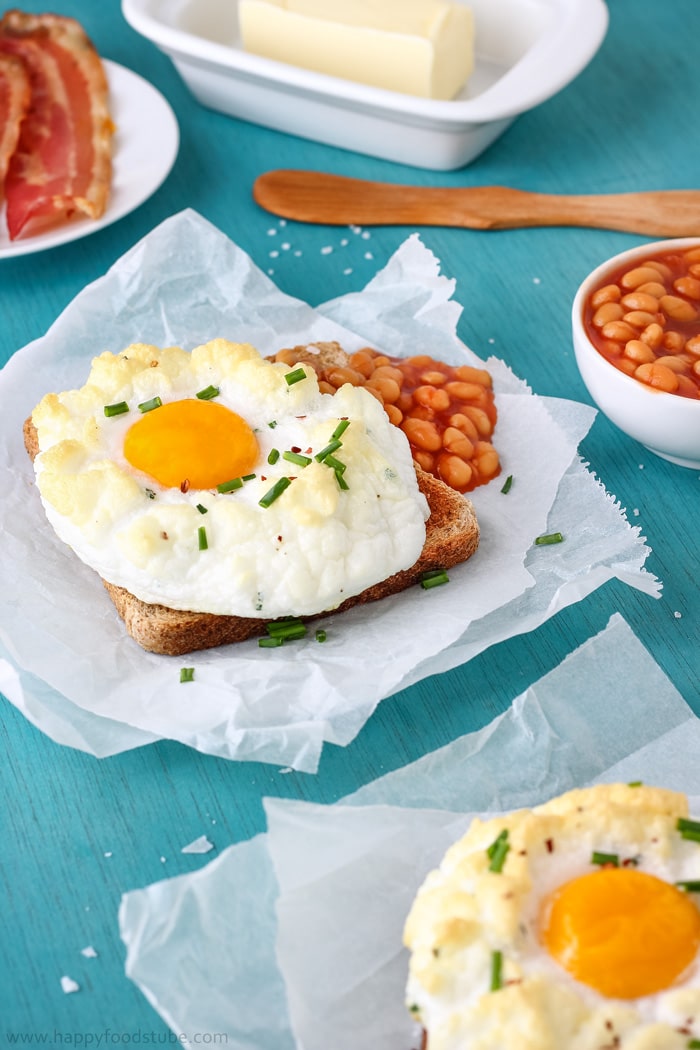 How to make cloud eggs?
So basically there is only one ingredient: the egg. The rest of the "ingredients" are optional so if you feel like you don't want your egg in cloud with chili flakes or chives, simply omit those. The same goes for salt and pepper.
Now let's get to the point: The egg whites are separated from egg yolks. Take your time and don't rush it. Broken egg yolks won't be any good to you.
You have two options here. Either you leave each yolk in their shell or move them in small bowls. I wrote bowls because it is best when you use one bowl per one yolk. This way it's easier to put the yolk onto the cloud.
However, the easiest option is to keep them in their shells (simply place each shell in an egg holder and you are sorted).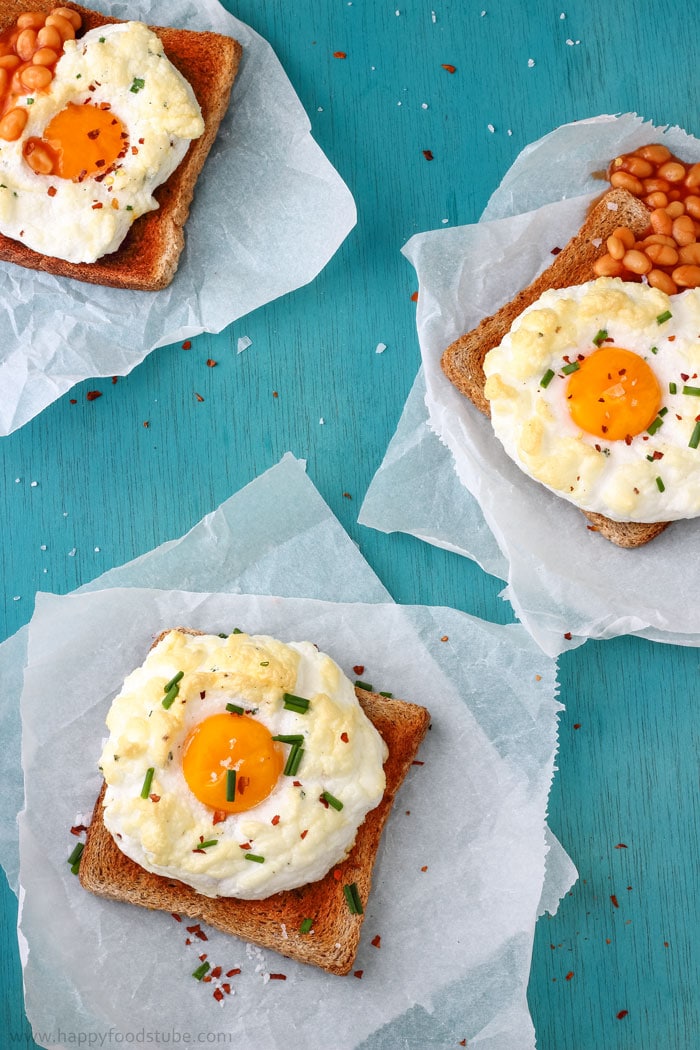 Whip the whites until stiff and you are ready to go. All you need to do now is spoon the mixture onto a baking tray. You want to create two "clouds".
When this is done, make a small dent in the center of each cloud so you can place the egg yolks in.
This is all it takes to make eggs in clouds! It's simple, fun and it's yummy. Now you just wait until they are cooked and you are ready to serve.
The serving options are unlimited. Baked beans, bacon, toast, hash browns, avocado … anything really.
Seasoning and garnishing the eggs
I used chives, chili flakes, salt and pepper. If you want you can omit these and go with plain eggs or use dried herbs of your choice. These can be added to raw whites before whipping or at the end after baking.
This cloud egg recipe is great for breakfast or brunch or whenever you feel like surprising your loved ones with breakfast in bed. Give it a go and let me know what you think!
Check out our video for how to make cloud eggs:
Cloud Eggs
Have you tried breakfast cloud eggs? Imagine fluffy whites, runny yolks and texture light as clouds. That's what eggs on a cloud are all about!
Ingredients
4

Eggs

Salt & Pepper

to taste

Chives

(optional)

Chili Flakes

(optional)

4

slices

Bread

, toasted

1

teaspoon

olive oil
Instructions
Separate the egg whites from egg yolks, leaving the egg yolks in their shells or in small bowls (one bowl per yolk is the best option). Make sure you don't break the yolks.

Add seasoning, chili flakes and chopped chives (if using) to egg whites. Whip the whites until they are stiff. Spoon onto a baking tray lined with baking parchment (see note 1) paper forming 4 "clouds". With the back of your spoon create a dent in the center of each cloud and carefully place the egg yolk in.

Bake at 355° F/180° C for 8 minutes or until the edges have turned golden brown.

Serve with toast, beans, bacon, or any way you like!
Notes
Grease the baking parchment paper lightly. This will make it easier to remove the eggs after they have been baked.
You can completely omit chili flakes, chives and seasoning if you like. Also you can season the eggs after they have been taken out from the oven.
If you have a small baking tray, you might need to do it in 2 batches.
Nutrition Facts
Cloud Eggs
Amount per Serving
% Daily Value*
* Percent Daily Values are based on a 2000 calorie diet.
** As an Amazon Associate I earn from qualifying purchases.
LEAVE A COMMENT
RELATED POSTS