Light and buttery, Dutch baby German pancakes are extremely easy to make, and their cooking is hassle-free. Put them in the oven and enjoy them 15 minutes later!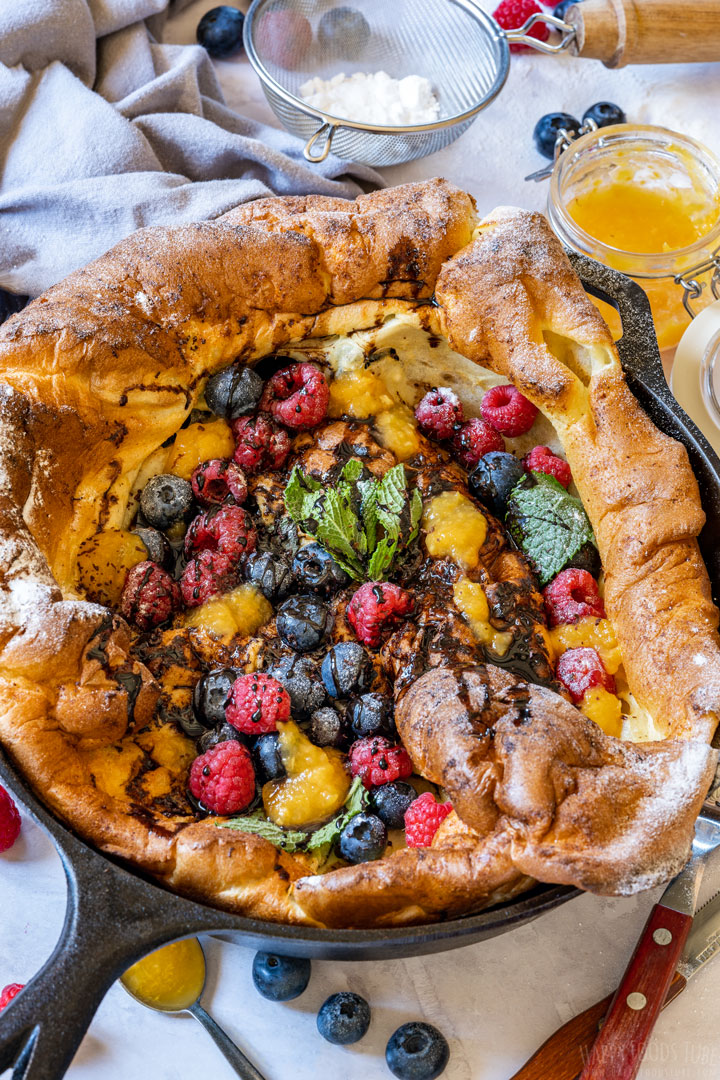 Plus, no added sugar! These oven pancakes might not contain any sugar, but they definitely are rich in flavor, thanks to the butter they are cooked in.
Whether you make them for breakfast, brunch or as a dessert they will always be a hit at your table.
In this post, you will find useful tips, FAQ's as well as dietary information.
What is a German pancake?
Often called Dutch baby or hootenanny, this skillet pancake is oven-baked and looks like a large version of a Yorkshire pudding or American popovers.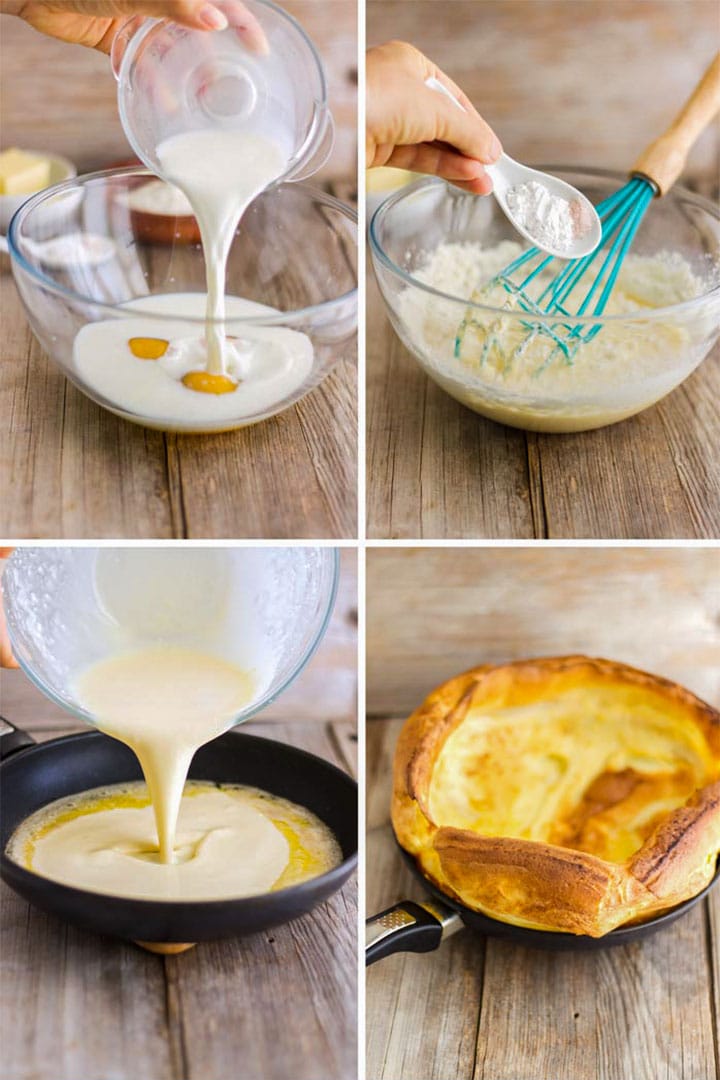 Expert tips for making German pancakes
Vanilla extract or cinnamon are optional batter add-ons.
This pancake batter is made with no sugar for a simple reason: the added sweetness is not needed as you will more likely be serving your Dutch baby pancake with sweet toppings that will balance it off. I guarantee you won't even notice there is no sugar at all!
a 10-inch/25-centimeters pan/skillet works the best for this amount of batter. If you have 2 small pans/skillets, you can divide the batter in half and cook both at the same time (on the same rack).
This can be turned into a pancake recipe for one: simply half the quantity and use an 8-inch (20-centimeter) skillet.
Dietary information:
What does this recipe contain?
Dairy: YES (eggs & milk)
Added sugar: NO
Gluten: YES (all-purpose flour)
Nuts: NO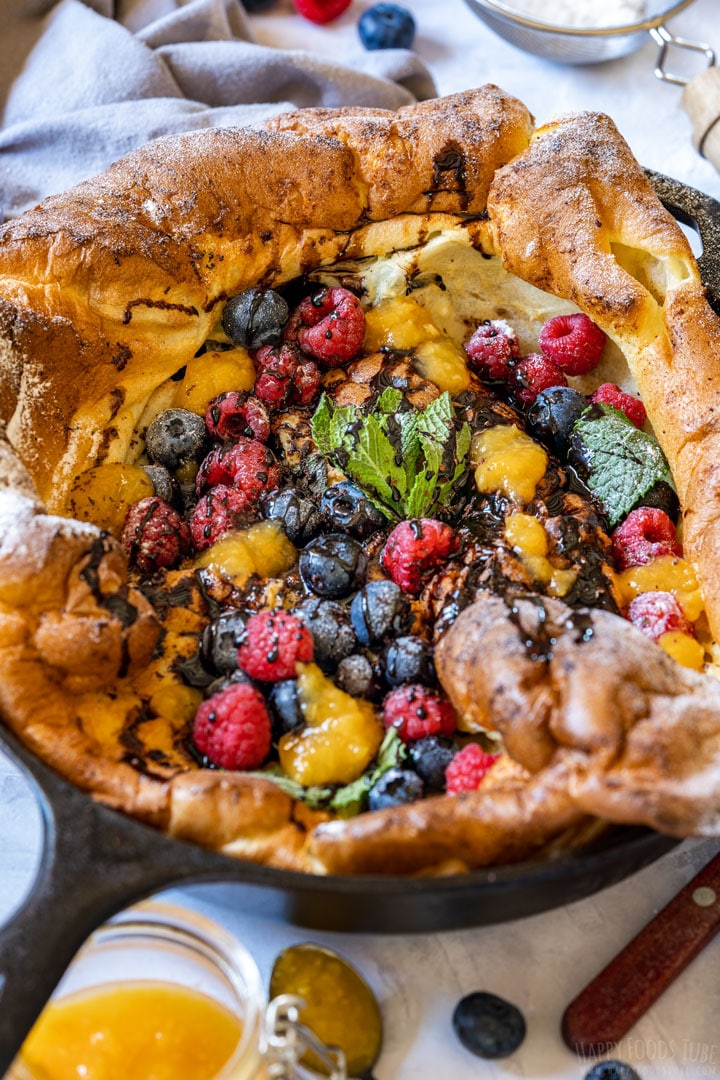 German pancakes frequently asked questions:
What can I serve with German pancakes?
These are delicious with all kinds of toppings: jams, a syrup of your choice, whipped cream, berries, flavored whipped ricotta, lemon curd, melted chocolate, powdered sugar, a drizzle of lemon juice, nuts, vanilla ice cream (and serve it as a dessert), bacon,…
My favorite topping combo is lemon curd + fresh raspberries + melted chocolate.
I don't have a cast-iron skillet. What can I use instead?
Any skillet that is also oven-proof will work (make sure the handle is also oven-proof. some are but only to a certain temperature so check this first).
A rectangular oven-dish is also a great option (I have a 6×9-inch/15×23-centimeter that works great). A square brownie pan will work too but its sides should be about high enough to hold the raising pancake.
Why did my German pancake not rise?
The pan/skillet/oven-proof dish has to be hot so the pancake can rise. Make sure to preheat it in the oven or on your stovetop.
My Dutch baby pancake deflated once out from the oven. What did I do wrong?
You did not do anything wrong. This is completely normal. The pancake will "deflate" while cooling.
Just make sure your German pancake is well risen before you take it out. Sides (or the risen parts) will turn golden brown while the rest will have a pale color.
More sweet breakfast recipes you might like to try:
This is an old post that has been recently updated. The recipe was adapted from Donal Skehan's Dutch baby Pancakes.
If you try to make this German pancake, please do let us know what you think in the comment section.
German Pancakes
Light and buttery, Dutch baby German pancakes are extremely easy to make, and their cooking is hassle-free. Put them in the oven and enjoy them 15 minutes later!
Ingredients
2

eggs

, large

⅔

cup

milk

(160 milliliters)

salt

, a pinch

½

cup

all-purpose flour

(70 grams)

1

teaspoon

baking powder

1

ounce

unsalted butter

, see notes (30 grams)
Instructions
Preheat oven to 425° Fahrenheit (220° Celsius).

Meanwhile: In a medium mixing bowl, beat together eggs and milk. Add salt and flour combined with baking powder. Whisk until smooth (you can do this in a blender if you like). Set aside.

Option 1: Preheat your 10-inch (25-centimeter) cast iron skillet in the oven and when ready to cook the pancake, add butter, let it melt (watch it – you don't want to burn the butter). Then pour the pancake batter in and bake.

Option 2: In a 10-inch cast iron skillet, melt butter over low-medium heat. Increase the heat, pour the batter in and cook for about 60 seconds. Turn off the heat and transfer the skillet into a well-preheated oven.

For both options: Bake for 15 minutes or until the pancake is puffed up, browned and cooked through.

Serve warm with anything you like!
Notes
If you don't have a cast iron skillet, you can use another skillet as long as it is oven-proof (handle too!). A brownie pan or a small rectangular oven dish will also work.
This recipe can serve from 2 (very generous portions) up to 4 people (as a lighter breakfast or dessert, and when served with a lot of toppings).
This is a sugar-free pancake batter. The sweetness is added with toppings (more ideas in the post).
1-ounce butter is about 2 tablespoons.
Nutrition Facts
German Pancakes
Amount per Serving
% Daily Value*
* Percent Daily Values are based on a 2000 calorie diet.
** As an Amazon Associate I earn from qualifying purchases.
LEAVE A COMMENT
You may also like: