Start off you weekend with breakfast pizza. Pizza dough is topped with bacon, eggs, mushrooms, hot dogs and baked in the oven until nice and crispy. Also perfect for brunch!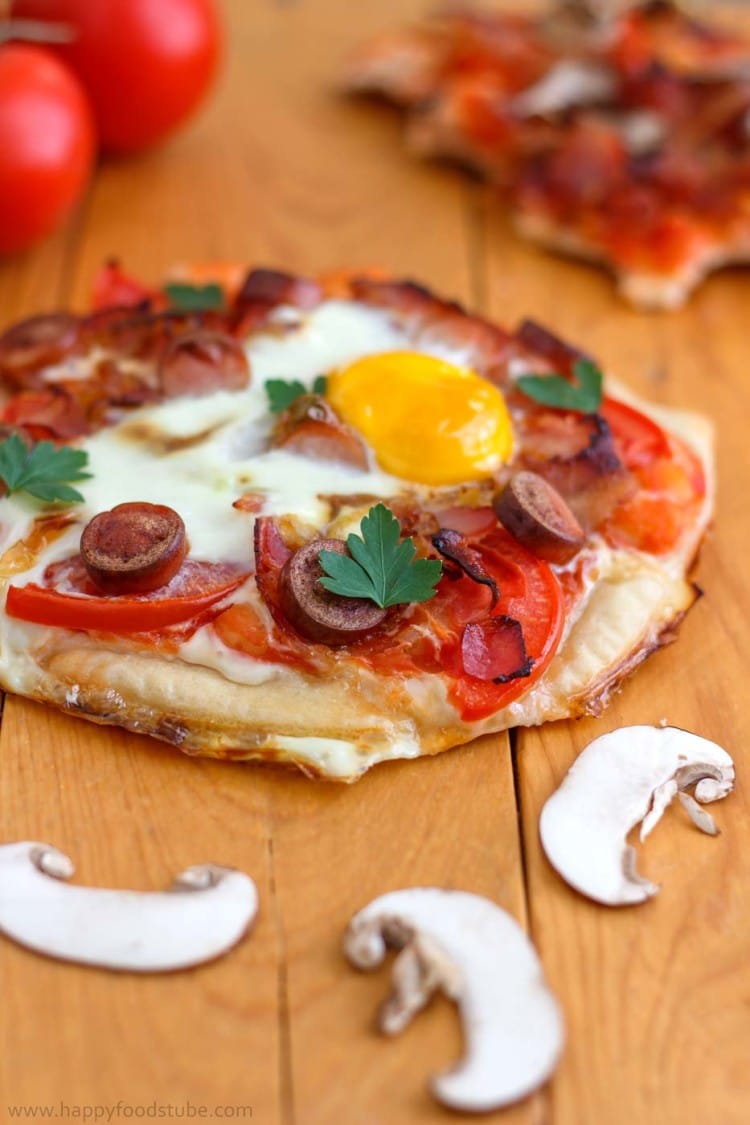 To make this breakfast pizza I got inspired by Full Irish Breakfast.
Other filling breakfast recipes:
How to make breakfast pizza
You have two options here – either you make smaller individual portions or you make one (or two) large ones. I went with the individual approach and made pizza bases that were about 6-inch (16-cm) wide.
I used my Homemade Pizza Dough recipe to make them but you can buy ready-made pizza dough.
Then, sauté the onions and bacon in a skillet/frying pan and then arranged everything onto the pizza bases.
Make sure that the beans go first, and the eggs go last.
Throw them into a preheated oven and bake until ready. It takes me about 12-15 minutes to bake these breakfast pizzas at 430°F/220°C.
You might need more or less, depending on their size, the thickness of the dough and on your oven. I recommend keeping an eye on them, when you make them for the first time.
Tips for making breakfast pizza:
Mushrooms – you can use fresh white button mushrooms, Portobello or Cremini mushrooms. Another great choice is canned mushroom slices (saves you time as well).
Hot dogs – you can also use sausages, frankfurters, Vienna sausages ….
Bacon strips – if you like more bacon, add more!
Baked beans make a tasty base for this breakfast pizza but you can use homemade pizza sauce (it only takes 5 minutes to make!) or red pesto that's what you prefer!
I also have a recipe for Baked Bean Pasta Sauce on the blog, in  case you have some more cans in your pantry and wondering what to do with them.
When using my recipe for homemade pizza dough you will get 4 large pizzas out of it (about 16 mini pizzas) so you can easily half the recipe or freeze the leftover pizza dough.
You might need to adjust the cooking time when using a shop-bought dough. Just keep an eye on it.
Optional add-ons:
Jalapenos
Cheese of your choice (mozzarella or cheddar are tasty choices)
Chili flakes
Want to see how to make Breakfast Pizza? Watch the video!
Breakfast Pizza
Breakfast pizza with bacon, mushrooms, beans and eggs is the way to start your day. All your favorite things on a pizza crust! It's hard to resist this deliciousness.
Ingredients
4

Button Mushrooms

1

Medium

Onion

2

Medium

Tomatoes

4

Hot Dogs

/ Frankfurters

8

Bacon Strips

2

tbsp

Oil

(see note 2)

1

can

Baked Beans

(14oz/400ml)

4

Medium

Eggs
Instructions
Preheat the oven (see note 6).

Slice the mushrooms, onions, tomatoes, hot dogs and bacon.

In a skillet/frying pan, heat the oil and add sliced onion and bacon. Fry until the onions turn light brown and the bacon is cooked.

Transfer the rolled pizza dough(s) onto a baking tray lined with baking parchment (see note 5). If you are making individual pizzas, then you might need to cook them in 2 batches, in case you can't fit all of them on one tray.

Top it with baked beans, tomatoes, fried bacon, onions, mushrooms, hot dogs and finally carefully crack an egg on top of each pizza.

Bake in a preheated oven at 430°F/220°C for 12-15 minutes or until ready (see note 6).
Notes
When using my homemade pizza dough recipe, you will get 4 large pizzas. You can half the recipe or divide the dough (that has already been proofed) into similar-looking pieces, roll them in a ball, wrap in plastic wrap and freeze for later use.
Oil – you can use vegetable, sunflower or olive oil.
Baked beans – if you don't like them, omit them and use a little pesto or pasta sauce as a base.
Pizza dough – use either homemade or store-bought.
The ingredients in this recipe are enough for 4 small pizzas or 2 medium ones. You can also make one large and cut it up into portions after it has been cooked.
Nutrition Facts
Breakfast Pizza
Amount per Serving
% Daily Value*
* Percent Daily Values are based on a 2000 calorie diet.
** As an Amazon Associate I earn from qualifying purchases.
LEAVE A COMMENT
RELATED POSTS