These quinoa egg muffins are the perfect breakfast on-the-go option for busy families. Packed with protein these homemade breakfast muffins are juicy and flavorful!
Why should you make these quinoa egg muffins?
Grab-and-go breakfast – they are an excellent choice for a busy morning.
Make-ahead breakfast – this muffin recipe can be made in advance.
An easy and tasty recipe that everyone loves.
Perfect for your kid's lunch box.
Healthy option – healthy does not mean flavorless! Give them a go to see for yourselves!
It is definitely one of the best egg recipes to make for breakfast. You can serve them warm or cold, on their own or alongside other foods.
If you like eating eggs in the morning then you might also like to try cloud eggs, asparagus frittata or spinach quiche.
Another vegetarian recipe with eggs is a Spanish tortilla. This classic Spanish food can be enjoyed for breakfast, lunch or as tapas.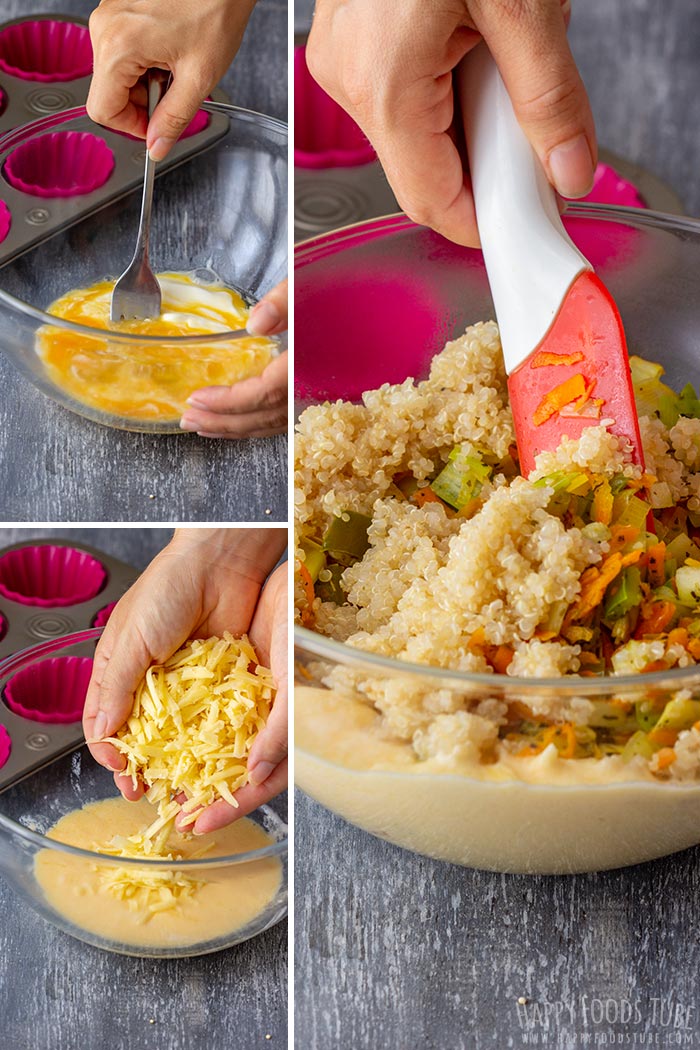 How to make quinoa egg muffins
The first thing to do is cook the quinoa. It normally takes about 15 minutes. The brand I use says to use 1 part quinoa to 3 parts water while others say 1 part quinoa to 2 parts water. I suggest you follow the package instructions for the best results.
Meanwhile, prepare the veggies. Peel and coarsely grate carrot. Peel and dice zucchini. Chop leeks. I cut them in half lengthwise, then again in half. Then I chop. You can cut them any way you like.
Sauté all the vegetables in a frying pan/skillet with a little olive oil.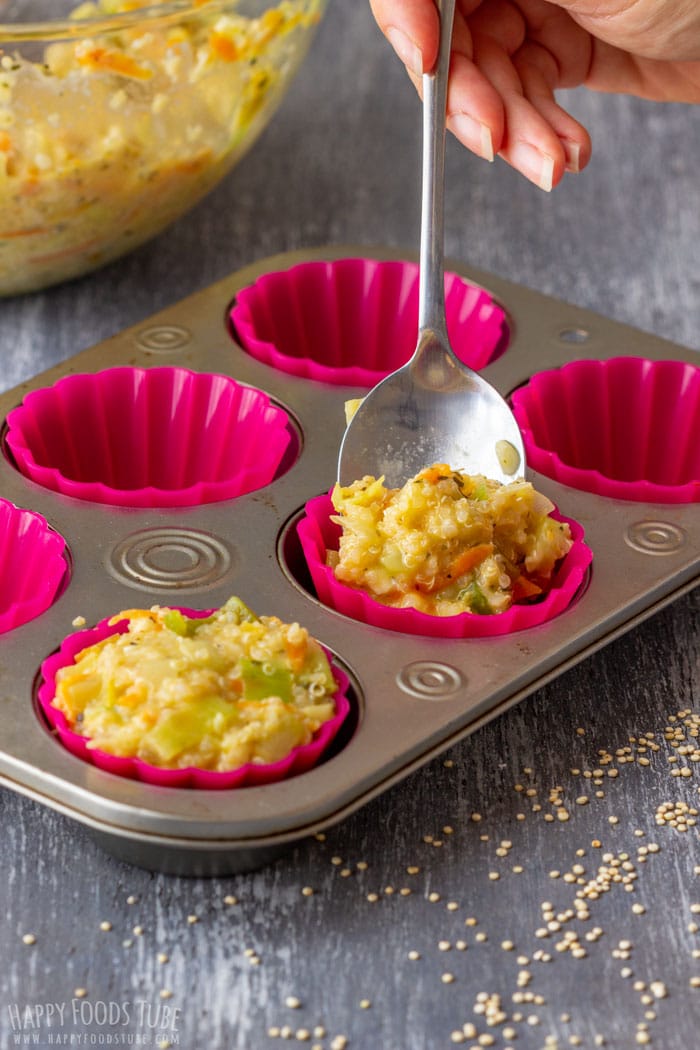 Get a medium to large mixing bowl. You will need to mix all the ingredients in before transferring the mixture into the muffin cases.
Eggs, salt and Greek yogurt go in first. Beat this with a fork until well combined. Now add the rest of the ingredients: oregano, sautéed veggies and quinoa.
It's important that the quinoa and veggies are not piping hot otherwise they can cook your eggs right away. Wait until they are cooled down a bit before adding them to the bowl.
All you have to do now is fill the muffin cases and bake them.
Frequently asked questions:
What type of quinoa should I use?
There are 3 types in supermarkets: red, white and black. I have tried red and white quinoa but don't have a preference. I usually buy what I can get in a store. White one is the quickest to cook though (here is a post with more information about the types of quinoa).
Can quinoa egg muffins be eaten cold?
Yes, they can! They are equally delicious.
Can the batter be made in advance?
Yes. Simply follow all the steps apart from baking. Cover the mixture with a plastic wrap and place in the fridge until ready to bake.
For best results, use the mixture within 24 hours.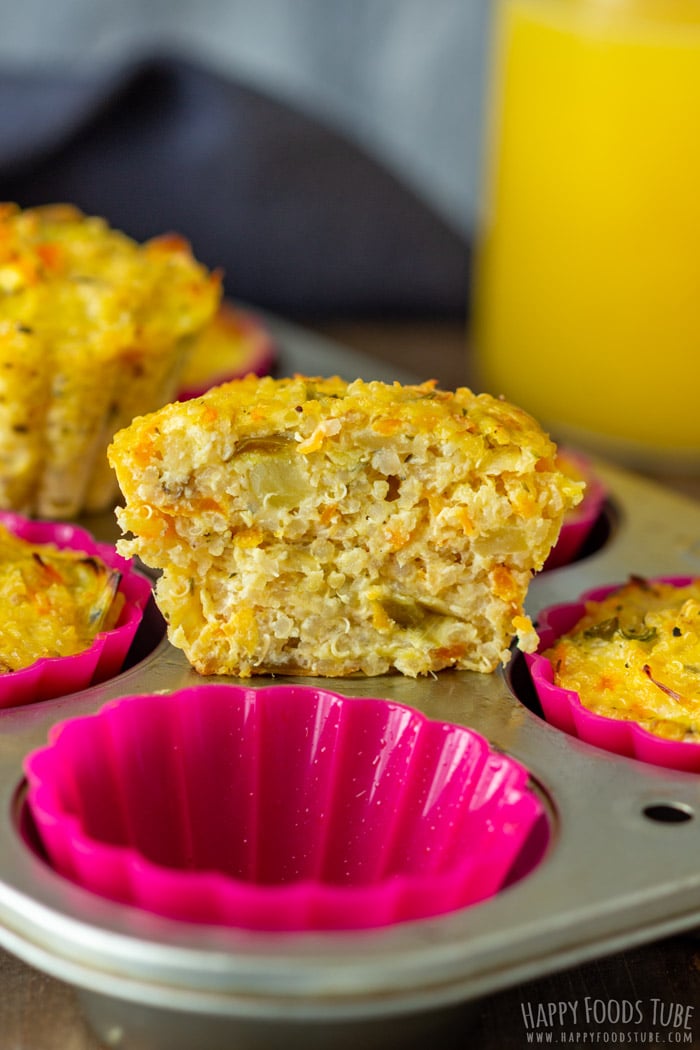 Useful tips
Quinoa can also be cooked ahead of time if needed. Just store it in the fridge until ready to use. I suggest you cook it the night before you want to make them.
It's important to line your muffin tray with paper cases or silicone cases. If you don't there is almost a 100% chance they get stuck to the tray and you won't be able to take them out (personal experience).
I love using silicone muffin cases when making these savory quinoa egg muffins. Here are the reasons why: They are so easy to use and easy to clean and more importantly, nothing gets stuck to them.
Zucchini can be omitted but it is recommended.
After you take these egg muffins out from the oven you can also sprinkle them with some extra cheese, if desired.
You can make this ahead partially – option 1: cook quinoa in advance; option 2: prepare the mixture ahead of time and refrigerate before baking; option 3: these egg muffins with quinoa can be baked and enjoyed throughout the week. They will stay good for several days.
Dairy-free alternative
To make this a dairy-free recipe, you can omit the yogurt. Instead, add an extra egg. As for the cheese, you can omit that as well.
More vegetarian savory breakfast recipes:
Quinoa Egg Muffins
These quinoa egg muffins are the perfect breakfast on-the-go option for busy families. Packed with protein these homemade breakfast muffins are juicy and flavorful!
Servings:
14
– 15 muffins
Ingredients
½

cup

uncooked quinoa

(90 grams), see note 1

2

tablespoons

extra virgin olive oil

, see note 2

1

carrot

, coarsely grated (large)

½

leek

, chopped (about 1 cup/100 grams), see note 3

1

Italian green pepper

, diced (1 cup/100 grams), see note 4

½

zucchini

, finely diced (1 cup/100 grams), see note 5

2

tablespoons

dried oregano

1

teaspoon

salt

¼

teaspoon

black pepper

or to taste

4

eggs

(large)

4

tablespoons

Greek yogurt

, see note 6

¾

cup

cheddar cheese

, shredded (3 ounces/90 grams), see note 7
Instructions
Cook quinoa according to package instructions. Let cool down slightly.

Meanwhile: In a skillet/frying pan, heat the oil. Add grated carrot, chopped leek, diced pepper and diced zucchini. Saute for 10 minutes (see note 10). Stir in oregano and season with salt and pepper.

In a mixing bowl, beat the eggs and yogurt together Add cheese, cooled quinoa and sautéed veggies (also cooled down a bit to avoid cooking the eggs). Mix everything together until well combined.

Line a muffin tray with paper or silicone cases and fill them with the mixture up to the rim. Press the mixture down slightly and add a bit more on top of each muffin.

Bake in a preheated oven at 350°F/180°C for 20 minutes or until the egg is cooked.
Notes
Or 2 cups cooked quinoa. You can use red, white or black quinoa.
Regular olive oil is a good alternative. If you don't have it on hand, you can use sunflower or vegetable oil.
Don't do more than a cup. You can do less though.
Bell peppers can be used – any color will work.
You don't need to peel the zucchini.
Greek yogurt can be omitted. If you feel the mixture is too thick, add an extra egg.
Feel free to use any shredded cheese you like.
Check the tips above this recipe for more detailed information.
A handful of finely chopped fresh parsley can also be added to the batter.
If you see the veggies are sticking to your skillet, add ¼ cup of water instead of more oil!
Nutrition Facts
Quinoa Egg Muffins
Amount per Serving
% Daily Value*
* Percent Daily Values are based on a 2000 calorie diet.
** As an Amazon Associate I earn from qualifying purchases.
LEAVE A COMMENT
Related posts