These easy mini vegetarian puff pastry pizzas are quick to put together and only take about 10 minutes to bake. Topped with homemade pizza sauce, fresh vegetables, cheese and arugula, these vegetarian pizzas are the perfect appetizer for any occasion!
Puff pastry is a great and tasty substitution for pizza dough and more importantly it's a hassle-free way to make mini puff pastry pizzas.
This post contains a lot of tip, serving suggestions and substitutions, so read through if you have any questions or if in doubt.
Optional add-ons
Here are some topping ideas in case you want to use other ingredients to make these vegetarian puff pastry pizzas. They can be also turned into vegan pizzas, if you use vegan puff pastry and omit cheese.
Eggplant
Chili peppers of your choice
Arugula
Sweet peppers
Mushrooms
Basil
Spinach
Serving suggestions:
Puff pastry vegetarian pizzas are delicious on their own, but, if you are making these in summer, you can pair it with cold Cucumber Soup or cold Gazpacho Soup in a glass or anything you like.
Tips for making the best mini puff pastry pizzas
Use puff pastry that you know and like. They may vary from brand to brand and so the cooking time can vary slightly too. I personally prefer fresh pastry to frozen (thawed) as it gives more consistent results, but you feel free to use what you prefer.
These vegetarian puff pastry pizzas don't have to have a round shape. Simply cut the rolled out pastry into squares/rectangles, if you like.
I am using my Homemade Pizza Sauce as a base for these mini puff pastry pizzas. It's a simple sauce using simple ingredients and it only takes 3 minutes to make. No cooking required and we love this.
You can of course your favorite pizza sauce instead.
Black olives can be substituted with green, you can also use stuffed olives, if you like.
Instead of cherry tomatoes, a slice of a regular tomato (per pizza) will be sufficient.
You want to use at least a 4-inch (10-centimeter) cookie cutter. Anything smaller will be way too small to hold all the toppings. A large glass can also be used (I found a round lid from a cookie cutter set that worked well too – you can see it on the video).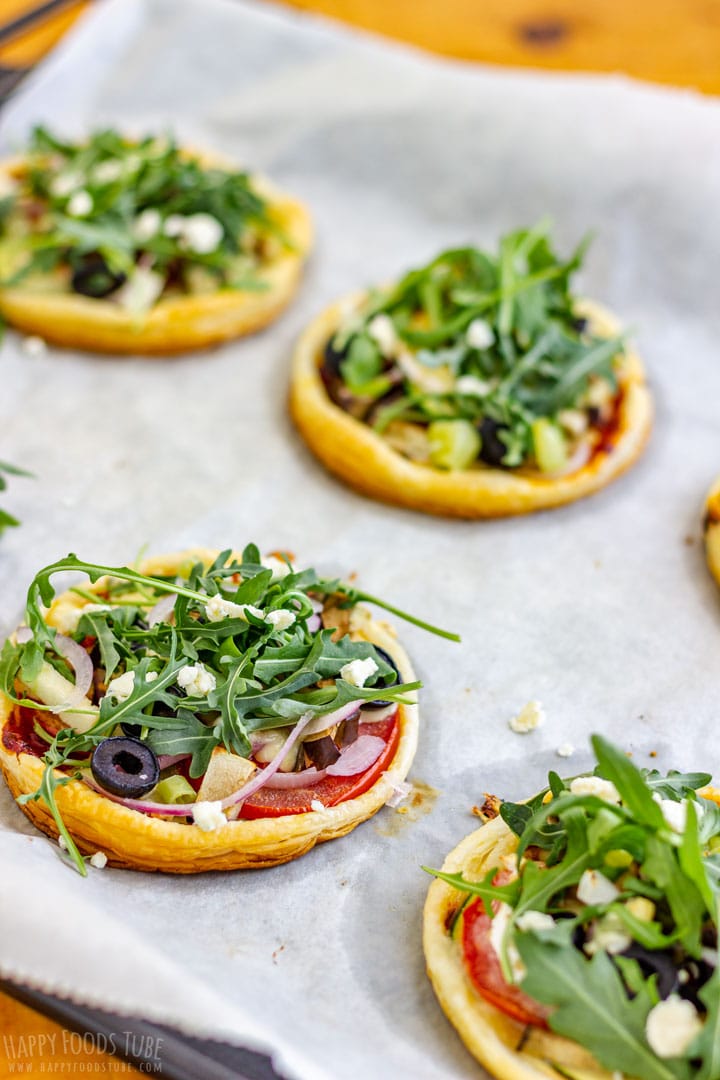 More meat-free recipes for you to try:
This puff pastry pizza post has been updated recently with new photos and useful tips.
The video serves to make it easier for any beginner bakers to make this recipe, but it has not been updated. For that reason, the ingredients used vary from those used on some of the photos.
Check out our video for how to make Vegetarian Puff Pastry Pizzas:
Mini Vegetarian Puff Pastry Pizzas
These easy mini vegetarian puff pastry pizzas are quick to put together and only take about 10 minutes to bake. Topped with homemade pizza sauce, fresh vegetables, cheese and arugula.
Ingredients
1

Puff Pastry Sheet

(8 ounces/250 grams), see note 1

1

batch

Homemade Pizza Sauce

, see note 2

1

small

Zucchini

, sliced

6

Cherry Tomatoes

, thinly sliced

½

small

Onion

, thinly sliced, see note 3

6

Olives

, thinly sliced, see note 4

6

Goat Cheese

, thin slices (optional)

1

ounce

Blue Cheese

, recommended, see note 5

1

Chili Pepper

, thinly sliced, see note 6

A handful of

Fresh Arugula
Instructions
Preheat oven to 400° Fahrenheit (200° Celsius).

Meanwhile: Roll out the puff pastry sheet thin (if not using fresh pastry) and using a 4-inch (10-centimeter) round cookie cutter, cut out as many circles as you can (you should be able to get 6-7). Place these onto a baking tray lined with baking parchment.

Use an inch smaller cutter to make a smaller circle inside the pastry. Don't press too much, as you don't want to cut right through. You just want to create an edge.

Top the pastry circles with a teaspoon of pizza sauce per piece, a few slices of zucchini, cherry tomatoes, little onion, olives and finish it off with goat cheese and blue cheese.

Sprinkle some chili pepper over (optional) and repeat bake at 400° Fahrenheit (200° Celsius) for 10-15 minutes or until the puff pastry edges are puffed and nice golden brown.

Top with arugula (optional) and serve!
Notes
 A ½ pound of puff pastry will be enough for about 6 pizzas (4-inch/10-centimeters wide). You can easily double the recipe and use a pound of pastry (500 grams) to get 12 mini puff pastry pizzas. Frozen (thawed and rolled out) or fresh puff pastry can be used.
My homemade pizza sauce is enough for 6-8 mini pizzas. If you like, use store-bought pizza sauce instead. You will need about a teaspoon of the sauce per pizza.
Either red, yellow or white onion can be used.
You can use either green or black olives. Stuffed olives are also great option. Feel free to increase the quantity if you like.
Both cheeses are salty so the more you add the saltier the pizzas and no extra seasoning should be needed. If you omit cheese, I would recommend sprinkling some salt over each puff pastry pizza.
Chili pepper can be omitted if you don't like it.
Cooking time may vary. This will depend on the thickness of the pastry, its brand, as well as your oven. Count with 10-15 minutes per batch. Cook them on top rack.
More tips and serving suggestions as well as more vegetarian recipe ideas can be found in the post above this recipe card.
Nutrition Facts
Mini Vegetarian Puff Pastry Pizzas
Amount per Serving
% Daily Value*
* Percent Daily Values are based on a 2000 calorie diet.
** As an Amazon Associate I earn from qualifying purchases.
LEAVE A COMMENT
RELATED POSTS