10-minute baked bean pasta sauce for busy families! Make this pasta sauce for your weeknight supper and it will be a hit!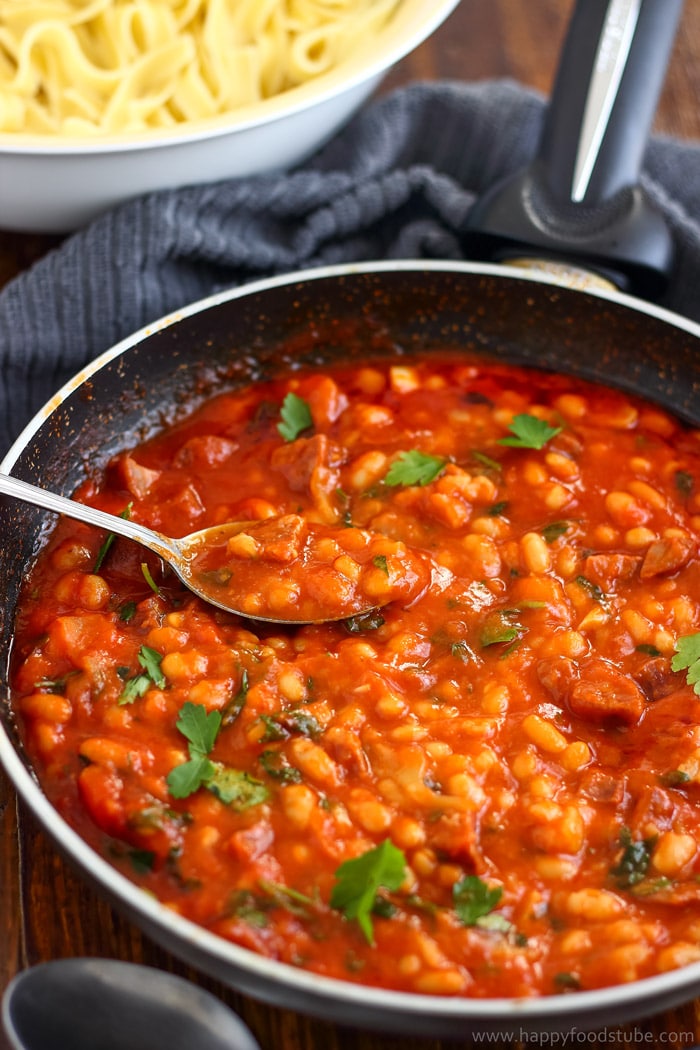 I have two questions for you today: Do you like fast dinner ideas? Are you looking for an easy homemade pasta sauce recipe? If you do, then this baked bean pasta recipe is perfect for you!
Well, truth be told this recipe is for anyone, really. Pasta lovers, baked bean lovers, chorizo fans, fast pasta sauce lovers… because it's hard not to like this easy pasta sauce recipe.
So one day I am starving and thinking of what would satisfy my taste buds. And like it had already happened many times before, I improvised. The recipe I created was this baked bean pasta sauce. I loved how easy and tasty it was.
By the way, I don't know about my fellow food bloggers but I try to get myself organized by having full stomach before shooting a new dish. However, I usually end up salivating no matter how full I am. Then I find it pretty hard to concentrate on the photos with all those amazing aromas around me. Sometimes I am weak and simply eat the dish before I take photos.
Has this ever happened to any of you? If not, then you must be pretty disciplined and I truly admire you! Or maybe you are just not hungry or immune to aromas of your dishes. Which of those it is?
Anyways, back to my baked bean pasta sauce recipe!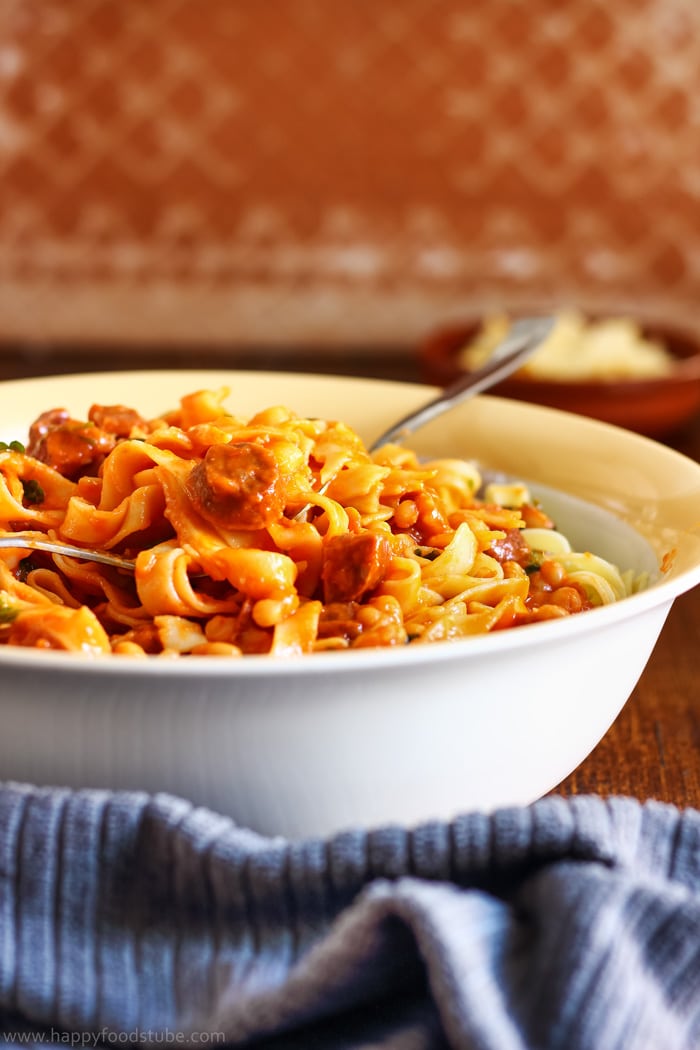 How to make homemade pasta sauce with baked beans
Get a sauce pan or large frying pan. Throw in chorizo first. The fat from chorizo will come out which means you don't need any oil for frying at this point. Fry the pieces altogether with sliced garlic. This will only take a few minutes. I recommend stirring occasionally. You don't wanna end up with burnt garlic.
Five minutes into cooking add tomato passata and baked beans. Let it simmer for a further 5 minutes. About a minute before the end it's time to stir in chopped parsley. Now it's also time to taste it. I did not add any salt to this baked bean pasta sauce as it wasn't needed. The ingredients gave the sauce a great taste and a bit of saltiness as well.
Turn off the heat and stir in cheddar. You can slice it or grate it. The heat will melt the cheese within seconds.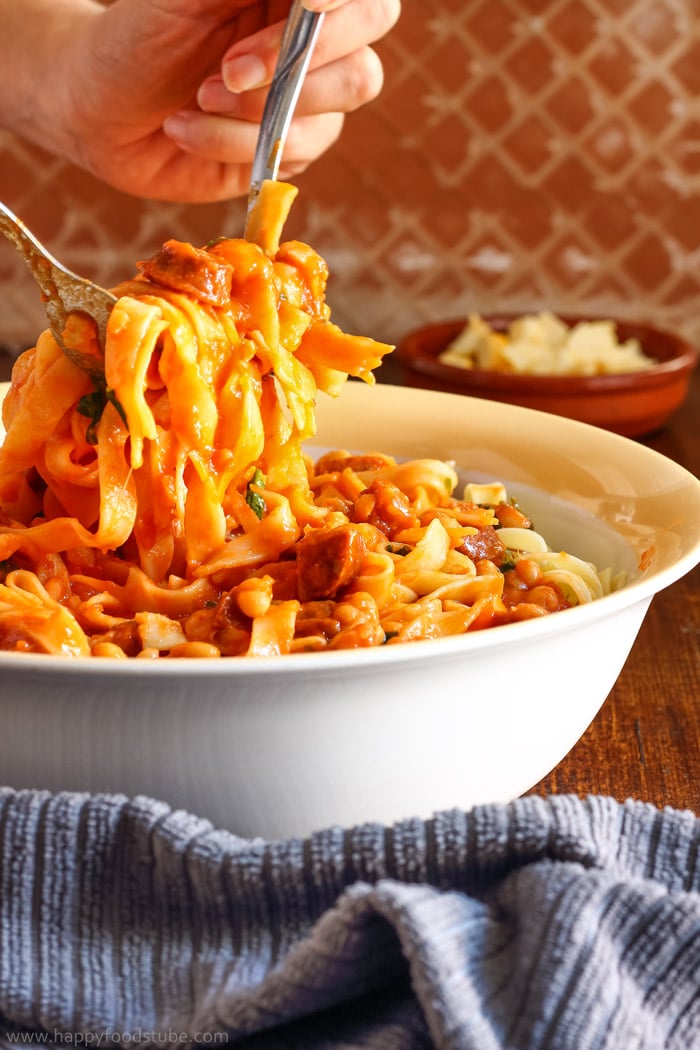 A few tips: This is a quick pasta sauce recipe so I highly recommend starting off with boiling the water for pasta. Depending on the size and shape of your pasta, it can take up to 15 minutes to cook them. You don't wanna your baked bean sauce go cold while waiting for the pasta to boil.
You can adjust the ingredient quantities to your liking. You can't go wrong here. More chorizo, less parsley, more cheese… Whatever you do it will taste delicious!
Guys, this truly is an easy to prep and stress-free weeknight recipe! I hope you'll give it a go!
If you are looking for more easy pasta sauce recipes check out this Vegetarian Pasta Sauce with Caper Berries or Spicy Shrimp Spaghetti.
10-Minute Baked Bean Pasta Sauce
10-minute baked bean pasta sauce for busy families! Make this pasta sauce for your weeknight supper and it will be a hit!
Ingredients
1

can

Baked Beans

in Tomato Sauce (390g/13.7oz)

1

can

Tomato Passata

(400g/14oz)

3.5

oz

Cheddar Cheese

(100g)

4.5

oz

Chorizo

(130g)

3

Garlic Cloves

A Handful of Fresh Flat Leaf Parsley
Instructions
Chop chorizo into smaller pieces and throw them in a frying pan/sauce pan. No need for oil as the fat will come out from chorizo. Peel and slice garlic cloves & add them to chorizo. Cook for about 5 minutes, stirring occasionally.

Now it's time to add tomato passata & baked beans. Reduce the heat and simmer for 5 minutes. About a minute before the end throw in finely chopped parsley.

When ready, turn off the heat and stir in cheese (sliced or grated).

Serve with pasta immediately.
Notes
Some cans may vary in size. If you have larger ones, use those. Maybe just add more chorizo and cheese. Passata is a thick tomato liquid made by cooking and straining tomatoes. It may be called differently where you live.
Nutrition Facts
10-Minute Baked Bean Pasta Sauce
Amount per Serving
% Daily Value*
* Percent Daily Values are based on a 2000 calorie diet.
** As an Amazon Associate I earn from qualifying purchases.
LEAVE A COMMENT
RELATED POSTS