Butter cookies with hazelnuts are the perfect Holiday cookies. Make them well ahead to enjoy stress-free Christmas entertaining. They will also make the perfect edible Christmas gift!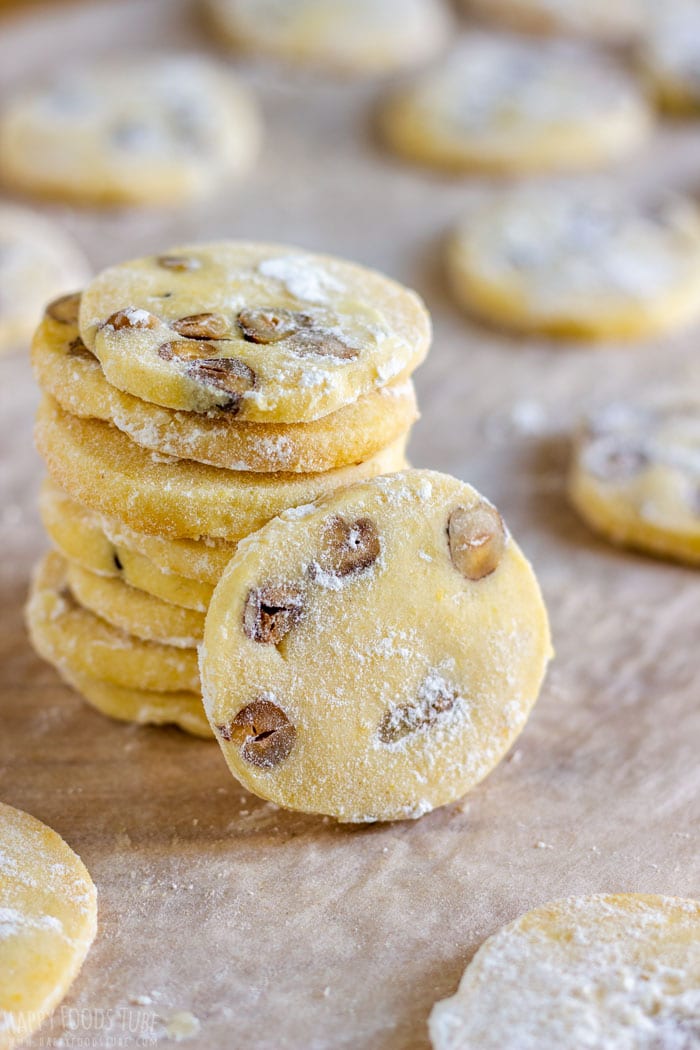 This post includes detailed information including tips for making the best butter cookies as well as substitutions and more recipe ideas.
This is my aunt's recipe for butter cookies that she makes every Holidays or special occasions or whenever someone asks her to make them.
I think these are one of the traditional Christmas cookies in Czechia where she lives and what I love about them is the fact they can be made well ahead so if you are after a stress-free Christmas entertaining, these butter cookies with hazelnuts might be the right cookies to put on your To Do list.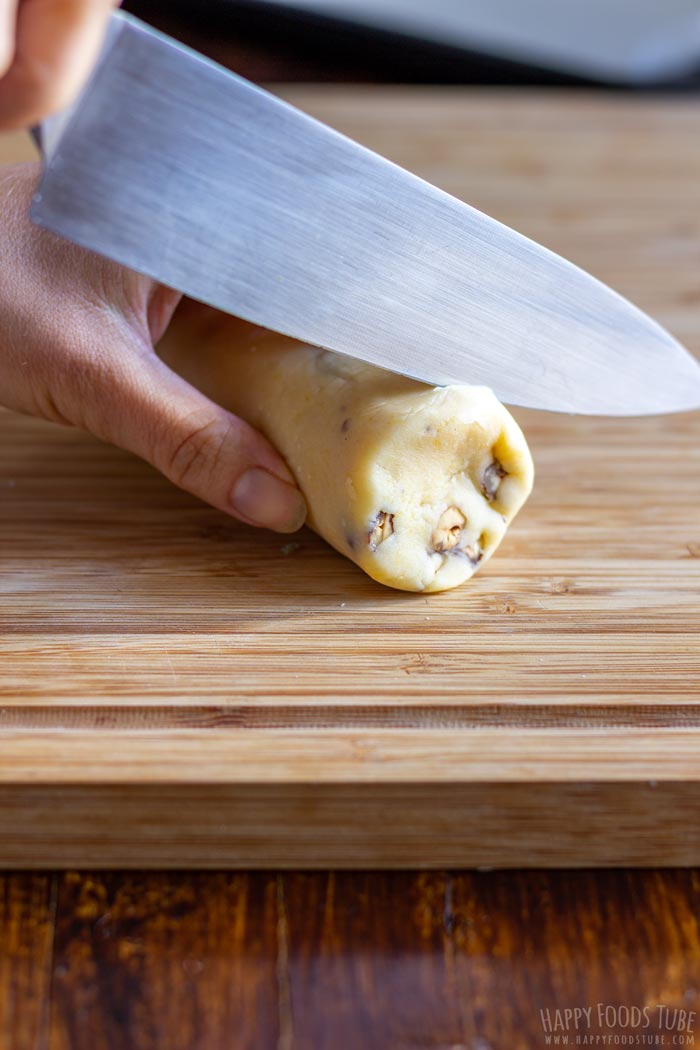 How to make homemade butter cookies with hazelnuts
The preparation is divided into 2 days. This is important because the dough needs to rest. It is quite convenient as you can prepare the dough the night before you want to bake them.
Day 1
First you need to start off with toasting the hazelnuts, getting rid of the skin (this step can be omitted – read below) and subsequently cooking them for 15 minutes in water. This is to make them soft, so they are easy to cut through.
Dough preparation
All you have to do here is to form the dough. This will take about 5 minutes. At first it might look like a crumble mess but keep pressing the dough and kneading and you will end up with perfect soft-ish dough.
At this point you can knead in the cooked and cooled hazelnuts. Divide into 3 or 4 parts, roll each into sausage, wrap and refrigerate. Or roll first and then cut into 3–4 sausages. Wrap in plastic wrap (cling film) and refrigerate overnight.
Day 2 – Baking
The best part about day two is that it's a pretty simple process – the sausages need to be cut into very thin slices (right after they have been taken out from the fridge), placed onto baking tray lined with baking paper, baked & coated in sugar.
No rocket science here! 8 to 10 minutes in the oven per batch is all it takes to make these butter cookies. Let them cool down before coating them in powdered sugar.
Shelf life of buttery hazelnut cookies
Keep these butter cookies in an air-tight container and they should last for up to 2 weeks.
If you are looking for easy homemade cookie recipes with a twist, then these butter cookies with hazelnuts are the perfect baking project for you!
Hazelnut substitution
I used long-shaped hazelnuts from my parents garden. In shops, you usually get the round-shape variety which you can use as well.
If you want to use other nuts – try walnuts or pecans. Now, bear in mind that all of them will need to be cooked in water first so they become softer and won't break into pieces when cutting the butter cookies prior to baking.
How to save some time when making hazelnut butter cookies:
When using hazelnuts, make sure to buy the ones without skin. If you do, you save yourself about 10 minutes of toasting and peeling.
Note that sometimes the skin comes off easily and sometimes it does not. Also, note that not all the skin will come off so don't panic, if this will happen.
On the day of baking, the whole process is quite simple so everything will (should) go fast. Try not to keep the ready-to-go-in-the-oven butter cookies at room temperature. For that reason, it's important to preheat your oven first. Cutting will only take 2 minutes or so.
If your oven is not ready, put the tray in the fridge. This will prevent butter from melting.
How many butter cookies with hazelnuts will I get out of this recipe?
This will depend on how thick you will cut them but count with at least 50 cookies.
You might need to bake them in 2 batches. I got new trays that are smaller (15×10 inch/38×26 centimeters) than my old tray. If you are using similar ones, you will have to bake them in 2 batches. Make sure to leave enough space between them so don't overcrowd the tray. About 24 per baking sheet is what you want.
More Christmas baking recipes:
Looking for edible Christmas gifts? I have some ideas for you:
This is an old post that has been updated recently with detailed explanation, tips and a video to help you bake the best butter cookies for Christmas!
Want to see how to make Butter Cookies with Hazelnuts? Watch the video!
Butter Cookies with Hazelnuts
Butter cookies with hazelnuts are the perfect Holiday cookies. Make them well ahead to enjoy stress-free Christmas entertaining. They will also make the perfect edible Christmas gift!
Instructions
Day 1:
Dry-toast hazelnut on a hot pan for about 5 minutes, tossing them around occasionally. Wrap them in a kitchen towel and rub them with your hand to remove their skins (some of them might not come off but that's OK). You can skip this step if using peeled hazelnuts!

Bring water to a boil. Throw the hazelnuts in and cook for 15 minutes. Drain the water and let them cool completely.

Meanwhile: Sift flour and powdered sugar into a large bowl or onto a clean work top. Mix with a wooden spoon. Add egg yolk and mix again.

Add chilled diced butter. Using your hands, break the butter and mix it with flour (rub it into the flour) until the mixture looks like a crumble mix. Now, form the dough. This will take about 3-5 minutes.

Once you have formed nice dough, knead in the cooked and cooled hazelnuts.

Divide the dough into 3 or 4 parts and roll each into about 1.5-inch (3-4 centimeters) thick sausage. Place each sausage into a zip-lock bag or wrap in plastic wrap and refrigerate overnight.
Day 2:
Preheat oven to 340° Fahrenheit (170° Celsius).

Take the dough sausages out from the fridge. Cut each into a ¼ inch (0.6 centimeters) slices and transfer these onto baking sheet lined with baking parchment (if you have non-stick, you don't have to use baking parchment). Leave enough space between them.

Bake for 8 minutes or until the bottoms are golden brown or when you see the edges turning brown.

When ready, take them out and let them cool before coating them in powdered sugar. They will keep in air-tight container for up to 2 weeks.
Notes
Hazelnuts – I used long-shaped hazelnuts (from my parents' garden). In shops you usually buy round-shaped ones. If you can, choose skinless ones. This will save you about 10 minutes of prep. You can also substitute them with walnuts or pecans (if you use one of these nuts, you don't need to remove their skin but you still have to boil them in water).
Butter – Use 2 sticks of butter less 2 tablespoons. Also make sure to use real butter, not butter substitutes.
Baking takes about 8 minutes per batch. This may be slightly different for you. It will depend on the thickness of your cookies and also on your oven. I highly recommend babysit the oven when making them for the first time. They will be soft when you take them out but will harden as they cool down. They can be slightly golden around edges but not too much.
I used a Wilton cookie sheet with dimensions of 15x10 inch/38x26 centimeters and I fit 24 cookies on one.
For more information and tips, please have a look at the full post above this recipe card.
Nutrition Facts
Butter Cookies with Hazelnuts
Amount Per Serving
Calories 73
Calories from Fat 45
% Daily Value*
Fat 5g8%
Cholesterol 14mg5%
Sodium 1mg0%
Potassium 23mg1%
Carbohydrates 6g2%
Protein 1g2%
Vitamin A 118IU2%
Vitamin C 1mg1%
Calcium 5mg1%
Iron 1mg6%
* Percent Daily Values are based on a 2000 calorie diet.
** Happy Foods Tube is a participant in the Amazon Services LLC Associates Program, an affiliate advertising program designed to provide a means for sites to earn advertising fees by advertising and links to Amazon.com.
LEAVE A COMMENT