White wine cookies are excellent cookies for dunking in coffee or tea. The recipe is perfect for beginner bakers as they are easy to make. Only 7 ingredients!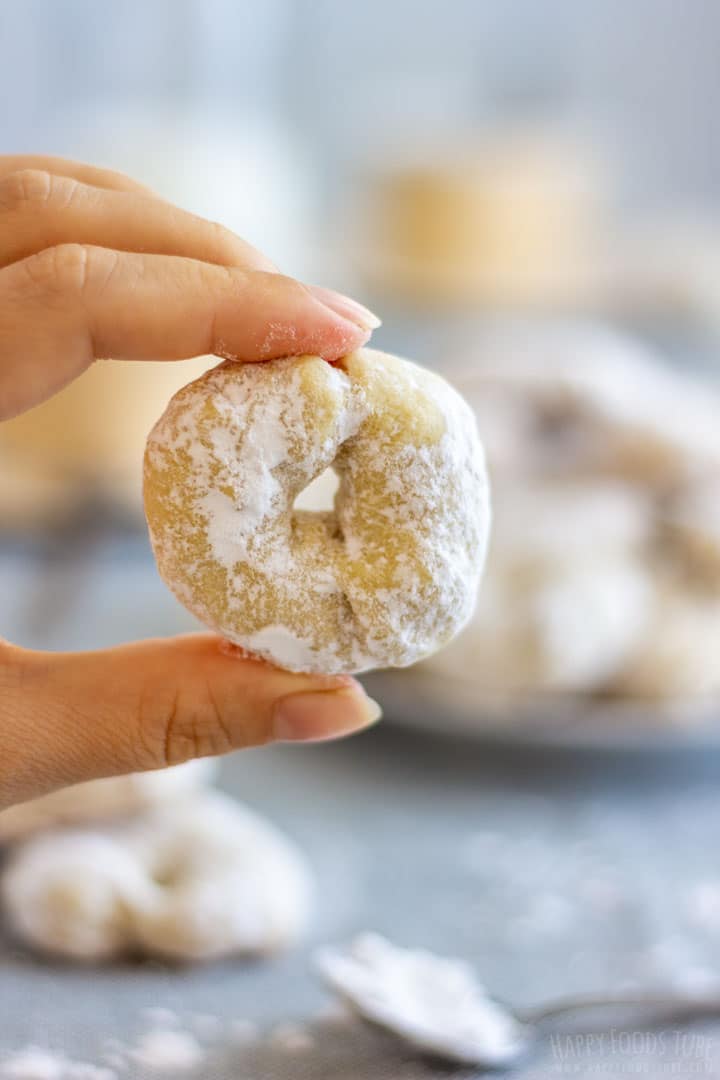 If you ever happen to have a leftover white wine, this is a great way to use it. They are tasty and make a great gift (not only for Christmas).
This recipe for wine cookies was developed after a friend of mine brought some for me years ago from their local Spanish bakery.
I have learned that there are many variations of wine biscuits out there. Some don't use sugar (only for coating) while others add it to the dough as well. The ingredient list as well as technique can vary but in general it is a very simple cookie recipe.
If you haven't tried baking with wine, here is your chance to give it a go. Another recipe with wine that we love is this chocolate raspberry cake.
Where do white wine cookies come from?
They are popular in Italy – biscotti al vino or ciambelle al vino and in Spain where they are called rollitos (rollos) de vino blanco.
This recipe was originally based on the Nourished Kitchen recipe with einkorn grain. It also used olive oil instead of sunflower or vegetable (which most Spanish wine cookies contain) so I liked the idea.
Over the time, I have developed my own recipe for wine cookies, and this is its final "version".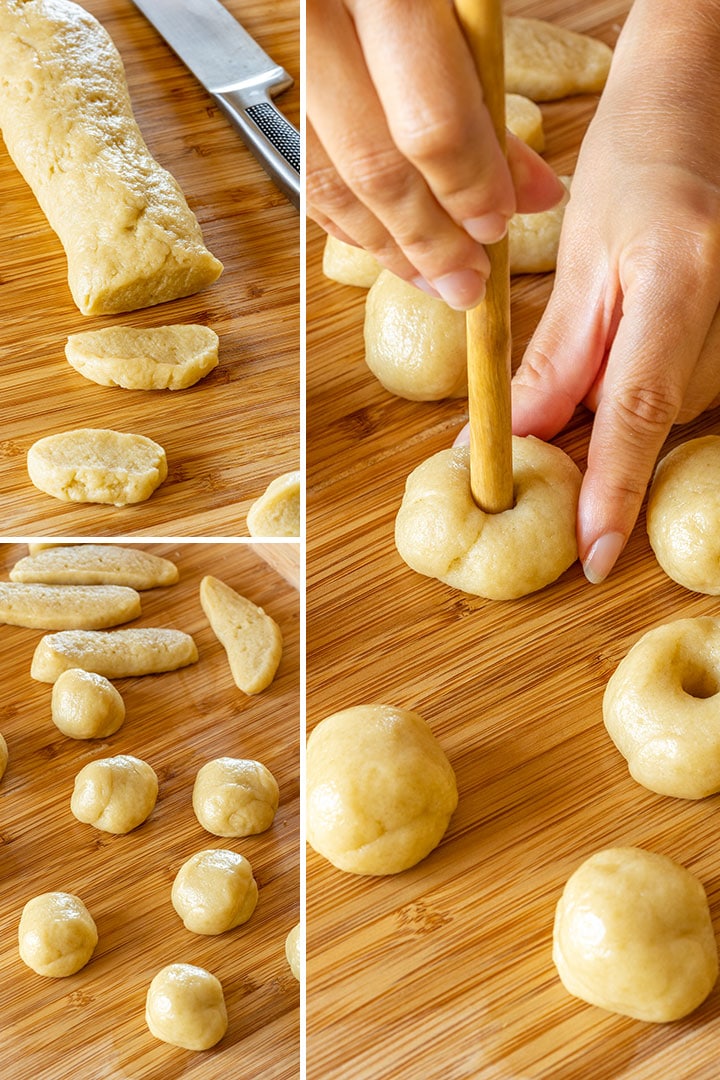 How to make wine cookies?
Gather all your ingredients. In a bowl, combine all the dry ingredients and then add the wet – which is oil and wine. Mix with a wooden spoon first, then use your hand to form a dough.
Roll it into a sausage and cut into similar-looking pieces. I like to use a scale (each piece should weigh about 1 ounce/30 grams). This I form into a ball and then pierce in the center either with my finger or the back of a wooden spoon.
Baking is pretty quick and takes about 15-20 minutes. You will need to cool them down first, then you can coat them in powdered sugar.
Expert tips for making wine cookies
To save time when coating these rollitos de vino blanco in sugar, use an airtight container or Ziploc bag. Fill it with sugar and add a few cookies in. Shake until they are evenly coated and repeat with the rest.
Instead of powdered sugar you can use vanilla-flavored sugar or fine granulated sugar to coat them.
These Spanish wine cookies are quite hard. To soften them, people like dunking them in their coffee.
Always keep an eye on cooking time, especially when making something for the first time. Every oven is different and so are baking trays (some conduct heat more than others). Also, larger cookies will take longer than smaller ones. It can take somewhere between 15-25 minutes to bake them.
Use regular cooking olive oil (with mild flavor) rather than extra virgin olive oil (keep the good-quality oil for other meals).
Possible variations:
Lemon zest – add to dough.
Anise seeds – add to dough.
Red wine – instead of white wine (note that the color of cookies will change accordingly).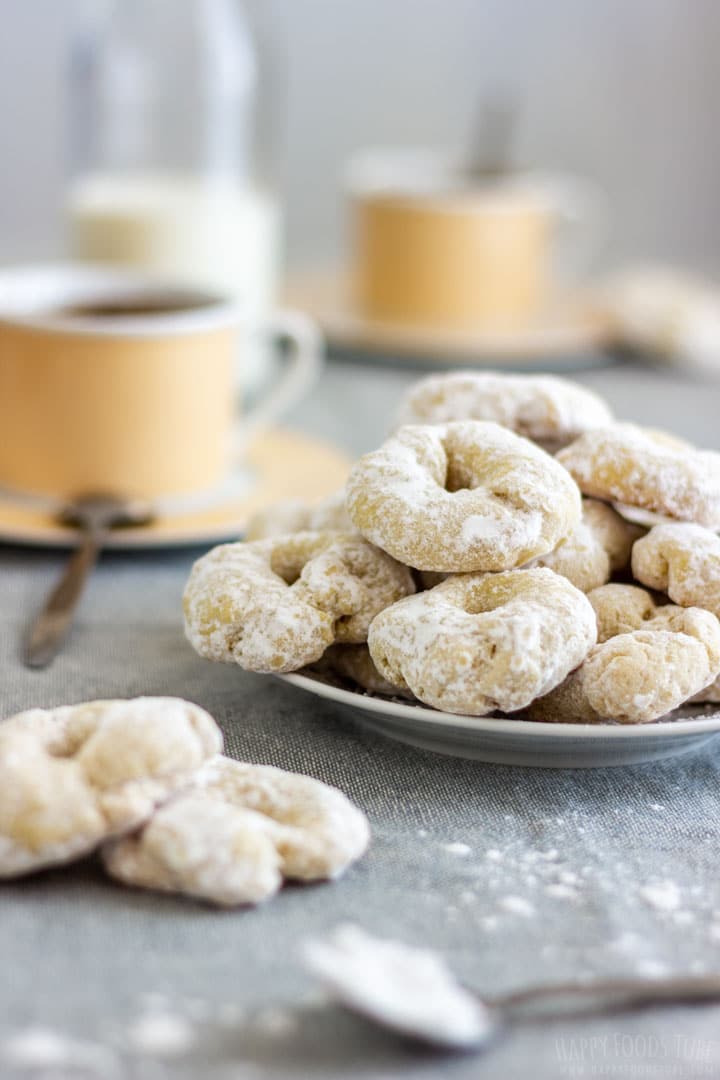 More traditional cookie recipes you might like to try:
This post and recipe have been updated recently with more detailed information, expert tips and improved recipe card with storage instructions.
Want to see how to make white wine cookies? Watch the video!
White Wine Cookies
White wine cookies are excellent cookies for dunking in coffee or tea. The recipe is perfect for beginner bakers as they are easy to make. Only 7 ingredients!
Servings:
18
– 20 cookies
Instructions
In a mixing bowl, mix together flour, sugar, baking powder and salt.

Add olive oil and wine and mix with a wooden spatula. Form into dough (this can be done in the mixing bowl or you can knead the dough on you work top).

The dough will be oily. Roll it into a sausage and cut equal size pieces. You should get about 18-20 pieces (about 1-ounce/30-grams per piece). With your hands, form these into balls.

Using your finger or the end of a wooden spoon, make a hole in the middle of each ball and stretch the hole slightly more, without tearing it. (Alternative, roll each ball into a 5-inch/13-centimeters long sausage and pinch both ends together).

Place the cookies onto a baking tray lined with baking paper/silicone mat. Bake at 350°F/180°C for 15-20 minutes or until the bottoms are golden brown.

Cool down completely before coating in powdered sugar.

Keep in an air-tight container or Ziploc bag!
Notes
All-purpose flour (US) = plain flour (UK).
If you can, use granulated sugar that has fine sugar crystals (like salt). Some countries sell it as castor sugar or superfine sugar (it is not powdered sugar).
Use mild or regular (cooking) olive oil. Extra virgin olive oil would be too over-powering. As a substitution, either sunflower or vegetable oil can be used.
About 5 tablespoons should be plenty for coating.
Storage: Store them in an airtight container on your counter (up to 5 days) or in a Ziploc bag in your freezer (up to 3 months). They only need a few minutes to thaw but can be enjoyed right away – however, they will be harder to bite so be careful or simply dunk them in your coffee/tea.
Nutrition Facts
White Wine Cookies
Amount per Serving
% Daily Value*
* Percent Daily Values are based on a 2000 calorie diet.
** As an Amazon Associate I earn from qualifying purchases.
LEAVE A COMMENT
Related Posts