This is an eyeball deviled eggs recipe, perfect for Halloween party. These fun Halloween appetizers can be partially prepared ahead, if needed. Easy recipe and quick prep!
If you are looking for easy Halloween appetizers for party, these bloody eyeball deviled eggs should be on your menu. More ideas and last minute Halloween recipes are at the bottom of this post.
Tools you need to make these Halloween deviled eggs
Toothpick – one is enough.
Red Gel Food Color – you will only need a little bit for 12 egg halves.
Knife – a sharp one to cut eggs in half.
Sauce Pan or Pot for cooking the eggs (or Instant Pot).
2 Teaspoons – for taking out cooked yolks (one) and for spooning the mixture back into the holes. You can also use a piping bag and pipe the mixture. It does not really matter what you choose to do. These eyeball deviled eggs will be a hit at your party either way!
Serving Plate or Tray or anything where you can put them.
Large Candy Eyes – these can be substituted with slices of black olives.
How to make eyeball deviled eggs
Hard-boil eggs and peel the shells off. Cut them in half and take out yolks.
Combine the yolks with pesto, salt, pepper and mayonnaise and mix well – until smooth. When ready, set aside.
Dip a toothpick into red food color and paint "veins" on the egg whites. Fill the holes with the pesto mixture and top each one with a candy eye and you are ready to serve!
Tips:
This recipe for eyeball deviled eggs can be easily doubled, tripled, …
Hard-boiling the eggs – use any method you are comfortable with. I usually place them in a pot with cold water, bring it to a boil and reduce the heat to low. Then cook for about 8-10 minutes (to be honest, I don't time myself so sometimes it may be even longer). If I have many eggs to cook, I use my recipe for Instant Pot Hard Boiled Eggs.
Peeling eggs can be sometimes tricky. In general, fresh eggs are harder to peel. Peeling cold eggs can also be a challenge so I like to peel them while still quite warm to touch. It goes easier.
Always make more than you need as some eggs may crack while boiling.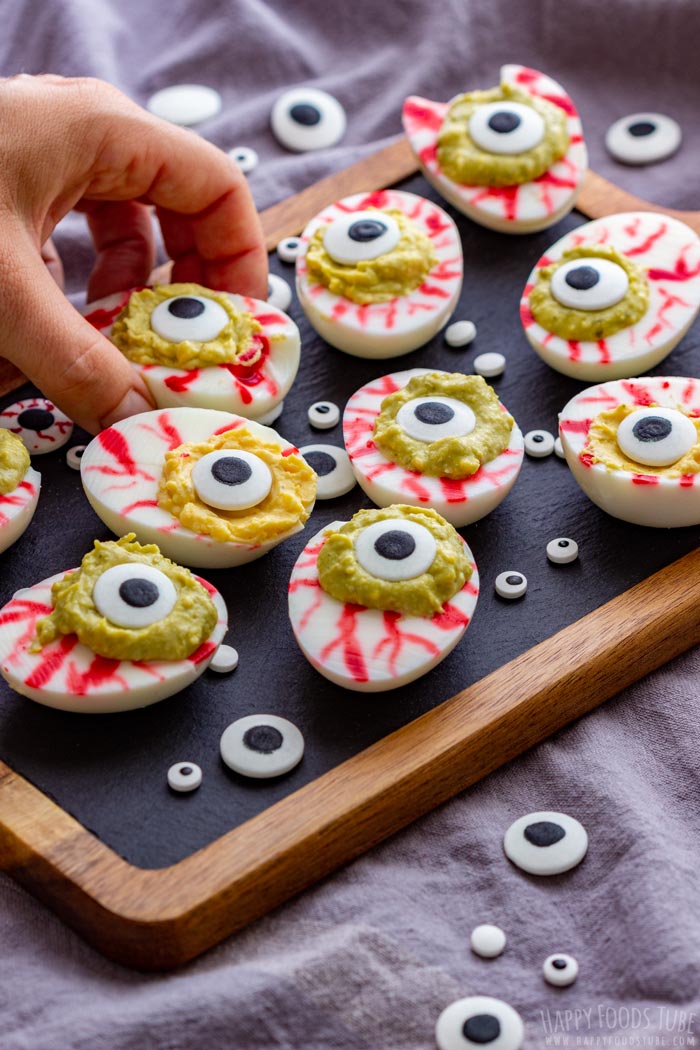 Looking for last minute Halloween party recipes?
Here are some ideas for Halloween finger foods for you:
Halloween Ritz Cracker Snacks are easy Halloween appetizers that are ready in minutes!
If you would like to serve something sweet, why not make cupcakes of your choice and top them with Halloween Jack Skellington Cupcake Toppers.
And what about making RIP Halloween Dessert Shooters? Pudding can be easily substituted with Chocolate Nutella Mousse.
Hot Dog Mummies are also fun and easy to make and crowds love them.
If you need some last-minute ideas for costumes, get some inspiration here: Easy Last Minute Halloween Costumes.
More deviled eggs recipes:
Eyeball Deviled Eggs
This is an eyeball deviled eggs recipe, perfect for Halloween party. These fun Halloween appetizers can be partially prepared ahead, if needed. Easy recipe and quick prep!
Instructions
Cut each egg in half and using a teaspoon scoop out the yolks. Place the yolks into a small bowl (a soup bowl will do) and add pesto, salt, black pepper and mayonnaise. Mix well, until smooth-ish. Set aside.

Dip a toothpick into the red food color and paint "veins" on each egg white.

Spoon this mixture back into the egg white cavities and top each with a candy eye and you are done!

Enjoy!
Notes
You can add more pesto or mayonnaise if you like.
Candy eyes are just a decoration and can be substituted with sliced black olives.
This recipe can be easily doubled or tripled.
Check the post for last minute Halloween recipes.
Nutrition Facts
Eyeball Deviled Eggs
Amount Per Serving
Calories 64.29
Calories from Fat 48
% Daily Value*
Fat 5.32g8%
Cholesterol 94.43mg31%
Sodium 69.19mg3%
Potassium 31.5mg1%
Carbohydrates 0.49g0%
Protein 3.29g7%
Vitamin A 180.4IU4%
Calcium 16.53mg2%
Iron 0.3mg2%
* Percent Daily Values are based on a 2000 calorie diet.
** Happy Foods Tube is a participant in the Amazon Services LLC Associates Program, an affiliate advertising program designed to provide a means for sites to earn advertising fees by advertising and links to Amazon.com.
LEAVE A COMMENT
RELATED POSTS