A simple fig tart recipe using fresh figs, puff pastry and tasty ricotta & fig filling. With a quick prep and baking time, you can enjoy this fig dessert in less than 25 minutes.
This is a pretty versatile recipe and you can't go wrong here. Plus, you only need 6 ingredients to make it (2 of them are optional)!
How to make fig tart with fresh figs
Because of its quick preparation time, you have to preheat your oven first. Also make sure the ready-to-go-in-the-oven fig tart is not standing at your counter too long.
The reason is simple. Puff pastry can sometimes act weird and it performs best when chilled.
To prepare filling, mix together ricotta cheese, honey and fig flesh. You will use this to top the rolled out puff pastry, but first you need to make an indentation around the edges of the pastry (with a knife or pizza cutter).
You don't want to cut through though. This will help the edges rise up and will hold the filling inside.
Spread the filling onto the pastry and bake for about 12 minutes or until the edges as well as the bottom of the tart are golden brown.
Toppings
Shredded coconut and almonds are completely optional, but they do add a nice texture and flavor to this simple tart.
If you don't have these on hand, try use other nuts – like pecans or pistachios instead. If you have other idea for toppings or if you have already tried this recipe, please do let me know in the comment section!
Need more fig recipes?
If you are looking for recipes with fresh figs, this is a great one, but I have a few other you could try, depending on what you are searching for: fig jam, fig appetizers or fig desserts.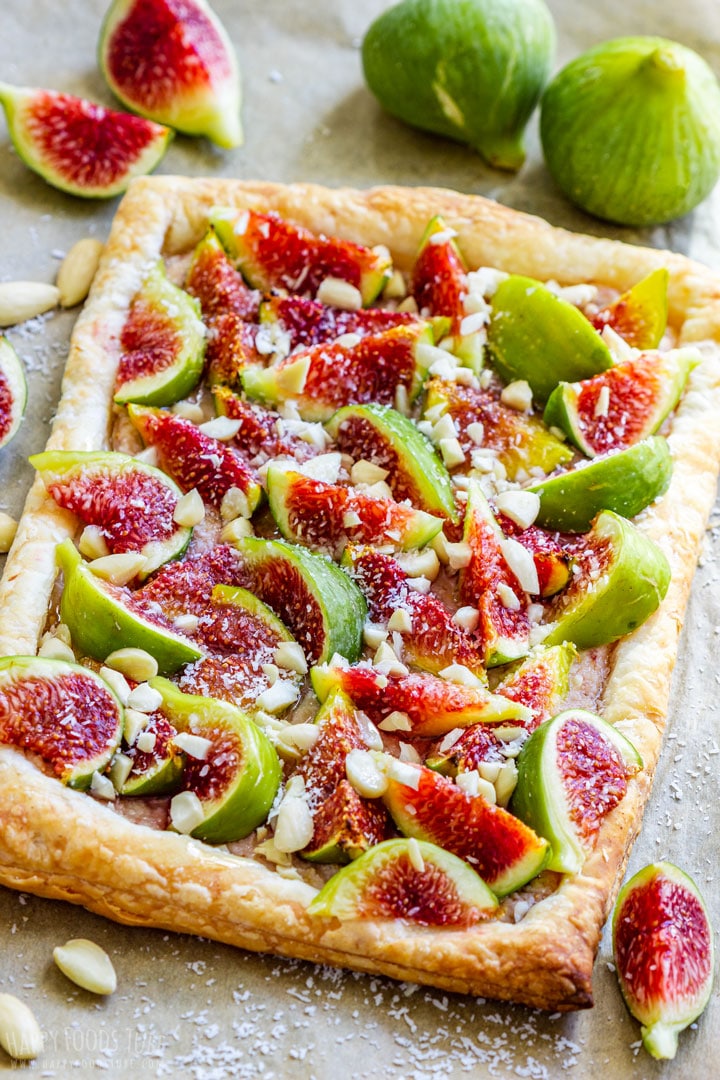 Tips for making the best tart made with figs
This recipe should yield enough filling for 2 fig tarts (8-12 portions). I used a ½ pound of frozen (thawed) pastry.
Like I have already mentioned, you can adjust the ingredient quantities to your liking. You can change the sweetener to powdered sugar, or something else.
You can add half of the figs before baking and top it with the other half afterwards. Either way it will taste delicious.
Puff pastry needs to go in a well-preheated oven. For this reason wait until it is hot enough to bake your tart in. Don't bake it in a cold oven!
Honey can be substituted with other sweeteners. If using maple syrup, I recommend adding only a little at a time – perhaps less than you would use honey as it will thin the filling. So perhaps a thicker sweetener would work better here. Another option is just pour some over after it has been baked.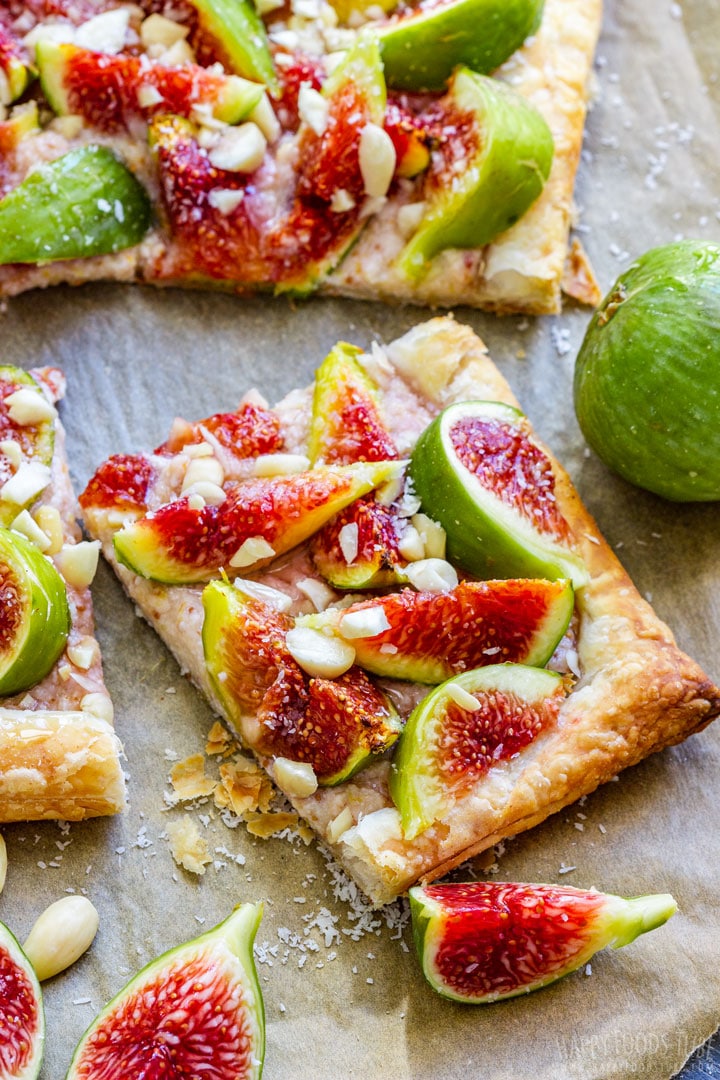 More tart recipes you might like:
Fig Tart
A simple fig tart recipe using fresh figs, puff pastry and tasty ricotta & fig filling. With a quick prep and baking time, you can enjoy this fig dessert in less than 25 minutes.
Ingredients
Instructions
Preheat oven to 400° Fahrenheit (200° Celsius).

Prepare the filling by mixing ricotta, honey and flesh from about 4-5 figs until well combine (a small bowl like a soup bowl is perfect). Set aside.

Unfold the pastry and roll it out thin. Cut in half. Place both halves onto a baking tray lined with baking parchment. With a knife or pizza cutter, make an indentation alongside the edges (about an inch/2-centimeters from edges, check the photos).

Divide the ricotta mixture between the two tarts and spread it over, keeping the mixture in the inner "frame" you made with the knife.

Cut 2 figs into wedges (8 pieces per fig) and place them randomly on the tart before you put the tray in the oven (this step is optional – you can just top cooked tarts with fresh figs, if you prefer).

Bake at 400° Fahrenheit (200° Celsius) for 12 minutes or until the edges are puffed and the bottom of the tart is nice golden brown.

Meanwhile: Cut each fig into 8 pieces and roughly chop almonds.

When the tarts are ready, take them out. Top them with fresh figs and sprinkle with almonds and coconut. For extra sweetness you can drizzle with honey as well.

Best served warm.
Notes
Fresh or frozen (thawed) pastry can be used.
Honey can be substituted with other sweeteners.
You might need more or less figs. This will depend on their size and your preference.
Almonds can be omitted or substituted with other nuts.
Cooking time may vary, depending on your oven and pastry – its thickness, quality and brand as well, so add more time, if needed. The bottom and edges should be golden brown.
I like to divide the pastry into 4 rectangles and make 2 individual fig tarts. That way, more people can enjoy the flaky edge.
More tips and more fig recipes can be found in the post above this recipe card.
Nutrition Facts
Fig Tart
Amount Per Serving
Calories 196
Calories from Fat 81
% Daily Value*
Fat 9g14%
Cholesterol 3mg1%
Sodium 70mg3%
Potassium 151mg4%
Carbohydrates 25g8%
Protein 4g8%
Vitamin A 71IU1%
Vitamin C 1mg1%
Calcium 58mg6%
Iron 1mg6%
* Percent Daily Values are based on a 2000 calorie diet.
** As an Amazon Associate I earn from qualifying purchases.
LEAVE A COMMENT