This mouth-watering Plum Tart with Ricotta and Greek Yogurt is the right treat for your afternoon cuppa! If you love juicy plums, then this tart is for you!
A while ago I bought Spanish food magazine called Saber Cocinar and this plum tart immediately caught my eye. I made it shortly afterwards but truth be told I was hugely disappointed with the result.
In fact, my plum tart was a complete disaster! Long story short – when translating the recipe from Spanish I made a mistake which lead to the worst looking and tasting plum tart ever! Ouch and oops!
Well, what can I say? Accidents in the kitchen happen from time to time, right? Anyways, I made this easy plum dessert again and it was a complete opposite – the perfect looking and tasting plum tart ever!
Now if you love dessert tart recipes, what about making this simple Homemade Lemon Tart or Strawberry Coconut Tart? Pear Tart with frangipane filling is another delicious dessert as well as the classic Apple Pie.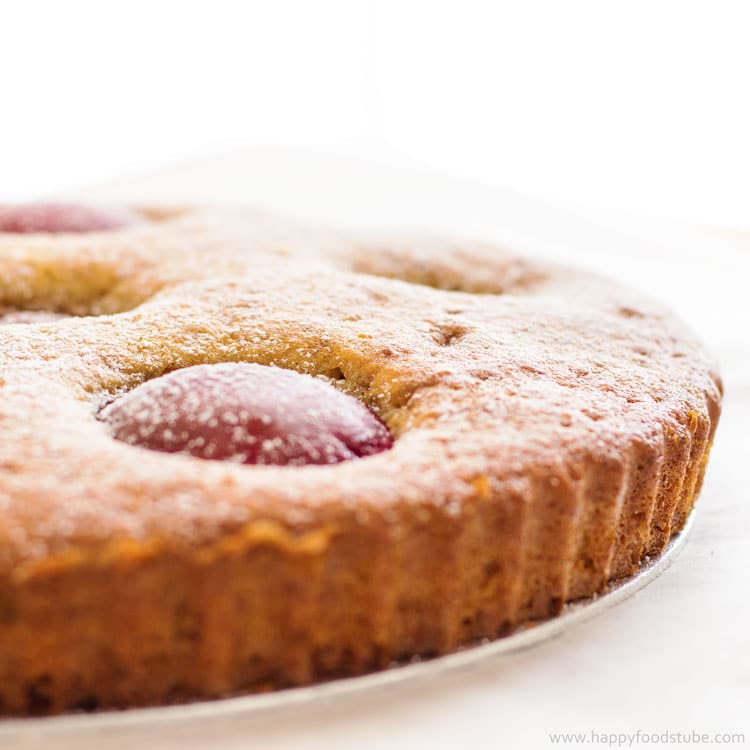 How to make a plum tart?
First start off with creaming the butter with sugar. Make sure the butter is at room temperature. You can use a microwave to soften it a bit but bear in mind this will only take a few seconds!
Eggs are beaten into this mixture, one at a time. In the end you should get a fluffy batter. Now it's time to add ricotta and Greek yogurt.
Combine flour, cinnamon and baking powder and sift it into the mixture. Fold it in with a wooden spoon. At this point your plum tart batter is ready to be spread into a cake pan. I used a silicone one. It was my first time using it and I wasn't sure about it at first. However, I liked how easy it was to take the cake out. You can use any cake pan you have that is about 9 inch/23cm wide. If not using a silicone cake pan I highly recommend greasing it or lining it with a sheet of baking paper.
Top the batter with plum halves so the cut parts are facing the batter. Baking this plum tart will take about 40 minutes. To make sure the tart is done, check using a wooden skewer. If it comes out clean, the plum tart is ready to be taken out of the oven.
Plum tart Ingredient Substitutions:
Plums – I know this is a plum tart but you could use apricots, if you don't have or don't like plums.
Greek yogurt – use sour cream.
Superfine sugar – you can use brown sugar as well or granulated sugar.
Good to know:
All-purpose flour (US) = Plain flour (UK)
Powdered sugar, confectioner's sugar (US) = Icing sugar (UK)
Superfine sugar (US) = Caster sugar (UK)
Note: To make this plum tart I used grams instead of cups. I highly recommend using a scale to make this tart. However, I added the cup measurements as well for those who would like to give it a go using cups.
Want to see how to make Plum Tart? Watch the video!
Plum Tart with Ricotta & Greek Yogurt
This mouth-watering Plum Tart with Ricotta and Greek Yogurt is the right treat for your afternoon cuppa! If you love juicy plums, then this tart is for you!
Servings:
10
(1 Tart – Size 9inch/23cm)
Instructions
Cream the butter (soften at room temperature) with sugar for about 5 minutes.

Add eggs, one at a time and beat with an electric mixer until fluffy.

Throw in ricotta and Greek yogurt and mix again.

Sift in the flour mixed with baking powder and cinnamon. Fold these in with a wooden spoon until all ingredients are well combined.

Now rinse the plums, cut them in half and remove pits.

If using a silicone cake pan, place this onto a baking tray and pour the mixture in the pan. If using other type of cake pan, line this with baking paper (if you don't know how to line cake pans, have a look at our video). Spread the mixture around evenly. Top with plums.

Bake in a preheated oven at 180°C/350°F for 40 minutes or until an inserted skewer comes out clean.

Once ready, take it out and let it cool completely before dusting with some icing sugar (optional).
Nutrition Facts
Plum Tart with Ricotta & Greek Yogurt
Amount Per Serving
Calories 201
Calories from Fat 63
% Daily Value*
Fat 7g11%
Cholesterol 51mg17%
Sodium 26mg1%
Potassium 217mg6%
Carbohydrates 29g10%
Protein 5g10%
Vitamin A 380IU8%
Vitamin C 3.8mg5%
Calcium 86mg9%
Iron 1.1mg6%
* Percent Daily Values are based on a 2000 calorie diet.
** Happy Foods Tube is a participant in the Amazon Services LLC Associates Program, an affiliate advertising program designed to provide a means for sites to earn advertising fees by advertising and links to Amazon.com.
LEAVE A COMMENT
RELATED POSTS