This is a collection of 6 recipes with suggested uses and useful tips on how to make the perfect homemade flavored butter recipes. They are easy to make and can be prepared ahead of time.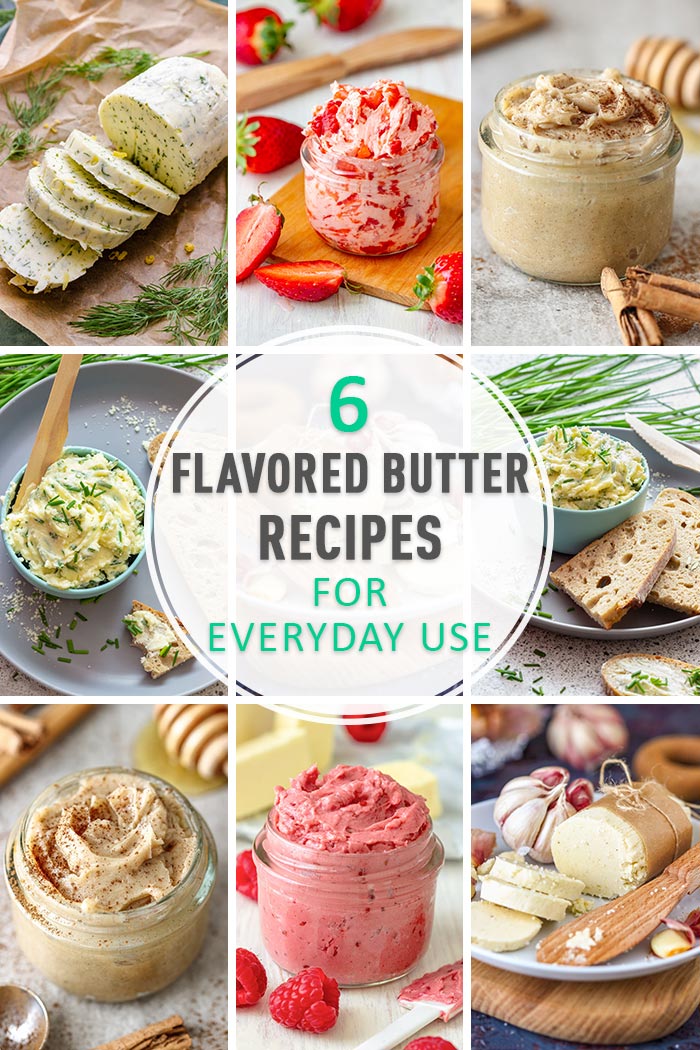 Savory flavored butter recipes can be used to flavor any sort of dishes. Try slathering them on corn on the cob, melting them over steamed or roasted vegetables, spreading over a warm toast or dinner rolls. A slice of chilled flavored butter on a steak is like a cherry on a cake. And what about adding an extra flavor to your fish dinner?
Here is some inspiration for you:
You can also add a knob of these when preparing your dinner – use it instead of oil or just stir it into risotto, pasta sauce ….
Sweet flavored butter recipes are perfect for pancakes, porridge, on toast, croissants or quick breads.
These are our favorite ones:
All of the above mentioned flavored butter recipes have an easy and quick preparation. For this reason, they be turned into a fun project to do with your kids. They would definitely love the sweet ones.
Tips for making any of these flavored butter recipes:
Make sure to take out the butter from the fridge well in advance. You need to bring it to the room temperature. I don't recommend using microwave to soften the butter as it tends to melt it on the outside while still keeping it cold on the inside. If too soft, then it will be harder to form into a log.
You can easily double or triple the recipes but if you know that you will not be using a lot of the flavored butter or if making it for the first time, I suggest you start with the original recipe that calls for 1 stick to see if it is to your liking.
All these flavored butter recipes call for unsalted butter. There are two reasons behind that: First, I prefer to keep the sodium levels low and second, some of your dishes/breads .… may be saltier than others so that way you know that you are not over-seasoning them.
Savory butters can be used right from the fridge when topping warm dishes. When using as a spread, I suggest taking them out from the fridge at least 30 minutes before serving so they have time to soften.
Let the sweet butters soften at room temperature before spreading them over your breads/toast/….