This is an easy and quick recipe for parmesan chive butter. Use this homemade flavored butter for bread, steak, fish, potatoes or vegetables!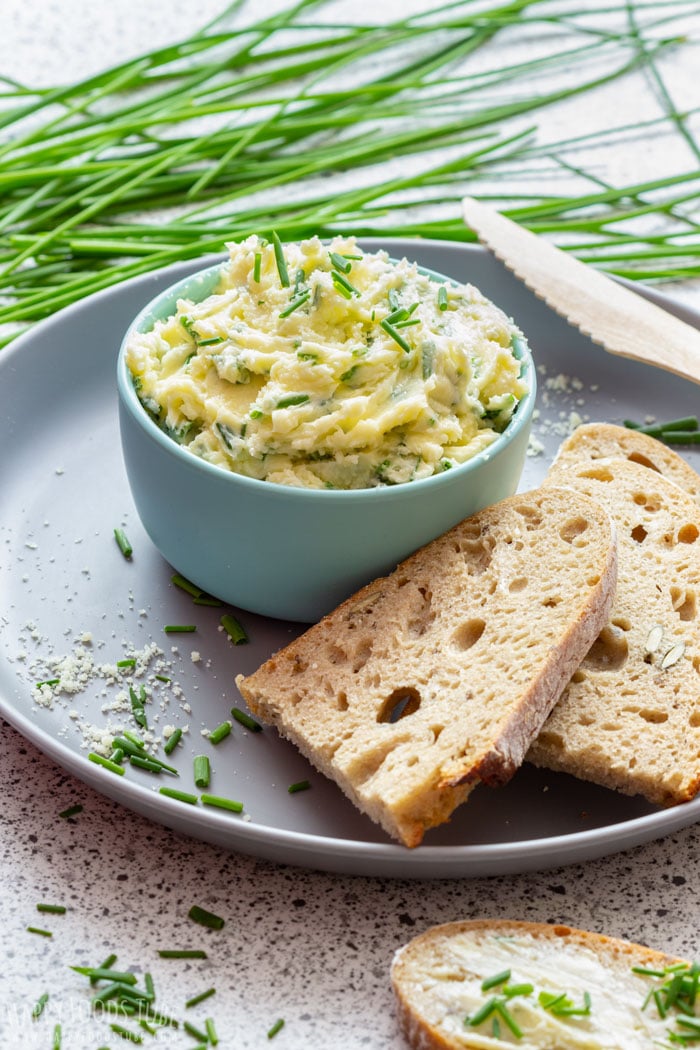 Parmesan Chive Butter is one of my favorite homemade butters. The others are Roasted Garlic Butter, Cinnamon Honey Butter and Strawberry Butter.
As you can see I like flavored butter a lot. If you guys haven't tried making it yourself I highly recommend it. Here are several reasons why:
It's easy and quick!
It's tasty and addictive!
It's so versatile!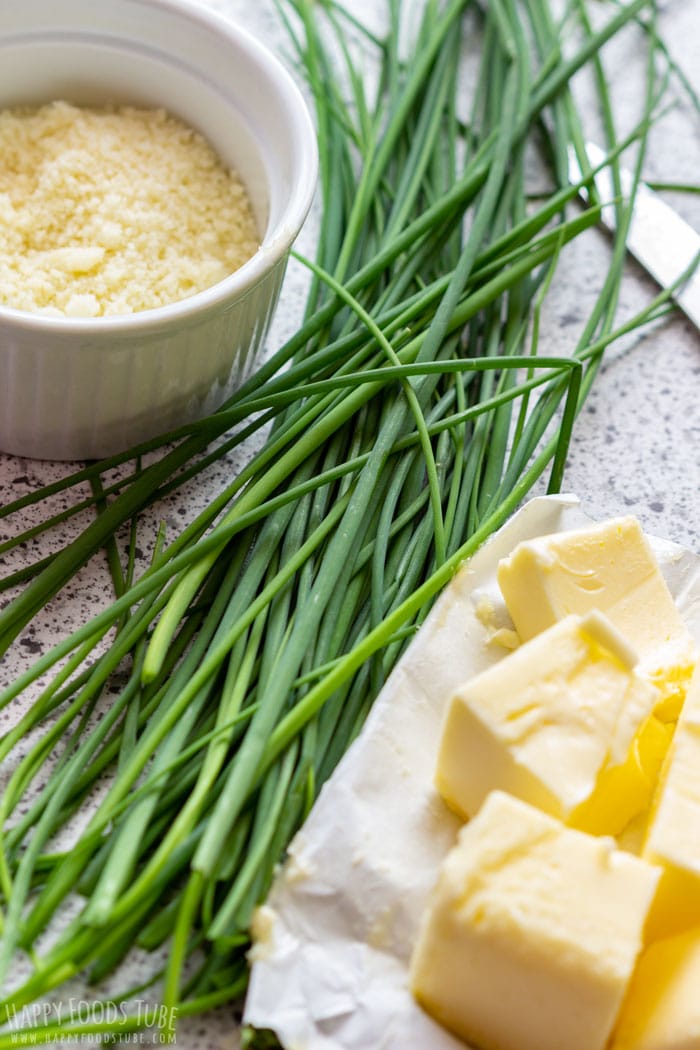 How to make chive butter with parmesan
First get a bowl that is large enough to hold your ingredients. Now place inside the soften butter, finely chopped chives and finely grated parmesan. Mix these with a fork until well combined. The butter will be soft at this stage but this is good as we need it to be easy to work with.
When you are done with mixing, you can give it a taste and add more chives or parmesan, if you feel like it. You could also add a pinch of black pepper but I do not do this.
The whole process, including chopping the chives will probably take about 5 minutes.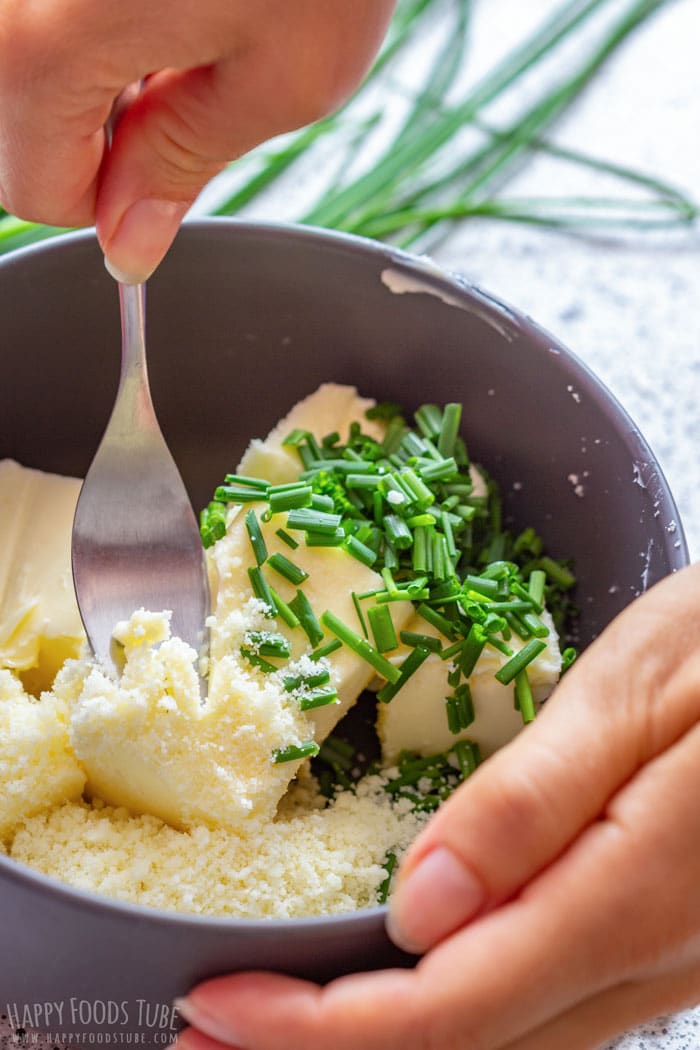 Where to use parmesan chive butter
There are endless possibilities. My favorite is spread it over a slice of sourdough bread. You can use it for Hasselback Potatoes, roasted, mashed or baked potatoes.
Add it to Vegetable Foil Packets or just spread some over grilled vegetables.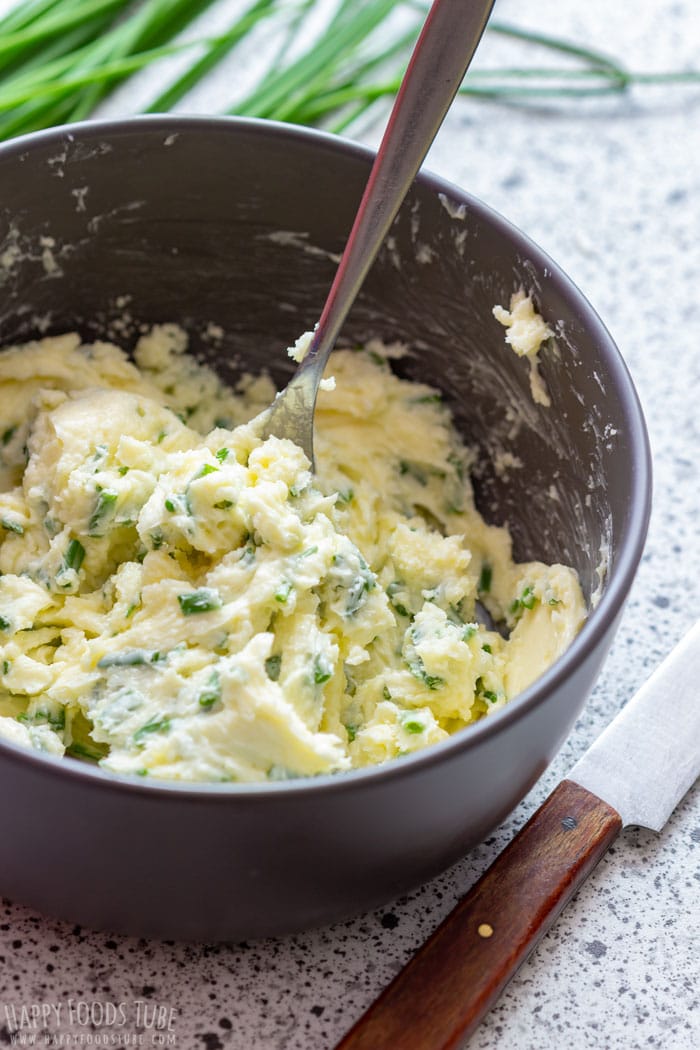 How to store parmesan chive butter
You can wrap the butter into plastic wrap and roll it into a sausage or press it into a ramekin, cover with plastic wrap. Jar with a lid works also great.
Always store it sealed in the fridge and take out 10-15 minutes before serving/using. Now this time might also vary depending on the temperature in your kitchen.
Now if you are going to use this parmesan chive butter for example for mashed potatoes, you can use it right from the fridge. Just cut out as much as you need.
Because this butter contains fresh chives I don't recommend keeping it in the fridge longer than a week.
Also make small batch (this recipe is perfect for it) rather than large if you know that you won't be able to use it within a week.
By the way, some people also freeze this homemade chive butter but I haven't tried it myself yet.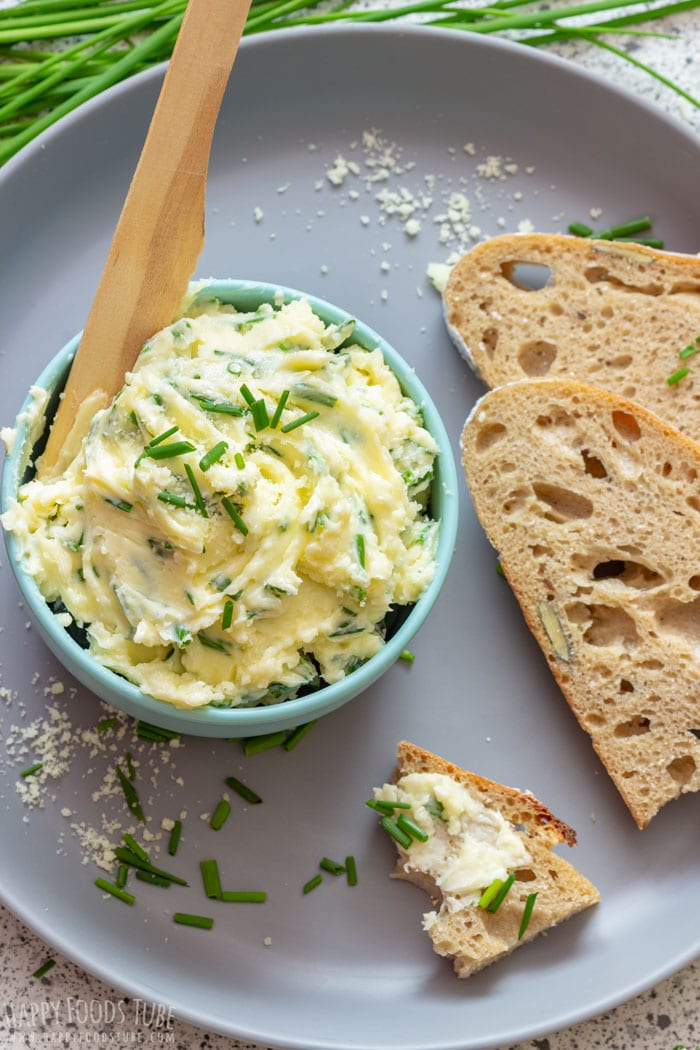 Good to know
If you end up with a ton of chives and looking for ideas what to do with it, this post on how to preserve chives is quite helpful.
If you don't have Parmesan, you can omit it or use grana Padano or pecorino instead. I personally love pecorino but it's hard to get it where I live so parmesan is a great alternative. If using Pecorino, you might need to reduce its amount slightly as it is way stronger than parmesan.
Parmesan Chive Butter
This is an easy and quick recipe for Parmesan Chive Butter. Use this homemade flavored butter for bread, steak, fish, potatoes or vegetables!
Ingredients
1

stick

Unsalted Butter

at room temperature (110g)

¼

cup

Chopped Fresh Chives

⅓

cup

Finely Grated Parmesan Cheese
Instructions
Place all the ingredients in a bowl and mix with a fork/spoon until well combined.

Enjoy with bread, roasted or baked potatoes, steak….
Notes
Use real butter and no butter substitutes.
The amount of chives as well as Parmesan can be adjusted to your taste.
Instead of Parmesan Grana Padano or Pecorino can be used. If you like more flavorful butter – use pecorino cheese. However this cheese is stronger and saltier so be careful how much you add in.
This recipe can be easily doubled. However, because it contains fresh chives, I suggest making it in small portions, especially when you know you can't use it within a few days.
Store in a jar/ramekin or wrapped in plastic wrap in the fridge.
When stored properly, this compound butter should last up to 1 week.
Nutrition Facts
Parmesan Chive Butter
Amount per Serving
% Daily Value*
* Percent Daily Values are based on a 2000 calorie diet.
** As an Amazon Associate I earn from qualifying purchases.
LEAVE A COMMENT
RELATED POSTS