This fresh fruit salad with coconut honey dressing is a refreshing and easy summer dessert. Selection of fruits is dressed with easy flavorful syrup!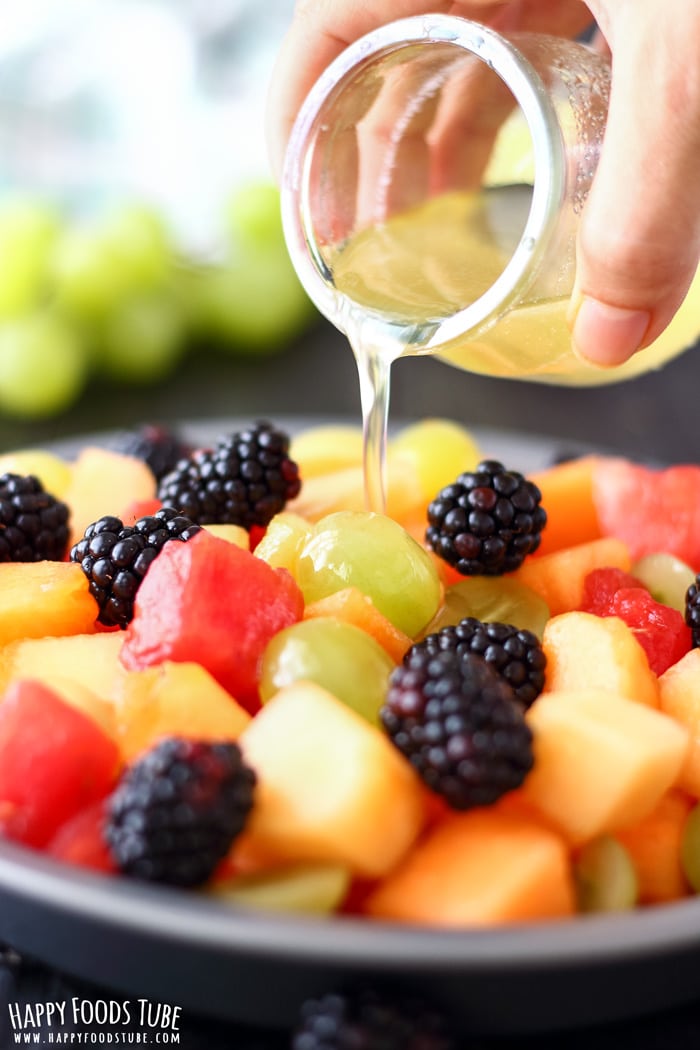 Guys, guys, guys! How often do you make fresh fruit salads? Often? Not that often? Never? Well, I was in the not-that-often category until like a month ago when I started experimenting with fruit salad dressings because in my opinion it's all about the dressings!
How to make a fruit salad step by step
So let's start from the beginning: To make this fresh fruit salad I used 3 types of melon: watermelon, cantaloupe and a yellow sugar melon that had nice peachy flesh color.
Now it does not really matter what melons you choose when you decide to make this fresh fruit salad. But let me tell you I had no idea there are so many melon varieties out there! I suggest you go for the ones that are in the season or those you like the most.
I added a few more fruits just so you get a different texture when biting into this fruit salad. This time I went for white grapes and blackberries. I highly recommend choosing seedless grapes as some varieties have pretty large & hard seeds.
Step 1: Wash & prep the fruits (peel, remove seeds, cut into bite-size pieces). Once you have done this, place it in a serving bowl and refrigerate.
Step 2: Make the dressing/syrup. How do you make the syrup for fruit salad you ask?
Let me tell you it's a matter of a few seconds. Well, maybe a minute tops.
I made the syrup/dressing for this summer fruit salad by combining honey, fresh lemon juice and coconut oil. Just place the ingredients in a jar, close it with a lid and shake well. The honey can be tricky to melt at first so you might need a spoon.
Guys, I tell you it is as delicious as it sounds and it only has 3 ingredients! I'd say it's the best dressing for fruit salad!
The syrup/dressing should be added right before serving because of the coconut oil that goes solid when refrigerated. And guys, you don't want that!
By the way, if you have some coconut flakes on hand, add them to the salad or use them as garnish.
Good to know:
Honey can be substituted with maple syrup.
Keep the fruit salad dressing on your kitchen counter and salad in the fridge. Mix together right before serving.
Make sure to give the dressing a good shake before pouring it over this fresh fruit salad.
If you are a salad lover, I have some more recipes for you:
Fresh Fruit Salad with Coconut Honey Dressing
This fresh fruit salad with coconut honey dressing is a refreshing and easy summer dessert. Selection of fruits is dressed with easy flavorful syrup!
Ingredients
Fruit Salad:
1

cup

White Grapes

(140 grams)

1

cup

Blackberries

(100 grams)

2

cups

Watermelon

, cubes (300 grams)

½

Sugar Melon

(0.8 pound/340 grams)

½

Cantaloupe Melon

(1 pound/450 grams)
Honey Lemon Dressing/Syrup:
Instructions
Wash all the fruits. Cut the melons' flesh into cubes and throw them in a serving bowl. Cut the grapes in halves (optional) and add to the bowl altogether with blackberries. Refrigerate until you are ready to serve.

Meanwhile: Prepare the dressing by combining all the ingredients in a jar/bowl. Pour over the salad right before serving.
Notes
Tip: Garnish with coconut flakes.
Important: Keep the dressing at room temperature to prevent the coconut oil from crystallization.
Nutrition Facts
Fresh Fruit Salad with Coconut Honey Dressing
Amount Per Serving
Calories 360
Calories from Fat 153
% Daily Value*
Fat 17g26%
Sodium 35mg2%
Potassium 787mg22%
Carbohydrates 55g18%
Protein 3g6%
Vitamin A 7405IU148%
Vitamin C 101.6mg123%
Calcium 41mg4%
Iron 1.2mg7%
* Percent Daily Values are based on a 2000 calorie diet.
** Happy Foods Tube is a participant in the Amazon Services LLC Associates Program, an affiliate advertising program designed to provide a means for sites to earn advertising fees by advertising and links to Amazon.com.
LEAVE A COMMENT
RELATED POSTS