If you are looking for salad recipes to add to your winter menu, why not give this kale and beet salad a try! Packed with winter vegetables and fruit, this easy salad can be enjoyed with or without homemade walnut dressing.
This kale and beet salad is also naturally:
gluten-free
vegan
dairy-free
Winter is the perfect time to make this kale and beets salad. It's packed with nutrients that our bodies need a lot during this time of year so that we can stay healthy. The veggies and fruits used in this beetroot salad are also in season which makes them fresher, tastier and more affordable.
Tip: Healthy salads don't have to taste bland. The key to making tasty salads is balance. You need to keep all the flavors balanced. You don't want one ingredient overpower the rest of them. Add a tasty dressing and you have a tasty and nutritious meal/side ready in no time.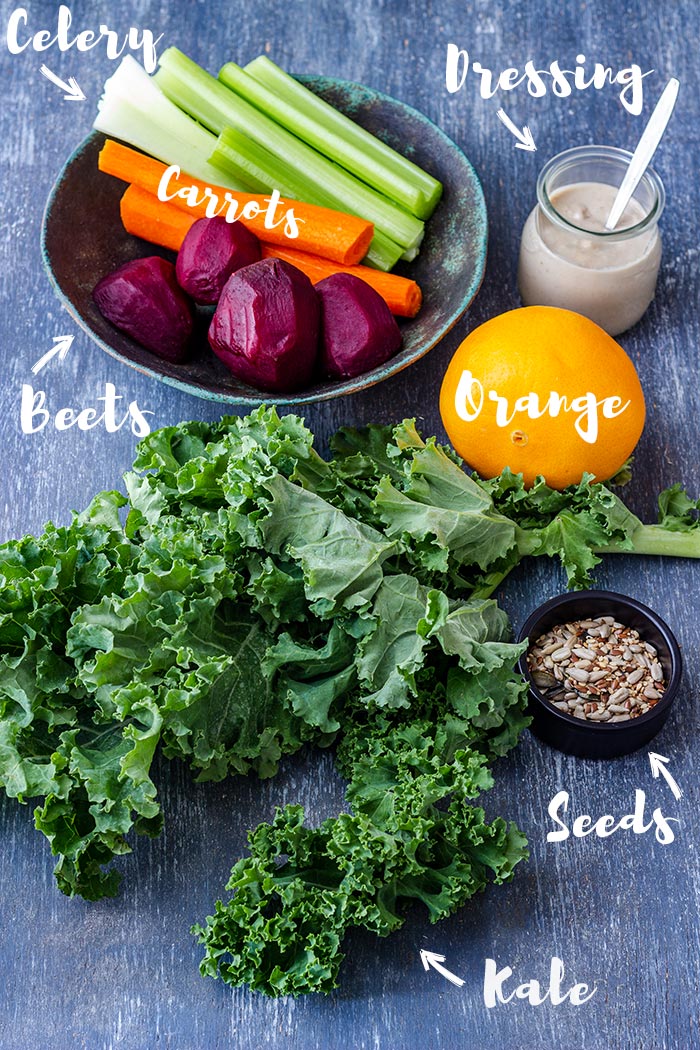 How to cook beets
Peeling and cooking beets is easy when you know a few tricks. I like using my electric pressure cooker and if you would like too, my recipe for Instant Pot Beets explains in detail all tips and tricks you need to know.
To save time, you can buy cooked beets from your local store, if you like or if you have such option.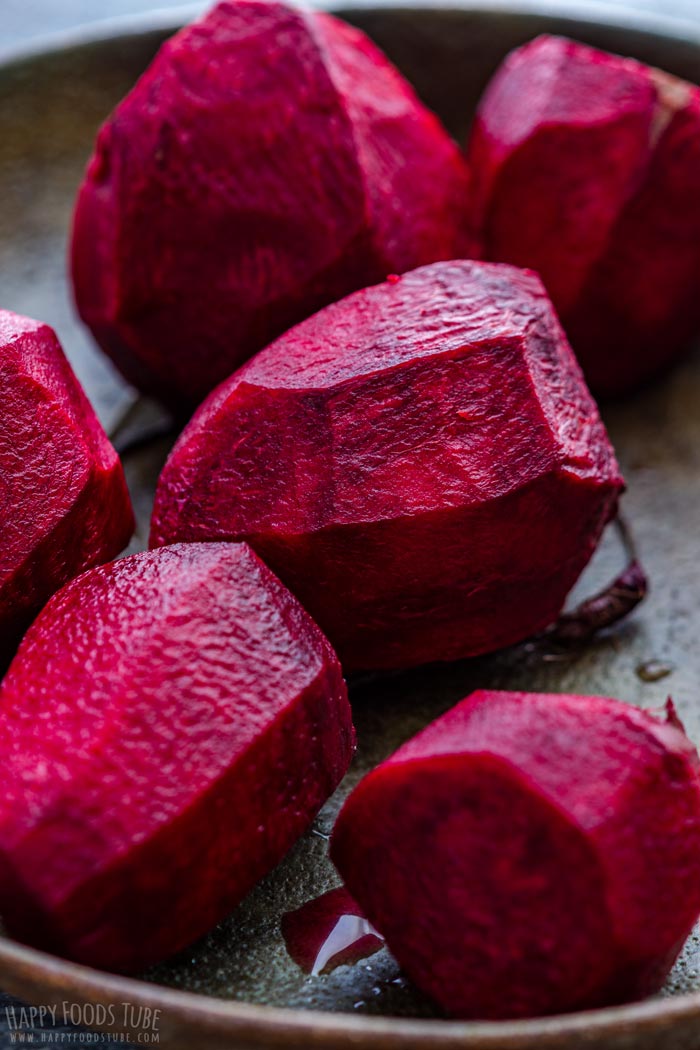 Can you eat raw beets in a salad?
Yes, you can. If I use them raw, I like cutting them into thin strips. That way they add some crunchiness to a salad but don't overpower it with their earthy flavor.
Tips for making kale and beets salad:
Celery can be omitted completely, if you don't like it or don't have it on hand.
I used 4 small beets that I cut into bite-size pieces. You can use more/less, if you like. Also, feel free to cut them into slices or dice them.
If you don't like walnut dressing, omit it or use any dressing you like (homemade or shop-bought, it doesn't matter as long as you like it). You can also substitute it with just olive oil and salt and pepper. As you can see, I used those in the recipe but in a small amount only. Add more, if using them instead of dressing.
Seeds are delicious addition to this kale and beets salad. Feel free to choose any kind you like.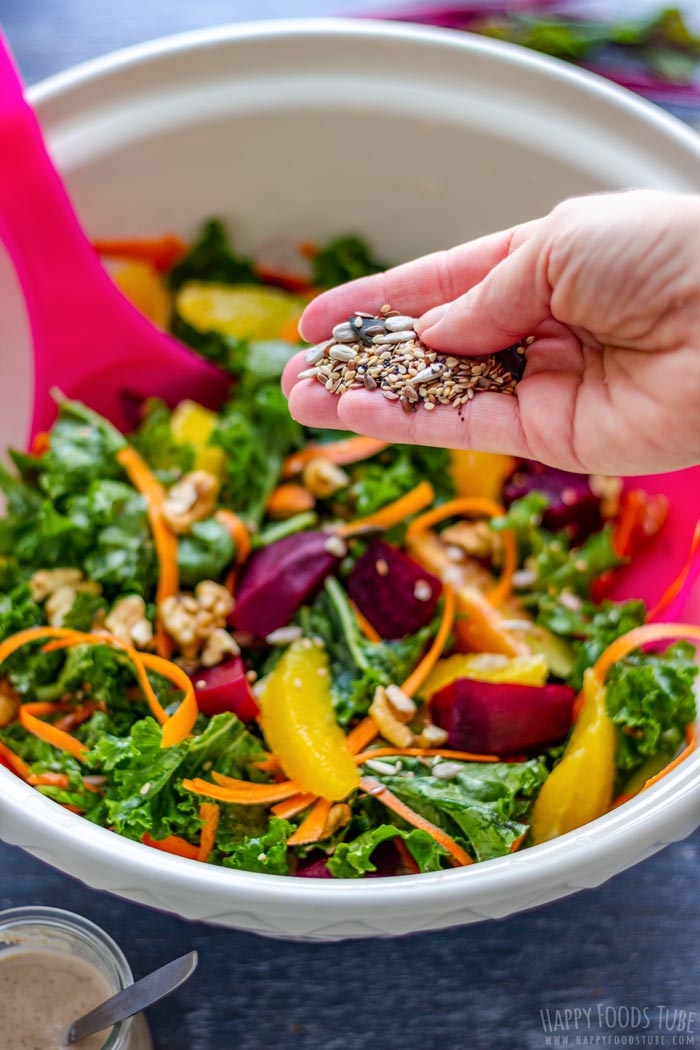 What can I do with lots of beets?
If you for some reason end up with way too many beets to consume at once, here is what you can do. You can cook them ahead and store them in a fridge (in air-tight container) for up to 5 days and use them in various dishes.
If you need some inspiration, here are some recipes using beets that I have on my blog: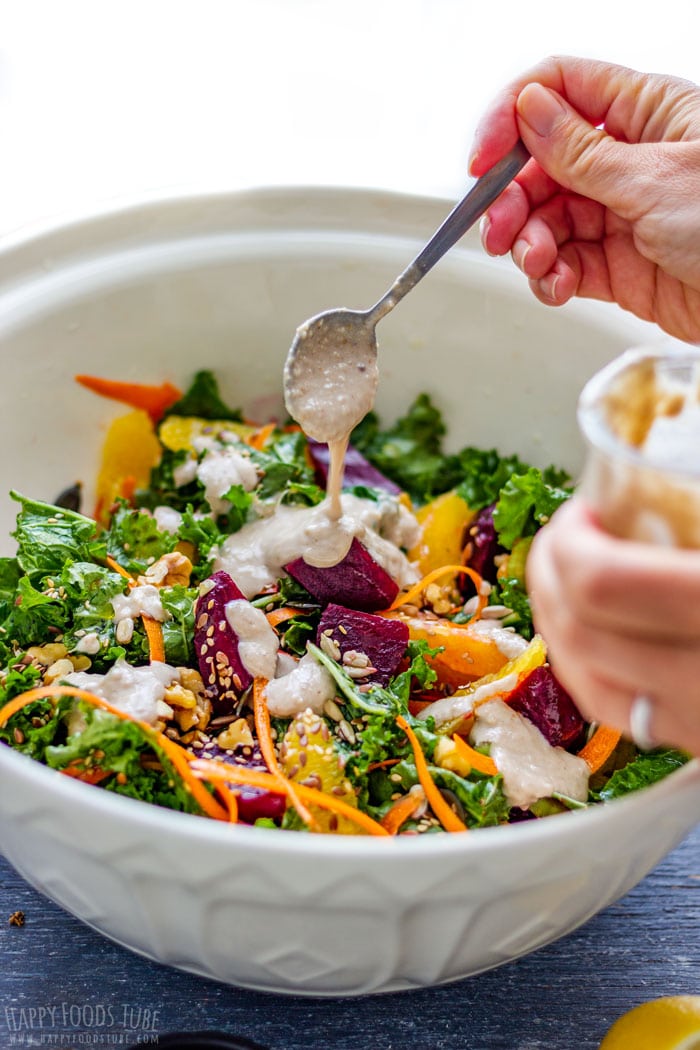 Kale and Beet Salad
If you are looking for salad recipes to add to your winter menu, why not give this kale and beet salad a try! Packed with winter vegetables and fruit, this easy salad can be enjoyed with or without homemade walnut dressing.
Ingredients
Salad:
4

ounces

Fresh Kale

, stems removed (120 grams)

4

Small

Cooked Beets

, see note 1

2

Oranges

2

Carrots

1

Celery Stalk

, see note 2

A drizzle of

Extra Virgin Olive Oil

A pinch of

Salt

A pinch of

Black Pepper

½

cup

Walnuts

, roughly chopped (50 grams)

Seeds

of your Choice, see note 3
Instructions
For the salad:
Tear the kale leaves into small pieces and place them in a serving bowl. Massage them with your fingers for about 2-3 minutes. This will make them softer.

Cut the beets into bite-size pieces, peel the oranges and cut them into segments. Peel the carrots and with the same peeler, peel them into long strips. Thinly slice the celery.

Add all these ingredients into the serving bowl and mix well. Now add a generous drizzle of olive oil, a pinch of salt and pepper and mix again. Throw in walnuts and seeds and give it one last mix (or don't).

Serve with walnut dressing or dressing of your choice.
For the walnut dressing (optional):
Blend the walnuts in a food processor until meal-like texture. Add water, olive oil and honey and blend everything well. Add freshly squeezed lemon juice, mix and taste. Add more water, if too thick. You should get about ½ cup of dressing. For the salad, you will need about a ¼ – ⅓ cup.

Enjoy!
Notes
Beets – you can use more or less.
I got ½ cup of sliced celery. You can use less or omit this completely if you don't like celery.
Seeds – I used mixed seeds – chia, sunflower, pumpkin seeds but you can use any kind of seeds you like.
Dressing – if you have a recipe for dressing that you like, go ahead and use it. Or use your favorite shop-bought dressing. You can also omit it completely and dress the salad with olive oil only and season with salt and pepper.
Nutrition Facts
Kale and Beet Salad
Amount Per Serving
Calories 325
Calories from Fat 216
% Daily Value*
Fat 24g37%
Sodium 81mg4%
Potassium 556mg16%
Carbohydrates 27g9%
Protein 6g12%
Vitamin A 6446IU129%
Vitamin C 45mg55%
Calcium 80mg8%
Iron 2mg11%
* Percent Daily Values are based on a 2000 calorie diet.
** Happy Foods Tube is a participant in the Amazon Services LLC Associates Program, an affiliate advertising program designed to provide a means for sites to earn advertising fees by advertising and links to Amazon.com.
LEAVE A COMMENT
RELATED POSTS