Get into the Holiday spirit by making gingerbread Christmas candle holder. This lovely centerpiece is easy to make and smells amazing!
Every Christmas I look forward to baking with Gingerbread Cookie Dough. It is such fun dough to work with and it's perfect for making not only gingerbread cookies but also various Christmas decorations. You can make anything! I have already mentioned before that my mom is our main decorator every Christmas! Her gingerbread creations are stunning! Gingerbread Holiday candle holders, bowls, Christmas tree ornaments and nativity scenes are among those amazing creations!
This year we won't be spending the Holidays together so I feel like I need to make my own Christmas decorations! Last year I made this Advent Wreath that is literally the easiest gingerbread cookie project to make! I  I like snow covered trees and because there is no chance of me seeing snow any time soon I am also planning on making this Snow Covered Gingerbread Cookie Tree. They both make beautiful centrepieces!
Now guys the past several days the weather here in Spain is… well… let's say it looks more like the Irish weather, if you know what I mean. I look out the window and all I see is dark or grey sky + strong wind. And I wouldn't mind the wind or the grey sky but the rain! The rain is not something I like to see around Christmas time! I am more of a snow person to be honest.
What about you? What is the weather like where you come from? Do you normally have snow around Christmas? No? Is your country too hot for snow? Is it so hot that you can enjoy a swim in the sea?
Like I've said we won't be having white Christmas this year so making this "snow" covered gingerbread centerpiece sounded like a great idea!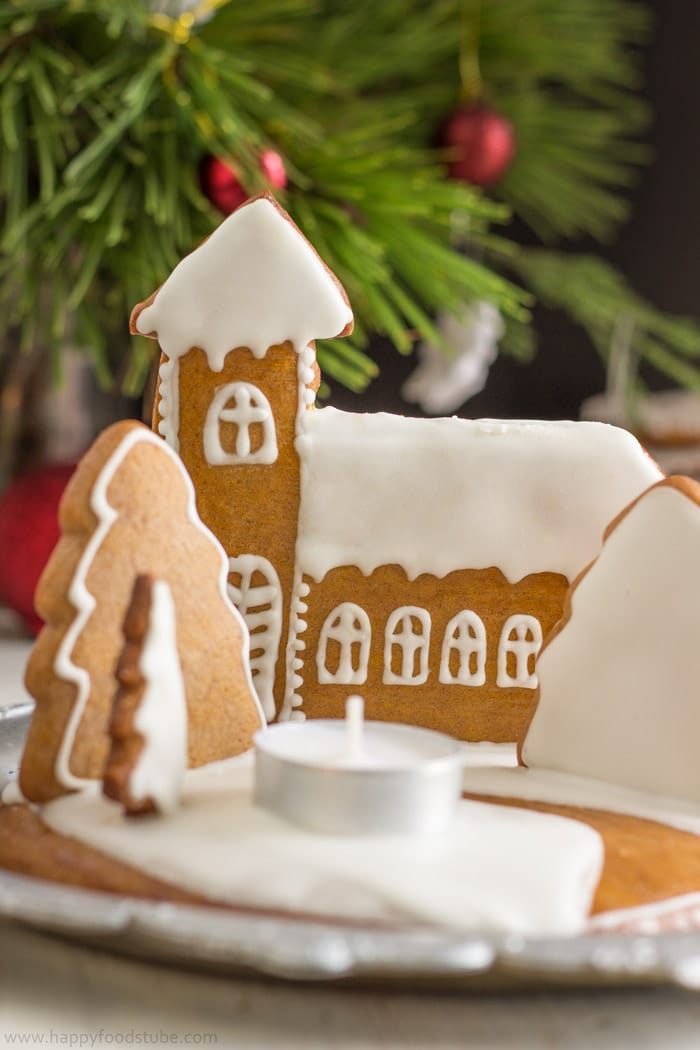 How to make gingerbread candle holder
You will need:
½ of this Gingerbread Dough
16cm/6inch Cake Board (optional)
1 Small Egg Yolk, beaten (optional)
A Few Toothpicks
Template (see picture below)
Method:
Start off with rolling the dough for the round base. To cut this out I used a 16cm/6inch cake tin. Make sure it's thicker than the rest of your cookies.
Place it in the middle of a baking tray lined with baking paper. Now roll the dough thinner and cut out the church and some trees (the more the better so you can choose later the best ones). If you feel very creative, use some other cutters as well (snowman, gingerbread man) but make sure these are smaller in size than the church.
Bake these. Bear in mind that the circle will take longer to bake than the rest of the cookies. You can bake them separately or just keep an eye on the smaller pieces so they won't get burnt.
To make the gingerbread dough look shiny, 5 minutes before taking them out from the oven, brush them with beaten egg yolk. The egg yolk can be thinned with a teaspoon (or more) of water.
Let them cool down completely before icing them.
For the royal icing:
15ml (0.5fl oz) Egg White (1 very small egg)
100g (3.5oz) Icing Sugar
Beat the egg whites until fluffy (not stiff or white, just fluffy). Sift in the icing sugar & mix until smooth. This royal icing should be quite thick but still able to come off of your spoon. Now, don't panic if it is too thin or too thick. You can thin it with a few drops of lemon or add more icing sugar, if too thin.
Get a zip-lock bag and fill one corner with the icing. Cut a small hole in the same corner. The thicker icing is for outlining the trees, the round base and church. Once this has set, it will keep the thinner icing in place once you flood it. Use it to draw windows, doors or anything you like on your cookies.
Now you have two options here:
You can flood the trees, cover the round base with icing and cover the church & tower roof with icing.
Or you can decorate them with icing instead.
Good to know:
For flooding the cookies, your icing should be thinner. You can divide the icing at the beginning into 2 – one for outlining and decoration and the other half for flooding. If you haven't done this, no worries. After you have done all the outlining, simply return the icing to the bowl and thin it with lemon juice. Now all you have to do is pour it over your outlined cookies and spread the icing around. I use a toothpick for this. Just make sure it's covered evenly.
A cake board is handy but if you don't have one, use a plate or a nice platter!
IMPORTANT – gingerbread Christmas candle holder assembling:
The round base has to be flooded at last to help the trees, church and candle stay in place (this means that the trees and church, or other shapes that you want to use have to be dried before handling).
To help them stay in place, break a toothpick in half and stick the halves in the cookies for double security. Secure it with a few drops of icing.
Try not to move anything until set
So what do you think about this DIY gingerbread candle holder? Hope you'll like it!