Rich & creamy petit fours. Thin Layers of baked honey flavored pastry are filled with pudding filling, jam and finished off with a coat of chocolate glaze!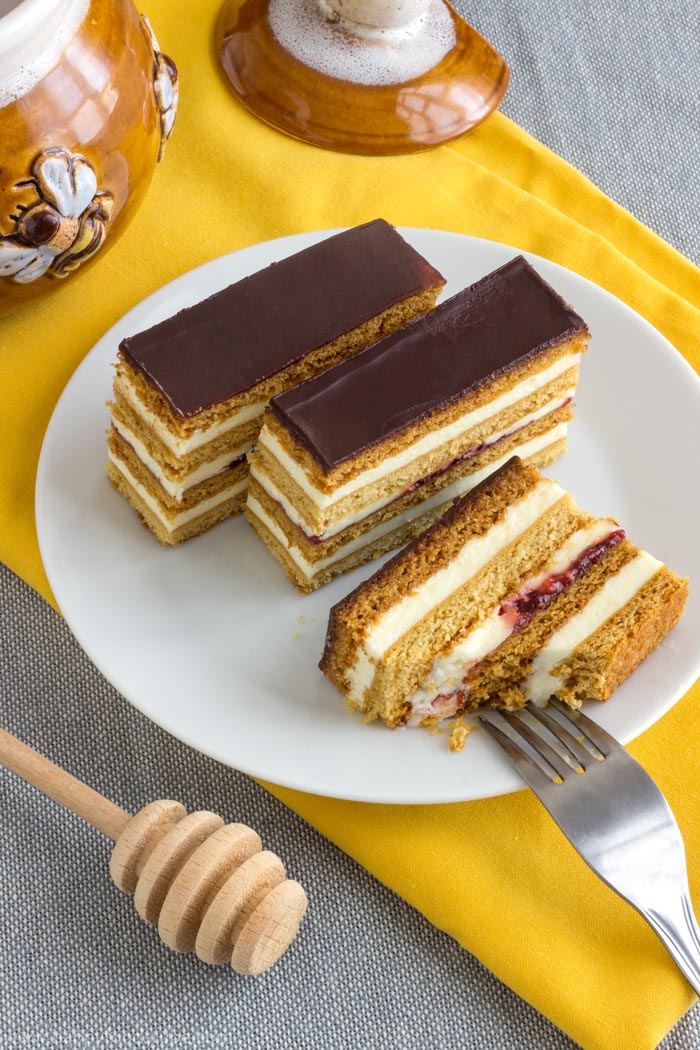 When it comes to Christmas baking in Slovakia, small, bite size desserts are traditionally baked. Most of them are shortbread, biscuits and cookies because these can be prepared well ahead so you don't have to stress out 2 days before the D-day (well, it doesn't mean we don't stress out – but usually it's over other bits and pieces, ha).
Slovakian petit fours
Now along with those bite-size sweets, cake slices are baked. It depends on what you like and the possibilities are endless. These cake slices are similar to the French petit fours. They are of different flavors and shapes. They can be a tad bigger than petit fours. However, you can cut them into any size you wish. It's just the way we cut them. Instead of small squares we cut small rectangles.
Honey cake slices
These creamy slices are called "Medové Rezy" literally meaning honey slices. 4 thin layers of honey flavored cake base are filled with creamy pudding mixture and a layer of jam. All of this is finished of with a thin coat of chocolate glaze! It can't get better than this! Really!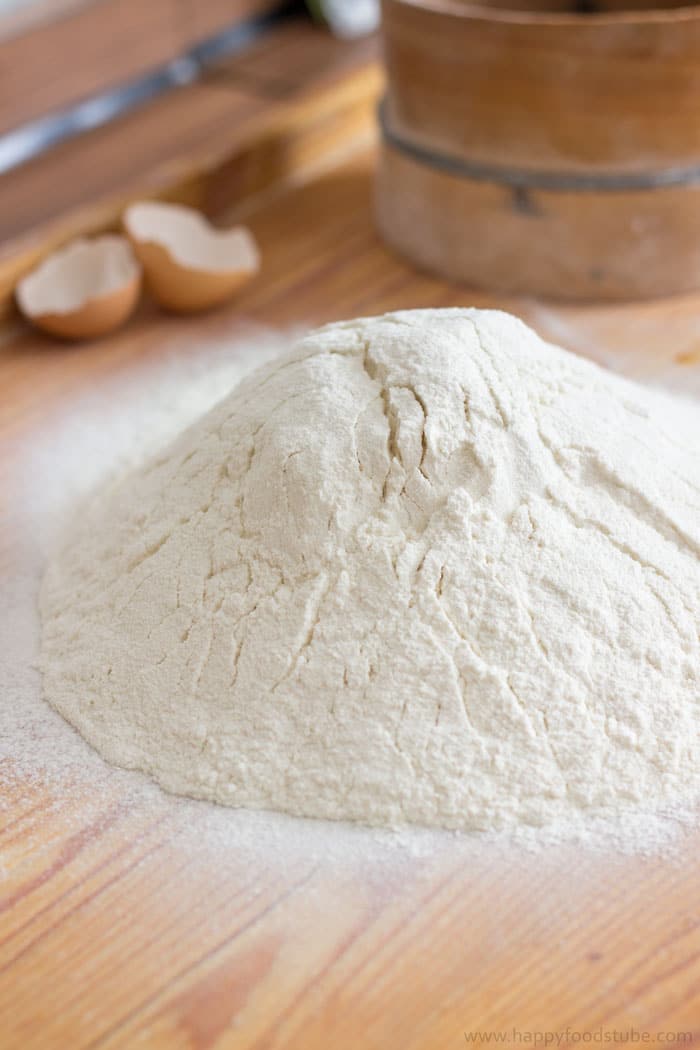 How to make petit fours:
I tried to figure out what the difficulty level for these petit fours was. On the one hand it is easy to make but on the other hand it can get tricky if you haven't done it before and you have absolutely no idea what it should look like, taste like or feel like. So I would put these slices in a medium difficulty "section".
One thing is for sure: You will need to divide the prep into 2 days. Some people divide it into 3 days. Either way, it is worth it and you will end up with 30 delicious slices that everyone will love! I guarantee you this!
This video & photos:
When I was home in summer I recorded my grandmother making these petit fours. Well, I only had a few clips and a few photos but I really wanted to use them. I tried my best to incorporate them in my video and hope you won't find it weird. I also loved the simple photos with the old recipe book with homemade petit fours recipe and the large wooden rolling board that is almost as large as a table.
Want to see how to make Honey Cake Slices? Watch the video!
OK. Now let's get on with the recipe break-down:
Day 1 Baking + Filling
The pastry:
It's pretty straight forward. Throw all your ingredients in a larger pot except for the flour and baking soda. Now it's important you cook this on low heat. Make sure it's not boiling.
All you need to do is melt all the ingredients while stirring. Then, in goes the baking soda. Stir until it gets foamy. The yellow-ish color will change to creamy and foam will form on its surface. This is the moment to remove it from the heat. Half of the flour goes in. Mix. Spread the other half of the flour onto a clean work top. Now pour over the warm mixture and start kneading until you form a pastry.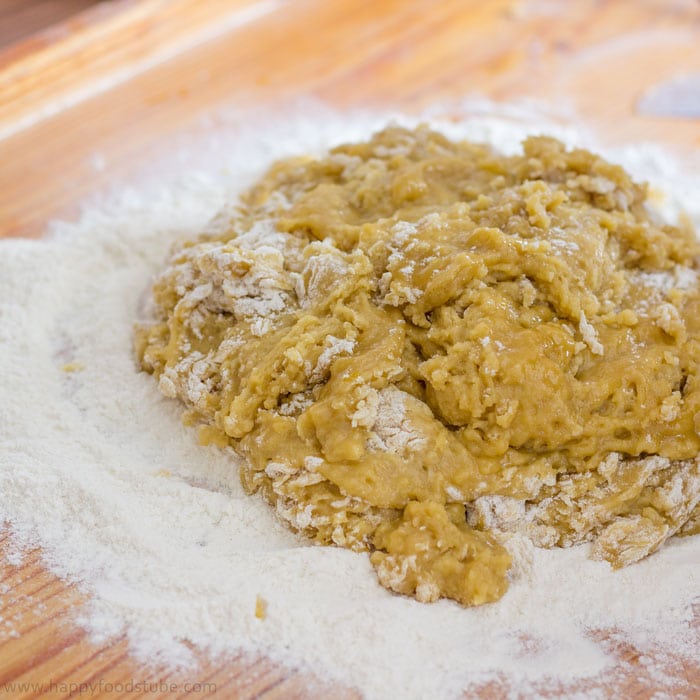 Roll out each pastry very very thin. First make sure you have a large enough baking tray that the rolled out pastry will fit in. Maybe take measurements of the tray so you know how large it should be. I form a rectangle first and then try to keep the shape when rolling. Don't worry if it doesn't look a proper rectangle. You will trim the edges later.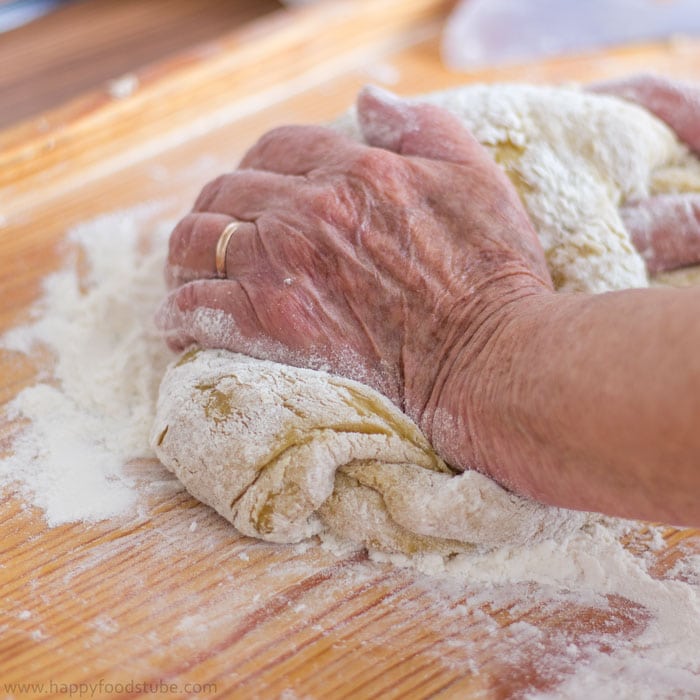 The baking:
Easy peasy – 180C/356F for about 10 minutes per tray. I can't bake with two trays in at the same time as my oven is not that advanced but if you can, go ahead. It will save you some time.
The filling:
While you are waiting for the honey cake bases to cool down, prepare your filling. It's a mixture of icing sugar, unsalted butter and vanilla or plain pudding. This is a very easy filling yet perfect for these petit fours.
Now normally the filling and assembling goes like this:
Cake base
Pudding filling
Cake base
Jam
Cake base
Pudding filling
Cake base
Chocolate glaze
When I see I have too much pudding filling I use it on each layer (like I did in this video). However don't omit the jam and the more the better!
The filled cake (without the chocolate glaze) needs to be refrigerated until the following day. There are two reasons for this. First you need to weigh it down with something (like a wooden chopping board or something heavy – not too heavy) so it will hold its shape perfectly. Second the flavors will become stronger, better.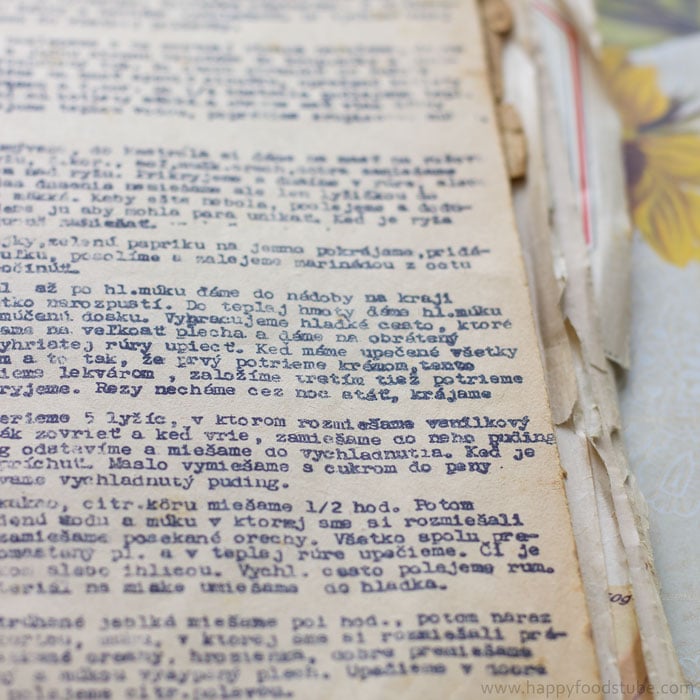 Day 2 – Chocolate glaze + Chilling + Finishing Touches
This day is pretty easy. All you have to do here is to cover the cake with chocolate and chill until the chocolate gets hard. The very last thing to do is to trim off the not-so-nice edges. This can be done in several stages like I did in the video but it can be left to the very end. I trimmed off one side of the cake because one cake base was too wide. These trimmings are perfect with your afternoon tea/coffee or you can use them to make cake pops! The last thing to do is cut into individual portions. I got 28 out of this mix + a lot of trimmings to pre-taste it!
The glaze:
Use any chocolate glaze you like. Mine was a bit thicker as I did not have enough whipping cream so I just used what I had on hand. I also have to admit I normally eye ball it.
Good to know when making these petit fours:
Some people let the dough rest in the fridge for 1 hour. They say it is easier to roll. I haven't chilled it and it was OK to roll.
Rolling the dough – the thinner the better. It will grow so bear that in mind. You should be able to see your work top through the dough.
It is an easy sweet treat to make but it has several stages so it can be a bit intimidating but I hope I have included a detailed explanation to make it easier for anyone trying to make these!
I hope my explanation did not confuse you! If you decide to give it a go, let me know!
Honey Cake Slices – Slovakian Petit Fours
Rich & creamy petit fours. Thin Layers of baked honey flavored pastry are filled with pudding filling, jam and finished off with a coat of chocolate glaze!
Ingredients
For the Pastry
400

g

Plain Flour

(15.8oz)

150

g

Caster Sugar

(5.3oz)

80

g

Unsalted Butter

(2.8oz)

4

tablespoons

Milk

2

tablespoons

honey

1

Egg

(Medium)

½

teaspoon

Baking Soda
For the Filling
A Jar of Jam

of your choice, thick if possible

500

ml

Vanilla Pudding

, at room temperature (17fl oz)

180

g

Icing Sugar

(6.4oz)

250

g

Unsalted Butter

(8.8oz)
For the chocolate glaze
100

g

Chocolate

(3.5oz)

180

ml

Whipping Cream

(6.4fl oz)
Instructions
The pastry:
Place sugar, butter, milk, honey & egg in a large sauce pan. On low heat, stir constantly until melted. Now add baking soda and keep stirring until foamy (do not boil). Take off of the heat.

Stir in ½ of the flour. Transfer the rest of the flour on your work top and pour the mixture over. Form into a dough/pastry. Divide this into 2 equal halves and shape them into rectangles. Roll until you have a very thin sheet of pastry. Check for the size of the largest baking tray you have and roll the pastry out to fit it. Transfer it onto the tray (well-oiled or lined with baking paper).

Bake at 180C/356F for 10 minutes per tray. Once ready, take them out and let them cool completely before filling.
The pudding filling:
Cream the icing sugar with soft butter using a mixer. Add pudding (at room temperature) in stages until you have used all and you have nice thick mixture.
Assembling:
Place the first cake base onto a tray/chopping board or anything that you will be able to fit in the fridge. Cover the first base with pudding filling. Cover with the second cake base and cut in half crosswise. Spread jam over one of the halves(the more the better). At this stage you will see if you have still some filling left. If yes, you can spread it over the jam. Now cover with the other half that has been already filled. This is ready to go to the fridge. Place a sheet of baking paper over the cake and weigh it down with a chopping board (or anything that puts a bit pressure on the cake). Keep in the fridge overnight.
Chocolate glaze:
Bring whipping cream to a boil. Pour it over finely chopped chocolate and let set for 2 minutes before mixing until the chocolate has dissolved completely. Return to the fridge for the chocolate to set. Once set, trim off the edges and slice into individual portions.
Nutrition Facts
Honey Cake Slices – Slovakian Petit Fours
Amount per Serving
% Daily Value*
* Percent Daily Values are based on a 2000 calorie diet.
** As an Amazon Associate I earn from qualifying purchases.
LEAVE A COMMENT
RELATED POSTS