This roasted Brussels sprouts salad with prosciutto, pomegranate and Feta cheese makes a great side dish on your Holiday table!
Now that does not mean it won't be perfect any time of the year! Give this recipe for roasted Brussels sprouts a chance and you will love it! The flavors are amazing!
By the way, are you ready for the Holidays? Yes? No? If you are, then I admire you a lot. I am still a bit disorganized here.
I wanted to make a DIY Christmas tree (I had several ideas in my head but narrowed it down to one – which I hope will turn out OK). I was planning on making homemade table decorations as well but I might leave that idea for next year.

I have some baking done but the Christmas dinner remains a big question mark. Normally it's me who is after the traditions so I always make dishes that are traditionally made in Slovakia. However, Siim has a different idea this year so it looks to me that we are going to have Estonian/Slovakian/Spanish Christmas.
I am not sure how that will turn out as like I have mentioned nothing is planned yet. The "fun"part about living abroad is trying to source ingredients/dishes that you normally buy in your country. And it always is a challenge! But I (we) will sort it out somehow. Hopefully! Fingers crossed!
We don't have Brussels sprouts for Christmas dinner in Slovakia and truth be told I don't remember my family EVER buying these tiny cabbages. However, I've made them several times and we like them. To make them tasty you need a tasty recipe so here it is: pan roasted Brussels sprouts salad with prosciutto (or jamon). A very delicious side dish or appetizer! I believe it is one of the Christmas side dishes which will disappear pretty fast!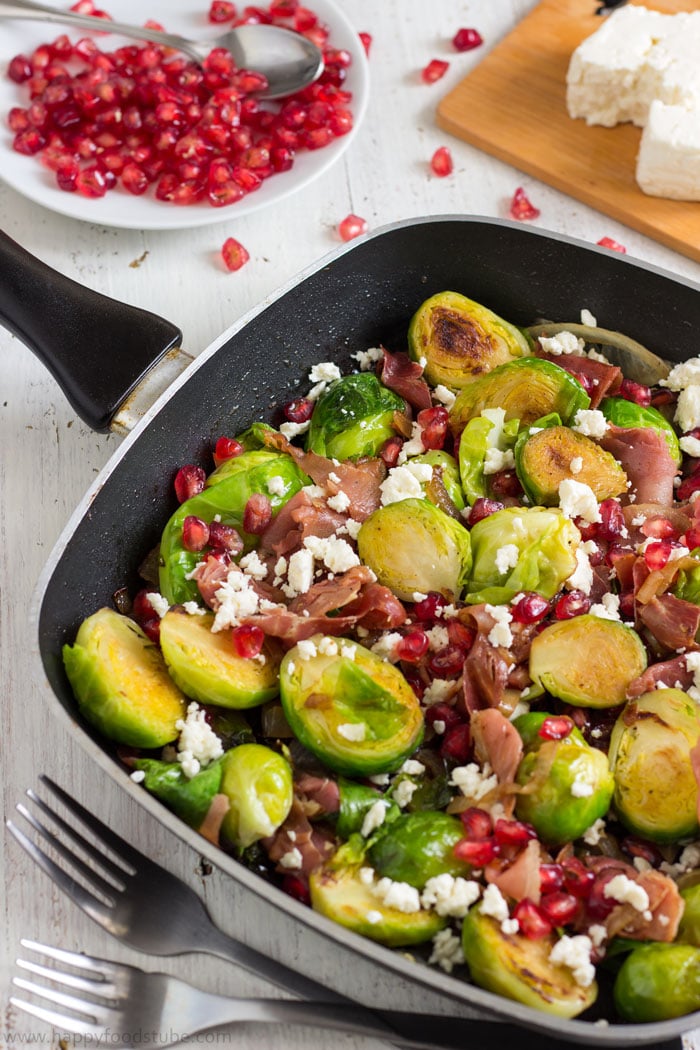 How to make pan roasted Brussels sprouts salad
This is a very easy recipe and can be done in about 25 minutes. If you are quite fast with cutting the veggies and deseeding pomegranate, you might be even faster.
Sauté the onions with some butter. While the onions are sautéing, get the sprouts ready. I removed a few outer leaves as they looked quite wilted which I didn't like.
It takes about 10-15 minutes for the sprouts to cook nicely. Add prosciutto (or jamon) about 3 minutes before the end. That should be plenty of time for it to crisp up a bit.
Pomegranate and Feta cheese will be added to the salad right before serving.
The seasoning: Be careful with salt. Prosciutto and feta cheese are both salty so it's better to add afterwards, if needed. I literally added a pinch of sea salt which was plenty. However, you can totally omit this.
Pomegranate goes so well with the rest of the ingredients that I found I would even add more the next time making it. It balances the strong flavors and adds a bit of sweetness to the salad.
We like this roasted Brussels sprouts recipe and because it's pretty fast to fix I sometimes make it for lunch. Just the salad!
However, if you are looking for new Holiday side dishes recipe ideas this could be it! It will definitely be a hit on your table!
Roasted Brussels Sprouts Salad with Prosciutto
This roasted Brussels sprouts salad with prosciutto, pomegranate and Feta cheese makes a great side dish on your Holiday table!
Ingredients
1.1

lb

Brussels Sprouts

(500g)

2.8

oz

Feta Cheese

(80g)

2.1

oz

Unsalted Butter

(60g)

1.8

oz

Prosciutto

or Jamon Serrano (50g)

1

Onion

(Medium)

1

Pomegranate

(Large)

A Pinch of

Salt & Pepper
Instructions
In a frying pan (or a grill pan), melt the butter. Add thinly sliced onion and Brussels sprouts, cut in halves. Season with salt and pepper.

Roast for about 10 minutes. Now tear each prosciutto/jamon slice into several pieces and throw it into the pan.

Meanwhile: de-seed the pomegranate.

Once the sprouts are cooked and have nice brown color, turn off the heat.

Transfer into a serving bowl. Mix with pomegranate seeds & crumbled Feta cheese.

Serve warm.
Nutrition Facts
Roasted Brussels Sprouts Salad with Prosciutto
Amount per Serving
% Daily Value*
* Percent Daily Values are based on a 2000 calorie diet.
** As an Amazon Associate I earn from qualifying purchases.
LEAVE A COMMENT
RELATED POSTS