This homemade gourmet hot dog with bacon and salsa, topped with caramelized onions & cheese is a dream come true for your taste buds!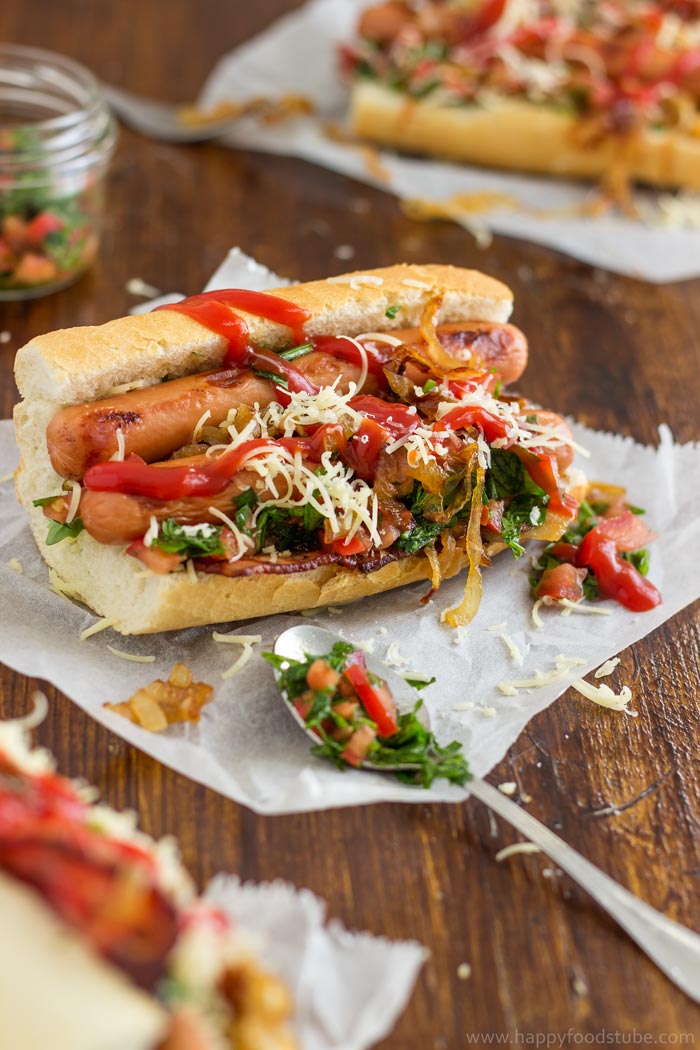 Have you ever tried a gourmet hot dog? If no, then you must do it soon! Gourmet hot dogs are in a different league than the ordinary hot dog street snacks! Often using specialty sausages & fillings that make your mouth water!
So guys, let's make some gourmet hot dogs together!
OK, first I tell you a story:
About a year ago we were shopping in a nearby town. We got hungry so we found a restaurant to have a lunch. I am not a big eater so I knew I was not after a large portion. have already had a starter so I opted for a hot dog – just to keep me full.
Now I never ever had eaten a hot dog in a restaurant. In Slovakia hot dog is a fast food that can be bought from a kiosk (or something similar) outside on the street. Sometimes you have a stand table or two next to it but that is about it. The hot dog is also very different from the American style hot dog. The bun (or a roll in our case) is not cut in half. The tip is cut off. There is a special hot dog machine with heating bars onto which the vendor sticks the rolls. This is to heat the rolls and to make a dent in them. Once a hole is made in a roll, it is (usually) filled with a squeeze of ketchup or mustard and a hot frankfurter is pushed in. Once you have paid you are handed the dog and nothing can stop you from enjoying it! It is one of those fast foods that I would buy as a kid every time I was in town with friends. If I did not buy a hot dog I would buy Hungarian Langos instead. An equally delicious street food! Check it out!
When restaurant food does not excites you at all
So let's get back to the restaurant style hot dog. You see, I don't know what I was expecting but somehow because it was a restaurant I expected a gourmet style hot dog. That kind of hot dog that when you see it you say wow and when you taste it your taste buds make you say yummy! Well, you can't imagine how disappointed I was when I received an ordinary frankfurter in an even more ordinary (and bland) sweet bun. It was the worst hot dog experience I've had so far. Since then I haven't tasted any other hot dog in Spain but truth be told I haven't seen them anywhere.
Hot dog eating experience in Europe
Now I haven't eaten hot dogs in every country we visited but this is what I have tasted so far:
Hot dogs in the Czech Republic are made the same way as in Slovakia. They can be bought from food kiosks. On the street.
Hot Dogs in Estonia are prepared similar way and sold in kiosks or petrol stations.
Belgians cut their rolls in half lengthwise and top it with extra tiny potato fries. These are sold in food kiosks on the street.
Portuguese hot dogs are similar to Belgian style hot dogs. They also come with tiny potato fries. Again you would find them in street food kiosks.
How to make a gourmet hot dog with bacon & tomato parsley salsa:
First Things First – Caramelized Onion
The caramelization will take a while so make sure this is your task number 1 to do. You will need about 20 minutes to get them nice soft and golden brown. The key is cutting the onions really thin (as thin as possible) and also make sure you don't burn them. Many people state it takes at least 40 minutes to caramelize the onions but mine was done in 20 minutes and I was really pleased with it. What you can do is this: start off with onions and leave them on the stove until everything else is done. This way they will still be warm and you will be rewarded with a pretty tasty topping.
Tomato Parsley Salsa
Tomato parsley salsa is ready in no time. Tomatoes, parsley, olive oil and seasoning is all you need. Mix it together. Taste it! If you are happy with its taste you are done here!
French Baguette
I always choose French baguette over sweet rolls. I am not fan of sweet-ish bread paired with hot dogs. The baguettes are crunchy and taste better than the pre-packed buns. However, if you have your preferred brand or a type of rolls/buns that you like with your hot dogs, by all means use those!
Frankfurters or Sausages
I always go for frankfurters but if you find some delicious looking sausages, I highly recommend using those! Also these days it is hard to find good quality frankfurters. Well, at least in my corner of the world. I always look for meat content of at least 80% which is a real challenge!
What about you? What do you use – frankfurters or sausages? Do you check the meat content when you are shopping for these?
Why should you try to make gourmet hot dogs?
They taste delicious!
Your friends will love them too!
There is bacon in them!
Because why not!
Have a look at this gourmet hot dog recipe and give it a go if you like what you see! If you do, let me know what you think!
If you by any chance prefer burgers then you must check out this Chicken Cheeseburger! It's yummy!
Homemade Gourmet Hot Dog with Bacon and Salsa
This homemade gourmet hot dog with bacon and salsa, topped with caramelized onions & cheese is a dream come true for your taste buds!
Ingredients
1

French Baguette

(Extra Large)

1

Onion

(Large)

1

tablespoon

Caster Sugar

8

Thin Frankfurters

or 4 Thick Ones

4

Bacon Slices

A Knob of Butter

1/2

cup

Cheddar Cheese

– Grated (50g)

Ketchup
For Parsley Salsa:
A Handful of Fresh Flat Leaf Parsley

2

Tomatoes

(Medium)

4

tablespoons

extra virgin olive oil

Salt & Pepper to Taste
Instructions
First cut the onion in half & slice thinly both halves. You will end up with half-moon shaped slices. Throw butter in a frying pan, let it melt before adding onion. Sautee on medium heat for 10 minutes. Now add sugar and mix well. Caramelize for a further 10 minutes or until the onion is nice and brown.

Meanwhile cut the baguette into 4 equal parts (a little bit shorter than your frankfurters). Cut them in half lengthwise.
Prepare the parsley salsa:
Finely chop rinsed parsley. Wash tomatoes and cut them into tiny pieces. In a bowl mix parsley, tomatoes and olive oil. Add salt and pepper to your taste.
Frankfurters & bacon slices:
Cook the frankfurters according to packet instructions. Once ready, transfer them on a grill pan and grill them for a minute or two until they get nice color. Add bacon slices (if you have space in the same pan) and fry until ready.

Now fill each baguette with cheese, parsley salsa, frankfurters and bacon. Top with caramelized onion and grated cheese. Finish it off with ketchup!

Serve while still warm!
Happy Cooking with HappyFoods Tube!
Nutrition Facts
Homemade Gourmet Hot Dog with Bacon and Salsa
Amount per Serving
% Daily Value*
* Percent Daily Values are based on a 2000 calorie diet.
** As an Amazon Associate I earn from qualifying purchases.
LEAVE A COMMENT
RELATED POSTS