Start your day off with this dairy free persimmon banana breakfast smoothie! It will boost your energy and help you stay healthy!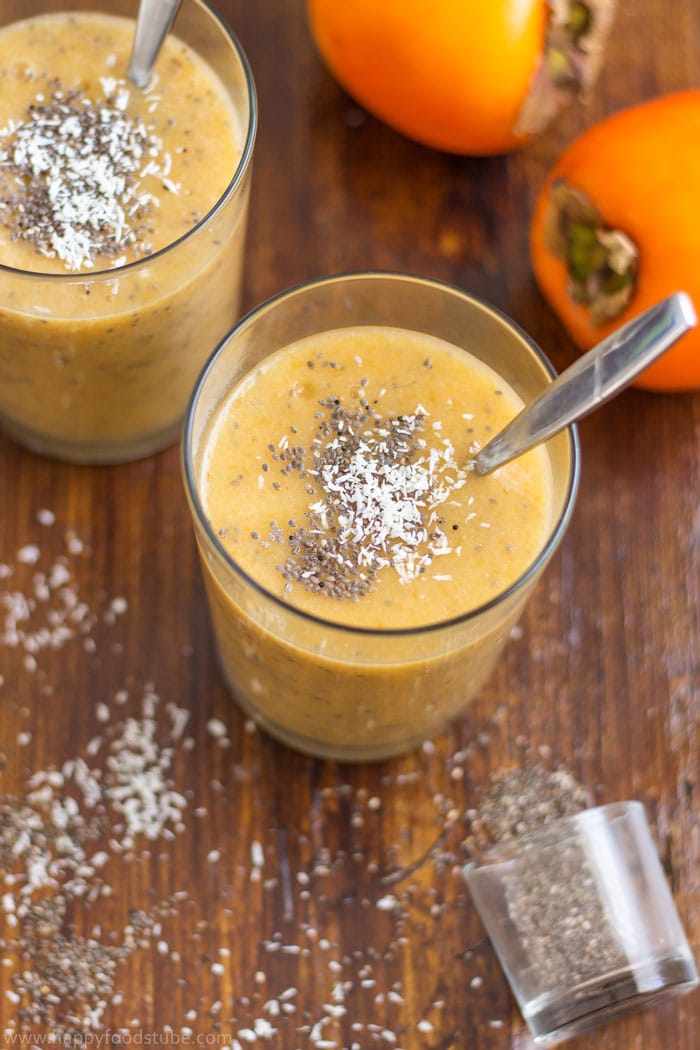 This 5 minute healthy breakfast smoothie is also a perfect choice for those who don't have time to sit in the morning and eat their breakfast. In 5 minutes your liquid breakfast is ready and all you have to do is pour it in a jar (or anything really), grab it and go!
Easy persimmon banana breakfast smoothie preparation:
Today I felt like having quick and nutritious breakfast and so I opted for this banana breakfast smoothie!
And guess what? The prep takes literally a few seconds. The "hardest" part here is to peel the bananas and persimmon. Yes! It is that easy! Throw everything in a blender (or a smoothie maker) and in less than a minute you can sip this healthy sugar free smoothie!
I am using coconut milk drink but you can use ordinary milk as well. Make sure the bananas are ripe for the extra sweetness and stronger flavor. Now I added 2 tablespoons of honey because I like my drinks sweeter but you can omit it if you like. If the bananas and persimmon are sweet enough then you might feel like no other sweetener is needed here. My banana and persimmons were quite sweet but I was also after an extra energy boost that the honey provides.
What is in this smoothie?
Bananas
Bananas are rich in potassium, high in antioxidants and a good source of magnesium as well as Vitamin C. They make you feel full longer and give you an instant boost of energy!
Persimmons
These fruits are rich in Vitamin A. They are a good source of Vitamin C and manganese. They also help our body fight viruses, which is pretty important especially in winter!
Chia seeds
These tiny seeds are very similar looking to poppy seeds. They have no taste but are very nutritious. Because their neutral taste I like adding them almost everywhere. I sometimes add them to my Avocado Spread or I use them in baking (check out my Dark Chocolate Orange Cake) It is like a little healthy bonus in your meal that will not change its taste. Now bear in mind that chia seeds absorb quite a lot of liquid which will thicken your smoothie even more especially when you don't drink it right away.
Only 2 tablespoons of these seeds provide 4 grams of protein and 8 grams of fiber. Fiber helps maintain a healthy digestive system but also makes you feel full longer.
Coconut milk drink
Have you ever tried coconut milk drink? I must admit this was the first time I tried it. I use coconut milk in cooking. I tasted coconut water (which I don't like) but have not tasted coconut milk drink before. Now if you wonder what the difference between a coconut milk drink and a coconut milk is then the first one is produced for drinking while the second one is thicker, richer, creamier and is also used in cooking and baking. To be honest I haven't used coconut milk in drinks yet. Do you put in in smoothies or any other drinks? If so, let me know! I was pleasantly surprised by the taste of this milk drink but if you don't like it, fell free to go with normal milk (or any other milk substitution).
Honey
Put a tablespoon (or two) of honey in your smoothie to boost your energy! It also keeps your cholesterol levels in check and contains a lot of minerals such as calcium, copper, iron, manganese, phosphorus, potassium, zinc and magnesium. Honey is also known for its antibacterial and anti-fungal properties. So guys, honey is good for you. If you have a chance, buy a good quality honey to get the most out of it.
Why is persimmon banana breakfast smoothie good for us?
This breakfast smoothie will give us the energy boost we all need in the morning, will make us feel full longer and because it's rich in vitamins it helps us fight cold and flu.
What is great about this smoothie?
Gluten free – It is perfectly safe for those who can't have gluten in their diet.
Dairy free – I am using coconut milk drink instead of normal milk.
Sugar free – I only used honey as a sweetener which makes it a sugar free smoothie.
By the way:
I used one banana and 2 large persimmons to make this banana breakfast smoothie. But you can add one more banana for the extra boost of energy!
Also check out these healthy smoothie recipes!
Persimmon Banana Breakfast Smoothie
Start your day off with this dairy free persimmon banana breakfast smoothie. It will boost your energy and help you stay healthy.
Servings:
3
Portions (800ml/27fl oz)
Instructions
Combine all the ingredients (apart from honey and desiccated coconut) in a blender and blend until smooth (this will take several seconds).

Taste the smoothie. If you find it not sweet enough add honey and give it a quick blend.

Pour into glasses, sprinkle with some chia seeds & desiccated coconut and you are good to go!
Nutrition Facts
Persimmon Banana Breakfast Smoothie
Amount per Serving
% Daily Value*
* Percent Daily Values are based on a 2000 calorie diet.
** As an Amazon Associate I earn from qualifying purchases.
LEAVE A COMMENT
RELATED POSTS